Driving sales in B2B companies is a high-effort and high-reward activity.
And lead generation plays the most crucial role in enabling sales. Without qualified leads, your sales team will waste time trying to attract a wider audience that has no real interest in your products and services.
You need to identify real leads that actually need what you have to offer and have the ability to buy it too. However, finding such leads is easier said than done. And we'll explore why in more detail next.
If you want to kickstart your B2B lead generation, then this post is for you. Here are powerful ideas that will help you attract leads with real potential.
The challenges of B2B lead generation
Before we can look at practical steps to capture qualified leads, we need to understand what makes the B2B sales process so much more challenging than B2C sales.
Here's a breakdown of some unique markers you can find in the B2B arena:
B2B buyers typically invest in either individual products that are extremely expensive or they buy normal goods in large quantities. In either case, you're usually dealing with high-value sales and this involves high stakes for both you and the buyer.
Your buyers aren't the final consumers of your product. They use your offerings to create other products or to support their own business activities.
B2B customers are highly knowledgeable in their area of expertise. They have specific skills and qualifications and will likely need very specific products. You have to convince buyers that you can meet their specific needs.
You need to provide product customizations and maintenance.
Many B2B clients need products that last them for at least a year and up to a lifetime.
Providing great customer service is essential for any business. But it plays a significant factor in B2B sales and relationships because of the high value of transactions taking place.
Your relationship with such customers won't end with the purchase of a product. You may continue to stay in touch with them for years to provide after-sales services.
As you can see, B2B sales are more complicated than most activities in the B2C sector. Being aware of these added complexities will help you improve your sales and marketing efforts to find potential customers.
How to kickstart your lead generation
Lead generation is an ongoing process and you need to tackle it from different angles. Here are several top tips to help you find leads for your B2B business.
Define your target audience
None of your marketing or sales activities will matter if you don't know who to target. Your first step should be to know who your audience is.
Think about the industries that can use your services. And the decision-makers who have the final say on buying from you.
And most importantly, think about the broader goal your products and services will help meet. My marketing philosophy is that businesses shouldn't just provide tools to meet an immediate need. A great business is one that makes a person or company's overarching goal real.
For example, a furnishing and decor brand sells carpets, curtains, and other items to hotels. But hotels aren't just looking for good-quality items to place in their rooms. Hotels want to create a relaxing and luxurious experience for their guests. Companies that understand this will create products that stand out from their competitors.
They'll go the extra mile with their content, customer service, and product-building to meet their customers' higher goals. As a result, such a company will win customers more easily who will stay loyal for the long run.
Based on your industry, client needs, and by knowing who the decision-makers are, you can fine-tune every tip that follows this one to build more leads.
Create a blog
Blogging is an excellent way to generate leads for any business.
By creating blog posts that share insights and answer questions your audience asks, you'll bring more traffic to your website.
Here's an example of a blog by Wärtsila, a Finnish solutions provider for the marine and energy industry. It shares the latest updates and posts on major issues to connect with its audience. Blogging provides information and builds trust. And it helps convert prospects into leads when the information provided is useful.
Remember to use an SEO tool to research what your audience is looking for. You'll get insights into the kind of questions people ask, the keywords they use, and data on related topics.
A creative and powerful way to leverage SEO is by studying your competitors. Using your SEO platform, look at what keywords your competition targets and what kind of content they create.
You'll have data that guides you to craft blog posts that outperform your competition. Or at the very least, you'll have insights that will make your content marketing more competitive.
Add an opt-in popup tool
Every website needs an opt-in popup form. It's a lead-capturing tool that appears on your site that readers can use to subscribe to your newsletter. An opt-in form also allows you to share digital downloads, discount codes, and more when your site visitors sign up with you.
I suggest adding an exit-intent trigger so that your opt-in popup only appears when people are about to leave your website. Your reader's experience is uninterrupted and you're still making a final attempt to capture leads.
You can also set up lead capture forms to trigger only when a reader gets to the end of a blog post or page. And if you want to make your opt-in popups more appealing, customize them so that different opt-in forms appear for different categories of content.
Create digital downloads
B2B customers do significant research before they decide to make a purchase. They look for and consume reports, ebooks, whitepapers, and similar data-based content.
Create helpful reports, statistics, and research-based papers that you know B2B customers will want to read. You can even provide detailed case studies based on your business's experience.
Set up a form so that only people who have business emails can access such data for free. When you provide high-value reports, your site visitors will even be willing to drop in information about their business role, company, and industry.
This is a well-used and effective way for you to build an email list of B2B subscribers with many of them having the potential to turn into customers.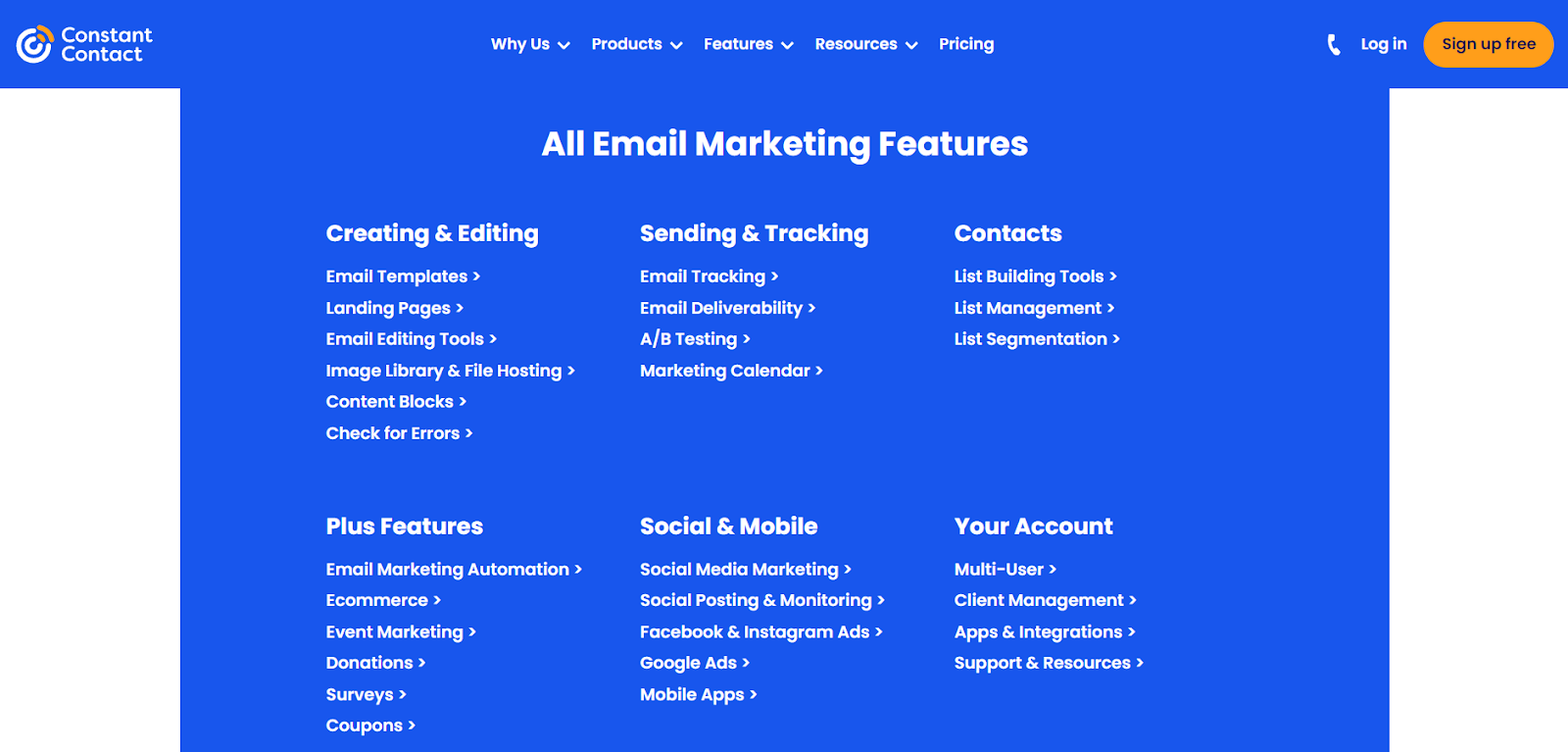 Pro-tip: Your ability to build leads will only be as good as the tools you use. Kickstart your B2B email marketing with Constant Contact's specialized tools.
Use a B2B sales management tool
It doesn't make sense for most B2B companies to post generalized ads to the public or to rely on the typical marketing tools available to B2C companies,
Instead, you'll need to invest in premium sales tools that specialize in finding leads in the B2B segment.
For example, LinkedIn's Sales Navigator is just such a tool that's great for finding C-level persons in any industry. And you can finetune its filters to look for people in different roles, locations, and businesses.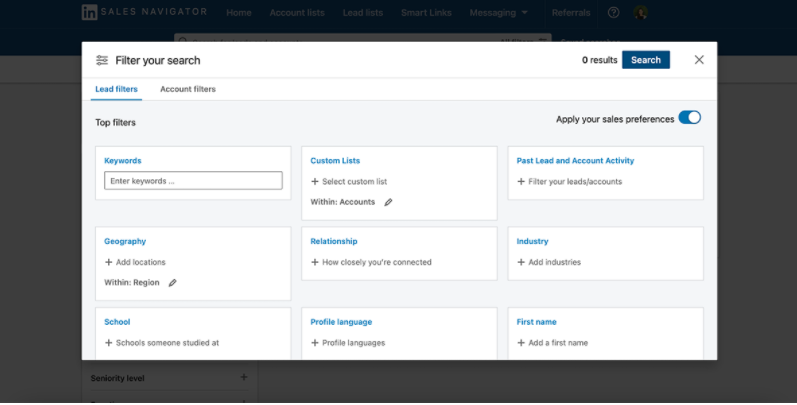 Investing in such specialized B2B lead generation tools is often expensive. But when you're able to generate real leads that create high-value sales, you'll easily make up the cost of such platforms.
Ask for referrals
Your best chance of finding real leads is from getting referrals. The people whom you know and who also know about your business are in a good position to refer qualified leads.
Ask your existing customers to send referrals; you can reward them for successful leads with free services or a good discount.
You can also reach out to your peers in the industry and your mentors to get recommendations. Leads from referrals will convert faster since they're already qualified by the people who referred them to you.
Carry out guest posting
Guest posting is when you create an article or blog post and it gets published on another brand's website.
Writing posts for other websites and even publishing articles from other people on your own site is a great way to support your marketing efforts.
Your content will appear before audiences that you haven't had to build yourself. And when you choose to write for publications or brands related to your industry, you'll be presenting your content to relevant people.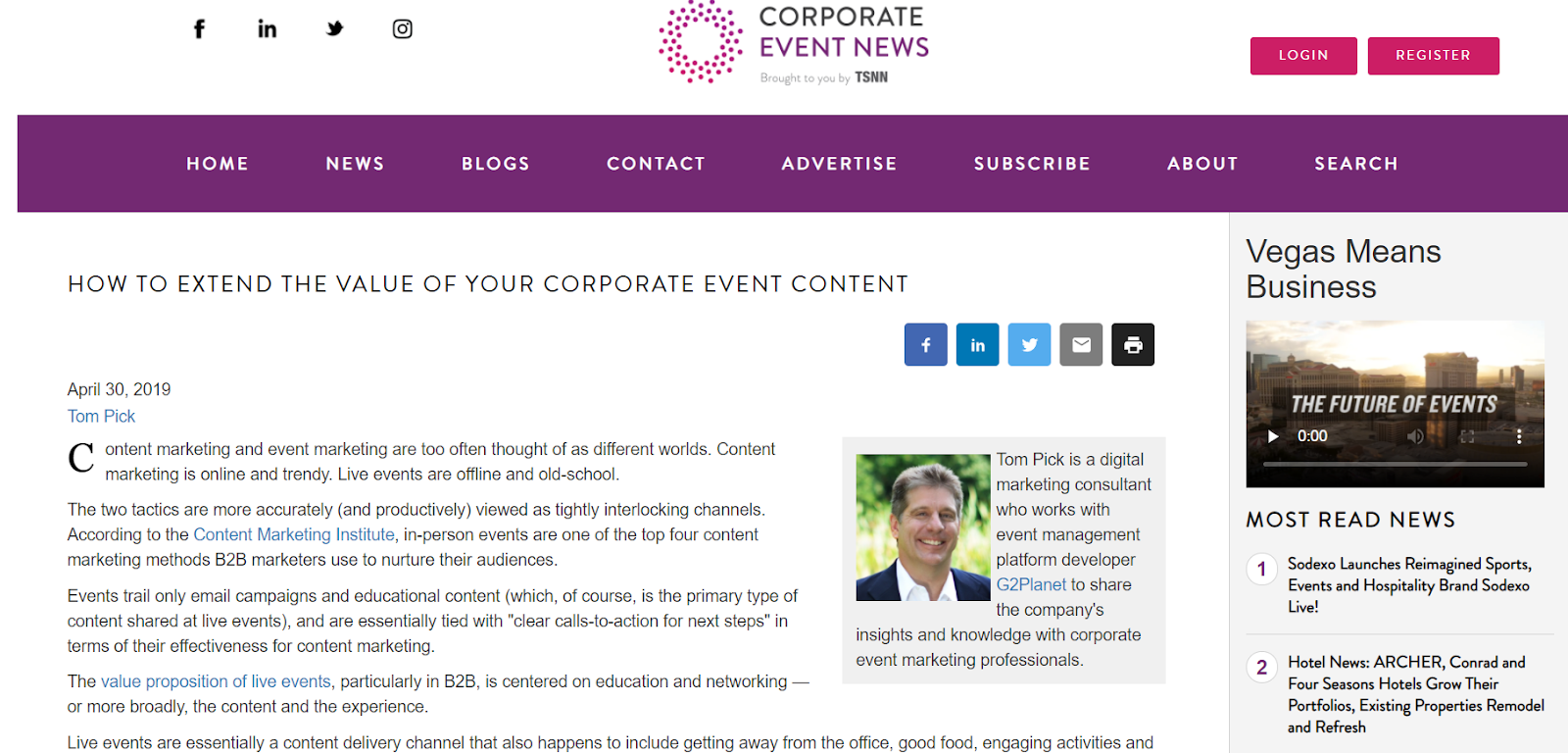 Attend networking events
Most industries and professions have a recognized association or body of authority that represents them.
Such associations and forums hold networking events and help members find partners, customers, and suppliers.
If you aren't active already, I recommend participating in webinars and other events held by such organizations. Very often, just showing up and leaving a question or a comment makes a difference.
You'll get noticed and become more familiar with your peers. And this helps you approach customers and build partner relationships easily.
Personalize your marketing
It's common for B2B sales reps to get to know their customers well. After all, it takes time and a constant supply of content to help customers understand how your products can help them.
Successful B2B relationships also last for a long time as customers prefer to buy from someone they're familiar with rather than spend time investing in new and unknown partners.
To get a good head start on building strong relationships, start by personalizing your marketing. There are several ways to do this:
Address leads by their name when you send them an email
Do your research on your lead and customize your demos so that they show customers how your product will work for them
Create and manage personalized data with a CRM tool to support your relationship with customers
The more you can personalize your interactions with people, the more they'll engage with you. You'll win over your audience's interest and find it easier to build leads.
Get started
Generating leads in the B2B sector is challenging but rewarding. For many salespersons, the focus is on identifying qualified leads.

Once you find a truly meaningful lead for your business, you can then move through the sales funnel to help customers get the information they need at the right time. You increase your chances of closing a sale.

The ideas in this post will help you kickstart your lead generation. Why wait? Get started today!

Start generating B2B leads and building your email list with these email list signup tools.

Share with your network