As the world moves more and more onto the internet‌, so do the avenues for music and marketing. A strong online presence is a central component in promoting your band, and social media networking sites will aid in building your promotion with a vast media presence. Whether you've got a demo or a fully finished album, this list of resources will be useful in expanding your fan base.
Once you start building promotional momentum, it is important to maintain it. The best ways to promote your band online are to focus on your image through popular social media platforms that will brand your band and other creative works.
We make it easy to get your work out to your network and beyond with all the marketing tools you need.
Best ways to promote your band — through variety
Different platforms yield different worlds of listeners, affected by all sorts of demographics across the many sides of the web. Make sure to tap into at least a few of these; you never know where your core fans will come from.
The art of name branding and logos
‌As you set out to establish your band, the images you develop now create a social connection, message, and impact for your consumers. It is wise to consider your band's name before branding it. Your band's name contains an energy that establishes an expectation from your fans. If you feel your band's name needs a change, now is the time to do it before you launch a heavy online campaign. Brainstorm your branding image by:
Thinking about your own favorite band or brand.
Being mindful of your overall image and the feelings you want to evoke.
Considering the energy in other branding vibes.
Seeing if you can add something personal, be it a quote you like or an inside joke.
‌‌‌‌‌Logos work hand in hand with your public persona. Unique logos draw attention to you and complement your band's name. Once you create your vibe in promotional materials, test the first reaction you receive from the people around you. This reaction will be a strong indicator of whether you have successfully found the persona and image you intend to project. ‌Also, consider the symbolism in:
your name
song titles
visual art work like album covers
‌Such symbolism becomes your trademark, which becomes your signature connection to the public, and being recognizable will help you stand out from the crowd. Everything you do online shapes your brand and the feelings people attach to you. Quality and consistency are key for building trust from your listeners.
A professional website
First and foremost, a website is the heart of your internet networking and art form's presence. You can build out your band's image here, as well as link to your social media channels. Ensure it's easy to navigate both for browser and mobile.
A website can act as an online store to offer:
your singles and albums
booking for shows
merchandising
You can also set up:
payment providers
‌shipping details
‌coupons
‌special giveaways
Write a blog
‌Blogs help you stay connected to your listeners and build your brand awareness. Adding a blog to your website is one of the best ways to promote your brand and so is adding music. It can establish your reputation in your music expertise and performances. Create your blog and start writing on your love of music, music-related news, or even activism that your band participates in. A blog is a great place to provide links to reputable music industry websites and other musical information that wouldn't necessarily make sense to put on your main website.
Make a video
Making a music video of your original work is an excellent way to showcase your talents. Videos uploaded to a platform such as YouTube can easily be shared on your other social media, promoting traffic to all of your active accounts. If you're covering a song, ensure that you check for any copyright rules to avoid violating them.
Start a podcast
Starting a podcast is an effective supplement to the promotion of your band. Podcasts can be submitted to sites, such as Apple Podcasts (iTunes), for distribution to attain a wide audience. It applies to an endless range of topics and businesses. There are a few simple steps you can do to set your foundation in this area of promotion. Keep in mind you'll need to:‌
‌Select and make a list of the topics your band will cover to create a series in advance.
Learn how to create your episode forms
Incorporate your cover artwork
Record your band's music as your intro and outro music
Using social media to promote your band
‌The power of social media in revealing your talents is endless. The foundation you create on these networking platforms has:
‌longevity
personality
imagery
one of the best forms of advertising
Create notoriety, popularity, and sales for your band by going straight to the people. Here are some of the different social platforms and the ways you can use them to promote your band.
Twitter
Microblogging services, such as Twitter, are effective and free social media sites with fewer words allowed in a tweet. It has a hashtag feature that can be very effective when implemented properly.‌‌ You can brand your own hashtag by incorporating it in every tweet, such as #yourbandsname. Retweeting other Twitter accounts aids in building your online networking as well. Ensure that when you signup for Twitter, you also notify your existing fan base, friends, and family to help attract followers.
Facebook
This familiar old site is useful because it doesn't have a word limit, not to mention its versatility of features. A Facebook account for your band allows you to:
connect with friends and fans alike
post pictures, music, videos, and articles
discuss your band's thoughts & opinions
give promotional material
provide information about your other social media platforms
announce upcoming music albums
create a calendar of upcoming events
‌Advertising options are also available to you for a fee.
Instagram
Instagram is similar to other social media sites allowing you to upload photos, videos, and announce special events. This site has an incredible number of people, so it can be helpful in reaching users quickly and directly. Your audience can:
View video messages from your band and music samples
Comment under your posts
See concert posters
Check out images of your promotional products
Enjoy throwback pictures from memory lane
YouTube
‌As mentioned above, YouTube is an effective way to promote your band. Release music, videos, interviews, and the like, and be sure to link back to your website and other social media accounts too.
LinkedIn
LinkedIn is considered the internet's largest international professional network. It provides the various benefits of other social media apps, including education on the skills in various professions. You can also use this app to share:
your band's story
organize events
post videos
join other groups to network your music ‌
It can be especially useful for getting in touch with those who aren't your listeners, such as producers, locations to play at, or even other bands.
TikTok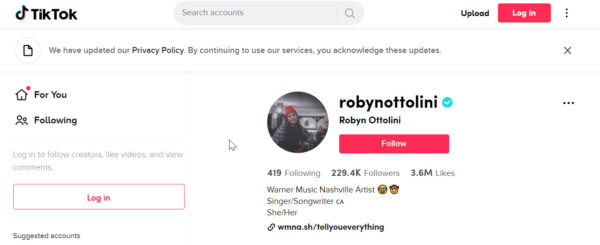 ‌The main function of TikTok is to upload short video clips, many only around 15 seconds. While it's not great for releasing your music, it can be used for song teasers or snippets of performances or band practice. It's also wildly popular with younger fans right now and is extremely casual, making it a good place to embrace your personality side over your business side.
Maintain a steady presence on social media
It is important to stay active on your social media sites for your existing followers and to continually attract new followers and traffic. This may sound like a ton of work, but maintaining momentum doesn't have to be a constant slog.
By taking some time to organize and pre-plot your postings, you can achieve social media consistency. For instance, as you build your following, plan the days you will post something to your social media websites, whether an announcement, photos, or various other media.
Here is a list of ideas you can post on your social media accounts:
‌Promotional items with your logo on them
Insights related to recording sessions
Interesting information about a song's meaning
Gigs you will be at or have attended
Any upcoming media appearances in the newspapers, on radio, or on TV
Networking by sharing other local artists periodically
Marketing platforms for both signed and independent artists
There are many online distribution services that independent bands can access to promote music to the public. Be sure to check out the following platforms. Explore your options before settling into any of them, or use them to learn what others are doing.
iTunes
There is a list of requirements through Apple's iTunes that provides you with the opportunity to work directly with Apple to launch your music. If you do not fulfill the list of requirements for iTunes, the music app offers another solution. You can work with an aggregator.
Aggregators have specific expertise in content delivery on iTunes. Apple employs them to produce sales by distributing your music, and in turn, aggregators pay you. They provide your band with Universal Product Codes (UPC) and International Standard Recording Codes (ISRC).
Amazon MP3
Whether you are signed to a record label or not, Amazon Music can promote you. If you do not have a music contract, various indie distributors work with Amazon Music to provide services to unsigned music artists. The indie distributors will take care of the licensing, distribution, and payments, amongst other important details.
Spotify
Spotify For Artists has a list of companies that will ensure your strong connection to the Spotify music app. The companies will handle:
‌‌licensing
distribution
streaming services
royalties
video service
digital music
podcasts
Google Play Music via YouTube
Google Play Music is now YouTube Music due to a transformation to the app and desktop versions. It promotes new music releases, playlists, and more. It is also a great way to monitor what is trending in the music industry, allowing you to keep current on what listeners are tuning into.
SoundCloud
SoundCloud is renowned worldwide as the largest audio platform. It focuses on artists and musicians first and promotes all aspects of various music genres, both past and present. SoundCloud also provides independent musicians with various resources that will help you build momentum in your music career.
‌SoundCloud allows your band to:
upload your songs
monetize them
share them on your social media sites
Bandcamp
Bandcamp directly supports bands by attracting new listeners to discover your music. The company currently reports that listeners have paid music artists $738 million by using the app, with around $20 million just in the last month.‌
ReverbNation
ReverbNation provides a networking system for bands that offers a wide variety of services ranging from label deals to festival slots. They assist in booking your gigs.
Promote offline
Despite what it seems, it's not all about the internet.
Local roots are the base of your band's business. The infamous Eminem and his motivational success story involve humble beginnings, local rap battles, and a demo tape that ended up in iconic producer Dr. Dre's hands. It's always good to keep the following with you:
Demo CD's
Distribution flyers
Printed business cards
Performing in your local area builds a root fan base that will extend to out-of-towners. The power of word-of-mouth promo is tried, tested, and true. Syncing up with your local crowd also builds enthusiasm and support. With the changing times, virtual concerts and performances are becoming common. But don't forget to approach local media for interviews, such as your local publications, tv, and radio stations.
In closing
Now that you know some of the best ways to promote your band, it's time to get started. To learn more about how to promote, share, and sell your work online, check out The Download, our online marketing guide, and visit our blog.

Share with your network