Demand for insurance agents is growing, with the U.S. Bureau of Labor Statistics projecting a 5% increase in insurance agent employment from 2019 to 2029. This indicates the public is hungry for more quality insurance advice — making content marketing for insurance companies one of the best ways to promote your agency or brokerage.
Unlike other forms of advertising, content marketing focuses on addressing the pain points of your clients by providing valuable online content that answers their biggest questions. This helps to establish your expertise, promote trust with clients, and stimulate interest in your services.
Let's explore how you can use content marketing in your insurance marketing strategy to direct potential clients toward your business. We'll examine how to produce popular content for your blog and also look at how to effectively promote your content online.
Find more leads and drive policy renewals with expert marketing advice and all the tools you need, all in one place.
How insurance companies can (and should) use content marketing
Insurance content marketing takes many forms. Many agencies and brokerages maintain a blog with posts that provide in-depth answers to common insurance questions. Others go a step further by producing online videos or sharing their knowledge through social media posts.
Regardless of what technique you choose, your content marketing needs to be easy for consumers to find online. Remember, your future clients are typing their insurance-related questions into search engines every day, and the higher you appear in their search engine results pages (SERPs), the more likely it is that they'll click on your links and go to your website.
From there, you can build trust with your customers as you share your knowledge and demonstrate your expertise. As people start seeing your website as a trusted source of insurance information, they'll be more likely to hire you as their agent and have you solve their problems.
Almost 68% of people click on the first five results on a SERP, making it important for you to rank high in online searches. One technique your insurance agency must use to do this is leveraging search engine optimization (SEO). This involves helping the complex algorithms, used by search engines, view you as a viable resource to suggest to web users.
The first step in SEO is to research keywords.
Research keywords and use them in your content
Your clients use certain words and phrases when they type their questions into search engines. Discovering what those keywords are — and then using them in your blog articles, web page headlines, and other content — helps match you in their online searches.
You can come up with good keywords by:
Looking at the questions your clients have about insurance and considering the specific words or phrases they use when asking them.
Typing these questions and topics in a Google search bar and seeing what related keywords come up as suggestions.
Analyzing your list of keywords by entering them into a keyword research tool that shows how many people use these terms in searches and the competition for them. Be sure to choose keywords with high search volume and low competition.
One excellent place to start looking for good keywords is with local search terms. Since many of your clients will be looking for insurance agencies in their area, emphasizing that you're an "insurance company in Phoenix" will help direct more local traffic toward your website, increasing the chances of you connecting with a desired client.
Keep in mind that once you come up with a list of good keywords, you'll need to place them strategically in your insurance content marketing materials so search engines find them. These areas include:
Headlines: The H1 headings on your blog posts and web pages are given more attention by search engines, making them excellent places to put your main keyword.
Title tags: Your article headline and website name help create the title tag that appears on the search results page, so you should include your target keyword here.
URLs: The "uniform resource locator" (URL) in your web page's address is another ideal place to put your strong keywords.
Alt-text: You can describe the images in your blog posts and articles by inserting alt-text descriptions containing keywords, which search engines will pick up on.
Body copy: Inserting keywords in the opening paragraphs of your blog posts will make them easier to find for search engines.
Produce regular content
Search engines love websites that produce regular content. This indicates your site is offering visitors new articles to answer their questions, making your insurance website rank higher in search engine results.
Blogs tend to be the best place to update your insurance content. Publish a new article at least once a week to make search engine algorithms recognize that you're offering regular content. You can also upload new instructional videos and post regularly on your social media channels to make your insurance content easier to find.
Make your websites mobile-responsive
When designing your insurance website, it's important to make it mobile-responsive. This means your business website should load quickly on mobile devices and be easy to view on smartphone and tablet screens.
Many people use mobile devices to browse the internet, including potential clients doing research on insurance-related topics. However, if your insurance website doesn't appear clearly on their smartphones, they'll likely leave your web page. This makes you rank lower in Google search results.
On the other hand, if you take the time to design a mobile-responsive website with pages that are easy to navigate on mobile phones ― and load within five seconds ― Google's algorithms see your website as desirable content and rank you higher on its search result pages.
Developing popular insurance blog posts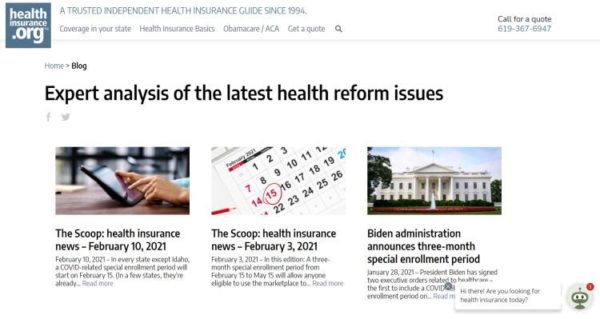 SEO techniques make your content easier to find, but your insurance content marketing strategy will only work if the content you offer your clients meets their needs. Thus, it's vital that you come up with insurance blog posts that clients want to read. Popular blog posts include:
How-to articles
"How-to" articles provide an excellent way for you to share useful information with your readers. Creating blog posts on "how to choose the right health insurance" or "how to save money on car insurance" will attract plenty of interested clients. Make your posts stand out from similar articles by providing in-depth content on a specific aspect of the topic. For instance, you could write an article on "How to save money on car insurance by taking advantage of discounts."
Helpful tips
Not all content marketing for insurance companies needs to be specifically about insurance. For instance, offering articles on car maintenance or saving for college can be excellent supplements to your blog posts on auto or life insurance.
Reviews
Clients will want to read your expert reviews of the pros and cons of different insurance plans. In addition, you can offer reviews of related businesses that your customers will appreciate learning about. For example, writing reviews of local car dealerships, realtors, or even family restaurants can attract a lot of local traffic to your website. And once they see the value of your content, they'll be more likely to go to you when they need to insure their purchases and provide security for their families.
Ask the customer
Your blog is meant to answer your clients' questions, so why not go the direct route and ask them what topics they'd like covered on your blog? You could create polls on your social media channels or send emails asking customers to share their questions. Once your visitors discover you're providing an open forum for solving their problems, they'll have extra incentive to return to your blog.
Promoting your insurance content marketing
Optimizing your blog posts and articles is important, but successful content marketing for insurance companies includes promoting your content on other websites. This helps expand your online reach and also improves your website's search engine ranking. A good place to start is by building backlinks.
Build backlinks
One way search engines look for quality online content is by finding popular websites that link to your articles and web content. You can create these backlinks by guest posting on insurance blogs such as Auto Insure Savings or US Insurance Agents. Make sure you can link back to your own blog and website.
Share content on social media
Many people get their information from social media sites like Facebook, Twitter, and LinkedIn. This makes these sites a great place to share your blog posts and other online content as well as reach out to people who need your services.
Create a Google My Business listing
You can promote your blog posts and content on a free Google My Business (GMB) listing that will appear on Google search results, vastly increasing awareness of your business. Make sure to include up-to-date information on your business profile, including your contact information and business hours. GMB listings that receive regular updates get noticed more.
Providing valuable insurance content marketing
Content marketing campaigns are one of the best ways for insurance companies to build a strong online presence. To learn how you can use other digital marketing tools to leverage this powerful strategy, check out Constant Contact's free online marketing guide for professional services. You'll learn multiple strategies for increasing your insurance company's credibility and developing an online reputation for reliable, valuable service.

Share with your network