When it comes to email marketing, the idea is simple: create content that inspires people to do something.
In practice, coming up with that content can be hard.
Just ask Jaye Myrick, Co-Owner of Take 5 Massage. She recently gave a presentation on how she boosted her open and clickthrough rates with strategic content, but she still doesn't think it's easy.
"I'd be lying if I said that," she admits. "But there are ways that small business owners can make creating content a lot easier."
Here are Jaye's secrets to making email content so engaging that it drives opens, clicks, and, ultimately, sales:
1. The template
Above all, Jaye says her content template has been the key to her success. Each month, the team will scribble down any potential idea on this template to see how it will look in the email.
"It helps us stay organized," Jaye says. "We'll come up with different themes for each newsletter, but if we come up with a good idea that doesn't fit a theme, we can put it in the template for another month and put it back in my desk."
2. Finding sources of inspiration
One of the biggest problems for small business owners is just coming up with those ideas in the first place. Here are Jaye's top sources for content inspiration:
a)      Email newsletters from other businesses
b)      Self content curation via social bookmarking service Delicious
c)       A notebook for ideas
d)      A mind map that helps her capture business values she can feature in emails
e)      Other businesses on Facebook
f)       Newspapers and magazines
The key for Jaye is to just "dip in" to different topics that can be broadly applied to massage.
During the Olympics, for example, she used a picture of an athlete getting a massage and used it as a jumping point for an article.
"Photos can make a huge difference," she says.
3. Having a theme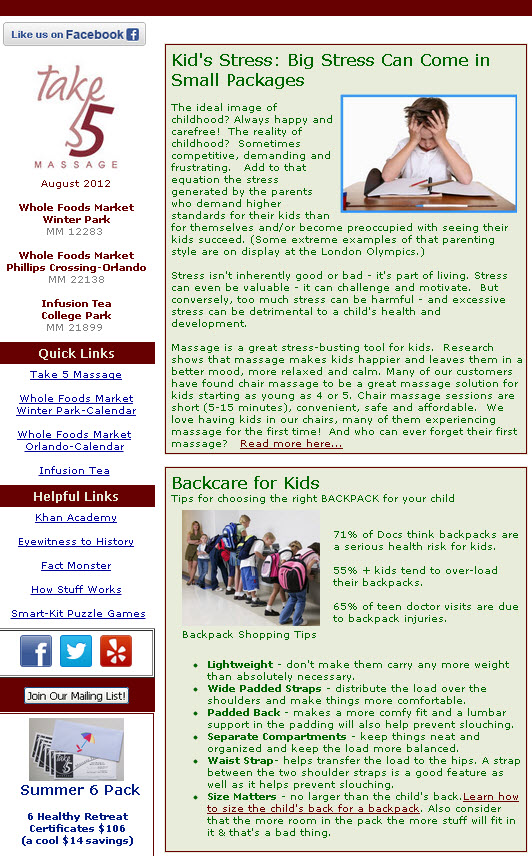 Jaye makes sure that each newsletter doesn't just have a theme, it has a timely theme. In August, the newsletter was all about children going back to school, and how starting school can be a stressful experience.
Having a theme as a cornerstone to your content can make it easier to come up with ideas and give email subscribers helpful information that also promotes your business.
4. The coupon

Jaye has found that you don't need to offer a big reward with an email, either. In the above newsletter, she offered a $2 coupon, which can be redeemed either by printing it out and giving it to the massage therapist or just opening the email on a smartphone and displaying the coupon on the screen.
Take 5 Massage keeps track of every coupon redeemed and the massage therapists see over 300 redemptions each month.
5. A checklist for voice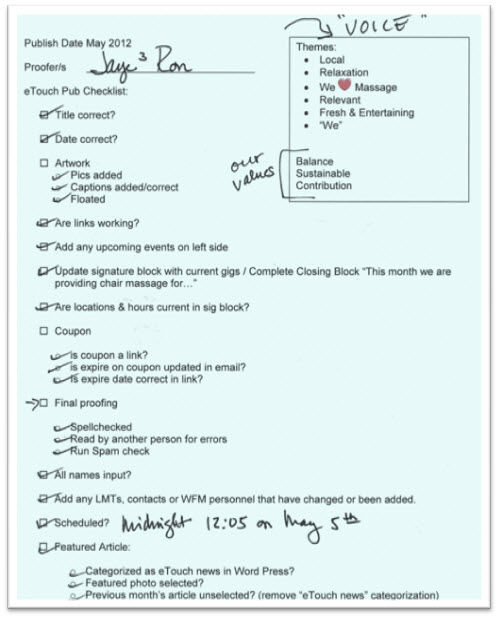 Jaye has a checklist that she goes through every time she's about to send an email. That way, she makes sure she doesn't miss anything—whether it's making sure the email is scheduled or an article is tagged correctly on the Take 5 blog.
The quirky part of this checklist is probably the most important: "We make sure we check for voice before we send anything out," she explains.
That means making sure emails from Take 5 Massage clearly show the personality of the business.
"I'll go through the text and punch it up if it seems a little boring," Jaye says. "And the last thing I do is make sure that every 'I' in the email is turned to 'we.'"
Breaking the bubble
Since she started applying content marketing strategies to her email newsletters, Jaye has seen an uptick in practically every metric.
The proportion of sales, clickthroughs, and open rates has gradually increased even as Take 5 Massage's contact list has grown substantially:
What Jaye shows us is that content marketing is all about breaking the initial bubble that surrounds the product or service of any business.
Take 5 Massage's email newsletters work because the content puts massage within the context of larger issues: from health, to stress, to work, to school.
At the core, content marketing is thinking about the other things your audience likely cares about, and then connecting those issues with your business.
Once you start planning appropriately, you may even find you have a different problem than before.
"I don't ever run out of ideas anymore," Jaye says. "I just run out of time."