You're staring at a blank calendar ready to be filled with all your sure-fire ideas, and you're determined to cram nuggets of gold into each square. Your content will be so great that cities will rise and fall with the command of your words!
Okay, so maybe that's a little dramatic, but sometimes creating good online content can feel like a big responsibility.
Whether you're a small business owner, marketer, or a newbie trying to make it all work, you know that content is at the core of how you achieve your goals. You've got social posts to create, email marketing automation to set, and somehow you've got to come up with a guide that is both on-brand and informative. Your plate is full. But a full plate just means a good meal, so let's get cooking.
Why you need to be creating content online
Content usually serves to do one or more of these four things:
Inform: content that gives your audience important information
Influence: content meant to persuade your audience
Educate: content meant to teach
Entertain: content meant to delight
And before you begin, the most important question you need to ask yourself is:
What business are you in?
And no, we don't mean your industry. If you run a bakery, you might say your business is culinary — that you provide customers with delicious cakes and pastries. But what service are you actually providing? Delight and sustenance for your customers. So when you're thinking about the answer to the question: "What business are you in?" you need to be thinking about what your clients will feel as a result of what you do. As marketing expert Simon Sinek says, "they don't buy what you do, they buy why you do it."
You need to drill down to the emotional level. Decisions are almost always based on emotions and backed with logic. When customers interact with your business, they are doing so because of an emotional need or desire. They'll use logic to spin it into a necessity. For example: buying a pastry from a bakery is going to make the customer feel good. Yes, they could get food anywhere to sustain themselves, but they are buying a croissant from your shop because it will sustain them AND make them feel good. Logic and desire going hand and hand.
So, the real key here is to think about what business you're in as the audience you're serving. What do they want from you? How does what you do serve them?
In terms of creating online content, understanding your audience and "what kind of business you're in" is essential to creating content your audience wants to see, not just the content you think will help you sell more products or services.
What is content creation?
Content creation is a process. It's the way you generate ideas and turn them into something that gives value to your audience. This could be anything from a reel on Instagram to a 20-page guide that walks through your product in detail.
Think about the types of content you gravitate towards most when you surf the web. What branded content makes you the most excited and engaged? What do you read or see online that makes you feel like you've learned something new or are inspired to take action? This is good online content.
To create this type of content, think about how your business's "why" dictates the content you produce.
For example: take two professional photographers. One specializes in wedding photography, while the other is a product photographer. The why behind their businesses are different. The wedding photographer is there to bring joy to couples in love. They're capturing important memories of an important event. The content they produce will revolve around the event and preparing for it. Like a blog about how to find the best DJ or an Instagram filled with photos of past projects.
Conversely, a product photographer's job is to make a product shine. So they might put together an ebook of all their samples or have a reel of their video work.
To start the process of creating insanely good online content, you need to be aware of a few key focus areas:
Audience: Who's your audience? What persona(s) are you trying to speak to?
Journey: The buyer's journey and what stage you're creating content for
Content types: What is the best content type to get your idea across?
Curation: Where can you source quality content to support your vision and goals?
Strategy: How are you going to create, disseminate and repurpose content?
Search Psychology & SEO: How to optimize your content for search
Platform: Where are you going to share your content?
Audience
Audience is everything, and when you're creating content on the internet, you need to have a keen understanding of who your audience is. You must understand their needs, what they desire, and what makes them feel good and seen, and excited. Now, if we're being realistic, you probably won't be able to speak to all of your customers directly. This is where buyer personas come in handy.
A buyer persona is a fictionalized representation of who you want to talk to. You might have one target audience, or you might have several. Create buyer personas for each type of customer you're trying to reach.
Buyer personas should include some demographic information, as well as the wants and needs of the customer.
As you start to build buyer personas, think about the journey your customers take to reach their destination (aka, buying your product or service). Where do they start? Do they have a problem to solve (like hunger) or a desire to fulfill (like hanging out in a coffee shop with friends)? Why should people choose your company over another? The buyer's journey helps map out the process from start to finish.
The buyer's journey
The buyer's journey is the set of stages that bring a customer from awareness of a product or service all the way through to making a decision or purchase.
Awareness stage: The awareness stage is when a potential buyer becomes aware of a problem or a need. They start seeking products or services that can help solve their problems.
Examples: blogs, social media graphics and videos, webinars, ebooks, etc.
Consideration stage: This is the stage of the buyer's journey where the customer begins to consider whether or not the product or service they are appraising will help to solve their problem.
Examples: checklists, case studies, white papers, vendor comparisons, etc.
Decision stage: The decision stage is precisely what it sounds like — the stage of the buyer's journey where the buyer decides whether to invest in a product or service.
Examples: Datasheets, FAQs, pricing, etc.
Different content types work to address different stages in the buyer's journey. While some types of content might work to make potential buyers aware of your product or service, other types are going to provide them with the information they need to make a decision.
Understanding content types
Content comes in all shapes and sizes. And it's important to understand that to meet your marketing goals, you must select the right content types to present your ideas to your audience. So, first things first, what are the different types of online content you have at your disposal?
Content types
Website
Blogs
Videos
Graphics
Podcasts
Gated Content and Offers
Website: Your website is the central hub for your business. And though you might not think of it when you think about your standard recurring content calendar, your website might be the most essential space to provide quality content to your customers. Make your website work for you by creating content that establishes and reinforces your brand, answers questions, and delights your customers.
This means carving out spaces to tell your customers what you're all about — what is it that your company makes or provides? Why should a customer choose to use your product or service? Give them a bit of background — how did your company come about? Who makes the magic happen? What's your team like? What was your spark, and why do you, as a business owner, care about what your company does?
Your website should house a couple of things:
Informative homepage: Use this page to give customers a high-level overview of your business, your products, and your services.
About us/history/meet the team: Use this page to share your company's story. How did you start, and how did you get to where you are now? Who's on your team? What kind of expertise do they have?
Product/Services/Capabilities: Use this page (or series of pages) to showcase what your company has to offer.
Contact: How can customers reach you? Include important information like a phone number, address, email, and contact form. Make sure customers have a way to get in touch with you.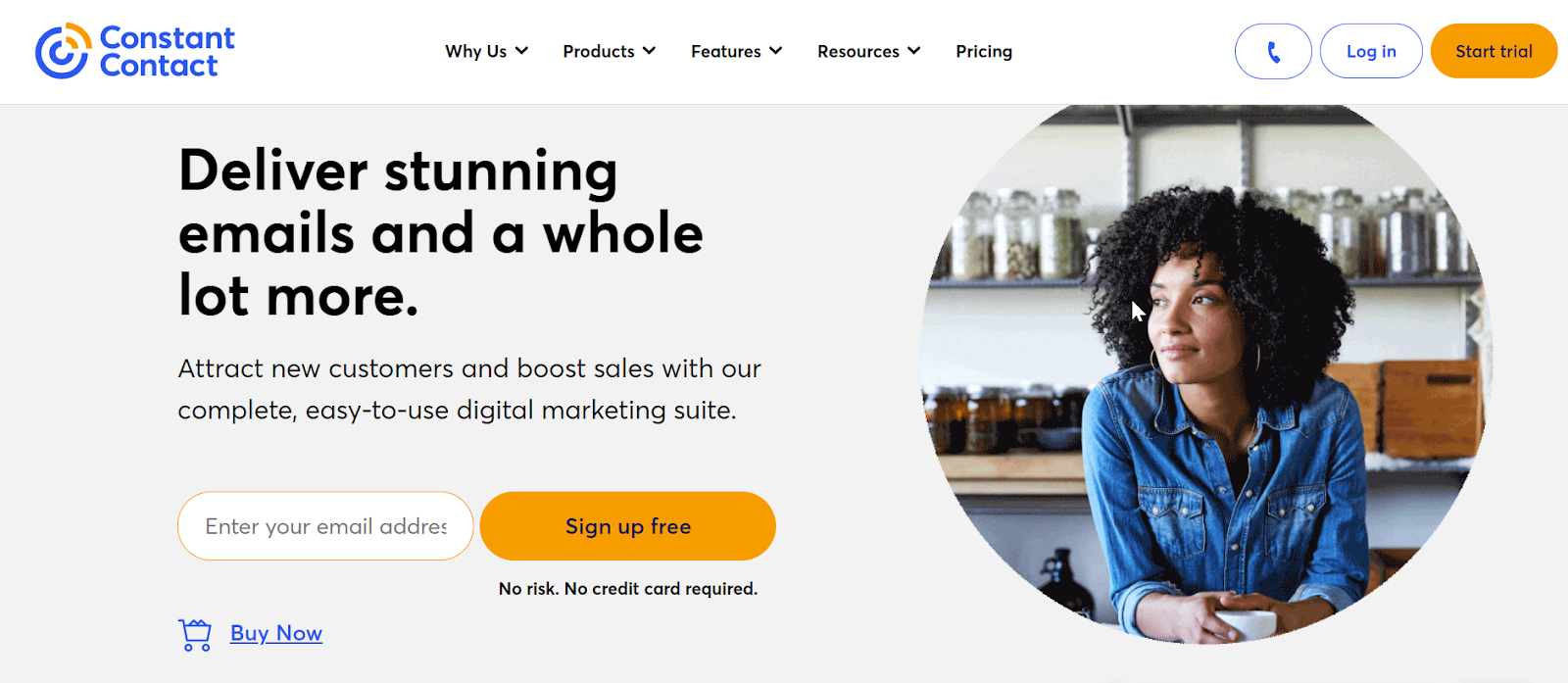 Blogs: Blogs are a great way to provide your audience with answers to their burning questions, introduce features, provide them with support and ideas around particular topics, and ultimately keep them engaged with your brand.
Blogs will usually live on your website, but you will be able to share them through social media. Your company could also benefit from partner blogs that mention your company and link back to your website, boosting your credibility and increasing traffic to your site.
Videos: Video content can comprise everything from lengthy demos to quick reels. Videos are a great medium to use when you have a concept that needs to be a little more illustrative than a quick graphic or when words just won't cut it.
Videos are ultra-engaging because they are fully immersive. They provide the viewer with important information, visuals, sound, and hopefully delight. And every year, video content gets more and more popular with audiences, so social media algorithms rank them higher.
Graphics: Illustrate your ideas to provide depth and make difficult ideas easier to understand. Graphic content can look like an infographic geared at visualizing statistical knowledge, photography that generates atmosphere, or memes and GIFs that are there to bring some personality to your brand.
A picture's worth 1,000 words Make sure you're using visuals to engage, educate, and delight your audience.
Podcasts: Podcasts are a great way to engage your audience and provide them with your industry expertise. Run a bookshop? Maybe you have a podcast where you discuss the month's best sellers. Sell house plants? Talk to your audience about seasonal plant care.
When you start a podcast for your business, you'll elevate the brand voice of your company by, very simply, giving it an actual voice.
Gated Content Offers: Gated content tends to be more in-depth. It can come in the form of ebooks, product demos and free trials, or useful templates. In order to have access to this kind of content, your audience needs to give something back to your company, usually in the form of an email signup or a survey completion.
By gating your content, you're ensuring you receive something in exchange for your work. Offering free content helps make your audience aware of your brand, but by gating that content you're growing your email list and ensuring you're connecting with people most likely to purchase your product or service.
Curating content to share with your audience
Providing value to your audience is not just about content creation but also about how you curate content. Curating content is an excellent way to boost credibility and provide value to your customers.
Let's face it, no one has the capacity to be an expert at everything — there simply aren't enough hours in the day — plus the marketplace of ideas is bursting with insight. Don't reinvent the wheel. If a topic you want to touch on has already been covered by an expert, reshare their content.
Be sure to follow some important best practices for curating content, like sourcing content from credible spaces and giving due credit.
Crafting a content strategy
So, you're set with knowledge of content types, and now you're ready to get creating — but first, you're going to need to build a proper strategy. Your content strategy will be your guide as you plan out and craft content, select the proper channel, and then rework existing content for use in different spaces.
By starting with a well-thought-out content strategy, you'll be on your way to creating successful content that helps you achieve your business goals.
Your content strategy should include a couple of things:
Content goals: what is it that you want your content to achieve?

Informing your audience about a special offer?
Getting customers to invest in a product?
Clearly outline the goals of your content to help build a proper strategy.
The buyer's journey: Know what type of content to create based on where the audience you're trying to reach falls in the buyer's journey.
Search psychology & SEO
To make sure your content is being seen on the internet, you need to ensure it's optimized for the search engine. Search engines, like Google and Bing, use indexing to rank content that will be most likely to give the searcher their desired outcome whenever they query.
Search engine optimization (SEO) is a set of techniques and practices that make your content ready for the web.
The practices of search engine optimization are based on search psychology. Search psychology tells us that searchers have two things in mind when they are making a query:
Intent and context.
The first thing you have to think about before you begin optimizing your content for search is to consider the intent and context of the searcher's query.
Intent: what is the searcher looking for?
Context: what gives what they are looking for meaning?
The search engine ranks content to provide quality answers to searcher's queries. There are a number of factors by which the search engine ranks content. It's not just whether the content answers a specific question but also whether the content will provide the searcher with a credible, enjoyable experience.
To help you create quality content that will rank well on the internet, you'll want to take time to ask customers why they've come to your business to solve their problems, whether in person or digitally. You could use a survey or a comment box that lets customers leave their stories or tell you how they found your business on the web. Ask the right questions to get the right insights.
Once you have an idea of what your customers are looking for when they happen upon your business, you have a good understanding of what kinds of questions and keywords they are entering into the search bar.
Keyword Research
Now's the time to put yourself in the mindset of your customers. Think about the kind of things they are searching for that would lead them to your business. Use the following tools to plan out the keywords and phrases you'll try to rank for with your business content.
Keyword & Query Research Tools:
As you conduct keyword research for your business, enter the words, phrases, and questions that customers use to talk about your business. Take note of the suggestions that appear below the search bar as well as the related searches section at the bottom of the search engine results page (SERP).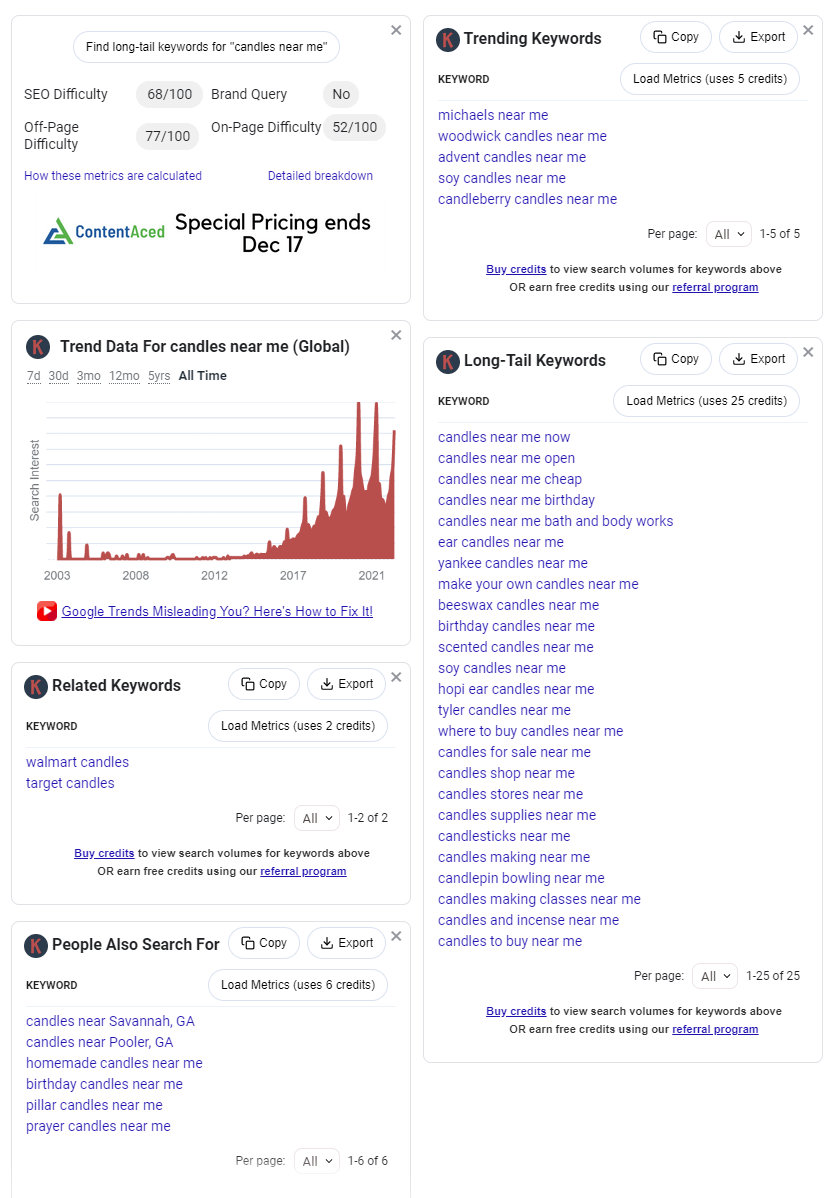 Relevant questions and statement searches:
Besides keywords related to your business, you're going to watch to see what search results come about when you enter relevant questions and statements related to your business and your industry. As an example, we'll return to our bakery. What questions come to mind when you're searching for a bakery in your town?
Find a bakery near me
What is the closest bakery to me?
Are there any bakeries near me?
What's the best bakery in town?
What time does X bakery open?
Does X bakery have gluten-free options?
Top 10 bakeries in X city
Where you post matters
Not only do you have to think about what you're posting, but you also have to consider where you're posting content. What platform is going to house what you've created?
A press release or news article, for instance, might be better suited to share with your LinkedIn followers than to link to in an Instagram story. But a video montage of an event? That's made for Instagram.
Company website: Your website is likely your home base for the majority of your content. Company websites usually house the about, mission statement, values, products and services, frequently asked questions (FAQs), business hours, addresses, blog, phone numbers and other contact information.
News source: Whether your company sends press releases to the wire or you attract journalists on your own, having your company talked about by local or national news outlets will help your credibility. News sources backlinking to your website will ultimately help your content rank higher because of its association with sources the search engine deems trustworthy.
Social Media: Use social media to engage your followers across a range of platforms and provide entertainment and information to the appropriate audiences.
Facebook: Use Facebook to share blogs, build a following, answer questions, and announce events.
LinkedIn: LinkedIn is the place to share business achievements and promote thought leadership.
Instagram: Use Instagram as a place to share images that reinforce your brand. Use your grid, stories, and reels to craft the atmosphere of your business.
Twitter: Use Twitter for quick updates, to communicate with followers, engage with partners, curate content, and share blogs.
TikTok: TikTok is a great place to provide your audience with entertaining content. TikTok is also a great place to capture audience testimonials.
Pinterest: Use Pinterest to curate content and share links to your products.
YouTube: Use YouTube to house video content like product demos, commercials, and customer testimonials.
Remember that your content is the art, and the platform is the frame that it sits in. The frame matters; it holds the piece up to the world.
Creating content that works
Creating insanely good online content isn't easy, but it's worth the effort.

Once you master the art of producing online content that serves to inform, inspire, educate, and entertain, you and your company will be ready to start hiking up the ranks of the search engine. So think about the services your business provides as you create content. Think about the buyer's journey and the audience you're trying to target. Think about where you'll post your content to achieve the best engagement.

As you work to strategize, create, and maintain your content, remember that the key to successful work is centering the content on what your audience wants to see, hear, and read – it's centered around what they find valuable.

Now that you know how to create great content, there's no time like the present to get started.. Dust off your content calendars and start serving up what's good — insanely good.

Share with your network