How Aisha James is building a sense of community through good food
Food is a love language, an expression of hospitality, community, and affection. No matter where you come from, cooking is often seen as an act of caring. It connects people and is the cornerstone of many traditions and cultures.
According to Food and Wine, St. Louis is an "essential Midwest culinary destination," offering a food and dining scene that is both diverse and impressive. Aisha James, the founder of The Taste of Black St. Louis, knows this well. Aisha, a St. Louis native, understands that food is the perfect way to connect the community and small businesses.
While St. Louis is home to many food festivals, it's The Taste of Black St. Louis that is building a sense of community and lifting the voices of Black-owned businesses. This once-a-year event provides several days of tasting, shopping, exploring, and celebrating the culinary contributions made by Black St. Lousians in the community and surrounding areas.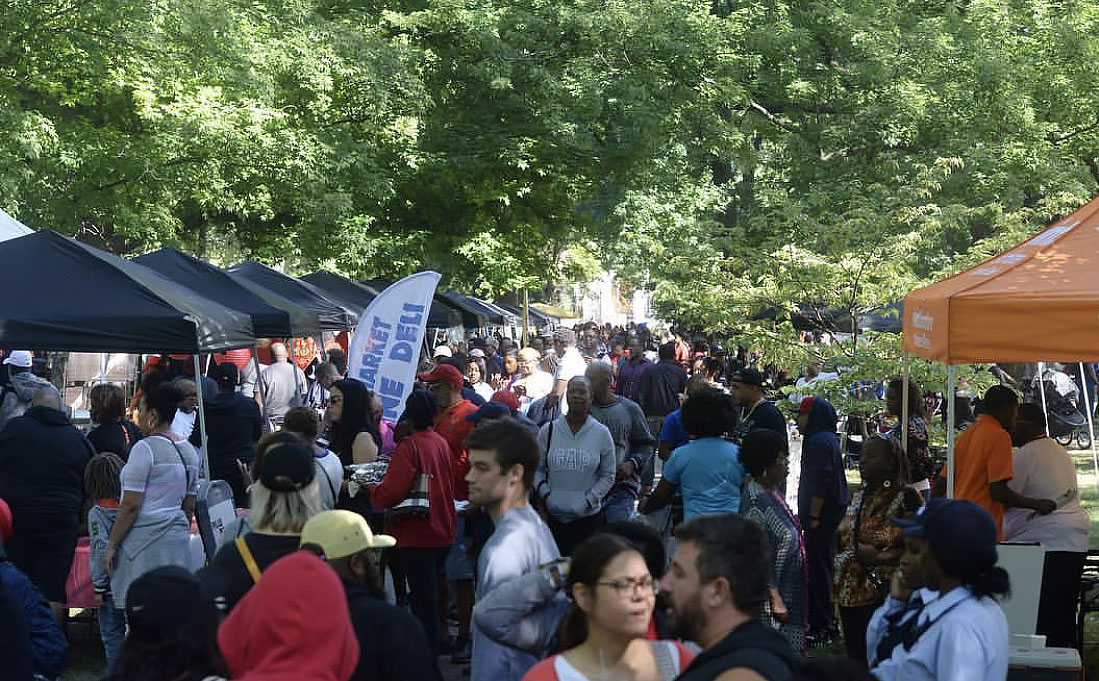 "This event is so important to me because I love St. Louis. I am St. Louis. I am so St. Louis. And I want the businesses, the minority businesses here to win," said Aisha.
With many of the existing area food festivals outpricing black-owned small and micro businesses, Aisha saw an opportunity to help. She created a festival that was accessible and affordable for vendors of all sizes, which enabled them to grow and continue to support their families.
Helping small and micro Black-owned businesses succeed
Starting as a one-day event in 2018 with just 45 vendors and 7,000 attendees, Taste of St. Louis has morphed into a three-day festival with 100 vendors and over 80,000 attendees. The festival has showcased over 200 foods and generates hundreds of thousands of dollars for the city of St. Louis each year.
Since Taste of St. Louis began, Aisha has been fortunate enough to watch the businesses the festival has supported grow from food tents to brick-and-mortar storefronts. "To be a small part of that journey, it makes me smile, and it makes me want to do this again, year after year," Aisha said.
In September 2021, The Taste of Black St. Louis accepted a proclamation from St. Louis' mayor, Madam Tishaura Jones, naming the second weekend in September as the "Taste of Black Saint Louis weekend." In addition, the festival also received a resolution and a pause on the floor of the Missouri House of Representatives and State Representative Marlon Anderson of St. Louis District 76, recognizing The Taste of Black Saint Louis as a staple of the community.
Reclaiming historical narratives under the Arch
While the festival has previously been held at Tower Grove park, as well as the City Foundry, The Taste of Black St. Louis is now being held under the historic Gateway Arch.
The arch has a complicated past, as civil rights activists regarded the construction of the arch as a token of racial discrimination — it displaced about 20,000 residents, 290 active businesses, and 5,000 workers (the majority of which were Black). Despite the history, Aisha is using The Taste of Black St. Louis as an opportunity to transform the narrative of this spot into a more uplifting one.
Aisha's goal is to eventually reach 290 vendors participating in The Taste of Black St. Louis, symbolizing the 290 businesses that were displaced during the arch's construction. "We would like to hit that number of 290 vendors to be on the arch grounds again, so it's almost like reclaiming the steps — bringing all those businesses back down there is monumental, " said Aisha. "And it's not in a negative way towards the arch ground … but we do want to make sure to change the narrative of that history and let you know that it's a good thing that The Taste of Black St. Louis is going to be on that national monument."
Working smarter with Constant Contact
To achieve her goals, Aisha realized that her current marketing strategy needed to change.
Before working with Constant Contact, maintaining communication with her vendors was complicated, as she was using her personal email address to promote the event. This resulted in thousands of emails flooding her personal inbox, making it impossible to navigate and answer essential questions efficiently.
After seeing her struggles with her email marketing, Aisha's project manager suggested she take a look at Constant Contact to streamline her processes. And, "we've been together ever since," Aisha said.
Since joining Constant Contact, Aisha has been taking advantage of the Eventbrite integrations to automatically import all the email addresses she collects within Eventbrite directly into Constant Contact.
"Everything is integrating with each other, and what you do with one, it just kind of flows over to the next, so you're not spinning your wheels… which is the best thing as a small business owner," said Aisha.
In addition to the convenient integration, Constant Contact provides Aisha with valuable data that allows her to determine whether her campaigns are working or if she has to adjust her strategy. Monitoring this information allows her to make critical decisions that will help her work toward her business goals.
"[With Constant Contact's reports,] you have tangible information to be able to change up and pivot to something different if [a campaign is] not working, which is something that I didn't have before," Aisha said.
Looking toward the future
The Taste of Black St. Louis allows Aisha to reclaim the arch narrative, support minority-owned businesses, and build a sense of community. As Aisha strives to achieve her goal of 290 businesses on the arch, she relies on Constant Contact to support her and provide the tools she needs to get the word out to grow her event.

"No one will know about your dream unless you shout it to the world," said Aisha. "What better platform to shout it to the world than to be on Constant Contact, where you can shout it to everybody."

For more information on this year's event, visit The Taste of Black St. Louis. And to use Constant Contact for your small business, start by signing up for free.

Share with your network