If you're like most daycare business owners or managers, your marketing budget is tight. You likely aren't able to create expensive advertising campaigns for your business, even though you need to reach more families as little ones age out of your programs.
This is why daycare SEO should play an important role in all your marketing plans. SEO, or search engine optimization, is a powerful tool to increase your organic or unpaid reach and engage your target audience. It works by maximizing your online presence so links to your website rank higher in results pages generated by search engines like Google.
What does organic reach look like? When integrated into a long-term strategy, SEO techniques can:
Increase the traffic to your daycare website
Improve your brand reputation and position within your community
Help you enroll more families into your child care facility
While SEO can be extremely effective as a marketing initiative, many entrepreneurs don't implement the changes necessary to rank better in online searches simply because the process seems overwhelming — but it doesn't have to be.
In this guide, we'll cover:
SEO basics for daycare businesses
How to improve your daycare website's SEO
How to find the best keywords for your business
Why hyper-local SEO works
More tools to better integrate SEO
SEO basics for daycare businesses
Part of the reason that daycare SEO — or SEO in general — can feel so confusing is that the target you're aiming for is always changing. When you optimize your daycare website and online presence to get noticed by the Google algorithm, you can be doing everything perfectly — until Google changes something with their algorithm.
However, marketing professionals have discovered that some tactics have proven effective throughout these changes. One of them has to do with location. You can get your business to rank higher specifically when people are searching for daycares in your area.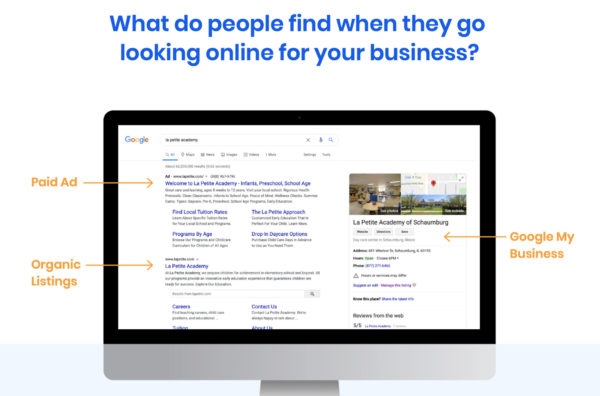 To understand how SEO works, think about how most of your prospective families search for daycare facilities. They will likely type in something like "daycare near me" or "child care in Boise." The words and phrases that people type in search boxes are called keywords. If you don't have those words and phrases somewhere on your website, Google won't find your business and list your daycare among the search results returned by those keywords.
But keywords are just one element of SEO. You also need to maximize the backend of your site so that it is user-friendly. Another way to increase your ranking organically is to generate more backlinks. Backlinks are when other sites link to yours — and you can get more by offering high-quality content like blog posts that people will want to share on their own websites.
By staying on top of daycare SEO, you can improve the effectiveness of your daycare marketing campaigns. And the boost can be noticeable even when you integrate paid advertising and outreach efforts.
How to improve your daycare website's SEO
The first step to improving your daycare SEO is to conduct an audit of your current website. If you don't have a website yet, now is the perfect time to invest in one. An online home for your daycare gives you control over your online reputation.
Once you have a website to work on, check the following elements to maximize your organic online exposure.
Speed
Does your website take forever to load? It could be that you've used pictures that are way too big, or perhaps you've added a video to your homepage that's slowing everything down. Prioritize smooth loading times over the way your website looks. Google frowns upon any design flaw that frustrates users. You won't rank well if you don't improve your site load speed.
Mobile-responsive
Since so many parents are always on the go, your future customers are likely searching for your business on their mobile devices while waiting in line at the grocery store or during an all-too-brief naptime. If your website isn't able to function on a smartphone as well as it does on a desktop, it won't appear on the first page of search results.
Navigation
Have you navigated through your daycare website lately? If you haven't tested and clicked on all your links in a while, now is the time to do so. Any error pages or broken links on your website will add to user frustration and inhibit your SEO. Update your links regularly.
Security
Have you seen that little lock icon with an SSL certificate on the URL bar in your web browser? The SSL or secure sockets layer certificate shows that the site owner is using encryption tools to keep user information safe. When people fill out your contact forms, they expect you to protect them from hackers. Google expects it, too.
Keywords
Finally, you'll want to integrate those keywords into your website to get the most out of your daycare SEO initiatives. Along with weaving the best keywords into your content marketing, you'll also want to make sure they appear in your page titles, meta descriptions, image descriptions, and headings.
How to find the best keywords for your business
It's both an art and a science to determine which keywords will work best for growing your daycare business. The first step is to identify your audience with as many details as possible. Think beyond the fact that they're all young families.
Brainstorm ways that your business stands apart from the competition so that you can have a better understanding of your brand. Use that uniqueness to inform messaging that reflects your values and services.
You'll also need to do some keyword research. Use an online tool to confirm which keywords your target audience are using to search for your business. Maintain consistency by using these keywords in your email marketing, blogs, and other marketing initiatives.
Why hyperlocal SEO works
As mentioned earlier, sometimes people will just type in "daycare near me" since location plays a role in their decisions. This is a different facet of optimizing your search engine ranking, and it's known as local SEO. To show up as a business that's nearby, you'll have to manage your online listings and reviews.
To do this, claim your business on Google Business Profile, Apple Maps, and Bing Places — along with any other listing services that your prospective customers might use. Once you've done that, you can update your information completely. Confirm your address and contact information, make sure the spelling of your business name is correct, and list all the services you provide so that parents can connect with you.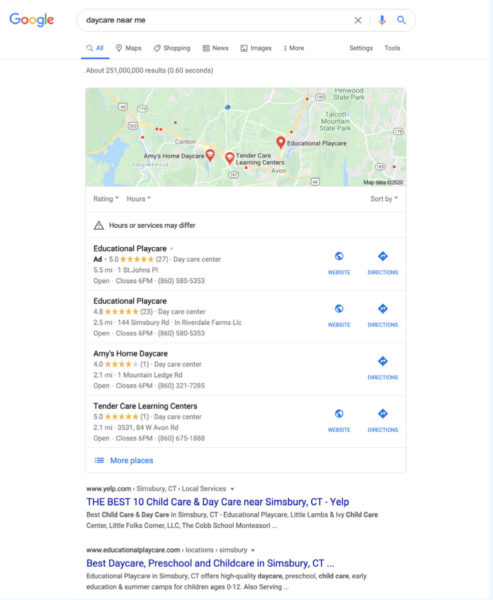 Don't forget to include keywords in your business listings, as well as all your replies to reviews left by customers. For example, your local SEO keywords might include "daycare in" plus the name of whatever town you're in.
More tools to better integrate SEO
Remember that SEO is a long-term marketing process that doesn't provide an instant boost. It can take some time to rise organically in searches. The more effort you put into integrating this strategy, the more successful you'll be.

Share with your network