If you run a nonprofit, you know the difficulty of donor retention. In fact, donor retention dropped by 4% in 2020. The situation is only becoming more prevalent for nonprofits across all sectors. On a good note, the number of new donors rose in 2020, with Americans giving over $470 billion in donations. This impressive number means more individuals are looking to give to nonprofits — and there are plenty of opportunities to turn them into repeat donors. 
The key to keeping contributors coming back again is implementing effective donor retention strategies. Moreover, the success of these strategies lies in developing strong relationships with donors. And at the base of every strong relationship is solid communication. That's where email marketing for nonprofits comes into play, creating a steady, interesting, and effective communication method. 
This guide will outline the best email marketing strategies to turn one-time contributors into loyal donors.
Keep your organization growing with expert advice and all the tools you need, all in one place.
Why is email marketing effective in donor retention?
As a general marketing method, email campaigns bring success to all businesses. Specifically, email marketing benefits include a high return on investment and the ability to reach audiences quickly, efficiently, and effectively. Even better, when this is combined with email automation, you can scale your communication efforts while cutting down on time, finances, and resources.
In the end, donors want to hear how their money is actually helping an organization they care about. They're interested in their impact and are rooting for your nonprofit to succeed. By sending out timely emails that speak to these desires, donors will be motivated to come back and continue to be a part of your accomplishments.
Email marketing allows you to show your appreciation, keep your donors updated, and inspire them to give when you need it most.
4 donor retention strategies to use today
Below are some of the best email marketing strategies to try out.
1. Welcome back your donors
A welcome series email marketing campaign solves the question of donor retention versus acquisition. Beyond welcoming new donors, you can create a campaign that focuses on welcoming back donors who have recently contributed again.
You can also welcome them to your social media platforms, where they can further engage with your organization. This is a great way to bring donors back who may not yet be ready to give again right now but may be inspired to do so after reconnecting with you.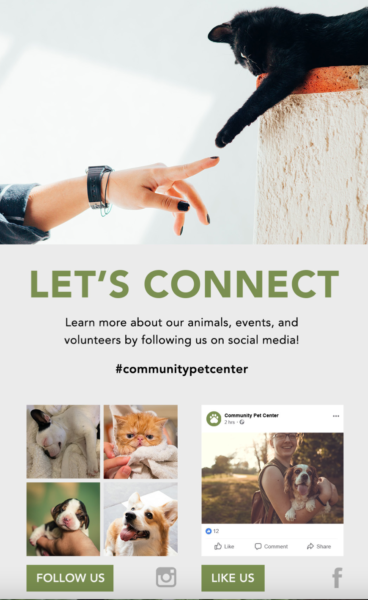 2. Show your appreciation
Sending out thank-you emails is a must for any nonprofit. They also give you the perfect opportunity to show repeat donors their impact on your organization over time. You can incorporate appreciation donor retention strategies in the following ways:
Use personalization: Generic thank-you notes won't go very far in getting donors back. The more personal your appreciation emails are, the more likely donors will feel included in your mission. Address donors by their name, mention their donation history to remind them of their efforts, and give a detailed look into what you've accomplished thanks to their help.
Incorporate visuals: Visuals make your emails pop and offer you another way to show your appreciation. You can share photos of your organization's achievements, events, volunteers, or even donors themselves. Alternatively, you can create videos that tell the story of how you could achieve success with donor support.
Give them something physical: Handing out something physical is particularly memorable in our increasingly digital world. For instance, you can send out a handwritten thank-you note, printed photos of your nonprofit's progress, or a pamphlet showcasing impactful results, statistics, or other relevant numerical figures surrounding donations.
3. Ask for feedback
One of the lesser-known tips for nonprofits is to survey your donors. In particular, surveying your lapsed donors or those who haven't donated in a while gives them the chance to let their voice be heard. It also reminds them that your organization is still invested in them as individuals. 
On your end, you receive insightful and measurable feedback that allows you to refine your outreach strategy. Moreover, you can appeal to donors' interests as they transform over time.
As for what to ask, you have many different options. For example, you can ask donors why they first became interested in your organization. In addition, ask what they'd like to see from you in the future regarding your goals and targets.
Another effective idea is to ask about the donation process itself. Did they find it easy to donate? Did they feel assured that their donations affected your nonprofit's work? It helps to put yourself in the donor's shoes here. What questions or statements would make you feel heard as a donor?
4. Celebrate special occasions
Lastly, it's never a bad idea to have fun and celebrate special occasions in donors' lives. One common way to do this is to send out emails for a donor's birthday. Birthday emails can be short and sweet, wishing donors a happy birthday and a wonderful year ahead. Often, little notes like these are enough to build a strong relationship with donors and make them happy to continue hearing from you.
If you'd like to inspire action with your email, consider sending out an anniversary note. For instance, you can send a message that celebrates the first anniversary of the donor's first donation. Not only is this another powerful way to thank them, but it also gives you the chance to ask for a follow-up donation.
As an alternative, you can give donors the chance to share their anniversary on their social media pages. This gives them the chance to talk about their efforts and helps spread the word about your organization's cause.
Best practices
To find the best success with the above email donor retention strategies, you can implement email marketing segmentation and automation.
Segmentation leads to increased engagement
Email segmentation for nonprofits ensures that the emails you send out to subscribers are targeted and of guaranteed interest and relevance to them. Segmentation involves dividing your email subscribers by certain factors, such as the number of donations, donation amount, or donation history. Incorporating such segmentation strategies can lead to the right message arriving at the right time to inspire further action. 
Automation makes the process smooth and easy
With all of these email donor retention strategies to try out, you may be concerned about how much time you'll need to dedicate to sending and keeping up with these campaigns. That's where marketing automation for nonprofits comes in. 
You can automate just about any email campaign out there, whether it's a donor welcome, thank you, or celebratory email series. Using email automation tools, you can schedule emails to your segmented donors and measure results such as click-through rates, bounce rates, and engagement levels.
Keep your donors coming back with email marketing
Donor retention is an issue every nonprofit will face at some point. Luckily, implementing personalized and targeted email marketing toward your donors motivates them to continue financially supporting your organization.
To get started with donor retention, sit down with your team and decide which retention strategy best applies to your contributors. Moreover, think about which specific donors you'd most like to appeal to. After you've settled on these specifics, you can launch your email marketing campaign and enjoy stronger relationships with your supporters.