When you're promoting a school or learning center, you need to figure out what education keywords and search terms are driving user searches. The right tools will tell you what people are researching on Google and what content you should provide.
By integrating specific education keywords into your digital marketing strategy, you can pull in more organic traffic to your website. Almost half of digital marketers think that search engine optimization (SEO) yields the highest returns. Keywords are integral to a strong SEO strategy as well as search ad campaigns.
This article covers:
Benefits of a strong keyword strategy
Education keywords
Ways to find more keywords
You'll learn which education-related search terms are the most popular and how to figure out what your target demographic is researching right now. Using the right education keywords will land your school or business on the first page of Google results every time.
Stay connected to students, families, and staff with expert marketing advice and all the tools you need, all in one place.
Benefits of a strong keyword strategy
If you want to be the first website parents or students find when looking for online education services, you need to incorporate the right education keywords into your website content. Keywords for school aren't the only component of education-related SEO, but using them is crucial to the practice.
There are several reasons you need a strong keyword strategy:
You can use it for pay-per-click (PPC) advertising, email marketing, and generating organic traffic.
Targeting people's searches ensures that you reach prospects at the perfect moment when they're actively looking to engage with your material.
Incorporating the right keywords into your website lends you credibility as an industry resource.
It allows you to be efficient with your time and content creation, directing resources where they're likely to do the most good.
It's necessary if you want to stay competitive in local searches.
You can keep tabs on industry trends to stay relevant.
The right keywords can reach new, promising audiences, helping them to find your school.
In addition, a keyword strategy doesn't have to cost you a dime. Some of the best tools are completely free.
Education keywords
The next section breaks down how to get the following list of 60 common education keywords, but first, here they are. These were generated using Google's Keyword Planner with branded keywords filtered out.
Education
Montessori
Higheredjobs
Ed join
Department of education
Sped
Homeschooling
Higher education
Online learning
Drivers ed
Ferpa
Financial literacy
Civics
Hbcu colleges
Secondary education
Trade schools near me
Paraprofessional
Eop
Educational psychology
Professional development
Drivers ed near me
Special education
Nc ed cloud
Heerf grant
Chronicle of higher education
Schooling
Philosophy of education
Teach account
Adult education
Continuing education
Teaching philosophy
Universal design for learning
Inside higher ed
Myschools nyc
Ipeds
529 account
Connect ed
Learning center
Drivers training near me
Postsecondary education
Learning experience
Master of education
Heerf
Culturally responsive teaching
Teach grant
Tncompass
Good colleges
Drivers ed online
Edconnect sdhc
Educational systems
K12jobspot
Technical schools near me
Developmentally appropriate practice
Education center
529 plans
Drivers training
Ed s
Highered
Autism schools near me
Physical education
The majority of these words receive 10,000 to 100,000 searches each month, and the first four receive 100,000 to 1 million. Try incorporating some of them into your school website or your next newsletter.
Ways to find more education keywords
If you want to generate a list that's more tailored to your school's services or educational offerings, you have several readily available tools to help you find marketing keywords.
Most of these tools are Google-based, but they'll help you perform well on other search engines, too. Besides, Google accounts for roughly 86.6% of the global search market, so it makes sense to prioritize tools designed around its algorithm.
Your brain
It may sound cheesy, but you know your school, students, parents, and guardians best. Brainstorm a list of terms you think they would enter into the search bar. You may come up with community-specific interests that wouldn't show up through other means.
Google autocomplete
You can further prompt your brain by typing partial terms into the search bar. See what comes up in Google's suggestion box as common entries with that beginning.
Google's Keyword Planner
Google's Keyword Planner doesn't just list possible keywords. It also tells you how competitive those terms are and how much interest has changed recently. You can view the click-through rate, too, as well as the cost of running a Google Ad, which allows you to build a Google Ads for education campaign around your keywords.
While you need a Google Ads account, you don't have to pay to use the tool or develop a full campaign. You simply click on "Discover new keywords" in the upper left corner and then input your original search term. For example, if you start with "education," Google returns a long list of related education keywords.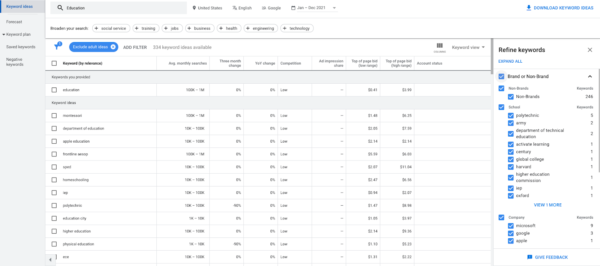 In addition to filtering out branded results, you can also use your school website as a filter. Google then takes out everything that doesn't match what your website offers. Keep in mind that this latter option is better for paid search ads than for SEO. After all, one of your goals is to find material that isn't yet present on your site but could be.
Google Trends
While the Keyword Planner focuses on average keyword performance, Google Trends identifies topics that trend over specific time frames and in certain locations. Its ability to detect local popularity makes it a particularly effective tool for schools.
You can use Google Trends to identify:
Relative popularity
Seasonal trends
Breakout keywords
Temporary fads
Related search terms
Type in a subject such as "education." You'll get graphs of interest over time and by subregion as well as two lists — related topics and related queries.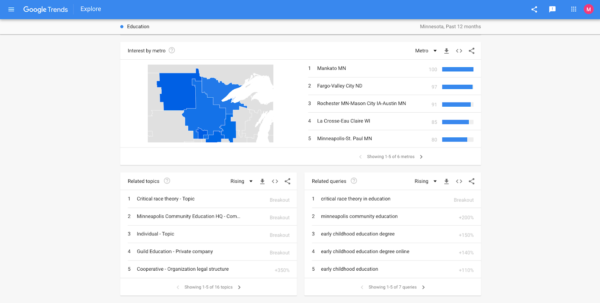 You can zero in on your state or region and compare up to five terms against one another. It's an incredible window into the browser histories of your area. For example, you might use it to discover which neighborhood has the highest relative interest in "special education" or "homeschooling."
Other free and paid tools
While you can do a lot with Google's tools, other keyword applications have their own strengths. Some might be better for different search engines or as out-of-the-box suggestions for your school blog. Others let you analyze competitor pages or filter out keywords based on a large number of criteria.
A few popular tools are:
But there are a ton of other options. With a little research, you can find the one with the best functionality for you.
Create your own list of education keywords
There you have it — popular education keywords, the benefits of using them, and ways to find more.

It's now time to customize your list. You can start with the provided keywords. Go through the list, highlight any important to your school or business, and put a star by ones that aren't represented in your current content library.

Then you can start assessing individual keywords and craft your overarching strategy. But the first step is simply to generate a useful word bank.

Share with your network