Some people play computer games. Others play with search engine optimization (SEO) tools. I've always been a little nosy — that's why I love to do research. And SEO tools let me find out what people think about, search for, and even secretly desire. So I jumped at the chance to investigate hair salon keywords and spy on — I mean, research — your target customers.
And, I found lots of interesting information.
For example, did you know that in Selma, Alabama, "African hair braiding" outperformed "hair extensions" this past month?
By researching and using similar insights, you can generate your own ideas, to create a comprehensive SEO strategy and target your clientele precisely.
We make it easy to get new clients and repeat business with all the marketing tools you need for your nails, hair, skin, or personal care business.
SEO for hair salons
SEO is the body of practices that lead people to your business online. A solid SEO strategy ensures that customers searching for your business or specific services you offer can find you. And yet, 70% of small businesses don't have an SEO strategy.
When you're a business owner, your goal is to be one of Google's top results when someone searches for something related to your business. However, someone in Nebraska doesn't need the services of a salon located in New York.
That's why, as a salon owner it's important to use local SEO as well.
With local SEO, you can pop up in your neighbors' browsers by:
Claiming your listings on Google Business Profile, Apple Maps, and local directories
Building local backlinks between your salon and other local businesses
Optimizing your keywords with a local audience in mind
I'll return to the last point when I discuss how to target your audience. But first, here are the top keywords for general SEO purposes.
There are a lot of factors that go into Google's search algorithm. Use Constant Contact's SEO tool to audit your website for potential issues and neglected possibilities.
Top hair salon keywords
You can see the current top keywords for hair salons in the lists below. These are high-volume search terms (with low competition) that you want to incorporate into your website.
1M to 10M average monthly searches
hair cutting near me‌
hair salon near me
100K to 1M average monthly searches
hair braiding near me
hair salon
haircut places near me
men's haircuts near me
salon near me
10K to 100K average monthly searches
African braiding near me
African braiding shop
African braiding shop near me‌
African hair braiding near me‌
balayage near me‌
best hair salon‌
best hair salons near me‌
best salon near m‌
black hair salons near me‌
blowout hair‌
braiding salons near me‌
braiding shops near me
‌braids near me‌
Brazilian blowout near me‌
cheap haircuts near me‌
curly hair salon‌
curly hair salon near me‌
Dominican hair salon‌
Dominican hair salon near me‌
Dominican salon near me‌
hair braiding salons near me‌
hair color salon near me‌
hair colorist near me‌
hair cuttery near me‌
hair design‌
hair extensions near me‌
hair near me‌
hair shops near me‌
hair stylist‌
hair stylist near me‌
hair stylists‌
haircut places‌
hairdresser‌
hairdressers near me‌
Korean perm‌
men salon‌
men's salon near me‌
men's hair salon‌
men's hair salon near me‌
natural hair salon‌
natural hair salon near me‌
perms near me
places to get a haircut near me‌
walk-in hair salons near me‌
women hair salon near me‌
women's haircut near me
How to find keywords
So how did I generate the list above? I used Google Keyword Planner, a free and fairly intuitive tool.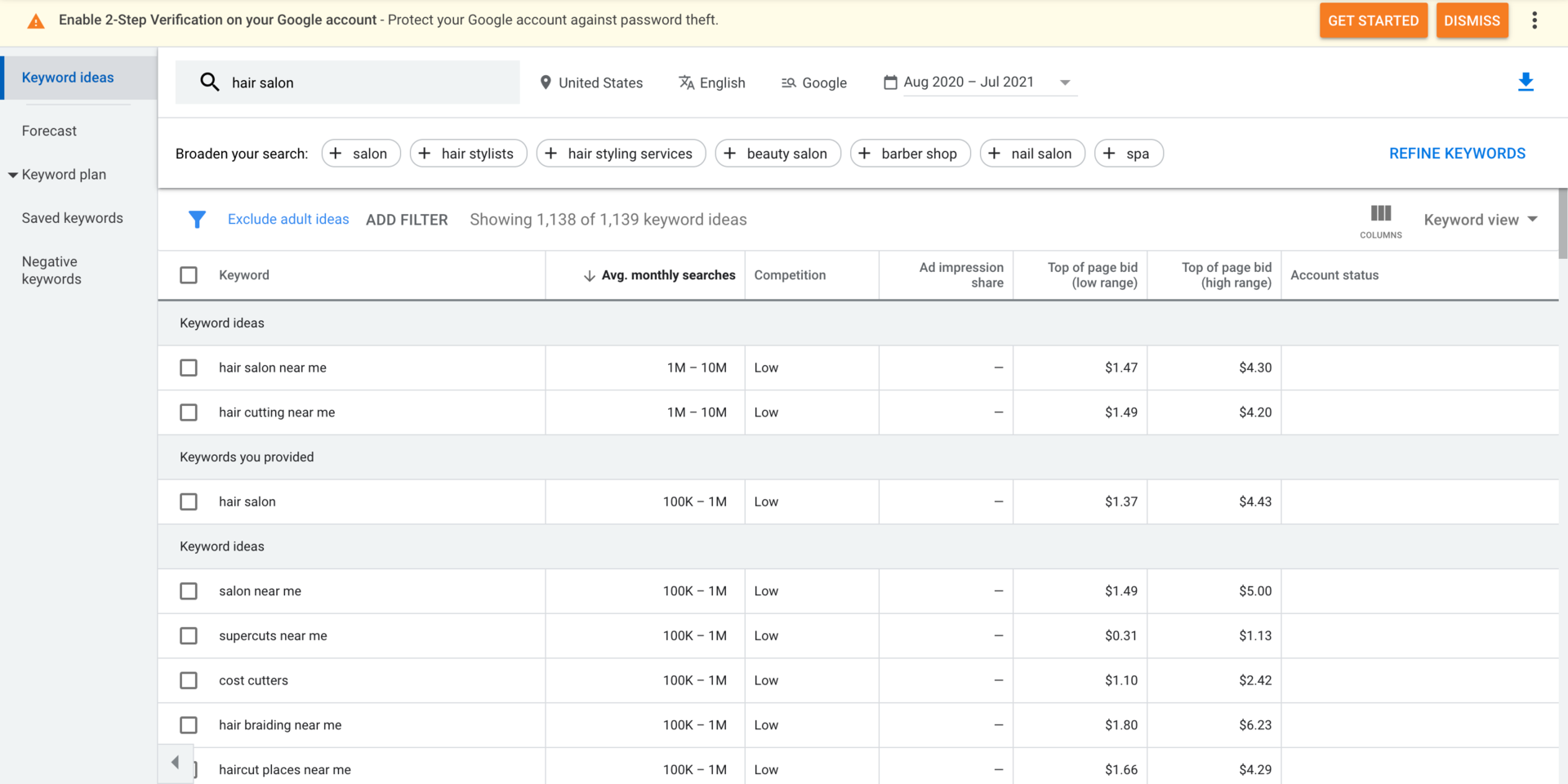 Marketers primarily use Keyword Planner to find keywords relevant to a given industry and find out which have the highest search volumes. It can help you rank higher in search results, phrase key terms more effectively, and develop ideas for content that drives visitors your way.
While it is part of Google Ads, you don't have to develop paid advertising campaigns. Just type in your primary search term, and watch it generate a list of related keywords. For each one, it'll tell you:
Average monthly search volume
Competition
The price range for search ads
Download the reports, and you'll also get forecasts for potential search marketing campaigns focused on each term.
How to choose keywords
Keyword Planner is an amazing tool, but it doesn't quite do it all. How can you hone in on what your local audience wants and when they want it?
Enter Google Trends. Google Trends focuses on relative popularity rather than absolute popularity. It rates terms by how well they perform against all other searches in a given place and time.
One way to use Google Trends for SEO is to compare specific terms. You can specify:
Region
Time period
Category
Type
Use it to create content that appeals to your base. For example, if I compare "African hair braiding," "hair extensions," and "perms" across the US over the last five years, I find out where each term performs the best and that "African hair braiding" lags well behind the other two.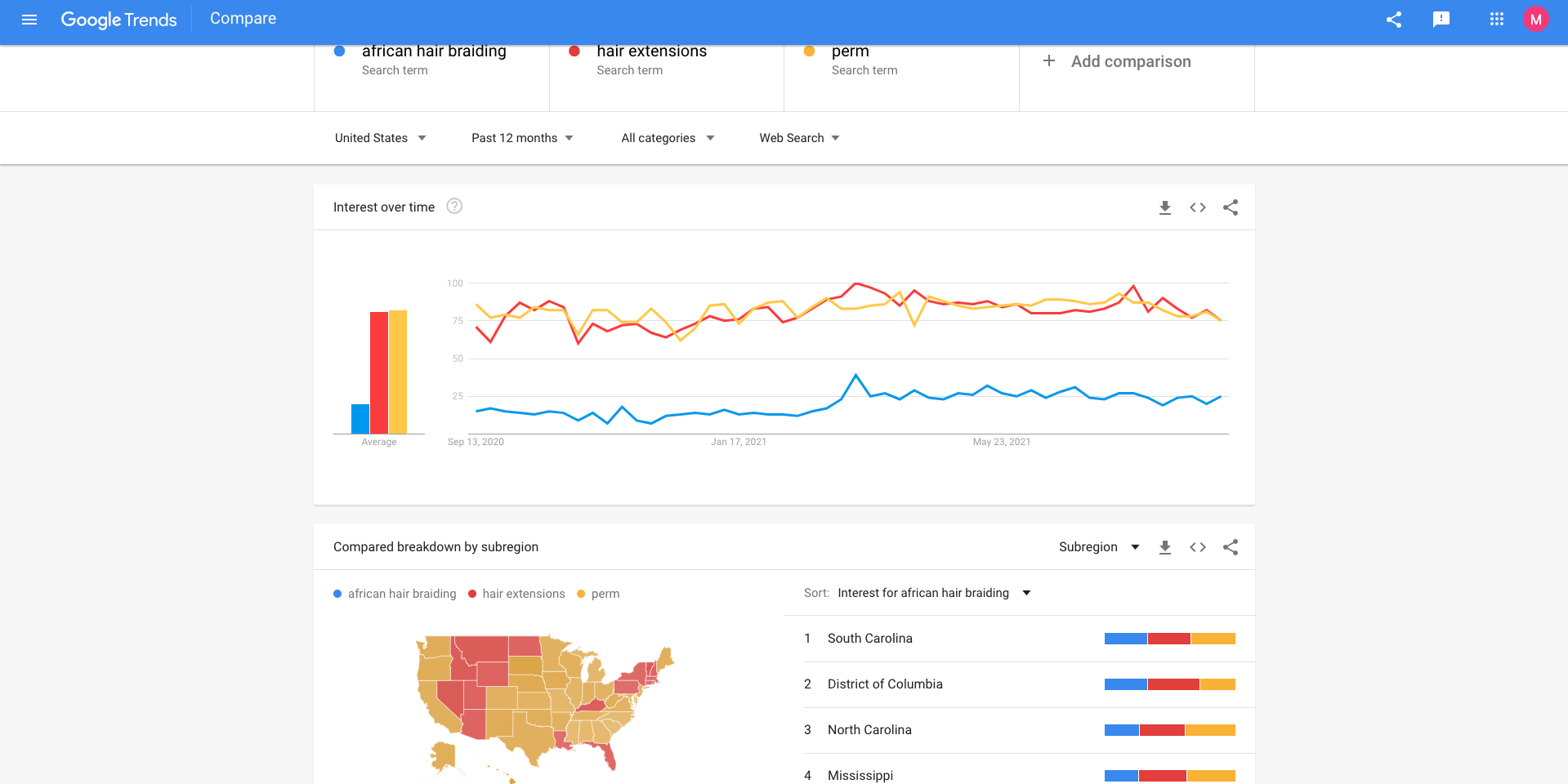 But if I change my parameters to Alabama over the last year, I find the three are equally competitive, with regular peaks and valleys. And if I want to know which was most popular in Selma this past week, I can do that, too.
You can use Google Trends to determine when to run hair salon promotions and what to highlight (other than hair, of course).
How to use keywords
But how should you use these keywords? The first place they should appear is on the main pages of your website. Make sure that terms such as "Hair salon in [your location]" feature prominently across the site. You then can use the list above to find other relevant terms to build into your core pages.
You should also consider adding a blog to your website — demonstrate your expertise, incorporate more keywords, and become a trusted source for locals with hair-related questions.
Where to start
Now you're all set to find, choose, and use hair salon keywords. You also know why they matter and have a list of high-yield search terms to get you going.

Start creating your SEO strategy by looking back over the list, and taking note of any keywords that would work well on your website. Then, pick a few terms that make the most sense for your salon and if they're not already there, start integrating them into your page titles, H2 headings, and body paragraphs.

After that, use your SEO tools to measure your SEO results and not only see how your strategy is working but also where you might want to tweak it to get even better results in the future. You can also explore marketing ideas to grow your nail salon or examples of hair stylist biographies that can help you land new clients.

Share with your network