Let me confess something — I don't get my hair cut often enough in a normal year. Add in the practical restrictions of the pandemic era, and let's just say that my mother was strongly reminded of the scraggly 'do I sported when I wanted long princess locks and refused to have my hair cut. All of this makes me the perfect person to offer hair salon promotion ideas.
Seriously.
What used to be a chore has become an exciting opportunity. And studies indicate that I'm not alone in feeling that way. The hair business industry is rebounding with a vengeance, and projections indicate that it'll continue to grow over the next five years.
So, if you want your clients to get excited about their new do, check out these 10 killer hair salon promotion ideas. I've even added a few general tips on how to come up with hair salon marketing ideas of your own.
We make it easy to get new clients and repeat business with all the marketing tools you need for your nails, hair, skin, or personal care business.
Try any of these and see real returns in your day-to-day business.
1. Use your email marketing to send a newsletter
You've no doubt heard the word about email marketing. It's the number one channel for small businesses, yielding an average return-on-investment of $42 for every dollar spent. Collect client and prospect emails religiously — and don't forget to do something with them!
Send out a newsletter to keep in touch with your community and showcase current promotions.
2. Get your slice of the wedding cake with social media
The wedding industry is huge — over $50 billion a year in the US alone. How can you cut off a slice with the right hair salon promotion ideas?
Instagram
Instagram is the home of all things beauty, and beautiful brides are no exception. Use your salon account to feature your finest updos and most luscious waves.
Use industry-specific hashtags to show up in searches:
#[your location]wedding
#bridalhair
#weddinghair
Join the Instagram-wedding-focused community by posting related content every #WeddingWednesday.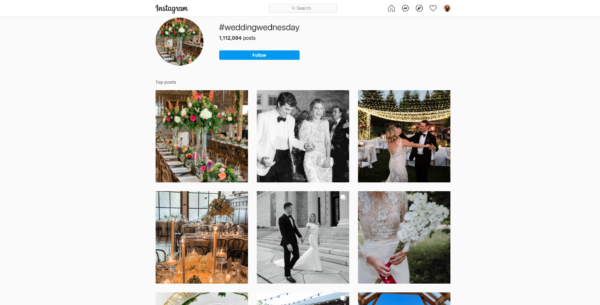 Pinterest
Pinterest is the home of all things wedding. Set up a business account if you don't already have one, share your own fabulous photos on the site, and create pins that'll get the views you want.
You can also develop boards that follow specific trends and products. While this isn't a direct promotion of your services, it can increase brand awareness if others follow you.
3. Work with micro-influencers in the area
Yes, megastar influencers can charge businesses over $1 million a post, but you don't have to pay those rates to profit from influencer marketing.
Micro-influencers — who have a few thousand followers — can put your salon in front of the local base you most want to court. Find the right influencer, and you could pull in some new business for the price of a free or discounted haircut.
4. Make the most of the holidays
Every holiday is a business opportunity. Seize it.
Use the winter holidays to sell your gift certificates and retail products. Promote parent pampering on Mother's Day and Father's Day with targeted ads and specialty packages.
There's nothing wrong with giving yourself a little gift, too, and you should encourage your community to treat themselves. From Valentine's Day to New Year's, every major holiday is an occasion when special dates and parties require special hair.
Holidays are also a time of stress, so promote tension-melting scalp massages and other relaxation-related services during the season. Or offer always-stressed mothers a chance to cross two things off their list with a free children's haircut with their treatment around Mother's Day.
5. Refresh your website
Is your website looking a little dated? It may be time to redesign it or punch up the content.
Make sure to feature your team with compelling stylist bios. Many web visitors head straight to the About page after landing, checking out the experience and specialties of a stylist before booking.
6. Start a loyalty program
If you don't already have a loyalty program after reading last year's "7 Ways to Market Your Salon Online" — reward loyal clients with discounts and free services and keep them for life.
You should also have a referral program in place. Thank your dedicated clients who've recommended you with emails and coupons.
7. Create video tips and tutorials
Video is the king of content. 78% of people watch videos online every week, and the appetite for online videos continues to grow.
Lucky you — you work in an industry that lends itself to video hair salon promotion ideas. Demonstrate best practices for blowouts or the steps to create a certain look.
There's absolutely no need to worry that you'll discourage people from seeking out your services if you give away a few tips. You'll be there to help them look better between treatments.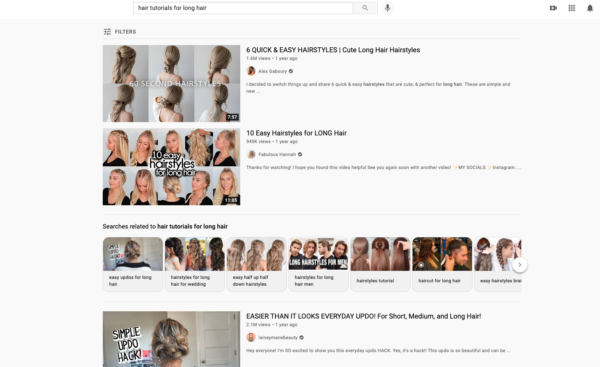 8. Give clients a variety of ways to book appointments
First of all, always, always, always ask clients if they want to rebook after they've gotten their hair done. Ask while they're in the salon, and use your email service to follow up afterward.
In addition to old-school phone appointments and walk-ins, you should also have an online scheduling system. Give people as many paths to your front door as possible.
9. Think local
In terms of search engine optimization (SEO) that is. Local SEO practices ensure that your business appears to people in the area right when they're looking for you. You can start by claiming your listings, then verifying and optimizing your information with the following services:
10. Be social and environmentally-conscious
I know it sounds so calculated, but conscience is playing a growing role in beauty marketing. Integrate eco-friendly products and support of minority-owned businesses into your marketing plan. After all, it's good life advice, not just a sound marketing strategy.
3 tips to help you design future promotions
In the end, your business is as individual as you are. And while I can help out with hair salon promotion ideas, you know your clients best.
Keep these three tips in mind as you move forward.
1. Go where your clients are
In order to get them to come to you, you need to go to them. Be active on the social media platforms they use. Email them when they probably need another haircut. Partner with local businesses for cross-promotions.
Not sure what platforms they use? Ask! You can include optional survey questions on forms or bring the subject up in conversation.
2. Create compelling visuals
Your art is a visual one. Up your photography game and show your work off with pictures. Develop a library of quality images that you can use to promote your business.
You should also encourage social media (particularly Instagram) users to share their beauty with the world. Think about developing a small corner of your studio into a well-lit backdrop for client pictures.
3. Embrace the seasons
I've already mentioned holiday promotions, but you should embrace other aspects of the seasons. Do a post on great cuts for the summer or winter hairdos to wear with a hat. Think romantic looks for spring or professional ones for fall.
In short, stay current and relevant throughout the year, and become a trusted resource for all things hair-related.
Pick your favorite
Whew! You have a lot to work with — fun and fabulous ways to connect with your clientele. With all of these hair salon promotion ideas, you may get overwhelmed.

I would advise you to choose one promotion off the list and get going. If you need additional online marketing help, start with The Download.

Share with your network