Once upon a time, there was only one physician in a town, and word of mouth was the only healthcare marketing strategy needed to drive customers in the door. That time is long past. Today, customers have their choice of doctors and healthcare professionals for any ailment that may come their way.
It's no longer enough to rely on word of mouth or referrals from other offices to bring in new patients. That's where healthcare marketing comes in.
In this guide, we'll go over five great healthcare marketing ideas that can help you get new patients and nurture your relationships with the ones you already have.
We make it easy to build loyalty with patients and clients, drive referrals, and grow your center.
1. Healthcare blogging
Your patients want to know that your office is full of industry experts who stay up-to-date on the latest medical research. Start a healthcare blog to position yourself as a reliable source of help and advice, even when patients aren't in the office.
For example, imagine a parent with a toddler wanted to know when they should start bringing their child to the dentist. What do you think they would do?
The most likely choices would be:
Asking a friend or relative
Checking their parenting books
Searching for an answer online
You can't control the answers they'll receive from parenting books, but you can help direct the answers they receive from search engines and the people they know. By providing the answers to critical questions on your blog and then promoting those blog posts on social media, you can increase the odds that your current patients direct their friends and relatives to your website when they have questions about your specialty.
Meanwhile, search engines like Google cultivate the best information on the web and return those answers when people search for questions online. Let's take a look at what happens if you search "at what age should my child go to the dentist?"
At a glance, you can see which healthcare offices have prioritized answering this question on their blog. These top results will get new traffic on their website any time a parent is looking for answers to this specific question.
By having the best answers to the questions your ideal patients are asking, you can drive organic traffic right to your website. Make sure your website ranks high in these search results by writing your blogs with search engine optimization in mind.
2. Segmented email lists
Email marketing is an important component of any online marketing strategy. Segmented email lists help you walk the line, ensuring the emails you send your patients are uniquely relevant to them.
Consider the example about when kids should go to the dentist for the first time. If you had written a blog post answering that question, you might want to email a newsletter highlighting that blog post to some of your patients — the patients most likely to have young children of their own. A segmented email list would allow you to group those patients together and send a targeted message directly to them.
The best part about segmented email lists is that, after a bit of leg work in the beginning, everything can be automated. Patients can fill out some information about themselves in an email sign-up form and be separated appropriately into the correct email lists. Then, when you're sending out an email, you can select which list or lists to send it to.
3. Social media
Social media can be a key online marketing tool for your healthcare practice. Many healthcare offices are already on board with using Facebook as a tool to promote their office hours and services, but there's more to social media than owning a Facebook business page.
Pinterest can be especially helpful for driving new traffic to your website. When people use Pinterest, they're specifically looking for content to read. This means they're more likely to click and read an article on Pinterest than an article on other social media platforms.
Quality pictures are the key to using Pinterest effectively. Take a look at this snapshot of a Pinterest search. Which images would you be most likely to click on for more information?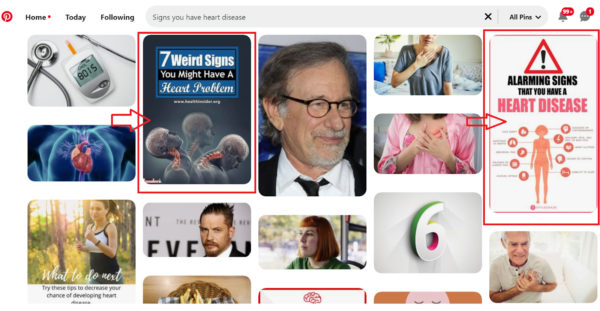 The more you can create captivating images that tell a story, the more you can make Pinterest work for you. Those same images can be used to draw interest on other social media platforms, including Facebook, Twitter, and Instagram.
Luckily, you don't have to be an expert photographer or image editor to make your pictures work for you on social media. Online programs like PicMonkey or Canva make it easy to create pictures using templates. All you have to do is choose a template that you like and replace images and text with your own images and text.
4. Video marketing
You know how important it is to make your patients feel at ease during their appointments. But what if there was a way to make patients feel comfortable with their providers before ever stepping foot into the office?
With video marketing, you can do just that. Creating short, introductory videos where your providers introduce themselves and show a little bit of their personality is a great way to build trust with new patients. Incoming patients can come into the office feeling confident in the provider they've been assigned.
With today's technology, it doesn't take a lot to film these short getting-to-know-you videos. You can even use a smartphone to film your video and upload it to YouTube for free. Then, you can embed those videos into your website on your About Us or Our Providers page.
5. Encouraging online engagement
Believe it or not, there are ways to get your patients involved in your marketing goals. Generating patient engagement encourages members of your community to spread the word about your practice on your behalf. It's like the old days of word-of-mouth advertising, but with the potential to reach a much larger audience.
Here's how it works: you provide your patients with a reason to talk about your office on social media and an incentive for doing so. Your patients, in turn, do the advertising for you.
Here are some examples of patient engagement opportunities:
Create a wellness challenge and encourage patients to share their progress on Facebook and Twitter, tagging your business in their posts. Offer a small prize to the patient with the most progress.
Host an event, such as a day of free cleanings, and offer a discount to patients who share the event information on their social media page.
Have a wellness activity photo competition where patients submit photos of themselves doing something health-oriented.
The more you can get your patients excited about your marketing strategies, the more likely they are to check your website and social media pages more often.
A final note on healthcare marketing
As you start developing your healthcare marketing strategy, keep in mind that any marketing you do needs to remain HIPAA compliant. We recommend talking to an attorney trained in HIPAA law to ensure compliance across all marketing channels.

Now that you understand how to get started with blogging, segmented email lists, social media, video marketing, and generating engagement online, you're well on your way to getting an edge over your competitors and drawing in more patients than ever.

Start by implementing just one of these healthcare marketing ideas. Once you've successfully made it part of your routine, you can add more until you have a strategy that works for your practice. Check out our comprehensive healthcare marketing guide, The Download, to get the information you need to deep-dive into any one of these marketing strategies today.

Share with your network