How confident are you in your ability to create or find festive holiday images?
As a webinar designer and presenter for Constant Contact, one of the most frequently asked questions I heard was how to create images fast.
The good news is you don't need to be a graphic designer to create festive holiday images.
There are plenty of easy-to-use tools and resources to help you create quality images quickly and affordably — or even for free.
So grab a pen and paper or bookmark this post — you're going to need it for your holiday marketing.
Here are the must-have resources for holiday graphics and images this season:
7 resources for free holiday images
1. Constant Contact Image Editor
If you're looking to create festive holiday season images directly within your email marketing tool, look no further than Constant Contact's own built-in image editor. You'll find it through the "Edit" button when looking at any of your images in your Library:
Once you're in the editor, you can crop, filter, adjust brightness and colors, use focus to adjust your focal point, add text or stickers, add frames and overlays, use a brush tool to enhance your image by hand, and even add text to your image.
Give it a try next time you're creating an email to send to your subscribers. And if you're not already using Constant Contact, you can try it for free with a 60-day trial!
2. PowerPoint for quick holiday graphics
Perhaps you're familiar with Microsoft PowerPoint from presentations you gave to your boss or employees. Regardless of how you encountered PowerPoint, the best part about it is that most offices will already have this installed on the computer you use.
If you want to add a quote or text to an image, use a slide in PowerPoint as your canvas and simply right-click on what you created and select 'Save as Picture.'
It will save your design as an image to your computer and you can then use it in your next social media post or Constant Contact email.
Suggestion: Use PowerPoint to create a shopping guide or poster detailing holiday sale items. Include clear images and descriptions of the offer or prices. Group all the images on the slide together and right-click to select 'Save as Picture'.
3. Canva for holiday graphics and promo images
Canva is a team favorite when it comes to free image-editing tools. It's really easy to use and has tons of free options.
They also have a paid version called Canva Pro, which starts at $9.95/month if you plan to be making images regularly and on a tight schedule.
Canva has ready-made backgrounds and stock images that you can use to spruce up any offer or announcement image. You don't have to pay for a stock gallery or spend hours perusing free public image galleries.
4. Shutterstock for holiday images and videos
One place to find great holiday images is Shutterstock. You can search a term like "Christmas" (or anything else you're looking for) and filter the results by image type, content, and primary color.
Shutterstock also allows users to license additional premium holiday images and videos for a fee.
5. Pablo for quote images and graphics
Pablo is a free tool, designed specifically to whip up a quote image with text overlay. Think: quote images, memes, or image-based announcements for social media.
This tool offers image templates sized specifically for Twitter, Facebook, and Pinterest posts.
It is limited in scope, but for quick social media posts, it's the fastest you'll find. Give it a try when you want to create an inspiring quote-image or count down the days left until Christmas.
Suggestion: Use Pablo to quickly create images with text overlays that you can use as social media posts throughout the season. Detail your holiday offers in these images and select the size appropriate for Pinterest, Facebook, or Twitter. Schedule these posts before the busy season starts and you'll have engaging holiday images detailing your offers throughout the season.
6. Pixlr for slightly more advanced image editing
I personally adore Pixlr. It functions a lot like Photoshop but is watered down so as not to overwhelm you with too many options. To make it really easy, they have two photo editors; Playful Pixlr X for the beginner and Advanced Pixlr E for more creative edits.
Pixlr even has three different pricing options to fit different usage needs, starting with Pixlr X, which is free to use. So if you have the time and eye to create a truly original piece of work mostly from scratch and you don't want to pay for an Adobe product, this is the way to go.
With advanced photo touchup and airbrushing, you can use it on a mobile device or desktop.
Suggestion: Selling a unique item? Use a collage to show how it can be used and enjoyed. Use Pixlr for quick photo touchups and filters. Choose from photos you've taken on your smartphone then quickly edit and arrange them into a captivating holiday collage.
7. Adobe Spark for holiday graphics
Adobe Spark is an awesome new photo-editing tool from Adobe, designed to be more approachable and easier-to-use — while still maintaining some of the robust features you'll find in other Adobe products.
Spark's starter plan is free. It has a lot of those great ready-made elements like backgrounds, stock images, and social media size templates, but as an added bonus it's also a video editor!
If you're looking to go beyond images, but you don't want to learn another platform, stay with Adobe for your image creation and video editing needs.
Suggestion: Use AdobeSpark to create a gorgeous image of your window and store displays, holiday decorations or products to post to Pinterest. Simply select the Pinterest-sized template, create an image and share it to Pinterest with a link back to your product page or website.
Stand out this season with better holiday images
Explore the tools above to create amazing free holiday images that help you have a successful holiday season this year. We think you'll find that you can build a creative, and festive holiday marketing campaign even with a limited budget and photo editing skills. All it takes is a little creativity and access to the right resources.
---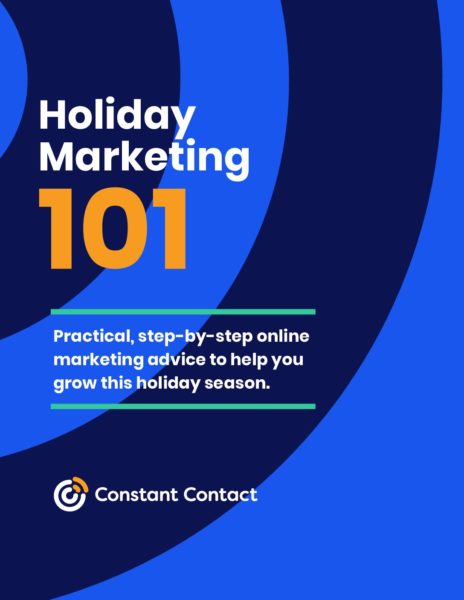 Looking for more online marketing advice to help you grow this holiday season?
---