Content is the heart at the center of a successful digital marketing strategy for manufacturers. It's what individuals search for, consume, share, and learn from online. Producing relevant content is essential for any business that wants to directly connect with prospective and existing customers alike.
The creation of consistent, message-aligned content is what will keep your business dynamic, relevant, and connected. Well-written and researched content also works alongside SEO efforts to keep your web pages ranking higher on search engines like Google.
Suffice it to say: content marketing should be a cornerstone of all growing businesses, and that includes those in the manufacturing industry. In this article, I'll lay out for you:
The importance of content marketing for manufacturing
Types of content you should create and share
How to create high-quality marketing content that drives results
Ready to get new manufacturing deals and repeat business — all in one place?
Why is content marketing important for the manufacturing industry?
Manufacturing has never been known as an especially flashy industry. Businesses in the space are commonly seen as traditional, direct, straight-forward, and efficient. Because of this, it's been easy for modern manufacturing companies to overlook modern marketing strategies.
Right now, however, times are changing. More and more manufacturing companies are seeking out ways to modernize their approach to marketing and selling their goods and services. Competition is heating up.
The Content Marketing Institute's yearly Manufacturing Content Marketing Report 2020 found that only 39% of manufacturing marketers say their organization is in the adolescent stage of content marketing maturity. Those numbers are up from last year.
To put it bluntly: If you're not on the content marketing train, you'll be left behind by your competitors.
What types of content should my business create for the best return on investment (ROI)?
Here's the secret: All content will have a positive return on investment as long as it's clearly written, accurately researched, and cleverly interlinked. That said, there are a wide variety of different types of content to focus on creating.
Some of these types include::
Blog posts. A resource section for your website, often called a blog, is functionality that makes it easy to add content, or posts, on a regular basis. Whereas your website contains information about products and services, a blog that ranks gives you the ability to demonstrate your expertise by answering more specific questions for prospects and customers.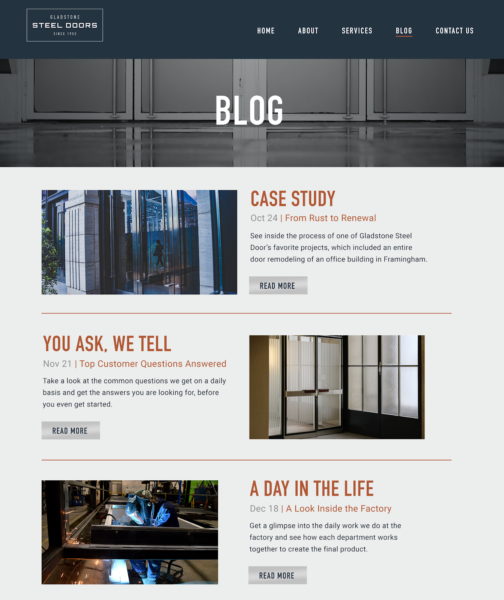 Infographics. Visual content is the most easily shareable. It's a good platform for statistics or other information that can be communicated as interesting tid-bits.
Case Studies. Case studies give you a chance to warm up prospects using the words and experiences of existing customers. They can act as a modern-day word-of-mouth recommendation, which has always been a cornerstone of manufacturing marketing.
Whitepapers. They're like a blog post, but longer… and more detailed. A whitepaper is your opportunity to take the accessible expertise you put in your blogs and develop it further. You can experiment with asking for an email address in exchange for access to valuable whitepaper content.
Social media posts. Social media is where you can create shorter pieces that link up to your blog posts and whitepapers. It's also a place to gather information from customers and prospects about the topics they most want to see your company talking about. Learn more about social media marketing for manufacturers.
How do you create high-quality content?
The most basic tip I can give you when it comes to creating high-quality content is this: Write what your customers would want to read.
Create the content your best customers would find the most value in and you'll be more likely to connect with like-minded and more easily converted prospects.
Here are a few other key tips to keep in mind for creating high-quality manufacturing content:
Don't talk about yourself too much. If you start paying close attention to content created by manufacturing companies, you might notice that they frequently reference themselves by name. There's nothing inherently wrong with this.
However, you want to shy away from focusing all your content on your own business. Instead, focus on creating value-added content as opposed to sales sheets. You can plug your actual offerings in the conclusion.
Make sure you have the research to back all statements you make. Don't say anything without research to back it up. As a business-to-business (B2B) manufacturing company, the people most likely to read your content are engineers and C-level executives. These are people who don't want their time wasted. Give them both what they want and what they need: proof.
Read high-quality content. Have you ever heard someone say that reading is one of the most important skills a writer should have? If you want to create quality content yourself, you should seek it out in others.
Learn about what you like, and learn from their individual expertise. It'll make everything you create that much better in the long run.
What's next?
Interested in learning more about content marketing and how it can be a part of a successful digital marketing plan for your manufacturing company? You're in luck. Check out The Download: Making Sense of Online Marketing for Manufacturers, a Constant Contact guide to everything you need to know on the topic — all in one understandable, easy-to-follow package.
Get Our Free Marketing Guide for Manufacturing
Our comprehensive guide to online marketing is packed with accessible, practical tips to help you get more leads and grow your business.

Share with your network