In insurance, you have to navigate customer service, networking, marketing, and industry standards and regulations. It's only by combining all of these that you learn how to be a successful insurance agent. But don't worry, we've distilled our advice into a manageable list.
Follow these eight tips on how to be a successful insurance agent:
So dive right in, and discover some proven strategies for success.
Find more leads and drive policy renewals with expert marketing advice and all the tools you need, all in one place.
1. Present yourself like the professional you are
No matter what industry you're in, professionalism is an important component to your success. Workplace etiquette is essential — whether its rules are formalized in documents, such as a dress code, or not.
Professionalism is especially important for people concerned with how to be a successful insurance agent. Your clients need to trust you to protect their interests when they're most vulnerable.
You need to convey competence, precision, and maturity at all times. How do you do that? So glad you asked.
Speak with confidence
Don't undermine yourself with tentative language or hemming and hawing. Strike nonwords such as "uh" and "um" from your repertoire.
You should also avoid slang or other youth-culture giveaways. Stay on top of your industry, and embrace trends in marketing and communication. But you want to sound current rather than young.
Overly aggressive styles don't work either. Pushy salespeople invite recoil. Work to present yourself as sure rather than desperate or arrogant.
If you suspect that your verbal tics are detracting from your pitches, tape yourself. It can be a humbling experience to watch and listen to yourself. In fact, it can be downright uncomfortable (trust me) — but it can also help you refine your approach as you learn how to be a successful insurance agent.
Dress for success
Your appearance should be smart, neat, and office-ready. That doesn't mean you need to leave your personality at home. Just be aware of what messages your clothes send.
Send clear, full, and polite emails
Emails to leads or associates are not the same thing as text messages to a friend. Your emails should have a greeting, a body, and a professional signature that includes your contact information.
Proper email etiquette will help you send the right message every time. Shortcomings in this area can make you come across as rude or indifferent.‌
And typos can leave a truly terrible impression. Admittedly, I probably feel more strongly about the English language than most. But don't be sloppy — particularly not when there are so many programs around to double-check your grammar and spelling,
2. Build customer relationships, and ask for referrals
Small businesses and independent insurance agents actually have the edge when it comes to building long-lasting customer relationships.
This also gives them the edge in insurance referral marketing. Clients that personally connect to you are more likely to recommend you to friends or take the time to endorse your business on a review site.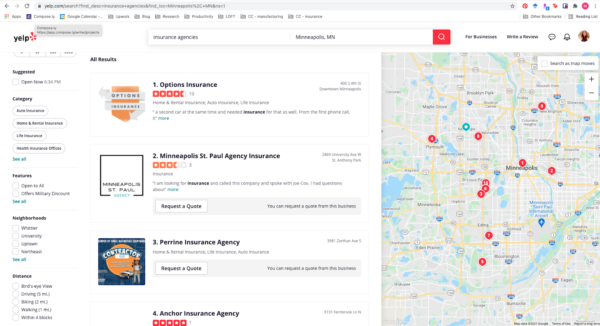 General testimonials on Google or Yelp improve your online reputation, making you a more attractive option for prospective clients shopping around. Even better, direct referrals can bring you new leads without requiring you to invest further time or money in marketing. They find you.
You just need to be the kind of agent that inspires that kind of loyalty.
Be human
While your clients want a competent professional, they don't want a robot.
Think about it. After a horrible car accident, would you want to talk to an automaton? Of course not. (I had a car accident several years ago, and I called my insurance agent second — after I called my mother.)‌
The same principle applies to all insurance-related queries. Practice empathy and patience when customers come to you with problems — no matter what they are.
Ask for feedback
You don't need to operate blind. Invite customers to give you feedback. Make sure they know that you're open to concerns and critiques. You can also distribute client satisfaction surveys in order to gather information about what's working and what isn't.
In other words, ask your client how to be a successful insurance agent.
Follow up
After they submit a claim, your customer wants you to contact them — even if the only news you have to report is that things are going as planned.
Remember that this is a stressful time for them. They need reassurance when everything is going smoothly and guidance when it's not.
3. Be proactive when client policies are almost up
Don't neglect current clients in pursuit of new ones. Renewals are every bit as important as new leads — possibly more so. You'll spend up to 20 times as much in marketing to track down a new client as to keep an old one.
Track your clients' policies. When the expiration date is still some time away, contact them with offers to renew. By reaching out, you make them feel valued, which then makes them more likely to stick with you.
You also have the opportunity to ask about their customer experience. No news isn't necessarily good news. Only a small portion of dissatisfied customers contact the company or write reviews. Even worse, they're more likely to tell their friends about their dissatisfaction than to tell you.
Address any problem areas that come up. Even if someone decides not to renew, you'll have a better idea about why. Use that information going forward with your other clients.
4. Cross-sell or upsell other products tailored to your client
Don't be shy about suggesting other insurance products that you think the client (genuinely) needs. The ability to bundle products often leads to better prices and greater convenience for them.
Assess client needs, and revisit these needs in light of major life changes. For example, you'll perform a different needs assessment for newly married individuals than you would for young singles or seniors.
Tailor immediate suggestions to your client, but you can also use email marketing to introduce them to other insurance opportunities and products.
5. Improve SEO to make it easier for leads to find you
What happens when you go online and search for local insurance agents in your area? Does your website turn up on the first page of results?
Good SEO for insurance agents includes multiple best practices.
Marketing SEO
Marketing SEO includes both on-page and off-page strategies. Here are just a few tips:
Research keywords. What are the best keywords or searches for you to target? Once you've decided, integrate them into your page — particularly into headings, URLs, and title tags.
Develop both internal and external links. Google needs help contextualizing your material. Show how your own pages relate to one another and signal the greater networks in which you participate.
Extend your web presence. List yourself with local directories and Google My Business. Court backlinks from high-quality, relevant websites.
Technical SEO
The technical specs of your website also help determine its position in search results. Make sure that your website is optimized for mobile. You also want a website that's secure and quick to load.
Even if you're an SEO beginner, there's still a lot you can do to get your website in front of the right eyes. Just be patient. SEO is a long game, not a short one. Real results take time.
It's also important to note that a good website builder will incorporate a lot of SEO tools into your dashboard and make them intuitive to use.
Remember that help is available as you are learning how to be a successful insurance agent. The services of an SEO expert can be a worthwhile expense. They can audit your site and improve your performance.
6. Use content marketing to attract web traffic and leads
Content marketing is the production of highly shareable material that doesn't advertise your company directly but does bear its brand.
There are multiple forms of content marketing for insurance agents. Play into your strengths. If you're comfortable behind the camera, create videos that address frequent insurance concerns. If you enjoy crafting funny memes, take to social media, and show that serious topics don't have to be boring.
One of the simplest forms of content marketing is blogging. By adding an insurance blog to your website, you can generate a wealth of keyword-rich articles that improve your performance in search results and establish you as an authority on the topic.
Insurance articles often fall into one of a few traps:
They use too much jargon.
They neglect easy-reading practices.
They fail to untangle complex concepts.
If you're researching how to be a successful insurance agent, a good rule is not to bore or frustrate your leads. They'll just wind up bouncing away from your site.
Here's the good news: You don't need to be a wordsmith or a famous wit to produce writing that will attract — and hold — prospective customers' attention.
Just follow a few best practices:
Hit those keywords. Put your primary keyword in the title, the introduction, the meta-description, and at least one heading. You should also try to repeat it at least once every 500 words.
Keep paragraphs short. Aim for 2 to 4 sentences.
Incorporate lists, images, and headings. These will help you break up sections of text and add visual appeal.
Simplify whenever possible. Avoid both jargon and complex or unwieldy sentence structure. Don't use nuance unless absolutely necessary.
Experiment with different topics and styles. It can take some trial and error to find a formula that works for you.
With so many blog topic ideas for insurance agents to choose between, you should have no problem coming up with a variety of potential articles.
7. Stay top of mind with email marketing
Email marketing provides the best return on investment of any marketing channel for small businesses. In fact, you can collect an average of $42 for every dollar you spend.
If you're not taking advantage of email marketing for insurance, you're losing out on a lot of potential business. You need to reach prospects where they live — their inbox.
The best email marketing software comes with tools designed to maximize your campaigns' efficiency and effectiveness. Get the best results in the least amount of time.
Professional-looking templates
Ready-made templates save you time. Instead of composing from scratch, you can input the information you need.
You also get the benefit of attractive, image-rich layouts that require no graphic design knowledge.
List segmentation
There's nothing more annoying than getting mail that clearly doesn't apply to you. (AARP, I'm looking at you.)
This applies to email as well. Segment your lists to ensure that every email reaches the right audience. Target insurance email campaigns according to location, past behavior, and demographics.
Email automation
Automation doesn't just save you time. It also ensures follow-through. You don't have to rely on leaky memories or try to find space in already crowded schedules.‌
Automated email marketing for insurance should include:
Welcome emails
Transactional emails
Customer feedback
Easy integration with list-building tools
You need an email service that integrates with your website, preferred email service, and other tools you use on a regular basis. If you're considering an email marketing service, check out the apps and integrations they offer. Do they have the plugins and capabilities you need?
8. Network with social media
The idea of social media for insurance agents may seem counterintuitive, but don't underestimate the potential of this channel. Organic posts keep you in touch with your community and promoted ads get your business in front of new eyes.
Social media will let you connect to the leads you want — you just have to figure out where they live and set up your accounts accordingly.
There are few better platforms than LinkedIn for business-to-business communications and referrals. You'll find older clients on Facebook and younger ones on Instagram and Snapchat.
You can also think outside the box. Research the type of social media use that is likely to apply to your client base. Survey them directly, and supplement that information with wider reports on social media demographics. You may find that advertising on Nextdoor or Reddit is the best option for you.
More on how to be a successful insurance agent
Looking for more tips on how to be a successful insurance agent?
You've learned some helpful tips to improve your sales, marketing, and client satisfaction rates. But there's much more you can do to better serve your clients and attract business.‌
Start by downloading Constant Contact's free guide: The Download: Making Sense of Online Marketing for Professional Services. Stay ahead of the competition with industry-specific strategies and a comprehensive digital marketing plan.