Recently, my husband and I decided it was time to repaint our house.
It had been 10 years since we last had it done. The painter that we used was great. The service was excellent, on-time, and within our budget. So I figured I might hire him again.
The only problem was I didn't have his contact information.
So, I turned to Google. I went online and typed out the painting business's name. Multiple online listings showed up, but to my surprise, none of the listings were owned by the business.
I wasn't even sure what information was correct since I found conflicting information in different listings.
What was the correct contact number? What about the hours of operation? There were also no reviews, and all I could see were suggestions for other similar businesses.
This is what showed up on Yelp—you can see right next to the business name that it is unclaimed:
Since we had used this painter before, I was determined to find the right number to give him a call and have him submit a proposal. But what if I had been a pure prospect who had never interacted with him before? Would I have gone through so much trouble to contact him?
Probably not.
This painter, like many other small businesses that have incomplete or incorrect information online, is likely losing business — even though his service is excellent.
Ready to do more business with email marketing?
Learn more

.
How does incorrect information get there in the first place?

You may ask, 'I never put that incorrect information online, why is it there?'
The fact is, that other people—customers and listing site owners—can create a listing for your business. They can choose what shows up. They might be pulling their information from disparate or outdated sources which leads to inaccurate information or even inconsistency in information across listings.
Unless you claim your business listings, you don't control what information shows up.
What is the problem with inaccurate online information?

If others control your business listings and online information, there's likely to be:
Incorrect information
Incomplete information
Inconsistent information
This leads to a bigger problem — your business will lose both credibility and potential customers.
Online data includes basic information like contact details, location address, operation hours, and other items that help customers reach you, connect with you, and make a decision about whether or not they want to do business with you.
Say, for example, your address online is incorrect and somebody drives out of their way only to find that your business is not there, do you think they'll be happy with that experience? Or, what if they see a menu item they're excited to try only to find out it's no longer available?
How to fix incorrect business information
It is clear how damaging incorrect online information can be. So what can you do to correct it? It's very simple. Here are two easy things you can do to ensure the accuracy of your online profile:
1. Search for your business
First, search for your business online. Just go to Google, type in your business name and see all the results that show up on the first page. The search results will include your website and social pages if you have them, and any other listings and review sites where your business appears. Click through to see what information appears. You only need to be concerned with the first page of search results, as most people don't bother going on to other pages.
2. Claim and update the information
If you already own the listing, ensure it's updated and that all the data is correct. If somebody else created the listing, you will get an option to claim the business and update to the correct information. You should see a 'claim this business' button, or something similar, somewhere on the page. This is what showed up on Yellow Pages when I searched for the painter: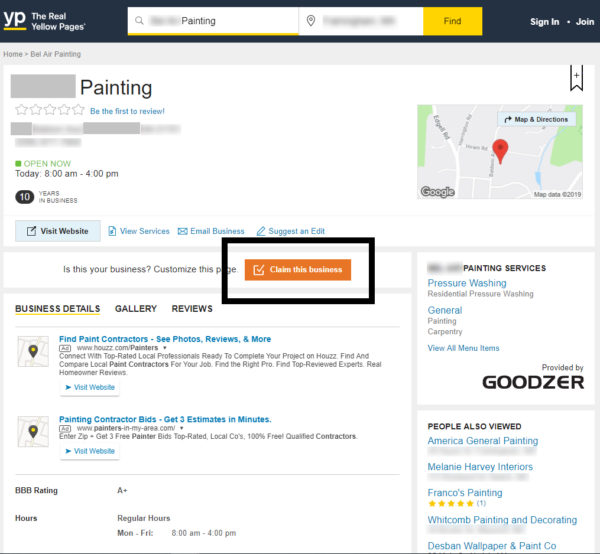 Once you take ownership of your business listings, here's what you want to be checking and correcting:
Contact information
Location
Operation hours
Social media links
Industry-specific information (menus, services, prices, etc.)
Take control of your online information
Customers search online for everything today. No matter what your products and services are, your customers expect to find you online.
Incorrect information about your business online may cause customers to turn away and seek other businesses. You not only lose customers, but also credibility and reputation.
Ensure that all the information that shows up when people search for your online is correct, updated and owned by you. Claim your listings, and take control to fix what information goes out.

Ready to do more business with email marketing?
Learn more

.

Share with your network