‌There's never been a better time to set up an online store for your business. 2020 ecommerce revenue was $431.6 billion in the U.S. alone, to say nothing of the global market.
‌Someone making the leap into online retail for the first time might be overwhelmed by all there is to do. Or you might think that all you need to do is set up your store and watch the money roll in. You don't need to be overwhelmed, but it won't be quite so easy as that, either.
‌Here we'll tell you how to get sales on Shopify in several easy steps. Hopefully, by the time you're done, the money really will roll in.
Get all the tools you need to quickly find new customers and grow your retail store's sales.
How to get sales on Shopify in 9 easy steps
‌There's a reason that Shopify is one of the most popular platforms for building an online store. It works well, offers a multitude of plugins, and is super customizable.
‌If you're smart about it, there are ways you can make Shopify work for you. From getting more traffic to buying ads, let's look at what steps you can take to help your business bring in more revenue.
1. Leverage organic traffic as much a possible‌
‌If you're just starting out, free sources of traffic might make more sense than paid ads to get those first few sales. And there are plenty of free sources you can take advantage of.
‌If you have a large following on social media, start there. Post products from your store to let people know what you're selling and some of them will funnel into your shop. It also helps if there's a demand for your business and your website makes sense for the market you're trying to enter.
‌Content marketing can really help boost your store's visibility. Blog posts, for example, are great for providing value to people while maximizing search engine optimization (SEO). You can also create short videos, infographics, or downloadable products. The only rule for what you make is that it should be both relevant to your business and valuable to people.
‌Blogs in particular can be great for this because you can incorporate other media into them like images and video. Don't know how to approach it? Here are a few sample topics to get you started:
Writing a case study
Curating interesting statistics for your industry
Interviewing influencers in your space
Reviewing new products
Listicles like "X best products for Y"
‌Find what you can write about in your niche — there's always something — and lean into it. Don't worry about appealing to everyone, it's better to target the people who really care than try and rope in every single reader.
‌Organic traffic will give you insights into who actually wants to come to your store. The analytics data for your Shopify page will tell you who comes to your store, what actions they take, and how long they stay. From there, you can start to extrapolate who your ideal customer groups are. Later you can target those people with paid ads.
‌2. Collaborate with others in your industry‌‌
Working with people in your space that have a large following on social media is a great strategy for getting eyes on your store. It's especially helpful if you don't already have a lot of followers, and can help boost your numbers if enough people that find you end up sticking around.
‌It's very important that you choose the right collaborator. A lot of people won't review or endorse products they wouldn't actually use or don't believe in. Team up with someone whose values reflect the values of your business, and whose audience is likely to be open to your product.
‌It's also a good idea to find multiple people to ask. Influencers with a gigantic following may offer a large audience, but they also get many more requests to collaborate than people with a smaller online presence. Reach out to people with accounts of varying sizes.
‌3. Market your products in multiple places‌
‌Shopify gives you the option to list your products on marketplaces outside of your store, including Amazon and eBay. People are more likely to gravitate to these places, at least at first, because they're already familiar with them.
‌If you take this route, optimize your listings as much as you can. You'll be competing against all the other Amazon and eBay sellers in your niche, which can be quite a large pool of competitors.
‌Instagram and Facebook are also awesome places to market your Shopify store for free. Create an aesthetically pleasing Instagram page with the link to your store included in the bio section. Then populate it with posts linking to products from your store.
‌Pinterest is another unlikely but effective way to get sales on Shopify. Pinterest is usually considered a mood board app, but according to their business page, around 80% of people who use the site weekly discover a new brand or product. Create a business page and use it to share product pins, links to blog posts, and other useful content.
‌Some tips to optimize your social posts include:
Use industry-specific hashtags
Use the right keywords
Incorporate dynamic, interesting images (e.g. people actually being active in workout gear)
Tag other accounts in your space
Share shoppable posts
‌4. Try creating a newsletter‌
‌An email newsletter is a direct line of contact with the people who use your product. It keeps you in communication with them, lets you provide incentives for their business, and can make one-time buyers into long-term customers.
‌Like social media marketing, this tactic will work more quickly for you if you've already got an established presence. But that doesn't mean it can't be done if you don't.
‌Programming a quick entry or exit popup with a coupon for first-time buyers is one popular way to build your numbers. People give you their email in exchange for 10 or 15% off their first purchase, and your list grows.
‌Once people are on your list, you can email them with additional coupons, loyalty deals, or product announcements. Every message is a reminder that you're still around, and if people have a good experience with your product, they're likely to come back.
‌You can also use a newsletter to share valuable information — tips and tricks, industry insights, and anything else people might find interesting. And you can make that content exclusive to the newsletter.
‌There's a delicate balance to strike with email marketing. You want people to remember you, and to provide value to them, but you don't want to annoy them into unsubscribing. Don't inundate them with emails. Keep it weekly, biweekly, or even monthly to start. Let people adjust their preferences, and give them the option to opt-out.
‌Lastly, your newsletter can be a source of referral marketing. Offer incentives to people who refer their friends to your store and it can quickly grow your network of loyal customers. According to ReferralCandy, over 80% of customers are willing to refer a product they like to a friend.
‌And speaking of referrals…
‌5. Ask family and friends to spread the word‌
‌If you don't have an extensive social media network, you might still be able to get some help from friends and family. Often it's word-of-mouth that helps businesses thrive, and it could help you get those first sales on your Shopify store.
‌When asking someone to help, make it clear there's no obligation to buy anything. Even a signal boost from your inner circle can work wonders for your store. And the best way to get people to share your business is to make it easy for them to do it.
‌Post on all your social media channels that you're starting a business and have a new Shopify store. If you're posting to your personal channels, share the official business accounts for people to follow.
‌Once you've made the posts, it's super easy for friends and family to share them. If you're sharing on a platform like Facebook, make sure you include the link to your store.
‌You can even create ready-made posts for people to use if they don't know what to say. They won't have to think of an interesting caption, they can just post it to their page.
‌Build your customer base even further by offering early bird discounts on your first few sales. Or give people a coupon for subscribing to your email newsletter. If anyone you know does end up buying something from your store, ask them to leave a review directly on your Shopify page so new people can see it.
‌This may seem like a lot to ask, but most people are willing to help out! Always make it clear there's no pressure, and thank anyone who makes the effort to shout you out.
‌6. Use paid ads‌
‌It wouldn't be an article about how to get sales on Shopify (or anywhere) without a section on paid ads. Social media ads, in particular, are simple and can connect you to a vast network of people — Facebook alone has a network of 2.74 billion active users.
‌If you've got an ad budget to start with, great. If not, this step may come a little farther down the line after you've made some initial sales.
‌Once you are ready to focus on paid ads, start with Facebook and Instagram. Facebook collects an insane amount of user data, all of which it makes available to businesses that buy ads on the platform. You can target super-specific groups of people by age, income, geographic area, and more.
‌Since Facebook owns Instagram, you can create your ad on Facebook and just tick a box to have it display on Instagram too. Configure the content of the ad, the audience it'll target, how long you want it to run, and then post. Analytics data will provide insights on who you're reaching so you can track what works.
‌If you don't have a huge ad budget, start small. Maybe run an ad for a week to see how many people you reach, then go from there. Not everyone you reach will become a customer, but it can help raise awareness and build your social media network.
‌You may decide to stick with Facebook and Instagram ads or devote the additional money to buy pay-per-click (PPC) ads on Google. The industry and the keywords you're using will affect the rate you pay for each click, so research that before committing to PPC advertising. But if you've got the budget, it can't hurt to put your business at the top of a Google search.
‌7. Check out Reddit‌
‌There's a subreddit forum for just about everything you can think of, including whatever product or service you're selling. Reddit doesn't immediately seem like a place ripe with advertising opportunities, but you can use it as a way to connect with people.
‌If your Shopify store sells skincare products, for example, it would make sense to join a subreddit devoted to that topic like r/NaturalBeauty. This subreddit is full of people looking for beauty products without chemicals and made with natural ingredients.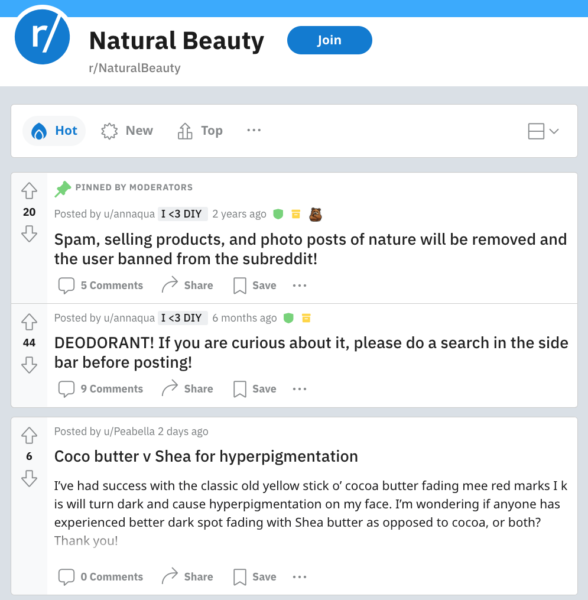 ‌‌Reading through the posts in any subreddit will give you an idea of what people are looking for and what they haven't been able to find to meet their needs. You can also see what brands people recommend and do research on them to find out what they're doing right.
‌If you do go this route, do not be overly sales-y. Most subreddit moderators will ban you from the forum if you spend all your time there advertising your store.
‌You can, however, ask people questions about what they want from products like yours and get extremely valuable feedback. And you can help people out by answering their questions or sharing links to helpful content you've made. If people benefit from your advice, they're more likely to check out your store and become customers.
‌You can also find groups of other business owners on Reddit. Subreddits like r/Entrepreneur are a place to discuss the challenges of entrepreneurship and share helpful strategies. There's even a subreddit dedicated to Shopify you can subscribe to for more tips on getting sales.
‌8. Offer free shipping and/or free returns‌
‌Everyone loves free shipping. For someone on the fence, it can be what makes them buy your product. Free returns add a sense of security since people know they can send back or exchange the product if it doesn't work out.
‌There are a couple of ways you can go about doing this with your store. One is to provide free shipping all the time and build the cost of it into your prices. If people see two similar products and one is more expensive but has free shipping, they'll probably opt for the one without shipping charges.
‌You could also offer free shipping during sales seasons like Black Friday. Free shipping on clearance items can help move them out of the store a little faster to make room for new inventory.
‌Some sellers offer free return cards to their customers or make their packaging reusable. Shoe manufacturer Cariuma, for example, sends out their sneakers in recyclable boxes with a tear-away adhesive strip for re-sealing the box. The ease of reshipping makes returns a breeze if someone orders a shoe that doesn't fit.
‌9. Market to your email list‌
Once you've built up enough of a subscriber list from customer emails, you can send those people marketing offers. Sending the occasional deal and update keeps you in touch with the people on your list and can incentivize more regular business. Just avoid being spammy and give them the option to opt out.
‌Email marketing has an impressive return on investment (ROI). According to McKinsey and Company, email is forty times more effective at bringing in new people than Facebook and Twitter combined. Use email and social together and you'll exponentially multiply your reach.
The best part is, most email marketing programs worth their salt will let you automate a good deal of customer interactions. Shopify, in particular, makes it easy to use email marketing to increase sales.
‌You can easily program a series of emails for multiple occasions, like:
The initial welcome email sequence for new customers
Thank-you emails for purchases
Re-engagement emails for customers who've dropped off
And more
Email marketing is also a prime opportunity for upselling and cross-selling by recommending useful products. Just be sure the products actually supplement the ones someone already bought.
‌How to get sales on Shopify: putting it all together
‌Now that you've got plenty of new tactics to get sales on Shopify, try them out for yourself. See which ones work for you and which you can afford to leave behind.
You don't have to throw a bunch of money at ads right away. Instead, start with organic traffic from social media and your own personal network. Don't be afraid to reach out to friends and family to see if they're willing to help spread the word.
Research your space and find the major players. Research them, see what they're doing that you can emulate. And, reach out to team up with people who share your values. A collaboration with someone that has a large audience can do wonders for your network. Just be sure it's a good fit for both of you.
Paid ads on social media — particularly Facebook and Instagram — can reach vast amounts of people. That reach can help grow your network and community and may bring in new long-time customers.
Whatever you decide to do, track your progress. Hone in on what works, and ditch what doesn't.
‌For more business tips, check out the Constant Contact blog.