Child care is a big business in the United States. Studies show that working parents with young children are spending an average of $6,000 annually for childcare, supporting a national industry totaling $42 billion.
Parents are generally willing to pay more for the right daycare option, and they're thorough in their research to find what's best for their child. But with so many childcare options available nowadays, how can you get your daycare name and brand out there? Is it possible to stand out when there are so many well-financed daycare operations out there?
In short: yes, absolutely. No matter your budget or the size of your childcare program, there are strategies you can use for effectively reaching new families without breaking the bank. In this guide, you'll learn all about how to market a daycare on a budget, including:
The fundamental strategies that reach parents today
How to position yourself as a childcare expert
What can scale up your efforts to boost enrollment
Increase enrollments and keep families informed with expert advice and all the tools you need, in one place.
1. Understand your audience's behavior
Millennials make up 90% of the childrearing population today. To market to these new parents effectively, you need to understand their buying behaviors — and reach them where they spend their time.
Today, that means establishing a digital presence. Consider the fact that:
Most millennials don't trust traditional advertising
Parents spend a lot of time researching options, which almost always starts online
More than half of millennials say social media influences financial decisions
These parents are out there looking for you. If you aren't active online, they'll turn to your competitors.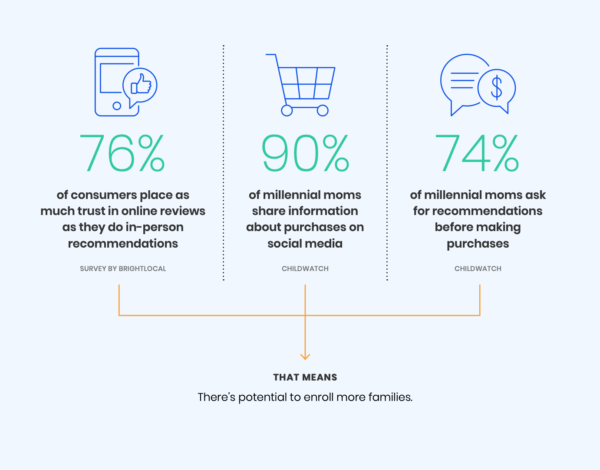 Digital tools also support your daycare advertising by growing your authority as a business. By providing answers to their concerns and information that adds value to their lives, parents view your business as a trusted resource — one they'll remember when making childcare decisions.
2. Optimize your website
Today's consumers are self-educating, meaning that most of them do their research and know what they want when making a big purchase. Parents expect you to have a website that can answer their questions — if it doesn't, they'll move on.
Use your website to preempt parents' concerns and interests. You could even survey families currently enrolled in your daycare to understand what factors led them to choose you. These parent questions could include:
Staff qualifications and stories
Your curriculum, hours, and enrichment programs
Avenues for parental participation
Special activities or programs like summer camps
Details on the enrollment process
If you don't have one already, building a website is easy and, in most cases, free. But having a useful website is only part of the equation. You want to boost its visibility so that your business appears in front of the right audience. Effective, lead-generating websites have:
3. Ask for testimonials
Nearly all millennials read online reviews before selecting a business, and they tend to trust what their peers have to say.
Ask current parents to write about their experiences. You can include these testimonials on your website and other marketing materials. You could also offer a few specific questions to guide responses to highlight things like specific programs, benefits your business provides, and why they continue to support you.
Then create more review opportunities by:
Making a Yelp Listing
Claiming your center on Google My Business
Build a profile on sites like Care.com and Childcare.gov
4. Build your email list
Email is one of the most effective marketing channels you can use, with higher returns on investment than most other strategies.
Email marketing is a great strategy for childcare services because you can:
Keep consistent communication with families, encouraging loyalty to your services
Add value to parents' experience by sending informative content addressing their needs and concerns — content they can share with their network
Show potential leads what they can expect from you in terms of communication
Be sure to ask for the emails of current families, and make it a habit to get contact information from interested parents. You can segment these lists to differentiate what you send based on your goals.
5. Get on social media
While your website showcases your services, social media communicates your personality and values. It allows you to make an emotional connection to a prospective parent, which studies show can help trigger buying decisions.
Most millennials are active on Facebook, so start there. You can expand to other channels over time — like LinkedIn, Instagram, Youtube, and Pinterest — but start with one site and grow your strategy from there.
Keep in mind that you'll need to tweak your social strategy for each platform to get the best results. However, all social media shares the common goal of user engagement. While an individual platform's best practices vary slightly, successful strategies include:
Frequent, consistent posting — usually at least once a day
Responsiveness to questions, comments, and messages
Added value, like helpful tips, videos, or articles
Relevant, timely information, like special offers, events, or upcoming activities
There are plenty of free or low-cost tools available that can help you design, plan, automate, and monitor your social media efforts.
6. Leverage word of mouth
About three out of four millennial moms ask for recommendations before spending money, so it's important that your clients are ready to talk you up to friends.
While your clientele may already be sharing your praise in their social circles, referral programs can amplify this effect. Incentivize your current parents to send new leads your way with:
Tuition discounts for successful referrals
Gift cards for both them and the new enrollee
An entry for each new lead in a big raffle
7. Implement content marketing
Your marketing strategy should involve sharing information parents will find useful. But why link to content from outside sources when you could be positioning yourself as a childcare leader?
Developing your own content encourages trust from parents and provides you with a tool to add client value to your service. It also increases your chances of being found — search engines prioritize websites that keep content fresh.
Starting a blog is a great way to establish this authority online. If the content is useful, your audience will also be encouraged to share it in their social circles, which directs new leads straight to your website.
To use your blog to drive enrollment, make sure to:
Have a consistent posting schedule — use an editorial calendar to keep you on track
Write about a variety of relevant topics, like education philosophies, parent challenges, and other FAQs
Share new content on social media and with your email list
Content marketing isn't just about blog posts either. You could add other elements to this strategy, like:
Guest posting for an educational organization or mommy blog, building backlinks
Writing an article for a local newspaper or newsletter
Turning a blog post into a video
Creating downloadable e-guides that go more in-depth about specific themes
Inviting a local news station to cover a special event
8. Show off your expertise
Workshops — either one-off or as part of an ongoing series — are a low-cost way to engage a local audience while positioning your business as the go-to childcare specialist.
You add immediate value to parents' lives by using your experience to advise on common concerns or questions. When looking for childcare options or offering suggestions to friends, they'll remember the value you've already delivered.
You can reach out to local community centers or parent groups to organize workshops or hold them virtually. Use your own staff or partner with experts in your network to run sessions around topics like:
Child development
Child nutrition needs and challenges
Off-screen activities and routines that encourage creativity and growth
Strategies to ready your kids for school
Handling common crises like bedtime battles, sibling rivalries, and temper tantrums
You could even ask for a small donation for a local charity — 91% of millennials prefer a business that supports a cause. Or partner with other professionals to offer in-demand activities like first aid for parents and toddler art classes.
Bringing it all together
Your childcare business is unique — the marketing strategy that works for you will be too. Monitor what techniques give you the best local engagement and if something isn't working, take a new approach.

To make this process easier, we've put together The Download, a comprehensive daycare marketing guide. Step-by-step, our guide unpacks these essential tools and how to apply them, showing you how to overcome common challenges and grow your enrollment rates. No matter how much marketing experience you have, these strategies make it simple to strengthen your business and offer more value to the families who rely on you.

Share with your network