Between all these important obligations, you also need to promote your daycare business so you can continue to grow. It may feel overwhelming, but with the right marketing tools, you can learn how to promote your business and increase enrollment like a pro.
In this article, we'll discuss the value of:
Direct mail and flyers
Email marketing
Referral programs
A search-friendly and responsive website
Online reviews
Google Ads
Social media marketing
Billboards and in-person advertising
Next steps
If you're ready to create a presence in the community and reach beyond your current network to find new leads and new families, consider these effective daycare promotion ideas.
Increase enrollments and keep families informed with expert advice and all the tools you need, in one place.
Direct mail and flyers
One tried and true tactic for elevating your enrollment is direct mail. Plenty of marketing has moved online, meaning you can stand out by sending good old-fashioned mail and flyers.
In its study, the Association of National Advertisers discovered a 9% response rate to direct mail. With the increasingly crowded digital marketing arena, direct mail creates an opportunity for your business to reach untapped markets. Furthermore, many people trust direct mail and appreciate the effort that goes into printed media.
Because of the local nature of daycare service advertisements, direct mail is an excellent choice for spreading the word. Target new families by canvassing neighborhoods near you with flyers and mail campaigns.
Email marketing
One of the most powerful tools you can use to promote your business is email marketing. Once you understand the importance of relevance, timing, and follow-up in your campaigns, email marketing is about choosing the right content to send to your subscribers.
After utilizing tactics such as segmentation — breaking up your email list into different groups — consider promoting your business by implementing email topics like:
What makes your child care services unique
Enrollment openings
News of charity events and community outreach
Promotions or seasonal discounts
Exceptional or positive reviews you've received
New offerings or programs at your daycare
Exciting upcoming events or open houses
If you're looking to save time, you can also send a welcome email to your subscribers automatically.
Referral programs
To generate new leads and encourage enrollment, consider developing a referral program. You can offer families a discount for referring a new little one to your business.
You can spread the word about this classic promotion through emails, social media, and word of mouth. Capture prospective leads' contact info through dynamic sign-up forms and email list management tools.
A search-friendly and responsive website
No matter what marketing strategies you use, your child care website should be at the center of your online and in-person promotional activities. It's the catch-all hub to which you'll want to send all prospective and current families. A quality website should aim to answer questions, drive enrollment, and attract new employees.
When families visit your website, they're typically looking for information about your child care services. Make sure your site includes these pages:
Homepage. Your homepage should open the door to your services. Show the world who you are.
About page. Express your philosophies, share your story, and expand upon your mission.
Programs page. Detail the services you offer your little ones.
Enrollment page. Give instructions about the enrollment process, waitlists, and more.
Beyond including the right pages, you'll want to make sure your website's content utilizes search engine optimization (SEO) and is mobile responsive. You can create a home run of a website by including detailed content about:
Enrichment programs
Specific curriculum
Positive testimonials
Safety and security measures
Meal programs
Daily communication
FAQs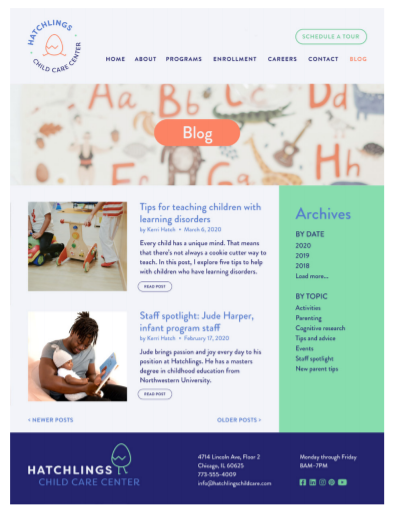 Online reviews
Online reviews of your child care business are an excellent way to demonstrate your value to prospective customers. You can use positive reviews to drive enrollment by:
Displaying them on your website
Including them in your email campaigns
Adding reviews to any printed advertisement
Sharing your success on social media
To encourage parents to review your services, it's often best to ask sincerely — via school communication — and provide a link to your preferred review site. Yelp, Facebook, and Google My Business are three powerful tools for collecting online reviews.
Before you start, review the guidelines of each — some sites discourage soliciting reviews. Finally, create a game plan for professionally and positively responding to any negative reviews you may receive.
Google Ads
Google Ads is a powerful tool for finding new families for your child care business. Easily create ads and direct the right customers to you when they search on Google. This automated tool optimizes ads with SEO and drives quality traffic to your carefully created website.
You can use leads gained through Google Ads to boost enrollment with email marketing for easy, time-saving marketing for your child care services — because you have your hands full with the tots in your care.
Social media marketing
Did you know that about 90% of the child-bearing population is a part of the millennial generation? Millennials have particular child care needs. They tend to do their research online and on social media, and most are looking for a modern daycare to match their lifestyle.
It's important to utilize the wealth of resources on social media — from Facebook ads and business pages to YouTube tours. Social media marketing can attract young families if used correctly. When diving into social media, it's important to remember to:
Market to the right audience. Understand the demographics and lifestyles of the families in your area.
Pick the perfect platform. Facebook, Instagram, YouTube, and more — each offers a singular platform with specific advantages. Explore which is right for your business.
Create dynamic content. Your content should aim to express who you are, encourage positive conversation, and create a sense of community and connection. Remember to tailor your content to the platform you choose.
Understand daycare social media policy. If you plan to use photos of your facilities in your social media marketing, you must develop clear social media policies and share them with all parents. Always make sure mom and dad are on board before taking a picture of any child in your care.
Billboards and in-person advertising
While a billboard might not be the first promotional strategy that comes to mind, a study that researched U.S. driving habits shows that 71% of Americans consciously observe billboard messages while driving.
For a daycare business, finding local families is essential — and a billboard can help you do just that. Renting a billboard on major roadways near your child care center can earn you serious exposure.
For a billboard advertisement, Geopath, a nonprofit media research organization, recommends focusing on:
Impressions. How many people will actively observe your billboard each week?
Demographics. What are the social factors of your audience, like age, gender, and income?
Circulation. How many people will pass by the billboard each week?
If it fits into your child care marketing budget, you may find that a billboard ad is a lucrative investment for boosting enrollment.
Next steps
Now that you understand the importance of boosting enrollment for your child care business and how to do it, are you ready to start promoting your business?

If you're ready to see how it all comes together, check out The Download, a free marketing guide that takes an in-depth look at online marketing for daycare services.

You're just a few steps away from helping your daycare business grow — just like you help the little ones in your care. Get started today.

Share with your network