When running a business, having a solid email marketing strategy in place is everything. It's one tool that isn't going anywhere and is increasing in its usage year after year.
Statista reports that nearly 350 billion emails will be sent and received every day in 2023.
However, keeping in touch with all your customers can get overwhelming. That's where email automation comes in. With automated emails, you can communicate with your audience in a much more efficient and personal way.
Having an automated email strategy will not only save you time but will also boost sales if done correctly. Let's take a look at how you can start using email automation to grow your customer base and increase your revenue.
What exactly is email automation?
Email automation happens when pre-scheduled email campaigns are sent out to subscribers based on a certain trigger.
For example, if someone opts in to join your mailing list, you should be sending them a welcome email. This welcome email should introduce new subscribers to your brand, tell them what they can expect, and perhaps offer a discount or promo code for signing up for your campaign.
However, as your business grows, it becomes more difficult to manually send out an email every time you get a new subscriber. Automating your campaigns allows these emails to fire the second someone subscribes, making the whole process more efficient. And, setting up an automated welcome series helps you turn the initial 'welcome' into a relationship-building and information-gathering tool.
Why use email automation?
When it comes to any marketing strategy, you want to work smarter, not harder. If you can create efficiency where there was none before, then you're saving yourself time, money, resources, and energy.
Just as marketing automation uses software and technology to automate your marketing tasks, email automation does the same thing with the emails you send to your subscribers.
Aside from making your life easier, automating your emails benefits your customers as well. The recurring, personalized emails you send through automation will help improve your brand's relationship with them and build trust and credibility.
Automation allows you to improve customer response rates and deliver the right content at the right time.
With email automation software, you don't have to worry about your email campaigns because you know that technology has your back and is doing the work for you, which gives you new availability to use productively elsewhere.
With that being said, let's look at how to use email automation for your business to get more customers.
Cater to individual needs by segmenting your list
You could choose to automate your emails so they collectively go to your entire audience, but this doesn't help you cater to each individual customer's needs adequately. Each person has a different reason for why they signed up for your email list and therefore, shouldn't receive the same treatment. Automatically segmenting your email list improves the effectiveness of your campaign and boosts open rates.
There are several ways you can go about segmenting your email list based on different criteria:
Sign-up date
Demographics
Location
Buying behavior
Holiday or special occasion
Place in the sales funnel
Website behavior
For example, Poo Pourri segmented its email list to target customers who previously viewed specific products:
You can choose to segment your list however you'd like, but it's important to do so with your audience's behavior in mind. Based on how you segment your list, you can then automate your email campaigns so they send to users based on triggers that tell you how your audience is acting with your brand. Think about what you're trying to achieve with your campaign and which way of segmenting it will likely bring positive results and greater return on investment (ROI).
Add personalization to your automated emails
Did you know that the overall average email open rate for Constant Contact customers is over 35%? With personalization, that number could be much higher. Though it's similar to segmentation, personalizing your email campaigns digs deeper into making your customers feel like a special part of your brand.
Personalization uses details and information about the customer and their needs to send them emails that speak specifically to them.
The most common ways to personalize your emails are by:
Adding subscribers' names in the subject line or body copy
Using customer data to send emails at the best times
Aligning email content with landing page content that the user expressed interest in
It's always a good idea to humanize your brand and show subscribers there are real people working behind the scenes to send them the best content available. It builds confidence in your customers and encourages them to continue investing in your brand.
Follow up with relevant content
Automating your emails means creating relevant content that caters to your audience based on what they care about. Once you've sent them the first welcome email, it's important to continue creating and optimizing the rest of the emails they receive so that they can move through the conversion funnel and become customers.
What you do with the rest of your automated campaign after the initial email should depend on user data, interests, and needs. This will tell you what a particular segment of subscribers needs from you so you can give them content that serves those needs specifically. When executed correctly, these subscribers will turn into paying customers.
Personalization based on level of awareness
Copywriter Eugene Schwartz used five steps to break down prospect awareness:
Completely Unaware: Users have no knowledge about your brand
Problem-Aware: Users have a problem but don't know how to fix it
Solution-Aware: Users know what solution they want but aren't sure if your brand can provide it
Product-Aware: Users know your product but are unsure if it's right for them
Most Aware: Users know about your product and are ready to purchase
Since each subscriber is going to be at a different stage when they sign up for your email list, they're going to have different needs. Collecting customer feedback and analyzing your target market are the best ways to create effective, persuasive campaigns that solve your customers' problems.
For example, let's say you have customers who are looking for a new mattress but aren't sure in the slightest what type to buy or at what price point. These customers are solution-aware, which means you have to present them with options that your business can provide.
The mattress brand Casper knows exactly how to speak to its subscribers based on their level of awareness. For users who are solution-aware, they need suggestions on what to buy and why they should buy it.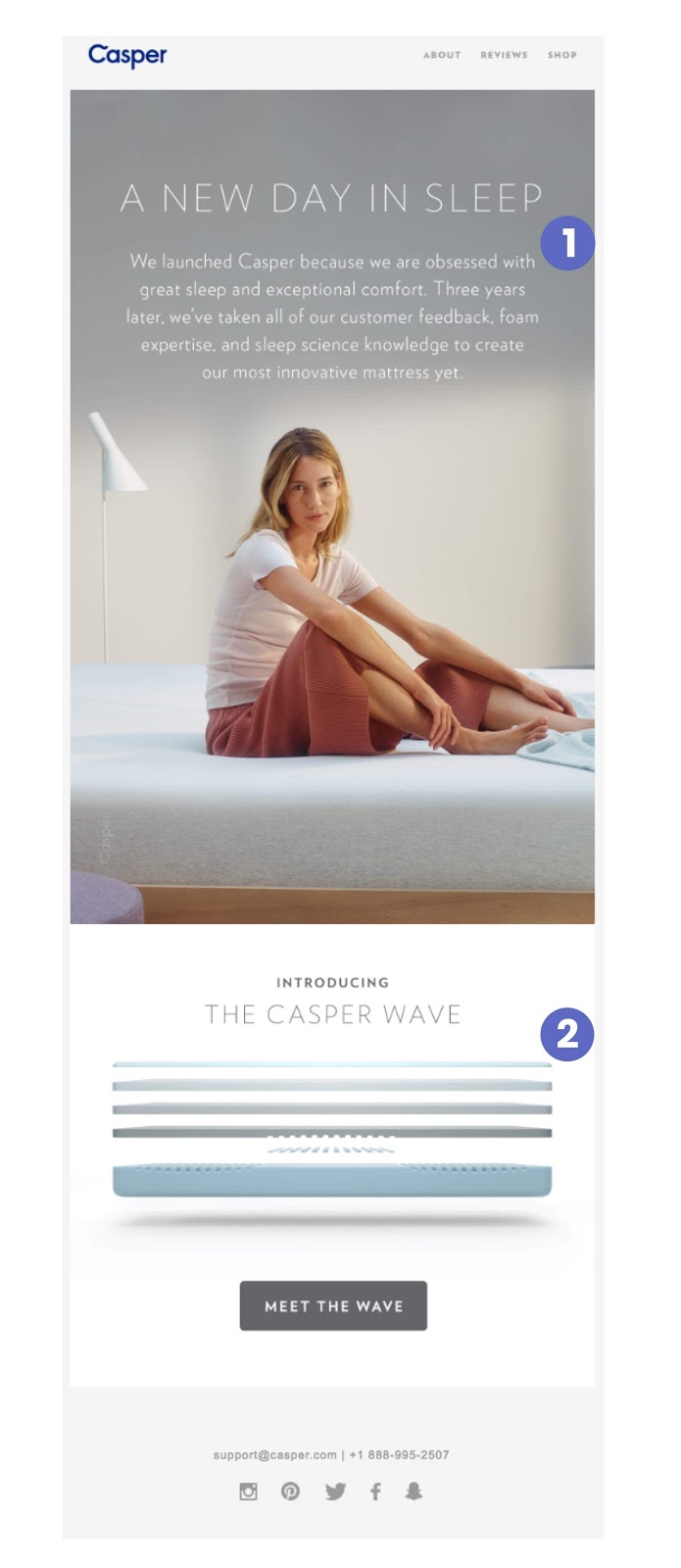 How will you use email automation to get more customers?
There's a lot that goes into email marketing automation, but when done correctly, it can be the key to transforming regular visitors into nurtured leads who are ready to engage with your business. It's important to stay in touch with potential customers, and email automation is a direct, personal way of doing so.

Start small by setting up an automatic welcome email series. Then, you can add from there, building automation from a variety of different triggers. Experiment for yourself and see how automating and personalizing your emails can grow your customer base and increase your sales.

Share with your network