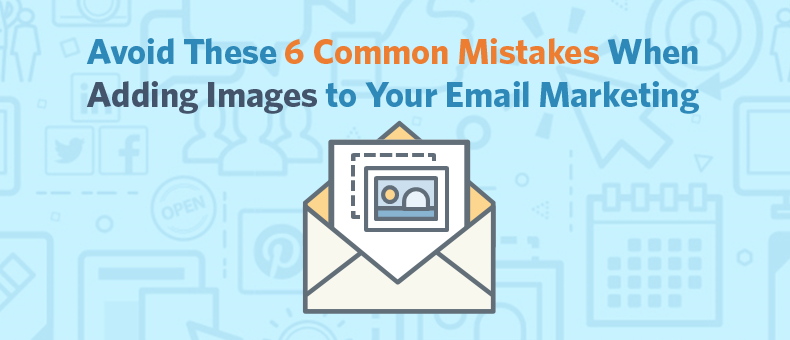 You know that adding images to your email marketing campaign can help bring your message to life.
But do you know how many images you should be adding to your email campaigns? What about how to make sure your images will display correctly for the people you're sending to?
Images have the power to make a lasting impression on your reader.
But if you're not following a few important email marketing best practices, it's possible your images could be having the opposite effect.
Here are 6 common image mistakes, and advice on how to avoid them in your next email campaign.
1. Straying from your brand
Every image in your email should reinforce your business values and brand. Look for ways to include your company colors and logo in images, so your contacts will immediately think of your business. While you'll want to use original images whenever you can, there are also great sites you can use to find professional-looking stock photography that won't damage your brand.
One of these companies — Big Stock — integrates with your Constant Contact account, allowing you to purchase high-quality stock photos right from your Constant Contact account.
If you're already using Facebook or Instagram to share photos of your business, your accounts can integrate with the Constant Contact image library. Once this is set up, you can easily use the images you've shared on social media in your email marketing campaigns.
2. Getting your image size out of whack
Once you've decided which images to use, you want to make sure they fit in your email campaign. If an image looks too large or small, you can resize the image within Constant Contact's email editor. If you're having difficulty getting the image size right, you can also try cropping your image to a different size proportion.
For single column templates, your images should be no wider than 600 pixels (an email template's width). Specify the image height and width for all images, and be sure to preview your emails on both mobile and desktop before sending.
3. Using the wrong file type
If you notice your image quality is distorted, check the file type of your image. Most of your images will probably be saved as either JPG files or PNG files.
While JPGs are often great for smaller images, they don't work as well with images that include text. PNG files support text well and can fix some distortions that are caused by other file types.
Use this chart, to find out the best file type for your image.
4. Ignoring different display options
Remember that your email can display differently in various email programs — some email programs will even block images automatically.
This is why it's beneficial to use an email template and insert your content, rather than simply uploading an image and using it as your entire email campaign.
One of the best ways to make sure your email can be viewed as you intended it to be, is to add a "View as webpage" link to the top of your email. That way, anyone who runs into display issues can view the full email the way you designed it.
You can easily edit your header to include this link within your Constant Contact account.
You should also add image descriptions to each image, which will show up even if the image is not displaying.
5. Using too many or too few
Have you ever wondered how many images to include in your email? We recently surveyed over 2 million customer emails to find out if there is a correlation between the amount of images included in an email and audience engagement.
We found that — with some industry specific exceptions — emails with three or fewer images and approximately 20 lines of text result in the highest click-through rates.
You can use these results as a guideline for designing your email campaign. Remember that this number can vary based on the type of message you're creating and the information you decide to include. Just remember that with a growing number of people reading emails on mobile, you need to be clear and concise when designing your campaign and avoid overcrowding your emails.
Read more about how images impact email click-through rates here.
6. Not providing a next step
Images do a great job of grabbing attention, but make sure you know what to do with that attention once you have it.
Think about the action you want people to take. If you're a nonprofit organization that's hoping to generate donations — you can use an image to make a personal connection with your reader and include a button for people to donate online.
You can do the same if you're trying to promote your products or highlight your different services. Just make sure you're providing an easy way for people to take the next step.
Bring the power of images to your email.
With these tips in mind, you're ready to add great-looking images to your email. You can start by seeing which images are getting the most engagement on social media and adding them to your next email campaign.
Provide a link after the image and see if you notice more people acting on the content you send out.
Put these tips to work today! Log in to your Constant Contact account.
If you have any image questions we didn't cover, let us know in the comments below!