When you first start marketing your business, keyword research probably isn't at the top of your list of priorities.
You're busy enough trying to set up a website, post on social media, and grow an email list.
Do you really need to worry about keyword research too?
Using the right keywords makes it easier for people to find your business online.
When people are actively searching for products or services you provide, keywords help you show up — which translates into more new customers and more sales.
For example, if you own a plumbing business in Ashland, Massachusetts, using keywords helps customers find and get in touch with you.
If you're afraid that keyword research is something you'll never be able to master, it's time to stop selling yourself short.
You can get started using keywords by following these five simple steps.
1. Listen to your customers
Hopefully, you're doing this step already! Listening to customer questions and providing your expertise is probably part of your daily routine.
To get started with keyword research, the first step is to start a master list of customer questions.
For a plumber, those questions might include things like:
How do you fix poor water pressure?
When do I need to replace my water heater?
How can you fix a clogged kitchen sink?
Keep note of these questions — especially the ones you hear most frequently — and jot down the specific wording your customers use when asking for your help.
2. Type their questions into a search engine
Now that you have a list of frequently asked questions, put yourself in your customers' shoes and search for the answers online.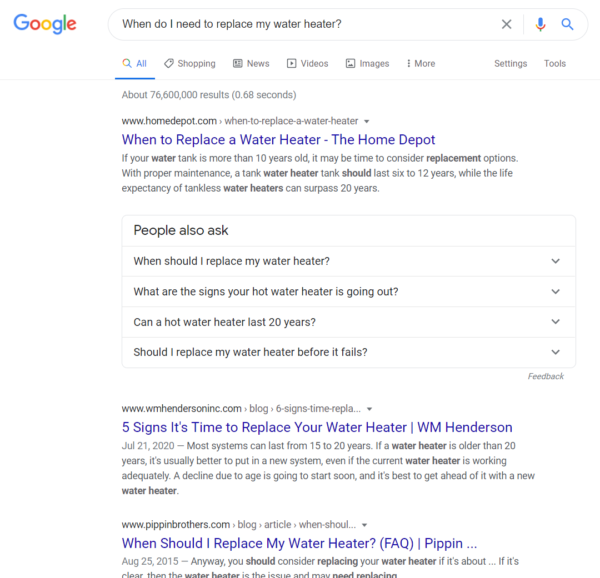 You'll see some paid results at the very top, followed by the organic search results (which are the results you don't have to pay for.)
Search engines like Google use factors like audience size and website traffic to determine rankings — but small operations can still snag a top spot. Keep in mind that Google changes results based on location, so if your plumbing business is in close proximity to the person searching for information you have a better chance of showing up.
Tip: Scroll down to the bottom of the search results page to look through related searches as well. This will give you more insight into the mindset people are in when searching out information related to your business.
In the example above, it's clear people are also interested in things like how much a water heater will cost them and how they can be sure their water heater is in good condition.
3. Research the popularity and competition of keywords
This brings us to the "research" part of keyword research. Using a tool like Google Adwords or Moz's Keyword Explorer to take a look at how many searches certain keywords are receiving each month.
The best keywords are in the sweet spot of high search volume (lots of people are searching for them) and low competition (not a lot of people are using them on their website.)
So while a general term like "water heater" will be difficult to rank for, keywords a little more specific like "water heater prices," "water heater installation," "water heater repair," or "electric water heater" will be easier for you to rank for faster.
4. Start using keywords on your website
When you've identified some keyword phrases you'd like to start ranking for, you need to develop a plan to use these keywords on your website.
Your plumbing business would probably start by adding a "Water heater repair" page to your website. Make this page easy to navigate to from your homepage and add the keyword "water heater repair" to the page URL, page content, page headings, and in the name of any images you include on the page.
This makes it super clear to search engines that your page is focused and that people searching for information on "water heater repair" will get exactly what they're looking for.
Once you've created your page, promote it in your email newsletter and social media channels to drive traffic to the page.
Bonus: Establish more credibility by writing follow-up blog posts that delve into a topic further. For example, you could write a blog post to help customers choose between gas and electric water heaters, then link to your "Water heater repair" page so that readers can learn more about your services.
5. Track your results
Once you've done some work to identify and use keywords for your website, check in with your website analytics to see how you're doing.
Tools like Google Analytics will tell you where your website traffic is coming from. Take a look at the "Organic Search" traffic to see if you can see any steady increases there.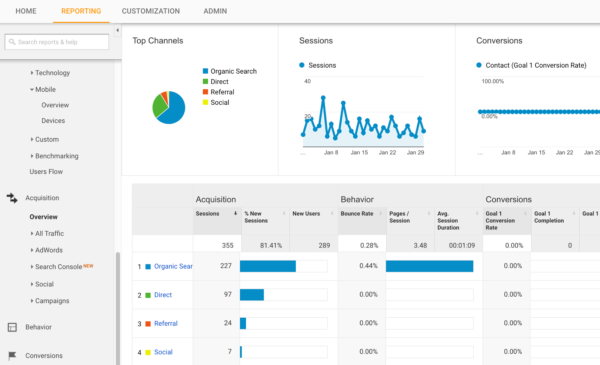 Results won't happen overnight, but even small increases in traffic can go a long way in getting your business in front of new potential customers.
Take a look at which search terms are bringing people to your site. If there's a topic that seems especially interesting to people, write some additional blog posts and email newsletters on this specific topic.
Ready to find the right keywords for your business?
If you're eager to get started with keywords and get in front of more new customers, watch our FREE webinar: How to Show Up on the First Page of Google (And Get More Business from Your Website)

Share with your network