You're proud of your law firm's awards and accolades. And, your website provides the perfect opportunity to let prospects know that you're respected throughout the industry.
But, before you fill your page with awards, take time to develop a strategy for displaying them. Otherwise, you risk littering your site with references that don't actually matter to clients.
Below, you'll learn how law firm website awards and accolades can prove beneficial when properly displayed — and what you can do to make them as impactful as possible.
Get new clients and drive referrals with marketing tools and advice for legal professionals.
Benefits of displaying awards on your law firm website
At first glance, it might seem obvious that law firm awards are worth showing off. Why not take advantage of anything that places your practice in a positive light? Dig deeper and you'll discover that strategic use of awards and accolades can deliver a variety of benefits.
Set your firm apart
In a crowded market, how can you show clients that they should work with you instead of competing law firms? Branding helps, of course, but awards should also signal that your practice deserves respect. In this way, accolades displayed on a website resemble a trophy case at a boxing gym — an instant and obvious sign of your influence.
Build trust with future clients
Today's choosy clients aren't willing to commit to just any attorney. They want to know that their lawyer is highly respected by clients and throughout the legal profession. The right digital messaging can give you a head start, but some prospects will only be swayed by credentials. Joe DiPietro shows this in the example below.
In addition to your J.D., clients want to see awards that verify your abilities and your track record. Awards, like ratings, provide an element of social proof that even the slickest marketing campaign will struggle to reach.
Show your commitment to your practice area
Should you run a niche law firm that only handles a narrow selection of cases, your chief marketing goal may not involve attracting the highest possible volume of clients — but rather, exclusively obtaining high-quality leads that are likely to convert. This may be easier to accomplish if the award page on your website primarily references cases within your practice area.
For example: If your firm seeks high-level verdicts in a specific area of personal injury law, you might be eager to let clients know that you're a Litigator Award Winner for Premises Liability and Catastrophic Injury. If you primarily represent underprivileged clients, you'll want to display accomplishments such as earning the Lloyd O'Hara Public Interest Law Award.
Underscore your practice's values
While many law firm awards recognize excellence in trial or other major displays of legal skill, accolades referencing your commitment to ethics should also be shown off. Many of these are granted by authorities within the legal industry. Awards outside of your sector are also worth displaying, so don't be afraid to highlight that Better Business Bureau Eclipse Integrity Award.
Improve law firm SEO
Awards can be a surprisingly powerful tool for enhancing law firm SEO. Many are inherently keyword-oriented. What's more, search phrases often sound more natural in a list of awards than they do when haphazardly forced into blog posts.
Whether included in attorney bios or practice area blurbs, award-related phrases such as "best criminal lawyer in San Diego" or "top 100 trial lawyers" can instantly improve your SEO game.
How to highlight awards on your law firm website
How you present law firm awards on your website matters. If they clutter your website, these distinctions will provide minimal benefit to your practice. In fact, these can actually drive leads away if they detract from your law firm's website design.
No one tactic is right for every practice, as a lot depends on how many awards you've earned and from which organizations. Still, these simple suggestions should give you a basic idea of how to make the most of attorney awards and accolades.
Be picky
With attorney recognition, quality trumps quantity. A small number of prestigious and highly relevant awards will impress website visitors far more than an exhaustive list of mentions. Determine which distinctions truly matter to your clients and set the others aside.
Relevance is particularly important when determining which accolades to reference. Not every form of publicity warrants attention on your website.
Press mentions should be reserved for clear endorsements. It's exciting to see your law firm highlighted in print, but journalistic references are unlikely to impress prospects. Keep this in mind both as you mention awards on your website and in future marketing emails.
Create a dedicated page for law firm awards
While it's tempting to list awards on your homepage, in practice area explanations, and everywhere else, these may be more effective if contained to a specific area on your law firm website.
This tactic won't work for all law firms. For example: If you've only earned one or two industry awards thus far, they won't look particularly impressive when forced to take up an entire page on their own. In this situation, the few awards you've earned will resonate more when referenced on the homepage or about us page.
Highlight individual awards within attorney bios
While awards dedicated to your law firm as a whole are best displayed on a specific recognition-oriented page, those granted to a particular attorney may be more relevant in the bio section.
Awards can be highlighted alongside each lawyer's academic history and overview of work experience. This provides the perfect opportunity to showcase academic distinctions that you might prefer to separate from your main law firm award page.
Make dedicated award pages easy to scan
You may be proud of your long list of awards, but website visitors will find these cumbersome to look at if they're all jumbled together. Instead, make generous use of subheadings and bullet points.
If possible, divide awards into categories. For example: If you've been distinguished on several occasions by the American Bar Association or another respected authority, use a subheader to reference the organization and bullet points mentioning relevant years or categories.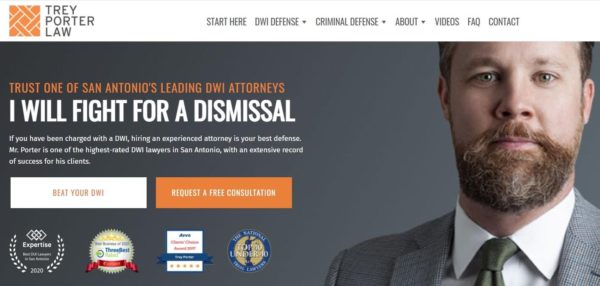 Some law firms prefer to highlight recognition with logos, as Trey Porter Law does above. This approach can streamline your site by avoiding wordy phrases. But with too many logos, your page will appear even more cluttered.
Don't forget paralegal awards
Many law firm pages focus on attorney accomplishments, but paralegals also deserve recognition. If your firm's support staff has been honored by the National Association of Legal Assistants or another noteworthy organization, mention this accomplishment in your paralegal's bio or on the main award page.
Include brief explanations when necessary
Some awards speak for themselves. Clients will never struggle to understand what it means to be a Top 10 Criminal Defense Lawyer, for example. They may, however, be confused by distinctions such as the Lead Council Rating or Super Lawyers Rising Star.
When clarification is required, add a sentence or two about what the award in question means and why it matters. Jurewitz Law Group does it on their law firm website.

Clients want to know that all the legal professionals they work with deserve their trust, so they'll be pleased to learn that your practice employs the best of the best.
Level up your law firm website
Your law firm's award page is only the beginning. If you need additional marketing ideas to improve your website, you'll find inspiration in The Download from Constant Contact. You're also welcome to browse our legal services marketing blog.

Share with your network