At StayClassy, we partner with nonprofit organizations to help them reach their fundraising goals, most notably with custom, branded donation pages.
Branding is an important part of all kinds of marketing practices. Whether it's in emails, on social media, or on a website, having a consistent brand helps nonprofits gain recognition and support.
In this post I'll give a quick overview of branding and tell you about five nonprofits who display a strong, coherent brand in all their communications.
What is great branding?
How do you feel when you see a good friend's smiling face?
What about your boss's face?
Your brand is somewhat like the face of your organization because a good brand will have personality and make you feel something. Stanley Hainsworth, a marketer who has worked with brands such as Nike and Starbucks, suggests that you think of your organization's brand as a person.
"You should think about the attributes of that person: What they say, what their values are, how that person acts, what it sounds like, what language it uses," he said at a conference in March.
Some of the most obvious ways you present your brand are through your logo, color, and design, but brand is also influenced by your tone, the content you produce, and the way you react to others.
Making sure your visible brand is consistent across different channels is important because if you want people to believe in your brand, you can't give them mixed messages.
To show what I mean, here are five nonprofits (in no particular order) who do a great job of maintaining the same image, tone, and personality throughout their communications.
Their Mission
Love146 envisions a world free from human trafficking. With offices in the United States and the Philippines, they offer survivor care, preventive education, and professional training. They also work to connect and empower local abolition movements.
Their Brand
The most prevalent colors Love146 uses are red and gray or black. This nonprofit brings power and strength to children facing an overwhelmingly dark situation, and this can be seen in their placement of red on a dark background.
Other than their logo and coloring, a defining feature on Love146's website and social media is the many pictures of children, a constant reminder of the organization's purpose.
Notice that their website, Facebook page, and Twitter feed all use the same colors and similar images. With so many people, businesses, and causes active on social media, it's easy to get caught in the shuffle. Love146 makes their presence stand out with consistent but bold branding.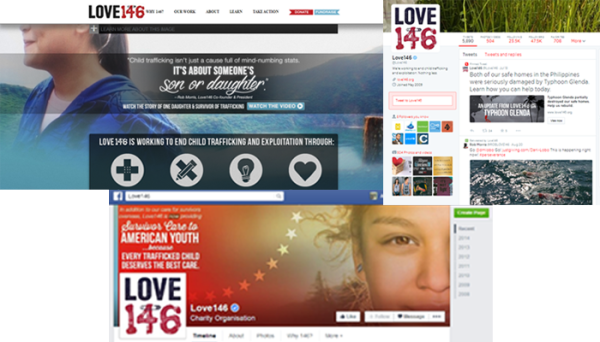 Their Mission
With early detection being so critical to survival, Barbells for Boobs believes everyone has a right to be screened for breast cancer. Founded after a friend's struggle to get diagnosed, the organization partners with Crossfit gyms and other athletes to raise money for health centers nationwide. They help men and women who don't qualify for other resources.
Their Brand
Barbells for Boobs reflects their mission and their methods in their logo. While incorporating the traditional pink associated with breast cancer, the logo slightly resembles the barbells fundraisers use in their events. These colors continue throughout their website and social media.
Barbells for Boobs also displays tons of images of fundraisers training and competing. These images of action and strength reflect the nonprofit's proactive approach to fighting the illness.

Their Mission
CoachArt brings joy and fun into the lives of chronically ill children and their siblings. With 1,500 volunteers, they provide in-home lessons and group classes in the arts and athletics. They also offer a day-camp just for their kids and partner with local dance, yoga, and martial arts studios. And it's all free for the kids.
Their Brand
CoachArt's logo is a simple font separated by a heart. The name itself is a simple description of the nonprofit's work. Their colors are orange and red, sometimes on a dark blue background.
Like Love146, their website and social media features engaging pictures of the children they serve. They feature kids making art, playing instruments, and learning sports. Whenever you look at a CoachArt page you are reminded of the simple yet profound services they offer.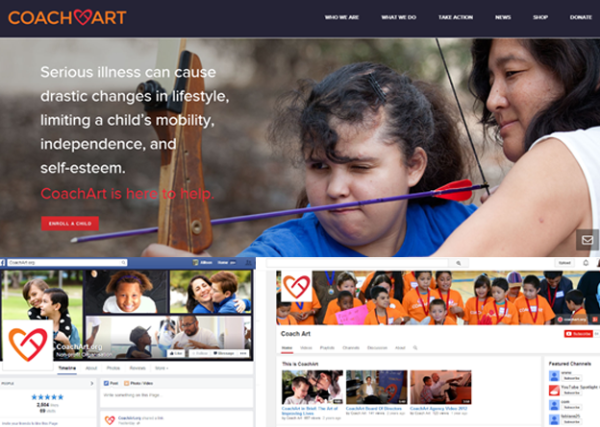 Their Mission
LiNK is a humanitarian organization working to support the rights and freedom of the people of North Korea. Along with touring high schools and universities to publicize and educate young people on the issue, they also provide assistance for people trying to escape the regime and start new lives. Since their beginning, they have rescued 265 refugees.
Their Brand
LiNK has a simple, but instantly recognizable logo. The eye-catching red gives a sense of urgency while their positive outlook and focus on the North Korean people offers hope.
Instead of featuring the grim perceptions of North Korea, LiNK introduces you to the individuals working for a better future.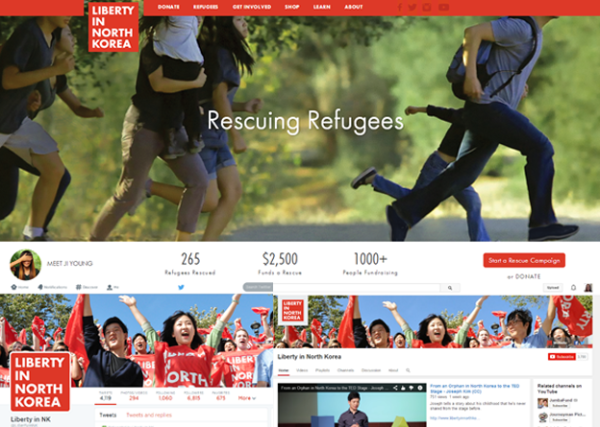 Their Mission
Possible works to "make healthcare possible in the world's most impossible places." They bring vital medical services to impoverished people in Nepal by working with existing infrastructure and crowdfunding to cover the costs of extensive treatment.
Their Brand
Possible's logo borrows from the traditional cross symbol representing health services; their understated font suggests efficiency and pragmatism.
They take advantage of all the customization options available on platforms such as Twitter and Facebook. Their background images heavily feature their constituents in Nepal.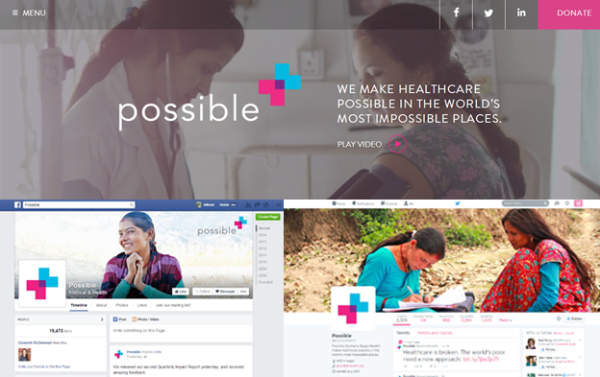 A Few Common Traits
You have probably noticed that while these webpages and profiles may look quite different, the organizations behind them rely on many of the same practices to make their brand visible and consistent. Take a look through your own web presence and communications to see if you can make some of these simple changes.
Social media icons: Because this small image is what will show up in a search on social, it should feature your logo or name. Don't make your audience guess if this is the right profile.
Show them the action: Donors want to see their money at work, so incorporate pictures from your programs and services. Whether it's the children learning archery from CoachArt or the resettled refugees from North Korea, pictures of your work are a visually engaging way to show the audience what you're all about.
Customize your profile:  Most social media platforms offer all kinds of options to make pages your own. It only takes a few minutes to change the color scheme and add a background image, which will make your profile stand out.
Brand your emails: Make sure the emails you're using to drive people to your website and online donation pages reflect the branding you're trying to create. If you're a Constant Contact customer, you can easily upload your organization's logo and choose colors that match your brand.
Have questions about branding for your nonprofit? Post them in the comments below.
About the author: Allison writes about nonprofit fundraising and marketing for the StayClassy Blog. You can also find her on Twitter at @NPfundResearch.