Success in the nonprofit sector relies on the ability to do more with less. This is especially true for marketing initiatives, which are needed to attract donors but can grow too expensive or time-consuming if not carefully managed. Nonprofit marketing integrations can help.
While social media efforts can pay dividends, email remains the top tool for attracting donors, securing pledges, and tracking campaigns. And, although email marketing alone is not the answer, it can, and should, serve as your hub for your nonprofit email marketing efforts.
To make the most of limited budgets, streamline processes, and do more with less, check out these top 7 nonprofit marketing integrations to use in conjunction with your email and social media marketing efforts.
Keep your organization growing with expert advice and all the tools you need, all in one place.
7 nonprofit marketing integrations
1. Little Green Light
This cloud-based donor management solution provides a streamlined approach to handling communications with a variety of individuals, ranging from donors to volunteers. Additionally, this tool promotes collaboration among nonprofit team members, who can work together in real-time to handle recordkeeping, fundraising, and more.
Tracking is crucial to long-term email marketing success, so you'll be pleased to find that Little Green Light (LGL) provides detailed insights on customized email recipients. Use pre-loaded or custom reports to get a better idea of whether your current campaign is producing the intended effect — and what you can do to improve engagement if it isn't.
As a web-based system, Little Green Light can be used with a variety of browsers. These include standard desktop options (such as Chrome and Safari) and top mobile-based browsers. Pricing is determined based on the number of records in your account, so it's possible to enjoy full access to the service's array of features while only paying a modest monthly or annual fee.
Little Green Light's communication tools make it a great candidate for integrating with email marketing solutions. Contacts desired for syncing can be selected in bulk and added to email lists. LGL is also perfect for choosing targeted segments for a focused email marketing campaign, with Constant Contact taking over when designing messages that appeal to specific types of recipients.‌
DonorPerfect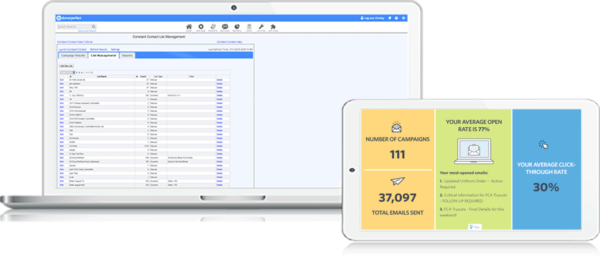 If you're on the hunt for a comprehensive customer relations management system (CRM) designed for nonprofits, you'll be pleased by the DonorPerfect platform and its integrations. This configurable cloud-based solution provides an unlimited number of users with seamless workflows, which are accessible from both desktop computers and mobile devices.
Databases created and maintained through DonorPerfect can be used to record specific constituent information, such as addresses and pledge histories. DonorPerfect also provides management for the pledges themselves, including maintenance for linked payments and even matched gift donors.
Enhanced integration between DonorPerfect and Constant Contact promotes the use of online donation forms in email campaigns. From there, DonorPerfect's filters can be used to segment contact lists. With this approach, marketing emails always feel personal, regardless of the list's size. ‌
QuickBooks
Intuit's QuickBooks empowers nonprofits with limited resources to take charge of their finances and make every dollar count. This popular accounting software is typically associated with small businesses, but it offers a variety of functions that should appeal to small and midsize nonprofits. Top solutions include automated expense tracking, automatic syncing for fundraising platforms, and an efficient reporting system.
An official app links Constant Contact and QuickBooks to provide a streamlined approach for initial imports and syncing over time. Contact lists maintained through Constant Contact accounts make it possible to distinguish between prospects and current donors to ensure proper segmentation for email marketing campaigns. If you already use QuickBooks and Constant Contact, this integration is free of charge — so it's worth your while to download the program and see how it can strengthen your next marketing initiative.‌
Eventbrite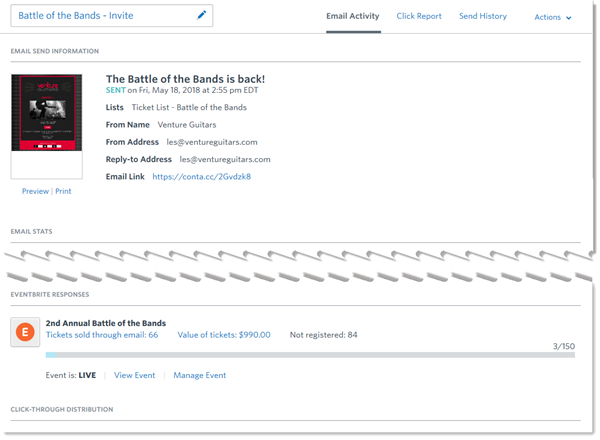 Events are a top source of fundraising dollars for many nonprofits, but they take considerable effort to plan and manage. Tracking registration and attendance is a huge point of concern; too many no-shows and money spent on vendors and space will be wasted. Eventbrite addresses this problem by providing an easy system for registering and managing attendees.
Constant Contact offers an official Eventbrite integration that sends targeted emails to promote upcoming events. Under this approach, registrants can be synced to ensure that they receive event reminders and other follow-up emails. This will lend greater insight and accuracy to the planning process so you can feel confident that you're prepared to secure the best possible return on investment for your fundraising event.
Gmail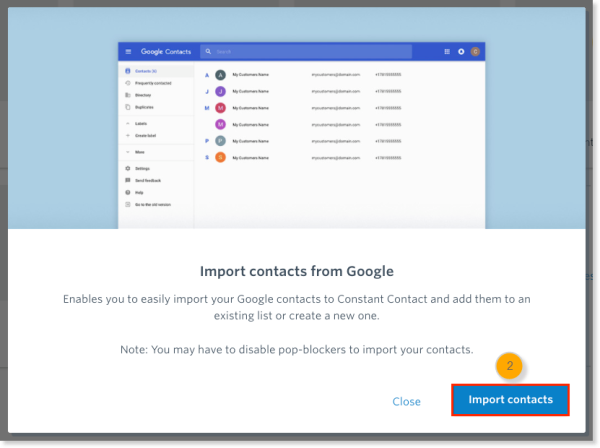 With over 1.5 billion users, Gmail is a top name in digital communication. For nonprofits, it also provides a great opportunity for engaging with current and potential donors.
A significant share of your email list likely involves Gmail users, but does your campaign reflect this reality? If not, you may benefit from tailor-made solutions that optimize your campaign to improve engagement with those occupying the modern Google landscape.
Make the most of Google contacts with a simple, but effective integration with Constant Contact. Free of charge, this option allows you to import up to 5,000 contacts at a time. From there, you can add them to existing email lists or create new ones as you see fit.
With Constant Contact and Gmail working in unison, you'll find it easier to send personalized emails that get prospective donors excited about your message. These targeted emails are less likely to end up in the spam folder and are more capable of producing on-the-spot conversions for your nonprofit.
Network for Good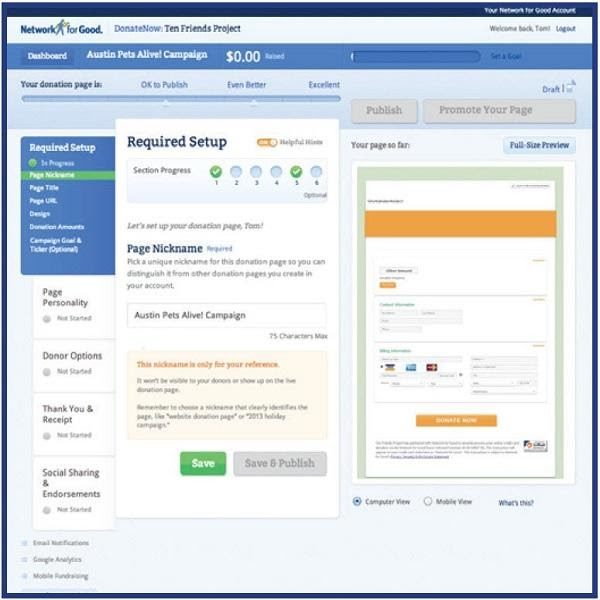 Since its founding nearly two decades ago, Network for Good has processed over $2 billion in donations. The Network for Good DonateNow online fundraising tool encourages advocates to spread your message through the power of social sharing. This tool provides mobile optimization functions to help donors give on the go.
A useful integration between Network for Good and Constant Contact automatically adds all individuals who take advantage of the DonateNow function to your mailing list.
While DonateNow carries a modest one-time fee, the integration with Constant Contact is completely free of charge. What's more, nonprofits that implement best practices when using DonateNow are able to secure an average increase of 30% to 40% on average in online donations.
Salesforce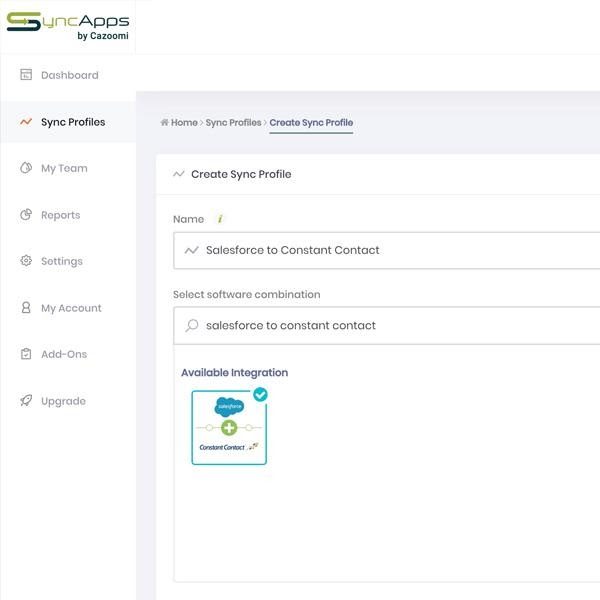 From customer service to analytics, Salesforce provides a range of applications that help organizations of all types run more effectively. In the nonprofit sector, this means empowering organizations with the advanced technology needed to build strong relationships with supporters. Many nonprofits take advantage of Salesforce's Power of Us program, which provides up to ten free subscriptions, as well as significant discounts for eligible organizations.
Ready to harness the power of Salesforce as you embark on a new nonprofit marketing campaign? A helpful SyncApps system allows you to link your Constant Contact campaign history with Salesforce. Because Salesforce is so versatile, syncing with Constant Contact means you can also leverage tools like Navatar and EventSpot.
Improve nonprofit marketing engagement with Constant Contact integrations
The nonprofit marketing integrations highlighted above can improve efficiency for your next campaign while also strengthening donor engagement. To learn more about opportunities for nonprofits, check out The Download — an excellent resource that will help you make sense of all things marketing.

‌

Share with your network