Have your eyes ever widened at the sight of a beautiful restaurant photo on Instagram? We live in a world of constant visual media, and restaurant Instagram marketing is one of the best ways to grow and nurture your clientele. And it's free! Even if you think of yourself as camera-shy, you can do this. Wouldn't it be great if the next mouth-watering restaurant photo people see on Instagram comes from your restaurant?
This article will help you set yourself up for Instagram success. The first part will touch on some Instagram basics for the restaurant industry:
What you need in your business Instagram account
How Instagram fits into your broader social media strategy
Best practices when it comes to Instagram for restaurants
The second part presents ten proven strategies to create engaging Instagram content, paired with examples of restaurants doing them well. You can use Instagram to feature:
Food photography
Your staff
The dining experience
Happy customers
Your suppliers or partners
Special events or deals
Video content
Inviting questions or topics
Contests
Your creativity
(Note that this article doesn't cover paid advertising for restaurants on Instagram, only how to make the most of your social media account.)
Whether you're just searching for some fresh ideas or need to build your account from scratch, you'll be ready and reinvigorated for that next post.
Get the tools and guidance you need to find new customers and keep your regulars coming back for more.
Set yourself up for success
If you have a personal Instagram account, you're ahead of the game. But using Instagram as a business tool is different from using it to connect with friends and family. For one thing, you need a business account, not a personal one.
You want your business Instagram account to keep loyal customers engaged and bring new ones in the door. A few simple steps will prepare you to do just that.
Create an account
Yep, it's pretty obvious — the first step to killing it with restaurant Instagram marketing is to set up your account.
Download the app. Instagram is almost entirely mobile-based.
Choose a recognizable username and profile picture. You want people to identify your account with your restaurant instantly. Get as close to your actual name and logo as possible.
Fill out your profile. Write a short bio that describes who you are, where you are, and what you do. Add your contact information: your hours of operation, phone number, address, etc.
Provide a link to your restaurant's official website and note other social media accounts.
Create an official hashtag for your restaurant, and put it in the profile.
Research similar businesses. Take note of posts or practices that seem practically useful or generate a high level of engagement from followers.
Research and develop a strategy for hashtags, too. Create a list of hashtags that might apply to posted content, and then search them. You want to focus on local ones that perform well in your area. For example, a Minneapolis coffee shop might use #mplscoffee.
Integrate Instagram into your restaurant's social media strategy
Develop a comprehensive social media strategy that incorporates Instagram and any other platforms you're using. Be realistic about the amount of time and energy you have to give — both in total and for each individual social account.
When managing your various social media accounts, resist the temptation to post the same content across multiple platforms. You need to craft unique material for each. Ask yourself what belongs where.
When deciding which accounts to emphasize, keep in mind the platforms where your target clientele is most active. Shape your strategy accordingly. If you see your target audience commenting on lots of Instagram posts, don't spend too much time stressing about your Facebook engagement.
Best practices for getting started on Instagram
You're ready to go! It's time to begin your restaurant Instagram marketing.
The first post
Post a photo or short video to say hello. You can either take the photo/video through the app or upload something from your library by clicking on the icon to add to your feed. The app will then allow you to edit using filters and other editing tools it provides.
Add text and details. Once the photo or video is ready, it's time to write out a caption and hashtags.
Tag people or companies if they or their products are featured in the post.
Add your location. If you have a traditional, static restaurant site, you can also lookup posts by tagged location to see what people are posting from your establishment.
Let people know that you're on Instagram
Tell everyone you can (without being too obnoxious about it). Here are a few ways to spread the good word without seeming overbearing.
Announce it on other social media platforms and on your website.
Use email marketing to get the word out to your lists.
Word of mouth is more powerful than ever with social media, but it doesn't have to be confined to the virtual world. Tell your friends, family, suppliers, and anyone else invested in your success.
Put up a small sign at the hostess station or cashier.
Add a button to your website that links to your Instagram account.
Make sure your account follows other people, too. Engaging with other businesses and people's accounts can be a great way to build up your own loyal following.
Keep it up
Schedule regular posts according to your general social media strategy. You can use social marketing tools to schedule content in advance.
Don't post to your Instagram feed more than once a day. But as you gain comfort with the platform, you can also experiment with Instagram's other content types:
Instagram Stories
Instagram Reels
IGTV
Instagram Stories is the place for informal, less-polished content, in photo or video form. You can share fun behind-the-scenes material several times a day as you go about your work. Instagram Reels and IGTV can help step up your video game.
Listen and learn
Engagement needs to go both ways, so don't just put up the occasional picture. Make sure to monitor your account and respond to followers who take the time to comment or otherwise engage with your material.
Think of your account as an ongoing conversation rather than a monologue. You'll attend to your account and come up with better, more responsive posts.
Strategies for success
Restaurant Instagram marketing requires a continual stream of content, which can tax the imagination of even the savviest social-media user.
These ten ideas will help you populate that Instagram account with content and followers.
1. Make their mouths water.
Instagram and restaurants are a match made in tasty, tasty heaven. Your product lends itself to amazing photographs that will inspire universal food lust.
Some tips to help you display your dishes at their absolute best:
Opt for natural light or softer overheads.
Play with the rule of thirds. Imagine a three-by-three grid over your photo. Keep shots dynamic and balanced by placing points of interest at the grid's four inner intersection points.
Work with editing and filtering options for a more polished product.
Add engagement and drama. Show a chef putting the final touches on a composed plate. Or add props to the shot that allude to history and interaction. Put a fork on the plate, or shoot a picture of carrot soup in front of a bunch of carrots.
Avoid even-numbered groupings. The eye prefers balanced asymmetry and odd numbers.
Think about the best color schemes for different shots. What will make the best background for each dish?
Include texture and variety. Break up your images, and use objects with different surfaces.
For more advice, check out this article on food photography.
2. Introduce yourselves
Give your followers a look behind the curtain. For example, you might post material that focuses on a certain chef or shows your staff hard at work.
You want to make people connect to your restaurant as more than a menu. This is a great place to illustrate your restaurant's personality.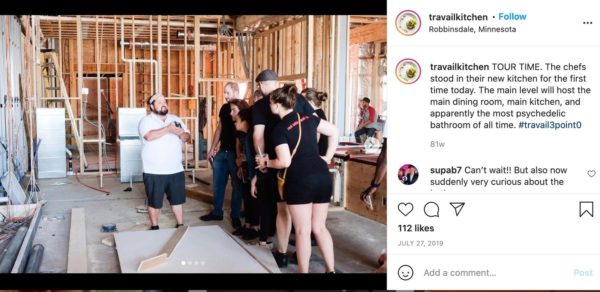 3. Take them inside
People dine out for more than the food. They want the experience.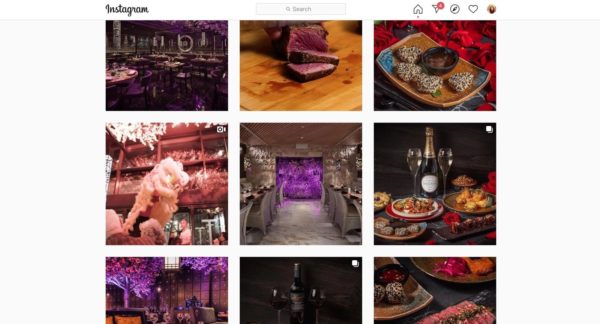 What is it like to eat at your restaurant? What atmosphere do you strive to create? Take pictures or video clips that give potential patrons a sense of what they can expect.
4. Post snapshots of happy customers
Let people with happy tummies share their joy — always with their permission, of course.
You can also repost their great pictures of your restaurant. If the picture isn't high-quality, consider commenting on their post.
5. Showcase community partners and suppliers
You might be collaborating with another business on a project or participating in an event. Remind followers that you're an active member of their local community.
If you're a farm-to-table place, your suppliers are an integral part of your story. But all kinds of restaurants can post about a specialty ingredient or cultural contribution. Not all communities are local.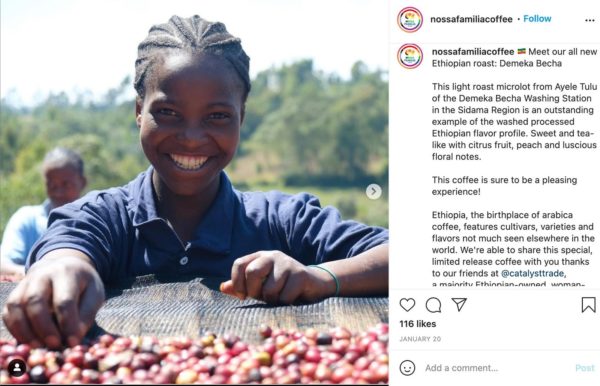 6. Advertise special events, menus, and promotions
Instagram is a great place to announce your holiday plans, show off new menus, and offer your patrons exciting deals.
Pro tip: This kind of content is great to plan in advance. You know it's coming up, and it often relates to an extra-busy time for your business.
7. Star in your own videos
More people engage with video than any other content type on Instagram. This is also true of other social media platforms.
Add some movement to your posts with short video clips. Show yourselves cooking — or even just the food sizzling on the grill. Pan across your desserts for the day.
Want to add longer content? Make use of the relatively new IGTV, where you can post videos that are up to fifteen minutes long. You could:
Conduct a tour of your establishment.
Interview the chef or other key staff members.
Teach a short lesson on kitchen skills or even a simple recipe.
Compile clips of customers or staff. You might ask them about their favorite dish or their favorite thing about the restaurant.
For more tips and ideas, check out this article on video marketing for restaurants.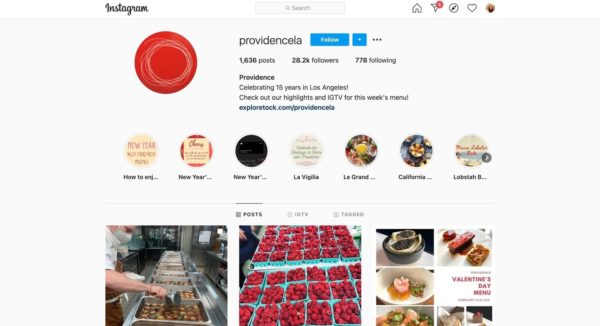 8. Engage your clientele and followers
Make sure you respond to their comments and note when they tag or mention you in their own posts.
You can also invite interaction with clever posts. Ask for people's favorite dish or something they miss from an old menu. Or run potential specials by them, asking them to vote for the one they most want to try.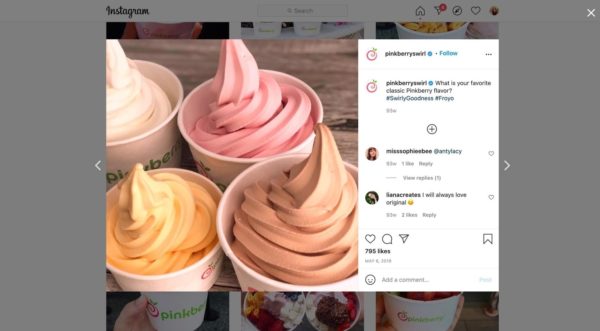 9. Run a contest
Reward loyal patrons, and give new ones a reason to try your restaurant.
It's easy to set up a contest with Comment Picker, a tool that helps you pick random winners for Instagram raffles and giveaways. You can offer:
Gift cards
Merchandise
A behind-the-scenes tour
A seasonal item, such as a Thanksgiving pie or Christmas dinner
Free dessert for a month
Or try something a little more involved than a raffle. Ask people to tag you in a post that features a picture of their favorite dish, and reward the best photo.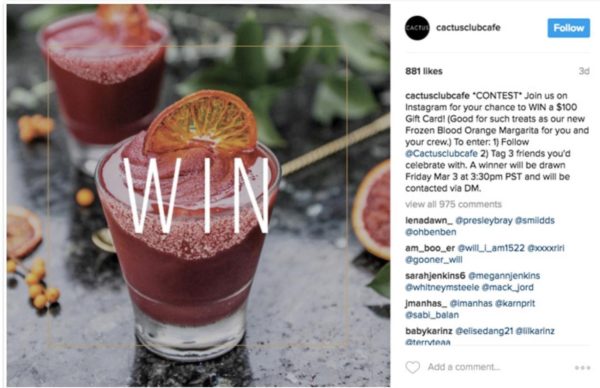 10. Explore your creativity
Craft clever copy or hashtags to add a dash of whimsy to your feed. Take some pictures that are on the quirkier side. You can set formal dishes on the grass, incorporate holiday themes, or do before-and-after shots of the ingredients/the final dish.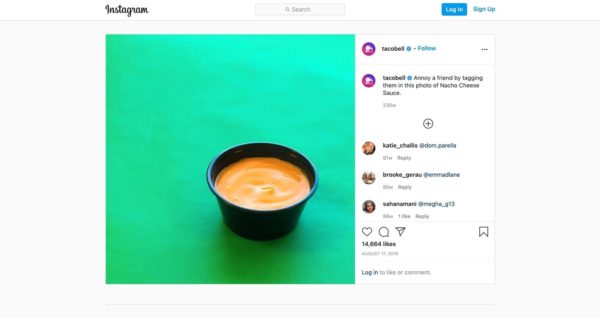 Ready, set, go!
With these strategies, there's no excuse to scratch your head as you struggle to set up your account or produce new content. It's easy to get going and fun to keep going.

So show off the passion you feel for your food, and give your creativity free reign! With restaurant Instagram marketing, you're in the perfect industry to take advantage of all the platform has to offer.

If you want more ideas for Instagram campaigns or creative restaurant promotions, the Constant Contact blog has you covered. Or check out the comprehensive digital marketing guide The Download for more tips on making sense of online marketing for restaurants.

Share with your network