When you think of the things that make your salon stand apart from other area salons, would you list your brand among them? A strong brand attracts customers, keeps you top of mind, and supports customer loyalty. Whether you are a new salon owner or a more seasoned one, this article will get off on the right foot with your salon branding.
Stick with us as we cover the eight pillars for creating strong salon branding. Who are you? What's your style, mission, and personality? What do you value? It's the hard questions that matter, especially when it comes to creating an authentic brand.
Strong salon branding is the key to awareness for your business. Successful salons are clear and consistent in what they do and say. People want to know what they can expect when they engage with you online and when they visit your salon in person. Brand consistency has the potential to increase revenue by up to 20%.
To create a strong brand, it's important to understand the eight pillars of branding for salons:
Mission
Vision
Authenticity
Singularity
Personality
Appearance
Consistency
Presence
As you build these elements into your salon's brand, you'll create a solid structure that offers enough flexibility for you to adapt to new contexts and circumstances.
We make it easy to get new clients and repeat business with all the marketing tools you need for your nails, hair, skin, or personal care business.
1. Mission
Everything starts with a mission. Your mission statement should be at the heart of your business plan and your brand.
Your mission statement should be clear and concise — one or two sentences that sum up your purpose and operations. Try using Simon Sinek's golden circle model. This method helps you to craft a statement to direct your operations and communicate the unique value your salon provides.
The golden circle model refers to three concentric circles. From outside to inside, they are:
What. What does your salon do? What products and services do you provide?
How. How does your salon do things in a way that sets you apart?
Why. What's the fundamental reason for your business? What drives you?
All companies can articulate the "what" of their business. Fewer can define "how," and even fewer can tell you "why."
Start your salon branding with a strong mission statement. Stumped? Here are some examples to inspire you:
Know your target audience and create expectations about what they can find through your salon.
2. Values
What matters to you as a business? Your brand values should inform your operations and the digital marketing content you create. Think of them as a promise you make to your customers, a commitment to a shared set of ideals.
The past couple of years have affected our expectations for businesses. Consumers are more socially aware and conscientious., and they might wonder how your business is tackling some the world's biggest challenges. Does your salon carry earth-friendly products? Do you pay your employees a fair wage? Your clients want to know what you stand for.
Try to identify your top five values as a business. Then outline the ways you express them through your brand. What kind of experience do you strive to create? What and whom do you feature?
You can think about the impact you want to have on the world or on the industry as well as on your clientele. The following claims come from various salons' "About" pages:
"Van Michael [has] the goal to raise the bar in the beauty industry and elevate hairdressing as a valued professional career." (Van Michael Salon, multiple locations in GA)
"Diaspora Salon is focused on the preservation and continuance of various Diasporic cultures and heritages outside of Africa through hairdressing." (Diaspora Salon in Baltimore, MD)
These statements help create two well-defined but very different brands.
3. Authenticity
Authenticity should inform your purpose as well as the branded content that expresses it.
Don't shy away from ambition or commitment, but stay true to yourself when it comes to your mission and values. Keep your claims realistic and rooted in your beliefs.
Then live up to those claims in messaging that reflects your core ideals. Establish yourself as trustworthy in the eyes of consumers.
A survey of 2,000 adults found that 86% of consumers believe that authenticity is an important factor in their choice of brands to support. But more than half think the majority of brands fail to create authentic content.
4. Singularity
Like authenticity, singularity should inform every element of your salon's brand. Be different. Tell your individual story in everything you produce.
One way to stand out from the crowd is through a tagline. Communicate your selling point in a readily identifiable and memorable way, and distill your salon's offering into a few words. Here are taglines from two of the salons mentioned above:
Each of these takes the salon's mission statement and turns it into a catchphrase that sums up the unique character of the salon.
5. Personality
How do you want people to describe your brand? Come up with a list of three or four adjectives that define the impression you want to make.
Do you want to be the ultra-luxurious, polished, aspirational salon that makes your customers feel like pampered celebrities? Or are you looking to strike more of a cool and quirky vibe that puts people in a daring, fun mood? Are you classic, modern, unconventional? Warm or sleek?
As you design the other elements of your brand, keep these adjectives in mind.
6. Appearance
As a beauty salon, you know the power of appearances better than anyone. Your salon branding should have a defined and recognizable style that informs your:
Logo
Colors
Font
Graphics
Web design
Storefront and salon
Packaging and letterhead
Design your logo with care, as it will appear in many different places. An attractive and recognizable logo also makes it easy to take advantage of branding opportunities, such as giveaways and clothing.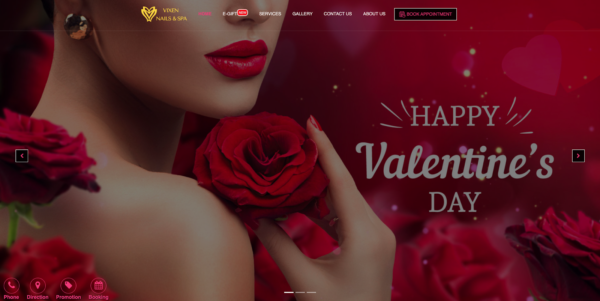 You should also put a lot of thought into creating your salon website. Customers will visit there first before deciding where to take their business.
7. Consistency
It isn't enough to make good mission statement and design choices. You need to maintain them across all channels and outlets. That's how you turn diverse elements into a cohesive brand.
When developing your salon branding, one of the best things you can do is to establish a set of salon brand guidelines. This document should provide clear instructions for all brand content. Outline your:
Mission statement
Personality
Color palette
Style of images
Typography
Brand voice
Your brand voice is how your written content sounds. Is it formal, funny, sincere, etc.?
When crafting your own guidelines, take advantage of brand guideline templates to provide direction and formatting.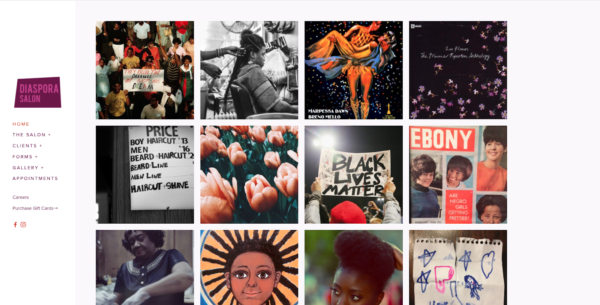 8. Presence
Once you've figured out exactly who you are, it's time to decide where else to establish your presence. How will you connect with customers?
Create branded content that invites your clientele to make you a part of their lives even when they don't want to schedule an appointment. Two of the best ways to do this are through email marketing and social media.
By growing your salon email list, you gain an audience to inform about promotions. But you can also share other news and beauty tips.
Beauty brands on social media have a perfect platform to show off their products and services. Take advantage of the visual nature of your artistry by posting pictures and videos on a regular basis.
Part of salon branding is building the community around your brand. It's important to engage with clientele in their inboxes and social media accounts.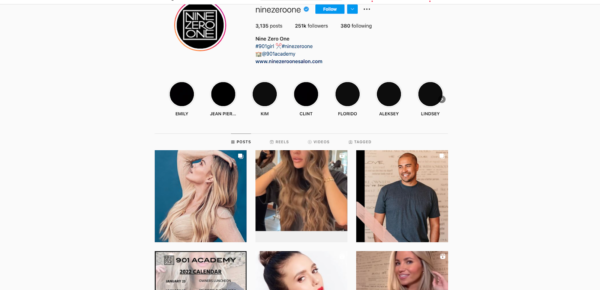 Take your salon branding to the next level
Now that you understand the eight pillars to create a strong salon brand, you can go through the various exercises, step by step.

You know that everything starts with the mission statement, so start there. Grab a piece of paper and write down your "what," "how," and "why." Try to explore marketing ideas if you have a nail salon, too. Or look at examples of hair stylist bios that will help land new clients.

Let yourself brainstorm and jot down notes. Then you can polish it into a cohesive, concise statement of purpose that will support the other seven pillars. You will be well on your way to a strong, successful brand!

Share with your network