A recent Fortunly article indicated that an estimated 57 million people in the United States make money through freelancing or the gig economy.
All of these people freelancing full time or in addition to their 9 to 5 need to be able to find your accounting firm so that you can help them sort through their finances and properly pay income taxes. You can reach these gig workers, small business owners, and other people who need your assistance with these tips related to social media for accountants.
This article covers:
Why you should use social media
Different social media platforms and the benefits of each
Tips for creating compelling posts
Different types of content
Find new clients with our expert advice and marketing tools.
Why accountants should use social media marketing
In May of 2020, Statista reported that about 70% of all Americans have at least one social media account. These people often use social media to research service providers, including accountants and accounting firms. If you are not taking advantage of social media, you miss the opportunity to be found by a substantial percentage of the population.
An effective social media marketing strategy for accountants allows you to connect with your customers. It is an easy way to build a relationship with existing and future clients. Social media lets you build your credibility in the minds of your customers.
Finding the right platform in a sea of apps
Akin to most fads, different social media platforms seem to come and go, with new apps popping up regularly.
Instead of building a comprehensive social media strategy on all platforms, stick with the most well-known and widely used ones. For service-oriented businesses, the most commonly used platforms are Facebook, LinkedIn, and Instagram.
All of these services let you post organically via posts that you don't have to pay for. They offer advertising options whereby you can create sponsored posts that are then shared with a wider, targeted audience. Most of the time you will be creating organic posts. Paid or sponsored posts can be effective when you are trying to reach people beyond your current network.
LinkedIn
Accounting firms and CPAs typically discover that LinkedIn is an excellent platform for marketing their businesses. LinkedIn was created for professional networking, but it has become a widely used resource for finding people who provide services that your business needs. Best practices for LinkedIn include the following.
Be specific in your bio
If you are a freelance accountant, craft an "about me" section that communicates what services you offer. These keywords make it easier for people to find you when searching the platform.
Join professional groups and contribute
By regularly contributing to group discussions, you can keep your company fresh in the minds of your network. Joining an accounting-oriented group allows you to connect with others in the field, giving you access to conferences and other networking events where you might find prospects.
Post regularly
A good social media strategy includes a mix of articles and discussions posted to your company page. Along with celebrating your accomplishments, post general industry information and tips.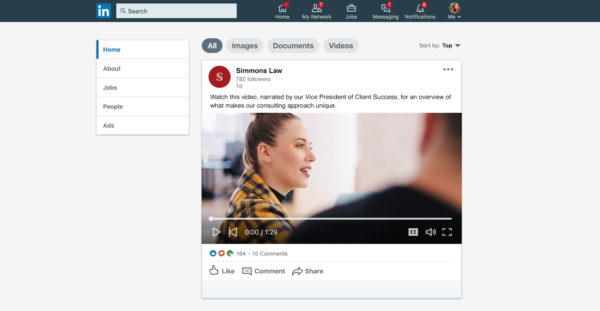 Facebook
Facebook is an excellent social media platform for accountants.
You can use it to connect with clients and maintain customer relationships. You can set up a business account with your logo and a visually appealing cover photo, and you can post from your phone or your computer.
This platform is also good for notifying your clients of upcoming events or seminars. If you want to generate leads or build your mailing list, use sponsored posts.
Mix it up
If all you are doing with your Facebook page is selling your services, clients might get bored and stop following you. This platform is all about relationship building. Posting helpful articles about financial management or other resources that could benefit your clients is a good way to build a rapport.
Utilize ads
Facebook ads are affordable and can be targeted to a specific audience. Try to develop a set of sponsored posts to build awareness about your business. With Facebook ads, you can set a price threshold based on the number of people you want to reach. Keep it small at first and try different ads to see which ones perform better. You can track this data with the metrics that Facebook provides.
Post regularly
Consistency is the best way to keep your page at the top of your followers' feeds. Posting regularly will also give your followers a reason to keep clicking on your profile. Make a content schedule and stick with it.
Instagram
For accountants, Instagram may not seem like the best social media tool. It is all about imagery, and accounting isn't always thought of as a creative field.
Nevertheless, your firm can use Instagram successfully to promote its services.
Pay attention to visuals
Instagram is all about using attractive photos to garner an audience. Your business can use stock photos, infographics, or other visual cues to drive traffic to your website.
Use hashtags
One of the best ways for people to find your business on Instagram is through hashtags. Be sure to include multiple hashtags at the bottom of each post to help people find your page more easily. Look through the feeds of industry publications and competitors to see what kinds of hashtags they are using, and then build posts around them.
Celebrate your clients
If you currently handle small business owners' accounting services, give them a shout out on your page. Take pictures of their shops and tag them. This is a good way to help your clients' customers discover your business.
Creating compelling content
Social media for accountants is not solely used to promote your business.
Social media platforms are an advertising tool, so some of your content should be geared around advertising directly to your customers. Even so, you should post a range of diverse content.
Much of your content can be related to your industry.
Sharing financial news with your followers or directing them to resources that they can use to start their financial planning is a good way to show them that you represent the latest developments in accounting. Tying your posts to a current event is also a good way to help people find you.
Accounting professionals can find a wealth of content to post during tax season, but think about how you can connect accounting to off-season events as well.
Take the first step
As an accountant, social media may not be the first strategy you consider when marketing your business. However, if you are not on social media, you are ignoring a large captive audience who can use their phones and computers to find your company.

Developing a social media strategy can be overwhelming, but start small. Choose one of the platforms listed above, build an account, and then start using it to enhance your network.
For more advice about how to market your accounting business, get The Download: The official Constant Contact Marketing Advisor Playbook.

Share with your network