When tax season hits and things get busy, it's tough to devote time and brain space to marketing. It's worth the trouble, though, especially as more and more people shift to DIY tax preparation. In 2019, 1.2% of filers shifted to DIY. The next year, that number shot up to a reported five percent.
It's important to get in front of those DIY filers and show them what they stand to gain by hiring you as a tax professional. They're already sold on convenience, so your best bet is to reach them where they already are — on email, social media, and blogs.
Fortunately, it's easy to create and launch dynamic marketing campaigns for all of those platforms, while still leaving you plenty of time to meet with customers. Read on to get the tax season marketing ideas you need to make it work, plus tips on how to implement them.
In this post, we'll cover,
Email marketing ideas
Social media marketing ideas
Blog ideas
Getting started
Find new clients with our expert advice and marketing tools.
Email marketing ideas
Email marketing returns $42 for every dollar spent, which is a much higher rate than what's typically expected from any other form of marketing. Part of email's success is that people are connected digitally more than ever before, and they spend much of their day connected to email.
To get your name in front of the people who need your services, consider email marketing. You just need to make your messages valuable enough to open, and it's easier than you think.
1. Appointment reminders
Customer retention is an important part of your tax season marketing. The classic statistic, cited across industries, is that a 5% increase in customer retention drives profit increases above 25%. The more of last year's taxpayers you can get to sign on with you for this year, the fewer new clients you need to win over.
Fortunately, with taxes, repeat business is built into the model. All of your prior clients need to do their taxes again this year. Getting them to hire you can be as simple as sending a quick email message with an engaging subject line:
It's time to make your tax appointment!
Thinking about taxes? Reserve your appointment time today.
A reminder campaign is simple to set up. You can send the same message to all of your prior clients or divide your audience into groups so you can mention specific tax concerns. This audience grouping technique is known as segmentation, and it helps you get more relevant messages into the right inboxes.
You can run a segmented reminder campaign easily using an email marketing tool. Constant Contact can help you set up your audiences and schedule emails to go out automatically at just the right time.
2. Referral incentives
According to a 2019 study by Accounting Today, client referrals are the most common source of new business for accounting firms. You can boost your referral rate using your email list, which is made up of people who have actively opted in to receive messages from you.
This is another way tax season works for you. Not only do your customers need to do their taxes, but their friends do, too. With motivation techniques, you can get more people from both groups coming to you.
If you can, offer an incentive to the referring and referred customers. Provide a discount off tax preparation services, a gift card to a local business, or a combination of the two. For example, you might discount your services for new customers and offer $50 gift cards to those who make referrals.
Community partnership arrangements also work great for referral incentive programs. You offer a $50 gift card to a local business, and they do the same for you.
3. Client appreciation events
Email is a great way to announce and plan client appreciation events. Again, you can segment your audience so that these announcements go out only to current clients.
To generate buzz, set up an automated email series leading up to the event. Use the first message to announce the date, time, and venue. Remember that virtual client appreciation events can be just as effective as in-person events, especially if competitors have chosen to cancel their brick-and-mortar events, too.
Once that first email has gone out, schedule follow-ups to keep the buzz going. Remind people to register, invite them to enter into contests, or request questions for live Q&A.
Social media marketing ideas
If you're looking to reach a broad range of taxpaying adults, you can't beat social media. More than 70% of adults in the US use at least one social media site — that includes 90% of adults under 30 and 82% of those in their 30s and 40s. And the numbers are only going up.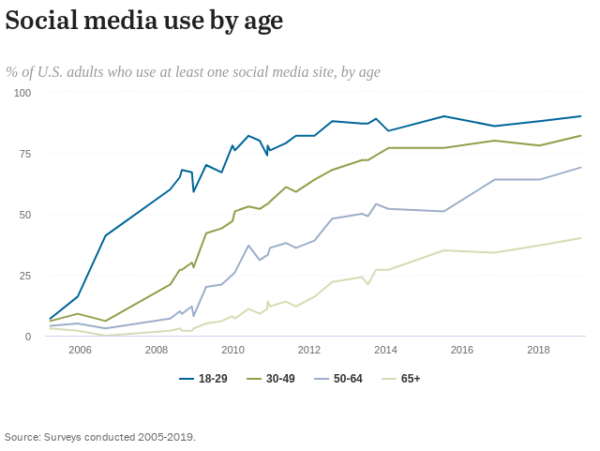 Facebook is a great place to start. It's the most popular platform out there, excluding YouTube, and it lets you share almost any type of content.
Most importantly, social media allows you to get in touch with current followers and future customers quickly.
4. Paid Facebook ads
On Facebook, your organic posts are mostly going to be seen by people who already follow you. That's a side effect of Facebook's algorithm, which prioritizes posts from friends and family. It's a lot harder for professionals to get traction unless you invest in ads.
Ads are smart investments and tools that can elevate some of the simplest tax season marketing ideas. You can use them to spread information about any promotions you've decided to run for new customers. And with Constant Contact's Lead Ads Tool, it's easy to create a dynamic ad in just minutes.
5. Free returns checks
Facebook is a great place to offer free reviews of last year's tax returns. People will be more likely to switch to your services if they believe you can save them money or help them to avoid errors, and it's better to show them than tell them.
You can make this offer using a paid ad, a social post, or both. Your followers' list likely includes people who haven't used your services before but are interested, and this could be the offer that gets them on board.
Blog ideas
Tax season marketing ideas are all about staying top of mind, and that's where content marketing shines. Authoritative, valuable content can go a long way toward pushing your website to the top of search results, and that's especially important when so many people are actively looking for tax tips.
6. Frequently asked questions, answered
If you're like most tax professionals, you answer the same questions year after year. Why not turn those questions into an FAQ blog post? It will showcase your knowledge of tax law and demonstrate your ability to break down complicated issues into language customers can understand.
This one can be an entire series. At the end of your initial FAQ post, invite readers to submit questions you haven't covered. Address those questions in follow-up posts that link back to the original.
Getting started
Don't feel overwhelmed by all of the tax season marketing ideas available to you. You don't have to use them all at once. Choose the one that you think would speak to your customers the most. If you believe a message offers real value, it will carry.

Need some inspiration? Check out The Download, Constant Contact's marketing guide for professional services. Let it get you excited to try a new social media campaign, email series, or blog post. The taxpayers are waiting.

Share with your network