Every day, millions of people — or roughly seven in 10 Americans — are using social media to find local businesses that serve their household needs, and that includes plumbing. If you run a plumbing business, establishing a social media presence can help you attract new customers, build your brand, and create a strong online presence.
With an endless number of social media platforms available and a variety of ways to go about posting on them, figuring out where to start can be a bit overwhelming. The toughest part is getting started, but once you learn the basic steps involved and best posting practices, you'll be able to reap numerous benefits and even enjoy the process. This guide will break down all things social media for plumbers, including advantages, tips, and tricks to success, as well as useful tools to help you get started.
Ready to find more leads and get expert home services and construction marketing advice, all in one place?
What are the benefits of social media for plumbers?
Before getting down to the "how" of social media, it's a good idea to know the advantages of using it.
Improves SEO: A big part of any online marketing effort is search engine optimization. SEO is how your plumbing business gets found by people typing keywords and phrases into search engines like Google. Having an established social media presence increases the chances of your business being discovered, leading to better website performance (and sales).
Helps build relationships: Social media platforms allow you to engage with your audience via posts, messages, videos, and interactive content. You have the chance to build strong relationships, turning new customers into loyal followers of your brand.
It's cost-effective: Other types of online marketing, like paid ads, can really drain your budget and resources. On the other hand, creating social media profiles is free, easy, and much quicker. You can save your budget to spend on bigger picture projects and goals.
Great for emergency services: Many turn to the internet and social media to find help with home emergencies. Having easy access to your trustworthy company profiles tells prospects that you're a brand they can rely on.
Works with other marketing methods: Lastly, social media marketing also ties in well with email marketing. For instance, you can invite your email subscribers to follow your social media pages and your social media followers to subscribe to your email list. Doing so integrates your users across your various channels.
Now that you know what social media can bring you, it's time to decide which social media platforms to use.
The best social media platforms for plumbing businesses
When choosing which social media platforms to use, keep in mind that each caters to a different audience. For example, younger audiences — those between 18 and 29 — prefer Instagram, while 68% of Facebook users are between age 50 and 64. As a result, it's essential to figure out who your target audience is so you can successfully reach and connect with them.
Secondly, it's better to choose a primary platform to start with rather than attempting to master several at once. Doing so allows you to dedicate time to building a solid and consistent profile that will have audiences invested in your brand.
Facebook
Facebook remains the most popular social media platform worldwide. It's a great start for plumber marketing, as the platform recommends local businesses in the area to customers seeking out services. The platform also lets you post a wide scope of content, from text posts and visuals to interactive content like polls. As most active Facebook users are on the older side, they're more likely to own homes and need plumbing services.
Instagram
If you want to appeal to younger audiences, Instagram is the way to go. Instagram allows you to use visuals as part of your marketing efforts. You can post pictures of your completed projects or a behind-the-scenes look at your company. You can also make use of Instagram's Stories and Reels features to share short video clips of your team in action — a great way to build your brand identity.
YouTube
While you can share brief clips on Instagram and Facebook, YouTube lets you post longer, more in-depth videos. As an avenue for social media for plumbers, YouTube is the optimal place to post how-to and DIY videos. Not only are these videos interesting, but they demonstrate your authority and credibility as a plumbing business, making potential customers more confident in your services.
Twitter
Twitter's tweet length is 280 characters. While this means there is limited space in what you can write, it still serves as a good option to share helpful plumbing tips and tricks, providing valuable content to your audience. Alternatively, you can share links to your product or service website pages with a quick quip on why customers should choose you.
LinkedIn
LinkedIn is geared toward professionals. Users here are interested in reading educational content, networking with other professionals, and looking for recommendations on businesses. It's a good choice for B2B plumbing businesses to connect with companies.
Nextdoor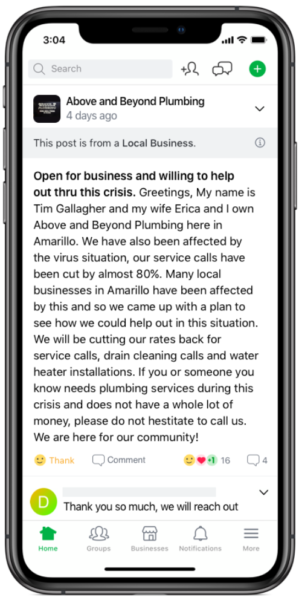 Nextdoor is an excellent platform for connecting with individuals and other businesses in your neighborhood. Here, users can start discussions about local companies, ask for recommendations, and keep updated on their favorite businesses. When you create a profile on Nextdoor, you immerse yourself in the community, creating awareness of your plumbing business for those nearby.
5 tips for social media success
The following tips will ensure you start your social media for plumbers marketing efforts on the right foot.
1. Know how often to post
The first aspect to consider with your social media marketing is knowing how often to post. Posting too much can be overwhelming, while infrequent posts may lead your followers to believe your business is inactive. Since each social media platform serves a different purpose, each platform requires various posts. Here are the ideal frequencies you should aim to meet.
Facebook: A few times per week. Since you can post a large range of content on Facebook, you can publish a mix of content three to five times a week. For example, you can switch from a text post to a visual to a link throughout the week.
Instagram: Once per day. Like Facebook, you can upload a scope of content on Instagram. While visuals are a powerful form of marketing, posting too many of them can be a turn-off for followers.
YouTube: Once per week. Since YouTube videos take more effort to create and upload, you can aim for one YouTube post a week. Remember to aim for quality over quantity — viewers want value from their YouTube videos.
Twitter: One to three times a day. Tweets benefit from being short and easy to digest for readers and quick and easy to post for businesses. You can also simply retweet informative or interesting posts from plumbing-related sources or positive reviews from your customers.
LinkedIn: A few times per week. LinkedIn visitors are more likely to spend longer periods on the social media platform as they read long-form content. At the same time, this means they frequent the platform less than those who give shorter reads, like Twitter or Instagram.
Nextdoor: Every other week. On Nextdoor, users are interested in receiving updates about their favorite businesses and don't expect content posts like other social media platforms. A post every other week is enough to keep audiences engaged and informed.
You can schedule your posts in advance to help keep you organized and ensure you remain on track with how often you post. Fortunately, many social media platforms allow you to create content in advance and schedule it to post on a date and time of your choosing. Alternatively, you can use outside Social Posting and Monitoring tools to have access to an all-in-one posting calendar for all of your social media profiles.
2. Incorporate hashtagging
Hashtagging your posts offer you two advantages. Firstly, they make it easier for users to discover your posts when searching for specific subjects or interests. Secondly, they ensure that your posts are relevant to what's trending in your industry. You can use hashtag tools like Best-Hashtags to discover popular hashtags for social media for plumbers that you can then incorporate in your posts.
3. Join social communities
Engaging with existing and potential customers online means much more than merely responding to comments on your post. It also means participating in community discussions. For instance, on Facebook, you can join groups related to plumbing or the home services industry. You can then initiate thought-provoking discussions, reply to ongoing conversations, or simply "like" or "react" to comments to establish your presence as an interesting brand.
4. A/B test your content
Online marketing is often a case of trial and error, and that's equally true regarding social media for plumbers. This is where A/B testing comes in handy. A/B testing refers to testing two versions of content to see which performs better. For example, you can make one Facebook post with a company update with text alone and another update with an image included. Seeing which receives more engagement will shed insight on what your audience wants to see from your posts.
5. Use metrics to track your progress
Fortunately, there are plenty of tools you can use to keep track of your social media marketing progress over time. All of the social media platforms here include analytic tracking that monitors your performance, such as the number of views, likes, comments, and clicks your posts get. Like with A/B testing, these metrics will inform you of where you should take your marketing to receive the best results.
Content ideas for social media posts
Luckily, you have plenty of options for what to post on your social media platforms. Here are some popular post ideas for you to consider.
Blog posts and articles: Many potential customers will head to Google for answers to plumbing questions. Posting answers to common plumbing inquiries will display your expertise, and audiences always appreciate valuable information that is free of charge.
Case studies show prospective buyers your company process and reflect the success you brought to previous customers. They also let you collect feedback from past customers to feature across your channels.
Promotions: Announcing any current or upcoming sales or deals on products or services can help drum up businesses and keep your followers updated on your pricing.
Milestones: Everyone loves a milestone. It's a great idea to share your company achievements when they occur to allow your followers to celebrate with you. A big milestone can even be an opportunity to offer a deal or promotion for even more celebration.
Just for fun: Lastly, social media doesn't just have to be serious business. Followers appreciate light-hearted and humorous posts in between informative ones. Opt to post funny quotes, memes, or images from time to time to liven things up.
Social media for plumbers optimizes customer engagement
Using social media to market your plumbing business can do wonders for customer acquisition and engagement. Even better, you can strengthen your online presence in a world that only continues to become more and more digital.

The key is to target one social media platform to master at first. Choose the platform that aligns with your current company goals and best suits the type of content you'd like to share. From there, you can incorporate the above posting tips and tricks to reap the numerous benefits that social media has to offer your plumbing company.

Share with your network