Working as a plumber remains one of the most respected trades around the world. The profession often provides excellent pay, benefits, and job security. Like electricians and construction professionals, plumbers play a critical role in building and maintaining the hidden infrastructure supporting modern American life. Today, the plumbing industry in the U.S. produces some $124 billion in revenue annually and currently employs over half a million people.
During what's been coined the "Great Resignation," millions of workers across the U.S. have left their jobs over the past 12 months to pursue other opportunities. The reasons for this shift in employment varies, ranging from concerns over pay and benefits to a lack of control over weekly work schedules.
For many professionals like plumbers, the prospect of becoming self-employed offers a way out of the grind, providing greater income and freedom than working for a private company.
If you're among the many licensed professionals who want to learn how to start a plumbing business, you're not alone. Read on to learn everything you need to know about gaining a foothold in the plumbing industry, including marketing tips and general advice to help get your new business off the ground.
Ready to find more leads and get expert home services and construction marketing advice, all in one place?
Benefits of starting a plumbing business
Working for other people can get exhausting, especially when there's little room for upward momentum or growth. If you're not making enough cash working for a company or are getting burnt out from all the overtime, starting your own business may be the answer.
While creating a company can feel daunting at first, there are numerous advantages to forging your own path in the industry that make the challenge well worth the effort. Here are some of the main benefits plumbers enjoy when they decide to work for themselves.
Work when and where you want
When you start a plumbing business, you exercise complete control over who your clients are and when you work for them. This flexibility allows you to pick and choose the jobs you want to do instead of simply responding to work orders provided by the dispatcher.
If you prefer residential plumbing, you can focus on partnering with apartment complexes in your area or build a strong client base among households in nearby communities. Alternatively, you can choose to work with factories or commercial properties to secure more lucrative contracts. Best of all, you can always reserve the option to rearrange your schedule as you see fit. You'll never feel obligated to follow a strict itinerary every day.
Greater income potential
The biggest benefit to working as a self-employed plumber is the considerably higher income potential. The current average salary for self-employed plumbers in the U.S. is just under $80,000 a year, or around $38 an hour. Although pay scales vary widely by state, established and experienced professionals who start a plumbing business stand to earn substantially more during their lifetimes than those who work as an employee.
If you intend to perform a fair share of the work yourself, you'll have fewer labor costs, insurance, and benefits to distribute as well, giving you an even greater share of the revenue.
Consistent and increasing demand
The scarcity of skilled labor continues to drive up demand for plumbers across the U.S., especially in the current job market. Due to the pandemic, many businesses have been forced to downsize or shut down altogether, putting a strain on the essential workers who remain employed.
According to labor market data gathered in the spring of 2021, 15% of builders reported a major shortage of skilled plumbers, while another 40% admitted they have at least some shortage of plumbing professionals. With demand for skilled tradesmen exceeding supply, many plumbers can bargain for higher pay, especially for those who start their own company.
Grow at your own pace
When you start a plumbing business, you have complete control over the company's workload, clientele, and overarching growth objectives. There's no need for you to feel compelled to work double-time if it doesn't suit you.
Working for yourself as a plumber means there's no one above you making demands about project deadlines, mandatory overtime, or performance reviews. Instead, the success of your business comes down to your relationship with each customer and how well you meet their expectations.
As your business gains momentum, you can begin to consider taking on new staff members or purchasing better equipment to help facilitate expansion into more projects and contracts.
Find a niche you enjoy
Owning a plumbing business allows you to handpick jobs that you're specialized in performing — such as steam fitting, pipefitting, or installing sprinkler systems. Becoming an authority on a particular type of plumbing work will help to set you apart from the competition and potentially earn you a higher income in the process. Finding a high-demand niche in the plumbing market can also lead to more substantial contracts with larger companies that want to hire the very best to fulfill their specific plumbing needs.
A 9-step strategy to start a plumbing business
Creating a successful plumbing company takes time, energy, and commitment. While it may seem daunting at first, the process becomes much easier to navigate once you understand the fundamentals. If you're wondering how to start a plumbing business but don't know where to begin, this simple nine-step guide can put it all in perspective.
1. Get prepared
The first thing you'll want to do is take care of any licensing or training you'll need to perform plumbing work unsupervised. While some prospective plumbers choose to work under an apprenticeship to earn a plumbing license, others prefer to study at a local trade school.
To legally work in many states, you'll need to acquire a plumbing contractor license or master plumber certification after receiving at least three to four years of training through an accredited journeyman program. Licensing requirements vary widely from state to state, so you'll want to check with the relevant governing bodies in your state before opening your business. Additional requirements may include proof of liability insurance and a minimal bond amount if something goes wrong.
With all these prerequisites out of the way, you're ready to register your plumbing business with the local government. Be sure to review how business taxes work in your state and consider forming an LLC to protect your personal assets from business debts or liability claims.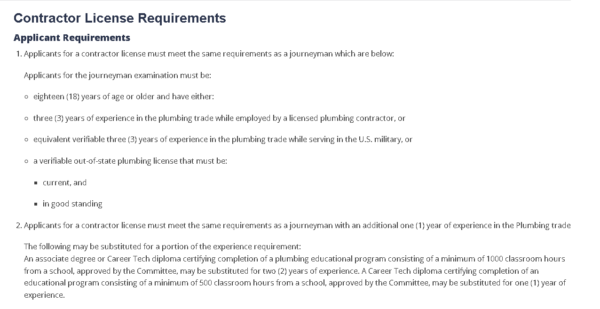 2. Research your target market and audience
Take the time to evaluate market trends in the state where you intend to open your business. Speak with other tradespeople in the area to identify major competitors and which plumbing specialties are in highest demand. If possible, look for opportunities to fill an underserved void in the market where your expertise is hard to find.
You'll also want to think about which potential clients you expect to become a primary source of your revenue. Consider their needs, concerns, and current relationships with other plumbing companies or contractors. Will your customers largely be residential clients with short-term projects or construction companies with more predictable contracts and timelines? Knowing your audience well before opening the doors to your business will make it much easier to gain a foothold in the industry.
3. Brainstorm goals and objectives
Every new business needs to establish basic benchmarks for success that clearly define its overarching objectives. Try to imagine what your plumbing business will look like in three years and exactly how you intend to get there. It may help to work on drafting a mission statement that outlines the values of your plumbing business and the unique goals you hope to achieve in the future.
Remember to keep your objectives reasonable and achievable early on. While you may want to position yourself as the top plumber in the metro area right away, the reality is it will likely take time to garner the same level of trust as other companies with decades of experience.
4. Create a comprehensive business plan
With the fundamental framework of your business in mind, you can now move on to creating a business plan that digs into the more intricate details of your plumbing company. This business plan should cover virtually every aspect of how your business will run, from daily operations to staffing, company structure, and projected income versus expenses.
Having this information organized on paper will help dispel any uncertainties before starting your new business. While a professional business plan consists of many parts, here are three vital sections you'll want to focus on:
Executive summary
In this portion, you'll provide a concise summary of everything contained in your business plan. This section is probably the most important since investors and banks will often review an executive summary first to determine the viability of your business model.
Topics in the executive summary should include the scope of services you plan to provide, income projections, overhead expenses, staffing requirements, and more. The goal here is to highlight the main takeaways from your entire business plan in as few words as possible.
Marketing analysis
This part defines how you plan to advertise your services and how much money you will devote to marketing. Discuss the types of promotional offers you want to roll out and why customers choose to do business with you instead of the competition. Additional information to convey here should include an evaluation of industry trends and how your company's pricing compares to other plumbing businesses in the area.
When estimating your marketing costs, try to be as precise as possible, especially if your company plans to explore paid advertising like radio commercials or pay-per-click (PPC) banners.
Financial outlook
This section should clearly state the costs and expected revenue for your new plumbing business. Take the time to create a balance sheet conveying your estimated cash flow, taking into account factors like state and federal taxes, unpaid invoices, or any unexpected expenses that may arise. With all this information together, you should be able to create a somewhat accurate budget for your plumbing business for banks or private investors to evaluate.
If you find that writing a business plan from scratch is challenging, it may help to use a business plan template online to get you started. These templates take care of organizing the basic structure of your proposal into prepopulated categories, allowing you to fill in the blanks with the appropriate information.
5. Acquire financing, equipment, and tools
With your business plan ready to go, it's time to begin seeking financial support from banking institutions, venture capital firms, and other sources of investment. Schedule meetings with decision-makers and present your business plan for consideration. Be sure to set up a business checking account beforehand to ensure your private assets and company income remain entirely separate. Doing this will lend more credibility to your business and protect you from potential liabilities in the future.
Once you find an interested party to invest in your new plumbing company, you can start thinking about how you'll use the funds. The plumbing equipment you'll need for the work ahead may include pipe components, augurs, chemicals, hand tools, and uniforms for staff. You may also want to buy a reliable truck or van to use strictly for business purposes.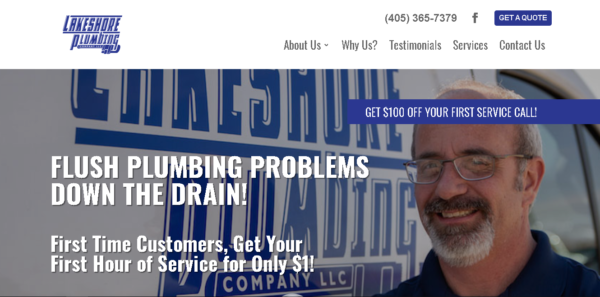 6. Build an engaging website
Few businesses can thrive today without building a robust presence online. First, work on building a website that provides all the relevant information your customers need, including pricing, hours of operation, and the types of plumbing services you offer. Consider publishing informative blog posts or how-to articles related to the industry to make your website easier to find. You can generate more interest locally by combining geo-specific keywords with popular search terms throughout all your content.
Deploying keywords and using search engine optimization (SEO) will ensure search engines like Google designate your business as a local authority and raise your rankings on local search engine result pages.
7. Create your Google My Business profile
Since most customers search the internet to find new businesses, it's critical to create a Google Business Profile as soon as possible. This profile provides a lot of helpful information for customers at a glance — including work hours, location, and your company's telephone number. From your Google Business Profile page, people can navigate straight to your website for more specific details about your company and the services you provide.
Given time, customers will begin to leave reviews of their experiences on your Google Business Profile as well — a feature that can help differentiate your plumbing business from lower-rated competitors.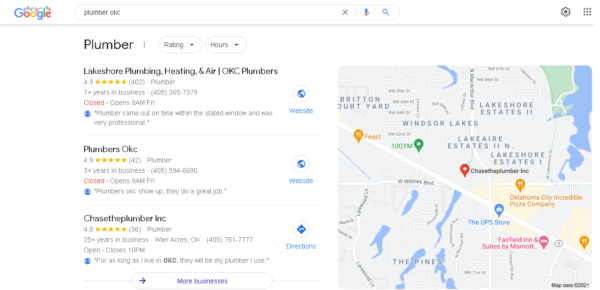 8. Market yourself
Spending time on internet marketing strategies is another necessity that few businesses today can afford to ignore. Email marketing can be a very effective strategy to spread the word about your new plumbing company. Provide important updates, newsletters, or promotions to your subscribers regularly to keep them interested and engaged.
You may also want to take advantage of social media marketing to draw in new customers to your company. Websites like Facebook, Twitter, and YouTube receive millions of visitors a day who are actively looking for new businesses just like yours. As you begin to create an online community, your plumbing business will slowly grow in stature, leading to more customers and greater success in the long term.
9. Start building your reputation
Now that you're prepared to open your doors for the first time, consider how you can gain clients' trust in your area. Encourage customers to leave reviews on your Google My Business page or send a follow-up email requesting feedback on a recent work order. If you acquire any accolades or awards for outstanding customer service, be sure to promote it on your website and social media accounts as well.
Tips and advice for starting a plumbing business
While it takes a lot of time and effort to start a plumbing business, it doesn't have to be an uphill battle every step of the way. Having access to the right resources and knowledge can make the process much less daunting. Here are a few simple tips that will help your new plumbing company thrive in an increasingly challenging marketplace.
Stay organized
Between invoices, work orders, payroll, and other obligations, it's easy to lose track of things in the plumbing business. Try to make it a point to systematically archive all your most important documents for easy reference later.
You don't want to be stuck searching for a project proposal buried somewhere beneath a pile of employment applications, tax records, and receipts. Create a way of tracking all this information early on and you'll have fewer headaches to contend with down the road.
Don't try to do everything on your own
In the early days of your plumbing business, you may feel compelled to take on the lion's share of day-to-day responsibilities. Unfortunately, the real world often has other plans in store.
You can make life much easier by hiring experienced administrative staff to handle incoming calls, schedule meetings with prospective employees, and contact customers regarding overdue invoices. You may also want to think about hiring some additional skilled labor if you find yourself struggling to keep up with work orders.
Remember to take time off
When you can, find opportunities to take time off work for occasional weekend vacations or family trips. Working 10- to 12-hour days can get exhausting rather quickly, so try to delegate what you can to others in your business to reduce your workload. While you may feel like you need to micromanage everything to keep the company running smoothly, it's often better to rely on the support of others for help when you need it.
Always look for ways to cut overhead costs
Finding ways to save money will allow you to keep more of your company's profit and provide a much-needed buffer for times when business slows down.
If fuel costs on your vehicle fleets are too high, consider investing in more efficient renewable energies like natural gas or electric. To reduce energy costs at your shop, you may also want to invest in energy-efficient lighting or improved HVAC equipment.
Another money-saving idea is to only order plumbing supplies as they are needed instead of stocking up ahead of time. Buying in bulk may seem like a good idea at the time, but you may end up with a shop full of inventory you don't need and little space to store everything properly. It may also be worthwhile to discuss working with another vendor if prices on equipment, chemicals, and tools get too high.
Reward yourself and your employees for a job well done
After the completion of an important project, show your appreciation by taking the team out for dinner or rewarding them with a gift card to a local hardware store. During the holidays, you may also want to distribute a share of your annual profits as a bonus to supervisors, admins, and employees.
Giving back to those who make your business possible will encourage them to work harder for the prospect of a potentially larger bonus next year. You'll also likely have fewer problems with staff turnaround as your team will feel reluctant to leave a job that takes such good care of them.
Start your plumbing business now
Becoming your own boss is scary at first, but understanding what to expect can alleviate a lot of the anxiety. To get started, you need to first do your research. Look into what your local area requires for licensing and training and check out what your future competition is already doing. What plumbing specialties are in demand in your area and how can you fill those needs? By following these steps and tips, you'll have a much easier time building and marketing a plumbing business that can stand the test of time. Eventually, your company will begin to acquire the talent and client base needed to grow into a trusted, respected leader in the industry.

Share with your network