If you're thinking about starting a transport and logistics business, now's the time.
Transport and logistics is a vital and valuable industry. According to data from Allied Market Research the global logistics market was valued at $7.6 billion in 2017, and it's projected to grow to almost $13 billion by 2027.
And this makes sense. After all, the goods we use every day — from clothing to machine parts — need to be shipped to us before we can use them. But, what goes into starting a transport and logistics business?
Here, we'll go over what it takes to start and maintain a shipping and logistics business over the long haul. But first, we'll look at what this kind of business does.
Boost leads and sales for your trucking, warehousing, or logistics business with online marketing tools and advice.
What is a logistics company?‌
Transport and logistics businesses can vary massively from a two-person moving business to a national trucking operation. But, they all have one thing in common: transporting goods and passengers from one location to another.
Businesses in this category fall into one of three types:
Personal transport: One-to-one services like ride-sharing, taxi, and limousine services. Personal transport caters to individuals or small groups.
Local transport: Transports materials within a particular region. That can be anything from livestock to construction materials.
Global transport: Handles either of the first two categories on an international scale. That can be an airline carrying people or a shipping line hauling cargo.
Which category your business fits into will depend on the resources at your disposal, how many people you can hire, how much funding you can get, and more.
Starting a transport and logistics business
If you're starting a small local company, the transport business has a pretty low barrier to entry. It's also a relatively accessible business to start — all you need is an appropriate, safe vehicle.
On the international level, things become more complex, as there are more laws and regulations to consider. You'll have to procure and maintain an entire fleet of vehicles, as well as hire the staff to run your business on that scale.
Either way, you need to make plans and take certain considerations beforehand. The first is simple: what kind of transport business are you going to run?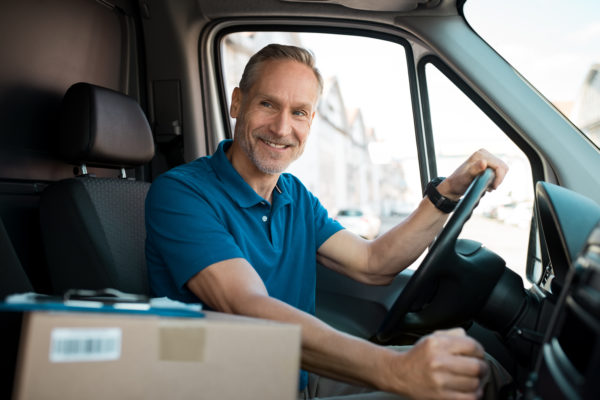 1. Find your niche‌
The first thing you'll need to do is decide what role your business will fill. You can either decide to specialize in one transport niche or a few that complement each other. It may be better to choose just one at the start to minimize your overhead costs.
Don't be afraid to get creative here! Transport is anything that involves getting people or goods from one place to another and can take a myriad of forms.
Researching different industries in your area can serve as a jumping-off point if you're unsure where to start. Get to know the supply and demand dynamics locally. Are there a lot of hospitals near you? Consider starting a medical transportation business. Do you live in a prime tourism spot? Maybe a bike rental business is best.
Like any business, your job will be to fill a need. If you don't already have an idea for your niche in mind, find a gap in the market you can step in to fill. Consider what kind of transportation is most in-demand in your area, and work backward from there.
2. Map out your costs‌
A common mistake entrepreneurs in the transport business make is to start right away, believing their customers will make up any overhead costs they incur. This approach can get you into trouble if you run into unforeseen expenses.
Instead, create a detailed map of business finances before you start. Ask yourself:
Where you're going to secure startup capital
What expenses specific to the transport/logistics industry will you have to pay regularly (fees, tolls, license expenses, etc.)
What the operating and maintenance costs will be for your vehicle or vehicles
What your marketing costs will be (plan to increase that amount as your business grows)
What it will cost to keep your vehicles stowed in a safe location when not in use
What you're going to pay your staff
How much money you'll need to invest in training your staff, if applicable
What revenue you need to maintain to clear the expenses you've calculated
What the cost of ongoing vehicle maintenance and recertifications will be
Getting at least a rough picture of these costs will help you avoid surprise expenses and more accurately estimate how much startup capital you'll need to launch the business. It also helps you look more professional to have a plan when applying for that capital.
3. Come up with your business name, branding, and entity‌
Once you know roughly how much your transport business will cost, it's time for the fun part: coming up with your image. That includes your business's name, logo, colors, and message.
What kind of image do you want your business to convey? Fun? Professionalism? Rugged toughness? Your name and image should play into that. People just finding your business should easily tell what you stand for from the first interaction.
The kind of business entity you choose may impact your choice of name as well, so you might want to pick one first. There are three categories your business will usually fall into:
Sole proprietorship: Best if you're operating as one person or a married couple and you're keeping things small. This is the most common type of business entity in the U.S. However, the downside to this model is that you're personally responsible for any losses incurred via debts and lawsuits.
General or limited liability partnership (LLP): Each of these partnership types will have different levels of risk assumed by the partners. You may be open to more legal liability in a general partnership than in a limited liability partnership. Both partners take on equal risk. An LLP protects you from personal liability from the debts and obligations of the business, as well as the actions of the other business partners.
Limited Liability Company (LLC): Owners of an LLC aren't held personally liable for the debts and obligations of the company. This type of business entity can also choose whether or not to be taxed as a corporation.
If you choose the sole proprietor route, you'll probably have to get a "doing business as (DBA)" name registered. You may also use your own name.
4. Write your business plan‌
This step takes a bit of extra research and effort, but it's worth it. Writing a business plan will help you narrow down the particulars of your venture and be useful when you apply for funding later on.
You can write up your plan yourself or make use of a business plan template. The Small Business Association (SBA) has a detailed template page with examples, and that's just one of many resources available to you.
Your business plan will include:
An overview of your business
Market analysis
Rates
Your marketing plan
A financial plan and projections
Taking the time to plan this out now will help reduce unforeseen expenses later and help manage your budget. A thorough market analysis will also let you know if there's a need for your transport business in the first place.
5. Take care of the red tape‌
Once your business plan is ready to go and you have a good idea of what your company looks like, you'll want to get all the necessary licenses and permits needed to operate it. The rules vary depending on where you're located, so be sure you check with the local government to see what paperwork you'll need at that level.
Federal tax ID or EIN‌
At the federal level, you'll need to get a federal tax ID or employer ID number (EIN) when setting up your business. The IRS has a rundown of the process on its page and links to start. Make sure you get one before officially opening your doors.
An EIN provides benefits beyond making your business official, like:
Making quarterly/yearly tax filing easier
Helping protect you or your business from identity theft
Speeding up the application process for a business loan
Establishing business credit
Licenses and permits‌
Because transport and logistics companies move people and valuable cargo, there are a lot of necessary licenses and permits attached to the industry. Which of these you'll need will vary depending on what you plan to transport.
For example, if you plan to haul freight, you'll need to be sure you abide by the Department of Transportation's requirements. Since these permitting rules have to do with cargo, they mostly revolve around the size and weight of what you'll be carrying.
You'll also need commercial vehicle registration for any fleet vehicles you buy, and your drivers may need to obtain their commercial driver's license (CDL) to be qualified to pilot them. Other examples of permits you might need are:
Liquid fuel carrier licenses
Heavy load permits
Insurance coverage for your drivers, passengers, or cargo
Since requirements can vary by location and industry, it's best to consult a lawyer specializing in your niche to make sure you've covered all the bases.
6. Open a business account and apply for funding ‌
Opening a separate bank account and credit card for your business will help you keep better track of your finances and make it easier to file taxes when the time comes. It'll also help build credit.
If you're planning to start a one-vehicle business, you may be able to get that off the ground on your own. It could simply be a matter of saving up the money to get what you need.
If you're going bigger, you're probably going to need more capital. There are several avenues you can take in this situation to procure funding:
A small business loan from an entity like the SBA
A business loan from a bank
Using your business credit card
Whichever option you choose, make sure you have a plan to pay the money back.
7. Build your fleet‌
Whether it's cars, vans, scooters, or bikes, now's the time to build your fleet. The vehicles you buy should be in good condition and look professional — they're an extension of your brand and the first thing people will probably see when dealing with your business. Don't skimp on quality.
Also, purchase the right vehicle for the job. Don't buy a fleet or street cruisers if you're renting to mountain bikers. If you are hauling a specific type of cargo, know that the vehicle you're buying is the right size to handle it.
When buying your vehicles, ask:
Will this need to carry passengers?
What's the weight capacity?
What kind of terrain will these vehicles drive over regularly?
What wear and tear will be incurred?
What eco-friendly options might be available?
You'll typically have two options available to you to buy fleet vehicles: financial lease/extended rental agreements or installment sales.
8. Hire staff‌
Establishing a standardized hiring practice early on will make it easier to hire people. What your practice is might change as you grow, but it's important to lay that groundwork.
Consider both where you are and where you hope to be when figuring out who to hire. Ask yourself, what positions might you need to hire for as you grow? You might consider HR staff, maintenance techs, or marketers in addition to more drivers.
Make sure whoever you hire has the proper training and licensing to work with you. Be sure you have the funds to pay them well and cover expenses like benefits and taxes. Take your time to find qualified people who are a good fit for your business.
9. Promote your business‌
Now that all the pieces are in place and you're ready to launch, get the word out. Market yourself via social media, build a proper website, and complete your business listings on sites like Google and Yellow Pages.
When opportunities do come along, make sure they're worth your time. Avoid taking on any and every job that comes your way in favor of the right ones.
Communicate well with people and let them track their packages if applicable. Encourage people to leave good reviews for you if they're happy. Delivering great customer service will also promote your business through word of mouth.
The takeaway
Starting a business takes work, but it's possible. For a transport and logistics business, begin by figuring out what niche you want to operate in and do your research to see if there's demand.

Make a comprehensive budget and business plan, then open a separate business account and credit card. You'll be able to keep your personal and business finances apart and have an idea of the cost of doing business.

Handle the red tape by registering your business entity, getting a federal tax ID or EIN, and applying for any licenses and permits you need. Then, staff up with the right people and promote your business.

‌Now that you know how to start a transportation business check out our article on small business marketing on a limited budget or our handy guide, The Download, for tips on how to market your business and bring in your first customers.

Share with your network