In the United States, holiday shopping is good for business. On average people spend $729.3 billion during the holiday season. Cyber Monday (November 29) has become a popular holiday kickoff for ecommerce, with an estimated 122.2 million shoppers logging in and buying merchandise.
Hosting giveaways throughout the weekend or even earlier in November is a successful strategy to capture these shoppers and draw them into your ecommerce store. Use these Thanksgiving giveaway ideas to jump-start your promotion strategy and draw business to your site. This article covers:
Why you should host a Thanksgiving giveaway
‌8 Thanksgiving giveaway ideas
‌How to promote your contest
Running your Thanksgiving giveaway
Why you should host a Thanksgiving giveaway
Interactive marketing is memorable. It helps generate leads and gets more engagement than traditional social media posts and other content. This type of marketing is aimed at building relationships with customers rather than simply trying to get them to buy your merchandise. ‌‌
Giveaways are effective as interactive content, improving your brand awareness and generating new leads. When people know they have the potential to win a prize, they are more likely to interact with your brand online, including checking out your website. These ecommerce giveaway ideas will help you find new customers in time for the holiday shopping rush.
8 Thanksgiving giveaway ideas
Competing with large retailers is daunting for any small business owner. Hosting a Thanksgiving giveaway helps create buzz around your shop, leading more people to click "add to cart." Use these Thanksgiving giveaway ideas to elevate your holiday season.
1. Turkey dinner giveaway
One of the most frequent Thanksgiving-related giveaway prizes is a turkey dinner. It's appealing because it saves people from having to cook turkey themselves, and it's free. Partner with a local restaurant or catering company for this giveaway. You can also buy a turkey as a prize, but make sure you clearly advertise it in your contest promotions.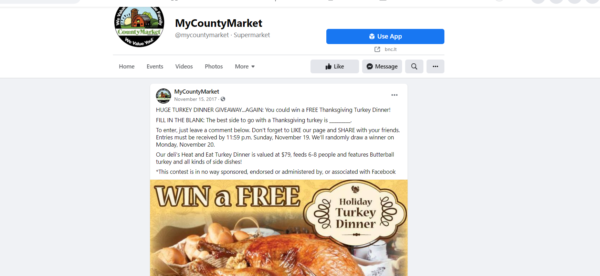 Drum up interest in the contest by posting frequently on social media and encouraging people to enter. Use keywords and phrases in your descriptions to improve your SEO and increase visibility for your contest.‌
2. Weekend getaway
The holidays are a stressful time. Thanksgiving giveaway ideas don't have to be focused on food or discounts. Instead, inspire people to get away and relax for the weekend, decompressing from holiday madness.
‌You don't have to go all out with a trip to a fancy resort. You can offer a stay at a local hotel or give away gift cards for spa packages that let your customers unwind. To increase your sales, tie entries to transactions above a certain dollar amount.
TIP: To keep expenses down while expanding your reach, partner with other local businesses.
3. Discounts
Encourage people to do their holiday shopping with you by giving them a chance to win an online discount. You can use a simple entry form on your website encouraging people to sign up for your newsletter for the chance to win. ‌
To entice more people to enter, make the discount valuable, or offer a special deal on a big-ticket item that you never put on sale. Let people know what the prize is and how to enter, then promote the contest on your website and in your social media feed.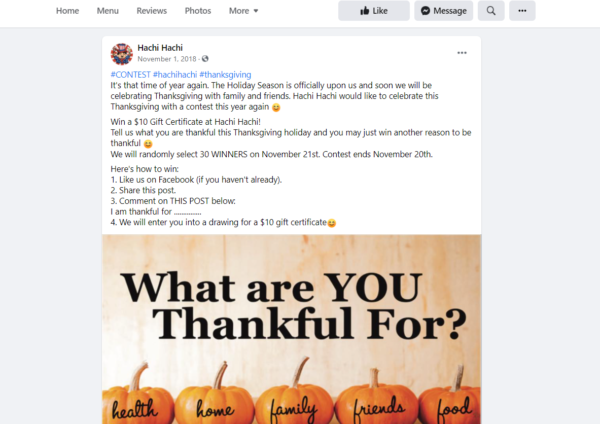 Hachi Hachi hosted a Facebook contest to boost the company's social media following, as participants had to like their page to enter. Use similar tactics to get new followers.
4. Host a social media photo contest
Let your followers promote your ecommerce store with a social media photo contest. You can make this contest Thanksgiving-themed by having them use your products in their own holiday preparations. Include a branded hashtag and a more generic hashtag like #ThanksgivingDecor. The branded hashtag can be used to track entries, while the generic hashtag will make the contest more visible online.
You can offer any prize you want, but a cash prize typically draws the most interest.
5. Gift basket giveaway
Don't just offer one prize, create a whole basket. Create this prize package using your own merchandise, or hold a co-branded contest with other ecommerce providers to create a themed basket that offers complementary products.
‌If you sell clothing on your ecommerce site, you could partner with a store that offers accessories, shoes, or makeup to create a full-wardrobe basket.
6. Grocery giveaway
Along with the catered turkey dinner, the grocery giveaway is another popular Thanksgiving giveaway idea. By offering a grocery gift card, you're giving your customers the chance to save money on their holiday meal preparation.
‌As an ecommerce shop, your customers likely come from all over the world, so offer a Visa gift card to ensure the winner can use it anywhere.‌
7. Free kitchen tools
Help people prep their Thanksgiving meal by offering free kitchen tools and supplies. You can create a gift package containing all the essentials needed to make the perfect dinner. This prize is great for an online recipe contest that home cooks can use to share their favorite dishes. Encourage more participation by making the contest a recipe swap.
8. Decorating giveaway
Give your customers the chance to nail their Thanksgiving tablescape by offering free décor. You can create a package that includes candles, centerpieces, silverware, and anything else they need to elevate their home for the holiday.
This prize also pairs well with a photo contest. You can encourage participants to showcase their best design skills or switch it up and award the prize to the person with the worst tablescape. Make it fun to encourage participation!
How to promote your contest
Once you've decided on a Thanksgiving giveaway, promote it to get people to participate. Make sure the rules are clearly communicated. Use these promotion strategies to boost engagement for your giveaway:‌
Create a landing page on your website for the contest so people can read through all the details, such as contest length, rules for entry, and other terms and conditions that impact participation such as age limits.
‌‌Promote your contest through online marketing channels such as your email list.‌
Offer an incentive to those who share the promotion, like additional entries for posting on their social media.‌
Capture new users with optimized social media posts that showcase the prize and generate excitement for entering.‌
‌‌Include keywords and phrases like "giveaway" or "Thanksgiving giveaway" to boost your search engine performance.‌
Post blogs and videos about your contest and consider running promoted posts on social media to target a wider audience.
Running your Thanksgiving giveaway
A carefully planned and thoughtful giveaway can improve your holiday traffic and help you capture a higher percentage of holiday sales. Offer a prize that resonates with your clients, make the contest fun, promote it in a variety of places, and keep building your relationship with current and potential customers this holiday season.
Constant Contact offers tools you can use to promote your Thanksgiving giveaway and drive more customers to your ecommerce site. Start with a customizable email template and create a campaign for your current email list. ‌‌
With Constant Contact, you can also add entry forms to your website to capture email addresses and generate new leads with every entry. Once your contest has ended, you can send promotional emails and other content to these new customers.
To learn more about online marketing and how to make it work for your giveaway, read our publication The Download.