Social media networks are still an essential channel for ecommerce businesses, especially if you're looking to bring in new customers. While there are a lot of options nowadays in terms of social channels and where to target your marketing efforts, Facebook is still the largest platform around if you want to get in on the social media game.
As of 2020, the site had 2.8 billion active monthly users — individuals who signed on within the last 30 days. That's a lot of potential eyeballs for your brand, and Facebook ads for ecommerce businesses are a powerful tool for reaching out to all these prospective customers.
However, ads cost money. So, you won't be doing your business any favors if you sink a bunch of money into ads with only a scant return. What you'll need is a deep understanding of how Facebook ads work and a strategy for success.
This article will introduce you to the many types of Facebook ads you can employ, how they can benefit your business, and how you can use them to track down new customers and sell more.
Get all the tools you need to quickly find new customers and grow your retail store's sales.
Types of Facebook ads for ecommerce
Variety isn't just the spice of life, it's the key to staying adaptable and making headway with your advertising and marketing campaigns. This is true of Facebook advertising as well. The platform supports multiple ad types that you'll find useful in a range of scenarios.
Dynamic ads for retail
Dynamic ads are those that are capable of targeting users based on their expressed interests or past activity on a website or mobile application. You might think of it as automation for showing potential shoppers items that are relevant to their lives. Products that users have already shown an interest in, tend to drive more engagement. Additionally, dynamic ads are often more impactful since they feature rich imagery, prices, and more.
On their own, dynamic ads are great for cross-selling, upselling, remarketing, and increasing conversion rates. Facebook dynamic ads for retail take this concept and combine it with information from a physical store in an effort to drive users to make purchases in that location.
The ads include localized product details, along with store information and sometimes even directions to make it even easier for customers to make the decision to head to that physical location.
Link click ads
When most people think about online advertising, they have in mind an image of the humble link click ad. These are traditional, single-image advertisements that promote a site or product and lead to an external page. On Facebook, such ads consist of five elements:
The image. Visuals play a giant role in getting potential customers to stop and look at your ad. A strong image will grab eyeballs, while a poor image, conversely, will likely cause your ad to underperform.
The headline. Catches attention and informs readers about the advertisement.
The copy. Additional information about the ad, along with details about what it is that your business is offering.
The CTA. You want whoever is reading your ad to take that next step, and the call to action (CTA) serves as an additional enticement to click that link.
The description. Providing additional information about your link can inform readers of what to expect after they've clicked.
You can place link ads in variable locations, such as on the Feed or within Stories, to maximize their reach and open your brand up to a wider audience. Use link click ads to advertise products directly to prospects or to send them to your other pages and into your funnel.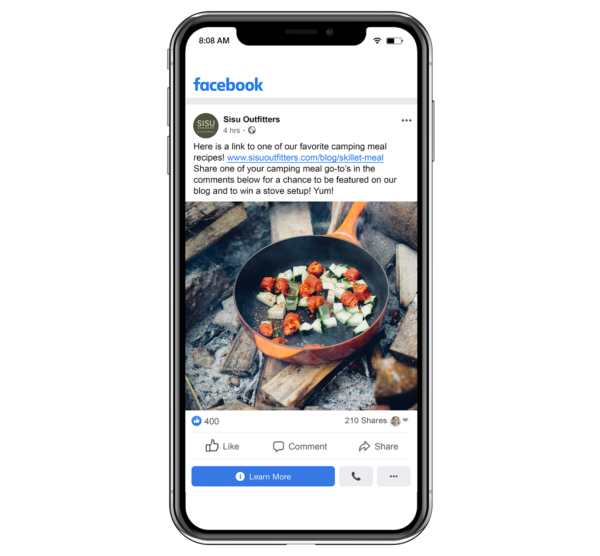 Video ads
On Facebook, video ads are rather similar to link click ads, with the major difference being that they include a video in place of a static image. Most commonly, you'll see these as in-Feed ads that mimic organic posts and catch the eye of those scrolling by, but you can also place video ads on Facebook Marketplace and within Stories to maximize reach.
Video ads are perfect for bringing your brand to life and creating a deeper emotional connection between your audience and your business. Furthermore, video ads are more likely to get clicks than still images, but the tradeoff is that you'll be investing more effort to create a quality video that will attract the right attention.
Multi-product carousels
When you've got multiple products you want to feature in one advertisement, you'll want to turn to the multi-product carousel. Carousels give you the ability to display between two and ten images (or videos) all within a single ad, and each features a unique external link. In addition to putting the spotlight on multiple products at once, carousel ads allow you to:
Provide even more information about a single product (images from various angles, videos going into features, etc.)
Tell a narrative about your brand and your products, or weave a story about a single product.
Create a single, long image that really sells a single product.
Explain more about your ecommerce brand, what you do, and what sets you apart from the competition.
Across the board, carousel ads offer increased flexibility and engagement. So, if you think you have plenty of products to promote and a surplus of creativity when it comes to ad design, then these will prove a worthwhile option.
Are Facebook ads worth it for ecommerce?
Facebook ads make up a good portion of digital ad spending across the globe, but are they worth it if you're running an ecommerce business?
As early as 2015, more than half of consumers were influenced in their purchasing decisions by Facebook, according to the Impact Plus Learning Center. Plus, they reported that businesses only need to spend $7.29 per thousand impressions on the platform, compared to the $35 they'd spend for a TV ad. When you also take into consideration the fact that you can hyper-focus your ads to ensure you're targeting the right audience, it becomes clear that Facebook has superb potential for ecommerce businesses.
If you need to make sure that you're getting the most bang for your buck, you should calculate your Facebook return of investment (ROI) — a combination of factors like reach, traffic, conversions, and the money you're spending to achieve them all.
Benefits of ecommerce Facebook ads
Facebook ads are a great way to get your products in front of a large audience. In addition to that, you'll enjoy a wide range of additional benefits, including:
The ability to precisely target your preferred audience
A boost in word-of-mouth referrals
Access to a large base of mobile users
A chance to get your ads in front of prospects multiple times a day, improving product awareness and repeat business
Improved SEO rankings for your brand
More pathways to build your email list
Increased engagement through social media interactions
The ability to easily tweak and optimize your ad spending
A new way to drive clients to your physical retail location
Combined, these factors position Facebook as a budget-friendly and cost-effective way to attract a great deal of new and repeat business.
How to place an ecommerce Facebook ad
If you're new to Facebook ads, you'll want to start by integrating your ecommerce site with Facebook. Begin by properly configuring your Facebook Business Manager, then use information from your email lists, current customers, and site visitors to define the audiences you're going to target with your ads. When it comes time to create your campaigns, keep the following best practices in mind:
Imagery is important, so emphasize high-quality visuals to grab attention
You should segment your audiences for more precise ad targeting
You can take advantage of Lookalike Audiences to bring in new customers
You need to employ a funnel campaign strategy to slowly build interest in your products and increase conversions
Using a mix of advertisement types will help maximize your reach
Weaving in offers, discounts, contests, and giveaways will make your ads more appealing
You can create urgency and push more potential customers to click your ads by using powerful, emotional, and evocative copy
Getting the hang of all the details may take some time, so you might also want to take advantage of tools like Constant Contact's Facebook and Instagram ad features. Platforms like this make it easier to get set up on social media and allow you to dive right into finding customers, building ad campaigns, and increasing your traffic and conversions.
Examples of Facebook ads for ecommerce
Now that you have a solid understanding of the most common types of Facebook ads and how they can boost your business, it's time to get a glimpse of what these ads look like in their natural habitat. The following examples will demonstrate how top-performing Facebook ads are put together and what they look like once they're complete.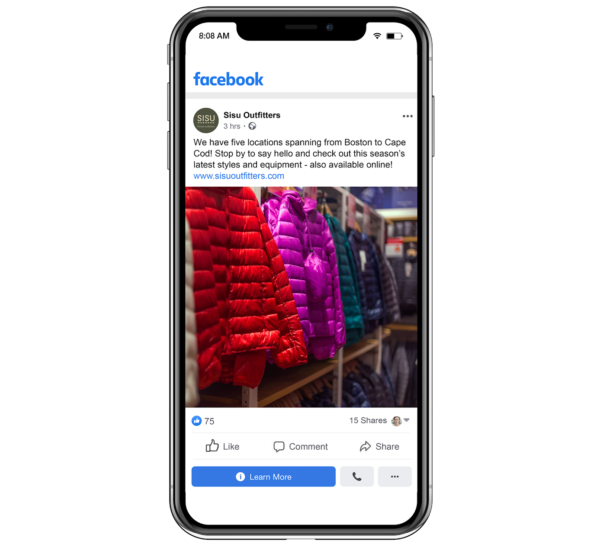 Key takeaways
Facebook is still one of the best places to advertise your products online, due to its large population and high percentage of mobile users.

When it comes to those ads, Facebook allows you to experiment with a wide variety — expertly implementing images and video to maximum effect. Beyond that, posting ads on Facebook is budget-friendly and cost-effective, and you can easily optimize performance metrics, like return on ad spend, if you know how to measure your social media numbers.

There are a lot of moving parts involved with establishing an effective Facebook ad campaign, however, so be sure to arm yourself with tools like Constant Contact, which will aid you in navigating through the minutiae and growing your business on social media.

Share with your network