Do you dream of long weekend getaways, daring explorations, and deep dives into new places and cultures? Of course you do. Who doesn't? The real question is whether you want to realize — and monetize — your dreams. If you do, you should get writing.
One warning: it isn't all Mai Tais on the beach. There's work involved. But once you know how to start a travel blog, you can start planning that next amazing getaway. And then tell everyone all about it.
In some ways, starting a travel blog has never been easier. Anyone can build a website and start posting. The difficult part is starting a successful travel blog.
While 77% of internet users engage with blogs at least occasionally, those readers have a vast library from which to choose. There are currently more than 30 million active bloggers each year. In such a saturated market, how can you attract a loyal readership and maybe even fund your next adventure?
Read on for the road map to a successful blog.
Blogging ambitions: Best reasons for starting a travel blog
Not everyone starts scribbling for the same reason. Some lucky individuals delight in writing for its own sake. For everyone else, it's a means to an end. So why should you start a travel blog? Because it can get you to some pretty great destinations.
The top 6 reasons to start publishing your adventures
There are so many good reasons to share your travels with the world. It's unlikely that all seven of these will apply to you — some focus on particular types of blogs and bloggers. But any of the following is a great reason to start a travel blog.
1. Generate traffic for your website
If you run any kind of tourism or travel business, offering clients valuable tips and fun stories can only help you increase brand awareness. A blog can also help you attract more web visitors in the first place. How?
People pass on great content to their friends.
A well-crafted blog will add keyword-rich content to your travel website, making it more likely to be found in Google searches.
Bottomline: blogging for your business is smart marketing.
2. Grow your email list
Use your email to announce new content, encouraging people to subscribe for the latest information. Just be sure to appropriately segment email lists in order to offer subscribers only the content they want.
3. Develop a writing portfolio
If you are looking to break into the travel-writing business, you need a writing portfolio that showcases your skills. Writing blog pieces will also help you hone your craft. You can punch up your prose and hone your keyword use.
As you write more and better material, you can use your blog to land travel-writing gigs that pay or even a book contract.
4. Make money off the blog directly
If you're interested in starting a travel blog because you want to make it your profession, this is the path for you. With Google AdSense, you can start selling advertising space from day one. Grow your traffic, and the ad revenue will increase accordingly.
Take it a step further with affiliate marketing, where you'll direct your readers to sponsored products. Every time someone makes a purchase off of your link, you get a small amount of money.
5. Free travel perks
Establish your brand. As it evolves, so will your influence. You can get travel-related freebies in return for the right exposure.
6. Connect with a community of like-minded individuals
Doing what you love will bring you into contact with others who share your passion. Blogging success requires you to network with these people, but many find the community to be its own reward.
Blogging basics: First steps in learning how to start a travel blog
This is the basic blogging toolkit — the "how to start a travel blog" fundamentals — that will set you up with a solid internet home so you can start traveling the world. You need the following:
A niche
You want to write about travel — that's a given — but what kind of travel? Carefully consider:
Your topics. What are the tips and trips you want to handle? You could write about family trips, travel life hacks, a specific destination, or any number of niche travel topics.
Your audience. Who is your ideal reader? Are they more likely to want practical recommendations or fodder for their dreams? Think about their lifestyle, age, and likely travel.
Your personality. Are you a budget-wise girl on the go or an ecotourist guru? Pick a niche that matches your personality.
A domain name
You need the right name for your website, something that conjures the right tone and identifies your brand. Make sure it's easy to type and remember.
When choosing a domain name, make sure that it — or a near-relation of it — is available on all the available social media platforms you intend to use. You don't want to confuse loyal readers with an assortment of aliases.
A website
If you're looking to add a blog to an existing website, you're already ahead of the game. For those starting from scratch, you need to decide how you want to host and design your site.
Website builders vs. web hosting and content management systems
The biggest choice you have to make is whether to go with a website builder or a content management system (CMS) such as WordPress. If you go with a CMS, you'll also need web hosting. Most website builders come with web hosting services.
The choice really depends on your comfort level and website needs. Website builders come with professionally designed themes and layouts that are easy and quick to configure. For example, Constant Contact's A.I.-powered Website Builder only requires you to answer several questions before it designs a site to suit your purpose.
The only downside is less control and customizability. A CMS such as WordPress will allow you to design any site you want, but you'll have to build it from scratch, paying for professional themes and additional features. However, if you're web design-savvy, you might want to use WordPress to achieve a more specific vision.
High-value content
Before you start promoting your site far and wide, have a few representative blog entries already posted. That way, readers can get a feel for the blog and whether it fits with their interests.
As you start to write, keep three things in mind:
Search Engine Optimization (SEO)
SEO is simply the practice of making your website more attractive to Google's algorithm so that it will show your website to internet browsers. Use the best SEO practices for travel websites.
What are the searches for which you want your website to appear in a Search Engine Results Page (SERP)? Identify specific phrases that will get the right amount of traffic. Not sure how competitive your keywords are? Use Google Ads Keyword Planner to find out.
Quality
There truly is no substitute for quality. Write well-researched and comprehensive content. Aim for pieces over 2000-words long. The average length of top-performing travel blog articles is 4309 words.
Voice
Be yourself! While your material should be clear and easy to read, your personality and voice are what will keep readers coming back.
Blogging community: Your new best friends
For your blog to really take off, you'll need help from friends both old and new.
Social media networks
Set up your various business accounts and reconnect with friends and colleagues. Don't be shy about promoting yourself to existing contacts — they want to know what you've got brewing.
Reddit readers
Posting to a subreddit is a great way to get your content in front of new eyes. You can post a link to any new blog post, and — so long as it's relevant to the category — Reddit will integrate it into the feed of its various subscribers.
Try these tips for a better chance at Reddit success and readership:
Familiarize yourself with the platform. Get a feel for Reddit and its community. You can even look through blogging-specific Reddit content on the Blogging subreddit.
Pick the right subreddit. The more specific, the better — so long as it fits. You'll have a better chance at getting seen on niche feeds. Plus you'll be directing your content to the group most likely to appreciate it.
Be an active member of the community. Don't just post your own blog articles. Read and comment on the material of others. This will ingratiate you to both the other readers and the site itself.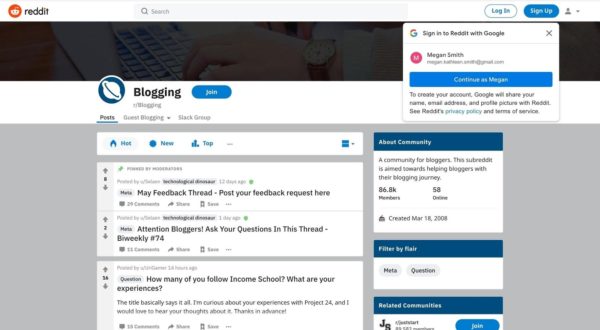 Facebook groups
Facebook groups are one of the best networking forums for anyone with a passion, looking for others that share it. Join groups and engage in discussions that interest you. It's a great way to connect with new people — and new potential readers.
Fellow bloggers
On subreddits, on Facebook groups, at conventions … seek out your peers and cultivate them. Not only do they tend to read other blogs as well, but you also develop opportunities for cross-promotion with other bloggers.
Look for people near your level. They're the most likely to be interested in working with you. Talk to them about mutual opportunities for guest blogging, and share your readerships.
Blogging expeditions: 10 travel and blogging tips
Refine your blogging approach with these ten tips on how to start a travel blog.
1. Stay on brand
Stay in your lane — at least to start. You want to develop a niche blog with a loyal readership. To do so, you need to stay focused on your chosen topic.
2. Keep to a budget
Travel gets expensive pretty quickly! Budget carefully so that you don't wind up spending more than you're making in the long term.
3. Organize lodging and other logistics
Welcome to the world of travel professionals. Unless your niche is hitchhiking on the open road — which may not be the safest choice — plan your trips like a professional. This is part of your job, and you need to organize accordingly.
4. Track your blog metrics
Constant Contact's Website Builder has tracking tools built in. If you're using a platform without them, install Google Analytics so that you can see how different content performs and who your audience is.
5. Be aware and conscientious
In this day and age, there are a lot of political landmines and safety considerations to take into consideration when planning your next trip. Be respectful when you write about foreign cultures, and stay on top of all potential barriers to travel — everything from global pandemics to local renovations.
6. Stick to blogging and stick to a schedule
Post content regularly (but don't sacrifice quality). As you generate new articles, be patient. Strategy and perseverance will pay off, but you have to give your blog a little time to grow.
7. Take loads of pictures
Generic DRM-free photography won't cut it here. You need to practice your photography skills so that you can add compelling and original images to your travel pieces.
8. Research
Researching your trip — and article — beforehand will ensure that you make the best use of your time while you're away. Incorporate anchor text to high-quality external sites in order to boost SEO, network with fellow bloggers, and enhance credibility.
9. Take chances with original content
Yes, you should stay true to your niche, but you should also keep things fresh with a variety of blog topics and types. Vary your angle and format with fresh travel blog ideas.
10. Route your travel map to include as many interesting activities as possible
Pack your trip full of fun activities that promise to yield quality content. The more you do, the more material you'll have to write.
Plan your trip with GoogleMaps, or use a travel application to help you organize an action-packed and efficient itinerary. You can include some of these map images when you write your posts.
Plus one for the road
Develop a full digital marketing plan for your blog.
That's right — starting the blog is only the first step. Figure out where you want to take it, and then use Constant Contact's tools to get you there.
‌Check out The Download: Making Sense of Online Marketing for Travel and Tourism for a guide that covers website development, social media, email marketing, and everything else you need for a comprehensive digital marketing plan.