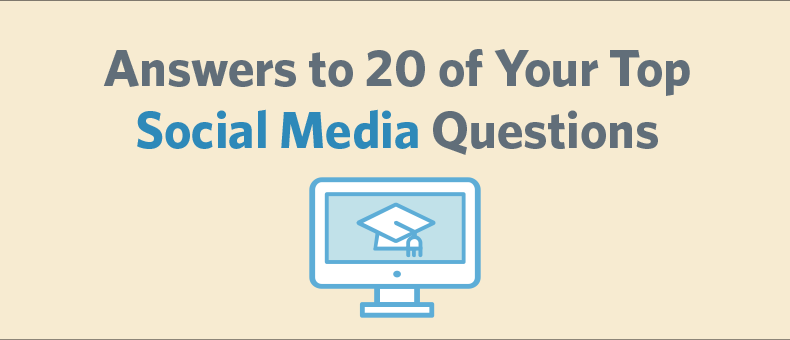 Last week, we hosted our advanced social media webinar: From Just Using Social Media to Getting Real Results.
The event covered a range of topics for some of the top social networks — like Facebook, Twitter, LinkedIn, and Pinterest. Throughout the event, attendees had the chance to participate in a live Q&A, where our social media experts answered some of their social media questions.
Thanks so much to everyone who attended and for sharing your questions with us.
Here's a roundup of the questions you asked about the top social media networks and some additional resources to help you approach social media marketing with confidence:
Facebook
1. How do you grow your audience on Facebook?
Once you've done the work to set up your Facebook Page, you want get your page in front of as many people as possible. Start by reaching out to your existing networks. Send an announcement out to your email list and invite your Facebook friends to Like your business's Page.
You should also make sure you're adding Facebook buttons to your website and email newsletter so your audience can find your Page easily. Facebook also offers a number of different advertising options that you can use to extend your reach and attract new people to your Facebook Page.
In addition to promotion, you can also grow your audience by sharing engaging content. If you're posting content that drives Likes, comments, and shares from your audience, these social endorsements will often show up in their friends' News Feeds. This is a great way to get your content and Page in front of an entirely new audience.
Here are 6 Ways to Promote Your Facebook Page and 8 Ways to Create Shareable Social Media Content.
2. What kind of posts will perform best on Facebook?
Facebook uses an algorithm to determine which posts to display in the News Feed. It's best to experiment with a variety of different types of posts and frequencies to see what works best for your audience, but one trend that seems to consistently perform well is visual content.
Rather than plain text posts, look for opportunities to add photos and links whenever possible.
You should also consider bringing video into your strategy. The popularity of video on Facebook has skyrocketed, and one recent report found that video is now getting the highest organic reach for Facebook Pages.
Uploading a video directly to Facebook could ensure your business is getting in front of a large audience.
3. Where can I find my Facebook Insights?
Your Facebook insights are a free analytics tool within Facebook that will tell you which posts are performing best with your audience.
Your insights will become available once at least 30 people Like your Page and can easily be found through the Facebook Insights tab right at the top of your Page. These numbers will give you a great read on how to best connect with your Fans.
For a full breakdown of this tool read our recent post: Find the Best Time and Content to Post on Facebook with Facebook Insights.
4. Is it worth paying to promote posts on Facebook?
Compared to traditional methods of advertising, Facebook Ads provide an inexpensive way to reach a large audience. While paying to promote your business on social media might feel like a big step, it can be useful if you go in with some concrete goals in mind.
When creating a Facebook ad you want to make sure you're boosting the right content to the right audience. While your first instinct might be to boost something promotional, an engaging piece of content like an introductory video, a case study, or an invitation to an upcoming event may perform better. Facebook has some great targeting features to help you reach the demographic and location that is most relevant to your business.
5. What is curated content and why should I be using it on my Page?
Curated content is relevant content from another source that you share to your Page. Sharing content from other sources can be a big timesaver because it takes the burden off of you to create everything from scratch.
Adding curated content to your Facebook Page a couple times a week shows you are up-to-date on information in your industry and that you're focused on more than just your own business. Just make sure to give credit to the original source.
Here's how to make sure you're curating content the right way.
Twitter
6. Is it a good thing to link Twitter posts to automatically post to your Facebook Page?
Automatically posting the same content to Facebook and Twitter might sound like a good idea, but it often does more harm than good. If you're providing the same experience to your following on Facebook and Twitter, what incentive are you giving people to follow you in both places? There's a good chance your audience will get frustrated by your content if it's too repetitive.
It's also important to understand that each social network has its own style and specifications. For example, Twitter's 140-character limit means that many of your Facebook posts get cut off and provide users with an unsatisfactory experience.
But that doesn't mean you can't use the same content across multiple networks. Just be sure to tweak your posts slightly to provide an engaging and complete experience for your audience.
Here' a look at how to automate your social media marketing the right way.
7. Is there a dashboard we can use to manage Facebook and Twitter at the same time?
While we don't recommend automatically linking updates to post on Twitter and Facebook, you still set up posts to multiple networks using a single dashboard like Hootsuite or Buffer.
With these tools you can schedule posts in advance and also easily keep track of engagement and social interactions. This is a great way to see how your updates are performing across different networks.
8. Some of the Twitter terms are new to me…what's a retweet and a hashtag?
One of the trickiest parts of getting started on Twitter is learning the language. Check out our social media glossary for an overview of some key terms.
While hashtags started out being a Twitter-specific feature, they have expanded to other social media networks as a way tie posts about a specific topic or event together. Users can create a hashtag simply by including a phrase that is preceded by a # sign (for example #socialmedia) in a social post. Here's how to use hashtags in your social media marketing.
Retweeting content is another way to connect with your industry and audience. When you share, or retweet, content from an outside source it shows you are tuned in to their posts — just make sure the content you're retweeting is relevant to your audience as well.
9. How do I pull my analytics for Twitter?
Twitter's free analytics tool provides a valuable look at your impressions and engagement. You can pick a specific date range and export your data for a closer look.
Additionally, Twitter Analytics can give you great insight into who your audience is and how it has grown over time. Check out where most of your followers are located and what their interests are so you can tailor your content for them.
10. How can I get more people to view my tweets?
There are a number of different ways to increase your following on Twitter. Using hashtags can connect your posts with a larger topic — for example, if we shared this post on Twitter we could use the hashtag #socialmedia so that users who are searching for social media content would see our post come up in a Twitter search.
You can also retweet relevant content from other sources and encourage your own audience to retweet your material. Lastly, try engaging with influencers on Twitter by adding them to Twitter lists and interacting with their content from time to time.
LinkedIn
11. Do I need to have a personal LinkedIn profile to set up a business page on LinkedIn?
Creating a Company Page on LinkedIn is a great way to establish your expertise in your industry and showcase your products, services, and company culture. Keeping an updated Company Page is great for recruiting purposes provides a convenient way for other professionals to endorse you.
Before you create a Company Page, you will need to have a personal LinkedIn profile. Here's some advice for setting up a LinkedIn Company Page.
12. What kind of content is appropriate for LinkedIn?
LinkedIn is a professional networking site, so you want to focus on content that will establish you as a leader in your field. This is the perfect network for sharing original blog posts with industry insight. In addition to posting in your Company Page, interact with the content others are posting and consider joining LinkedIn Groups that are related to your industry.
LinkedIn also owns an easy-to-use presentation tool called Slideshare. Creating a quick presentation of tips and sharing it on your Company Page is a great way to drive engagement and showcase your expertise.
13. How do I find my company's LinkedIn Insights?
Company Page administrators can view analytics right from their Company Page. From there, you can view the impressions and engagement of different posts. You can also check out information about your followers and see how you're performing compared to your competitors.
Find out more information about your Company Page analytics here.
14. How often would you suggest posting on LinkedIn?
We recommend posting at least two times a week on LinkedIn. As long as you aren't dominating your followers' feed, feel free to post as much as five times a week. Keep in mind, even when you aren't sharing content directly there plenty of other opportunities to join conversations with others in your industry.
Here's a cheat sheet to help you decide how often to post on different social media networks.
Pinterest
18. We are not a retail business and do not offer online shopping…is Pinterest still useful for us?

Even if you're not selling products online, Pinterest can be a great way to drive people to your website. Start with a few boards you think your audience would be interested in and start pinning and repining content.

For example, a language school could have boards for different languages and pin verb charts, video tutorials, and vocabulary sheets. Even though you are not selling anything directly you can provide your audience with useful information and increase your chances of showing up in search results when users search for information related to your business.

Here are some quick tips for using Pinterest for search engine optimization.

19. How does a guest pin board work?

Using Group boards on Pinterest allows multiple users to pin to the same board. Collaborating with other businesses or your most loyal customers can cut down on the amount of work you have to do and also greatly increase your engagement.

Here's a post from Jeff Bullas on how to use Group Boards to boost your business's exposure.

20. How can I use Pinterest Analytics?

Take full advantage of your business's Pinterest Page by using the analytics dashboard. Pinterest analytics cover your profile's performance as well as audience information. What's unique about Pinterest analytics is that you can also see the activity from your website, as well as which devices people are using to view your pins.

Hopefully you'll see some good results and traffic to your website; for an even bigger boost here's how you can optimize your pins with 4 simple tweaks.

Have any burning social media questions we didn't answer?

We hope you'll join us again for another event or webinar!

In the meantime, visit our Social Media Quickstarter for additional resources on everything from getting started on social media to pushing your business to better results than ever before.

Share with your network