When running a trucking company, you might not consider online reviews to be a significant marketing resource. But word-of-mouth advertising is still one of the most effective tactics any business can use to attract new clients.
With tools like Google Business Profile and Yelp, it's easy for customers to find you online and leave a review. People who need to hire a trucking company in the future may determine whether to hire you based on various trucking company reviews. Read further to learn:
‌Why trucking companies should manage online reviews
‌How to manage your online presence
‌Tips for getting more reviews
‌How to handle negative reviews
‌How to use reviews as part of your marketing
Boost leads and sales for your trucking, warehousing, or logistics business with online marketing tools and advice.
Why trucking companies should manage online reviews
‌Like any business, you can attract more clients with positive word of mouth. Online trucking company reviews let people find out more about your company from previous clients when they are thinking about hiring you.
With online tools like Google reviews and Yelp, along with industry sites including Trucking Database, customers can log in and leave a review for your company at any time. Managing these reviews helps you find testimonials to add to your marketing materials. It also lets you identify problems as they arise and resolve them more quickly.
Before you can start managing your trucking company reviews, you need to establish yourself as the owner of your business with various websites.
Managing your online presence
‌The first step toward handling your online reviews is to claim your business on Google Business Profile and on Yelp.
‌Google Business Profile
‌Claiming your company on Google Business Profile ensures that your address, phone number, website, and hours are correctly listed in Google searches and in Google Maps. To claim your business, search for your company in Google Maps.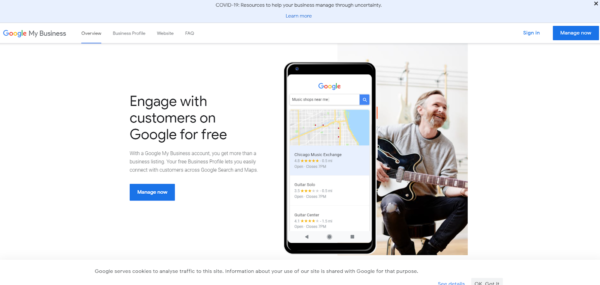 Click on the correct business and then click "Claim this business." You will be asked to provide a verification option so Google can check to ensure that you are the owner of the company. Choose your desired option and follow the prompts on the screen.
When you've claimed your business, you will have access to your Google reviews going forward.
Yelp
‌Although Yelp is more traditionally used by companies serving consumers directly, you can also use the site to establish your online reputation if you're a business-to-business trucking company. To claim your business, log in to biz.yelp.com. Click "Manage my Free Listing."
‌You can find your business by searching for your name and zip code. When you've located your company, create an account with your email address and a chosen password. You'll then get a verification code that can be entered to claim your business.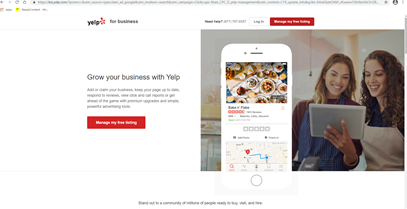 Trucking Database and other sites
‌Trucking Database compiles its listings using businesses that have registered with the Federal Motor Carrier Safety Administration FMCSA. If you're already registered with that organization, you don't need to claim your company in the database. You can search for your company to verify that all information listed on the site is correct.
A number of other industry-specific databases exist, but many of them only offer information to paid members. Claiming your business on Google and Yelp will help you manage your online presence for everyone who searches for your business. You should also run a search to see if reviews pop up on other sites. If so, contact the webmaster and ask how to verify your company.
Tips for getting more reviews
‌If the phrase "online reviews" makes you cringe at the thought of internet trolls, shift your focus. Online trucking company reviews boost your digital presence and enhance your credibility. They actually make it easier for customers to find you just by searching the internet.
‌The best way to generate reviews is to ask. When you've finished a job for a client, send them a follow-up email thanking them for their business and asking them to leave a review on your website or on your Google listing.
New Penn, a trucking company serving the Northeastern United States and Canada, encourages customers to submit testimonials and proudly displays them on their website, showcasing customer focus.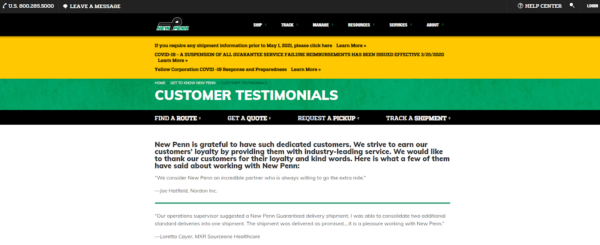 You can also generate client reviews by sending out client feedback surveys. Be sure to include open-ended questions so customers can detail what they liked and what they didn't like about their experience from start to finish.
‌If your sales team regularly checks in with past clients, use these touchpoints as a chance to ask for a review. Use your email list to send out an email to current and former clients encouraging their feedback. Build a testimonial form into your website and include the link in your email.
How to handle negative reviews
‌Every business makes mistakes, and unfortunately, some of your customers might air their frustrations in an online review. How you respond to negative reviews can help or hinder your business.
Address the complaint
‌First of all, resist the urge to respond with hostility. You are probably ready to defend yourself and your business, but you should remain professional. Your best bet is to respond by apologizing for the service failure.
Respond quickly. And, if you have spoken with the client already, you can include the resolution in your reply.
‌Reach out to the dissatisfied customer
‌Your unhappy client may have included contact information, or you might be able to determine who left the review by examining the specifics. If you can, reach out to the person directly. Calmly ask them what went wrong and see what you can do to address the issue.
Addressing a service failure and promptly resolving it with your client can keep unhappy clients from leaving your company. When you get a negative review, it's best to handle it professionally and offline if possible.
Remove fake reviews and don't pay for reviews
‌If you scrub all online reviews that are less than glowing, you could come across as less than credible. But it is possible that some online reviews are fake. You probably don't have time to comb through every review and find fake ones, but there are clues that can signal you to a phony review.
‌If the reviewer has a generic profile with a general name and repeats similar phrases, it's possible that the person is actually an online bot. If you suspect that a review is fake, copy the review and search for it. You might find other reviews with the exact same wording. Delete these.
You might be tempted to buy reviews to build your online presence more quickly, but customers can usually spot these. These bought reviews can also impact your SEO score because they damage your credibility. Ask your customers for real testimonials instead.
Using trucking company reviews as part of your marketing
‌With all the tools in place to manage your online presence and solicit customer feedback, you can use your new testimonials in your marketing. Like New Penn, you can create a separate page on your website for customer reviews.

When you send out surveys with open-ended questions, use this information to tailor your messaging. Your customers could point out areas of your business that you've never considered. Take advantage of these insights by creating relevant content and building them into your branding.

Share with your network