Email marketing for logistics is one of the quickest and easiest ways to make money for your business. It offers an incredible ROI (return on investment) despite being a mostly hands-off operation.
How does it work? Well, surely you've received several emails from the companies you interact with. While some are more successful than others at encouraging you to buy something or take another action, these communications work to keep that brand at the top of your mind — and your inbox. This can work for your business too.
In this guide, you'll learn:
Why email marketing for logistics matters
The best types of emails to send
Tips for email marketing for logistics
Why email marketing for logistics matters
Email marketing is a great way to generate more leads and make more revenue. In fact, it offers one of the highest ROIs out of any marketing technique despite how easy it is to do. By spending $1, you can make $42 with email marketing for logistics. This tactic works by gradually walking a customer through the sales funnel while you're making yourself familiar to them and building strong brand awareness.
Boost leads and sales for your trucking, warehousing, or logistics business with online marketing tools and advice.
The best types of emails to send
This form of transportation marketing is made up of different types of emails. Their object is to send the right email, to the right person, at the right time. Doing so will maximize your returns.
Welcome email
As the name suggests, the welcome email is sent right after someone signs up for your mailing list. It does exactly what you think it does — welcomes the recipient to your mailing list and tells them what they can expect in future emails.
You should definitely mention that you'll never spam their inbox with your emails — you don't want to scare people off. The welcome email should be short and sweet — just a few sentences will do.
Invitation to connect
A few days after getting the welcome email, you should send an invitation to connect. How does this work? This email will have links to your social media accounts, website, and anywhere else someone can follow and connect with you.
By setting up all these different avenues of connection, you're becoming more familiar to the recipient. They'll see you more often and find out more information about your company. If they follow you on multiple platforms, you increase how often they'll receive reminders of your logistics company. It also helps your social media accounts get a better following. More interaction online makes you look more authentic and legitimate.
Tip: Automate a welcome series so they'll automatically go out to your new contacts without you having to think about it.
Monthly newsletter
A monthly newsletter is a goldmine for your logistics and transportation business. It's a good rule of thumb to send out this email once a month to highlight important things going on around your business. Your newsletter can talk about updates to your business, new products or employees, answer an FAQ or show insights to what you do, or provide information they might find interesting or helpful. It can also recap what happened in your business in the past 30 days.
This type of email might tempt you to type out an essay. After all, your company is growing and making so much progress. But, you must resist this temptation and keep things short. As you'll learn later, short emails are imperative. Bullet points or lists can work well as you put together your monthly newsletter. Be sure to provide links to landing pages, or your website, for more information (driving traffic to your website can help improve it's ranking in search engines).
Promotional emails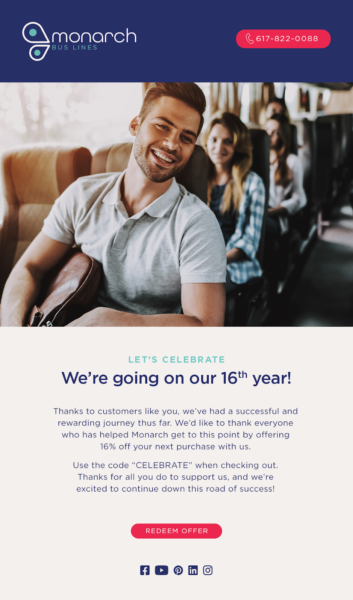 If you have big news that warrants its own email, that would be considered a promotional email. This can include big sales, news, updates, or important changes in your company — anything that your customers should know about right away or is important enough that you don't want it to be lumped in with a newsletter. For logistics, this type of email will likely be rare.
Tips for email marketing for logistics
Unlike picking the best name for your company, an email marketing campaign lets you keep evolving and trying different things. These tips will save you some time and remove some need for trial and error. The following tips will optimize your email marketing campaign and lead to the best results.
Use email automation tools
To save time, automate as much of the process as possible. You can use many different tools to automate your email marketing. They help you create triggers and automation to send out emails, keep track of them, send follow-ups, and segment your mailing list.
By allowing this tool to work behind the scenes, you can focus on growing your business in other areas. More importantly, this tool optimizes the results without wasting any of your time.
Avoid sending spammy email content
If you want the best email marketing for transportation, don't get spammy. This means trying to sell yourself too hard, sending too many messages, or making too many requests. People can opt-out of your mailing list just as easily as they can opt-in. Moreover, they can report your messages for being spam.
A good way to avoid being spammy is to follow the other tips and types of emails on this list. If you're ever in doubt, put yourself in your customers' shoes. Would they think you're overdoing it?
Mind your timing
Timing is everything when it comes to email marketing for logistics. You want to send your emails at a time of the day that they're likely to read an email. Sending an email in the middle of the night or during dinnertime is a bad idea. People will dismiss your email, or it will get buried.
Try to aim for sending an email in the morning or early afternoon. You want someone to be free enough to open your email and give your message the attention it deserves.
Keep your emails short
You're not writing a novel here; you're just sending a quick message to your mailing list. Your emails should never exceed more than a few paragraphs. Within your email, the content should use short sentences and short words. These emails are meant to be read quickly so your customers know what's going on.
If your emails are excessively long, no one will read them. When you have more information you'd like to provide, include a link in the email that leads to your company website. There, you can take your time to publish all the details you want your audience to read. If a customer truly cares about your message, they'll go to your site to learn more.
Stick to a single point each email
Another tip to keep in mind is the focus of your emails. Each email should revolve around a single point. You don't want a message that promotes a dozen concepts and bounces from one idea to another. There should be a single theme that the reader can easily understand. They don't have time to break down an email and figure out what each component is talking about.
Start planning your email marketing strategy
Email marketing is a tried-and-true method to generate more leads and improve your revenue. Your logistics operation has a lot to gain from an email marketing campaign. When you use our best tips, like keeping emails short, sweet, and to-the-point, you can encourage more conversions on your website.

Get started developing your email marketing campaign today. If you want to read a more in-depth explanation of online marketing for your logistics operation, check out this free, online guide.

Share with your network