As any marketing pro will tell you, it's vital to maintain public interest in your business, but transportation marketing isn't always straightforward. Your customers usually buy because they need services, not because you've convinced them to buy. So, what's a transport company to do?
The key is to be as searchable as possible. Use your website, online listings, and social media profiles to describe what you do so you come up when people are looking. Meanwhile, keep your email list active so you stay top-of-mind with the people who can recommend you.
That may sound like a lot, but most of the best transportation marketing strategies take just a few minutes to set up, and they keep generating traffic for you as time goes on.
Transportation Marketing: Table of Contents
Boost leads and sales for your trucking, warehousing, or logistics business with online marketing tools and advice.
On your website
Your website is the hub for all of your digital marketing. Whether you're posting on social media or paying for a Google ad — more on both of those techniques later — you ultimately want to draw people back to your website so they can buy from you.
1. Add common search terms
Search engines are the gatekeepers of the internet. For potential customers to be able to find you, search engines like Google have to determine that your website represents what they're looking for. Focus on Google, which processes more than 88% of all US searches.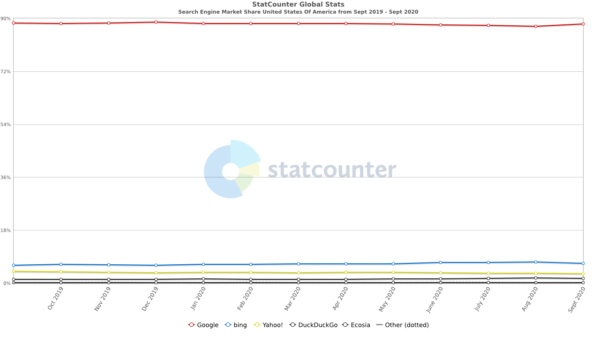 Google looks for the sites that provide the best, most authoritative answers to users' questions, so you have to know what people are searching for.
Fortunately, keyword research is easier than you think. Start by brainstorming a list of phrases that people might use to find a business like yours. For example, if you provide moving services in Chicago, your potential keyword list could be:
Movers in Chicago
Best Chicago movers
Once you've come up with a few, plug them into Google and see what other phrases autocomplete suggests. A search for "best movers in Chicago," for example, comes up with searches like:
Best movers in Chicagoland area
Best rated movers in Chicago
Best long-distance movers in Chicago
Consider adding words like "long-distance" or "Chicagoland" to your About page or Services page. Ratings and reviews are also useful. Those simple changes could drive more traffic to your website.
2. Claim your listings
You can generate more traffic to your website by adding your web link to listings of your business. Create or update listings for your business in professional directories and review sites like Yelp and Google Business Profile. Make sure the information is accurate and that there's a working link to your website on each listing.
Most listing sites also include customer reviews, so check out what's there. It's okay if they're not all glowing — a perfect rating looks suspicious to many people. Just make sure that when negative reviews do come in, you respond quickly and professionally, offering to contact the customer offline so you can make it right.
Need more reviews? Keep reading.
Your email marketing
Across industries, email is one of the most powerful marketing engines out there. It can return $42 for every dollar spent, and 80% of professionals say that it helps them grow their companies.
If you have a list of past or current customers and their email addresses, you already have the makings of a mailing list. You just have to make the most of it.
3. Ask for referrals and reviews
Referrals are powerful marketing channels, and there's no shortage of statistics to prove it. A Nielsen survey showed that 84% of people trust friends' and family members' recommendations more than any other marketing source. The Harvard Business Review reported that referred customers generate 16% more revenue and are 18% more likely to stay with a business. And that's just the beginning.
Getting more referrals is as simple as reminding your current and past customers to recommend you. These requests are easily combined with invitations to review, especially if you can provide links to listings like Yelp or Google Business Profile.
You can use email templates to create a standard "thank you" email, so all you have to do is add the name of the client and other specific information.
4. Create a newsletter
Another way to generate more referrals is to send out information valuable enough for people to share with friends and colleagues. That's where a newsletter comes in. A newsletter lets you share updates about your business and industry news that your customers will want to know and share with their friends.
With Constant Contact, it's easy to schedule your email newsletter's delivery so it sends automatically. At least once a month is best. You could even go with every two weeks, assuming you have enough fresh and relevant content.
Social media strategies
Having a strong social media presence can help you drive more traffic to your site. Social media can easily be overlooked in the transportation industry because, as mentioned earlier, it's not an impulse buy kind of industry. But that doesn't mean people aren't looking for you or don't require your services. Keep your profile polished so you stay top-of-mind and look professional.
5. Start or polish up your Facebook Business page
Your Facebook Business profile makes you more findable online. It's another source where potential customers can find your business address, email, phone number, and other essential information.
It's also a great way of getting more subscribers to your email list. You can make it easy for people to join by creating a lead generation landing page and adding a signup button to your Facebook Business Page.
Tip: Once you create a lead generation landing page, besides adding a signup button to your Facebook Business Page, you can also add a signup button to your LinkedIn Organization Page, and add a link to your Instagram and Twitter bios.
6. Invest in Facebook ads
Because of the way Facebook's algorithm works, it's harder for people who don't already follow you to see your posts. That's why it's important to invest in Facebook ads.
When you run a Facebook ad, you pay to put your business in front of people who you think might be interested. Offering limo services? You can target people whose relationship status is "engaged" and who live in your area. Offering freight hauling? You can target people who work in logistics.
You don't have to mess around with Facebook's confusing ad interface, either. Constant Contact has a user-friendly ad builder that makes it easy to create engaging paid ads that make the most of your marketing budget.
WATCH: Making Sense of Online Marketing for Transportation Services
If you're just getting started with online marketing or not seeing the results you've hoped for, then this session is for you. With our guest expert, Arthur Rouse, you'll learn a smarter, more practical approach to getting the word out about your transportation services. From making sure your business gets found to building relationships, find out how to get the word out to the people who matter most online. You'll learn:
How people find you online
How to set yourself up for success
How it all comes together
Getting started with transportation marketing
Now you have a range of transport marketing ideas to try out, and all you need to get started is a website, email list, and a Facebook page. Start small — maybe experiment with one of these six ideas — and then see what kind of results you get.

For detailed information about email, social media, and website marketing for transportation companies, check out The Download, our comprehensive marketing guide for your industry. Give it a read and let it kick-start your creative process. Your next marketing campaign awaits.

Share with your network