In the current business climate, every company needs a professional, yet functional, website, Transportation and logistics companies are no exception.
Your website is often the first point of contact for potential customers, and it can help your company stand out from the competition. Many guides for building a successful website as a marketing channel focus on the business to consumer (B2C) market. Companies that operate primarily on a business to business (B2B) basis, including transportation and logistics providers, should follow slightly different rules when building a website, but the same principles apply.
Boost leads and sales for your trucking, warehousing, or logistics business with online marketing tools and advice.
Why Your Company Needs A Website
For most businesses, the website functions as the key marketing tool for the company. While many transportation and logistics companies use previous client references and other word of mouth tools to generate leads, a well-designed website is an essential tool.
With the right information in front of them, potential clients can get familiar with your company before bringing you their business. Make sure you design your website with the following considerations to make it work best for you.
Mobile Functionality
When looking for a logistics and transportation company to aid their business, your potential clients may be on the computer in their office, or they might be searching on their phone while they are away. When building your logistics website, keeping mobile functionality in mind is critical.
Many website builder tools let you preview your website in both desktop and mobile form. There are some basic rules to follow for mobile optimization.
Make sure that information is easy to find – when looking through a website, especially on a small screen like a smartphone, people should be able to locate the navigation menu and contact information for your business. Don't make them search for it.
Keep it fast – make sure that your website loads quickly. High-resolution images and documents, and an abundance of videos that are set to play on your homepage, can slow downloading time on mobile networks.
Make Your Page Responsive – all of your design elements should adjust to the screen on which they are being viewed. People should not have to scroll from left to right on their phone or tablet to read a page on your site.
Search Engine Optimization
Since your website is one of your main marketing tools, it is important to stay high in search results. This is achieved by search engine optimization (SEO). Before designing your website, think of terms that potential clients would use to find you and look them up.
If your competitors' websites are near the top of the search results, look at their website and take note of what they are doing well. Note the keywords and phrases in various sections of their website. Knowing what keywords and phrases your customers will use to find you is crucial in building your website because it can boost your search engine performance.
Site Pages
Your site should not only be mobile-responsive. It should also include at least four pages, and it should be easy for potential clients to find the answers they need. At a minimum, your site should include the following pages:
Homepage
As the first page people see when they click on your website, your homepage should clearly establish your brand. Your logo should be included, and the mission of your business should be clear to visitors.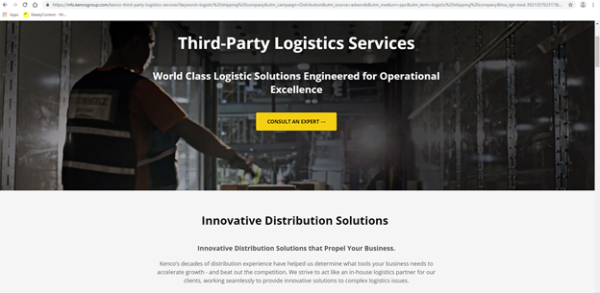 Your customers will be looking for information they can use to make a quick decision. On your page, you should communicate who you are and what you do in a clear and concise manner. You can also list differentiators and unique aspects of your business. Your clients will use this page to determine if your service is a good fit for their business.
About Us
This section of the website gives you the chance to shine. It is where you can tell the story of how your company came into being and why you do what you do.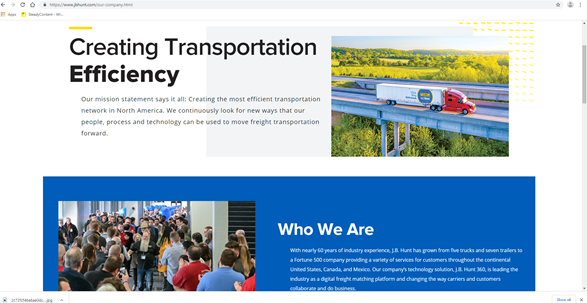 Not only should your company's "About Us" page discuss your history, but it should also go into detail about what sets you apart. This is the section of your website in which to address how your company can benefit your customers. If you have special processes or outstanding customer service skills, this is the place to list them. It is also a good spot for customer testimonials.
Services
Every logistics website should include a section that lists services offered. Different companies need logistics companies for different reasons. This section will help them determine if your company meets their needs.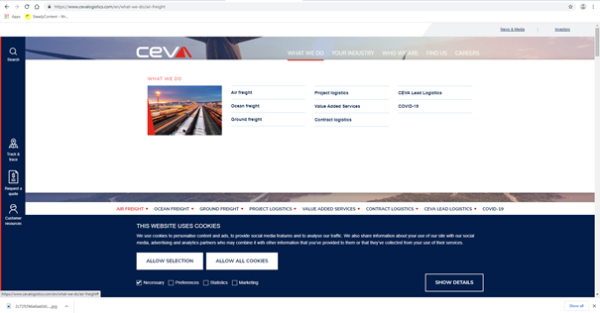 On your "Services" page, you should include a list of services you offer. You can create sub-pages for each service to make the site easier to navigate. It is important to be specific on this page since the customer will use it to determine if your services are a good fit. When describing services that your company offers, you can detail each service, how it works and its benefit to potential clients. This page is a good tool for helping potential contacts get to know your company.
Contact Us
A great logistics website is pointless if the customer can't locate contact information in order to inquire about doing business. Your "Contact Us" page should include the company's name and logo, a physical office address, your phone number and an email address or contact form for web inquiries. Make sure that customers are directed to a number and an email address that is checked regularly, so you can return inquiries in a prompt manner.
Drive For Us
For logistics and transportation companies, good drivers make the difference in excellent service delivery. Your company is likely always recruiting drivers. Adding a page to your website that details your expectations for drivers and the benefits that you offer to them is a quick and easy way to recruit drivers for your fleet.

Constant Contact offers a web-builder tool with multiple website templates for transportation companies. Use this tool to create a website that is professional, functional and that meets all of your needs. This tool can be used to help you create an SEO friendly website that is optimized for mobile and clearly tells your story to your potential clients. Designing your site with an eye toward how it will build your brand in the minds of customers can help it become a key marketing channel.

For additional marketing tips and tricks to boost your logistics and transportation business, check out The Download.

Share with your network