With 4.66 billion active users on the internet, chances are that your customers are looking for services online — and the contracting industry is no exception! Modern consumers typically use one of any number of construction-oriented websites to find contractors in their local area.
To attract these customers, it is essential that you list your business on the right website. If you're not sure where to start, this article will cover 11 of the best websites that people use to find contractors online, including:
Angi
The Blue Book
Construct Connect
Construction.com
Facebook
Google Business Profile
HomeAdvisor
Houzz
Iambuilders.com
LinkedIn
Yelp
Ready to find more leads and get expert home services and construction marketing advice, all in one place?
Where should you list your contractor business?
Before you start exploring the best websites on which to list your contractor business, your first step should be to build your own website.
Whether you're updating or building your business website, you should always include up-to-date business information — like your name, contact info, and services provided.
Once your website is current, it's time to branch out to other websites! Listing elsewhere will boost your online visibility, help you earn more leads, and maximize your site's Search Engine Optimization.
In addition, these platforms can help you find new private or government projects, connect with subcontractors, and locate suppliers. High-quality listing sites include:
Angi is an excellent choice when it comes to gaining exposure for your contracting business. This website connects you with millions of users looking for services like yours. It also offers a wide range of tools to help you:
Manage your online reputation. Angi gives you the chance to gather reviews and positive ratings.
Show off your work. Highlight your expertise by including photos of your work.
Create quotes. Angi allows you to build and send quotes to prospective customers.
Request payment. Invoice and take payments directly on Angi. You can even integrate QuickBooks.
Manage leads. When you list with Angi, you gain access to a lead management dashboard. You can then use these leads for your next email marketing or cold call campaign.
Communicate with customers. Angi's internal messaging center makes it easy to communicate with Angi users.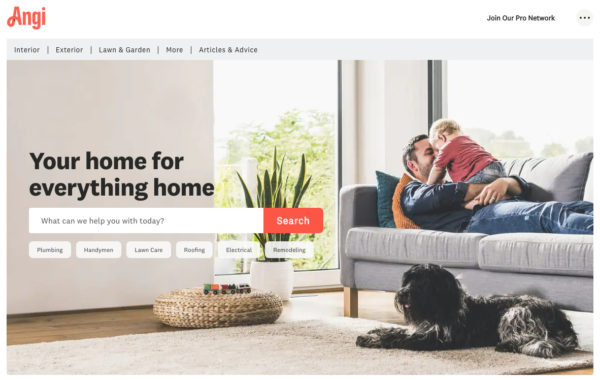 The Blue Book is a platform where you can post your services and get invited to new jobs via email. Essentially, The Blue Book places you in a database based on your subscription tier.
The higher the tier you subscribe to, the higher in the database you will rank for users. This website is also an effective platform for forming connections between contractors and subcontractors.
ConstructConnect hosts one of the largest contractor networks online. Its website allows users to find contractors, post open jobs, bid on existing jobs, create estimates, and manage ongoing projects.
With ConstructConnect, you can easily find projects that encompass both government and private work. Navigating ConstructConnect's massive database can be time-consuming, but the results are worth it!
ConstructConnect's platform includes features like:
Lead and bidding solutions for contractors, subcontractors, suppliers, and more
A Digital Bid Board that helps you organize your leads and bids online
A Top 10 Projects list that highlights the hottest projects in every state
COVID-19 construction updates to support contracting businesses in a changing world
Construction.com is hosted by Dodge, a data and analytics company that handles GDP data and reporting.
With such a large database of both government and private projects, Construction.com is a great place to discover lucrative new leads. This website features tools that help you:
Find more projects that fit your services
Bid more effectively on high-paying projects
Connect with suppliers you need to succeed
Utilize important industry insights from Dodge's database
Find researchers for complex projects
Facebook may not be the first website you think of when considering how customers find contractors or a lucrative place to list your contracting business. Yet launching a Facebook business page is a powerful move for any business.
Setting up your Facebook business profile can help you boost your website's SEO, gain more online visibility, and connect with customers in a meaningful way. Use your Facebook business page as a part of a robust social media marketing plan to leverage the massive power of one of the world's most popular platforms.
Google Business Profile is an essential tool for your contracting business. As a business owner, you are eligible to verify your free Google business listing, which will help you elevate your SEO and earn credibility online.
Once verified, your brand will appear in local searches on both Google Search and Google Maps — where many prospective customers begin their search for a contractor. Optimizing your business profile is an integral element of effective online marketing and can help you:
Engage with more customers. Google hosts around 3.8 million searches per minute. Increase your chances of reaching a larger portion of searchers by optimizing your Google business profile.
Elevate your online ranking. You can boost your ranking on Google Business Profile by providing quality information and using relevant keywords. Rank is also based on your proximity to the searcher.
Convert more leads into customers. A well-managed business profile can help more leads discover your business, visit your mobile-responsive website, connect with you, and hire you for their next project!
HomeAdvisor is a popular site for listing your contractor business. Here, you can generate leads and gather positive reviews. You can then feature these reviews on your Google Business Profile listing to increase your brand's online visibility.
As a residential contractor, you will be able to gain exposure to hundreds of leads per month, many of which are attracted by HomeAdvisor's robust online marketing campaigns and TV commercials.
HomeAdvisor does the work, first, of collecting leads for you. Next, provided that you meet a given lead's budget and project needs, the company connects these leads directly with your business.
This platform features tools that:
Provide you with control over your leads. Connect only with leads that match your preferences.
Help you manage your budget. HomeAdvisor lets you set a spending target so that you can control the flow of leads.
Gives you flexibility. HomeAdvisor Pro is a paid service, but you can cancel at any time.
Houzz is a platform specifically for home improvement professionals.
With your free professional profile, you have the opportunity to connect with homeowners based on location and pricing. Houzz's slick interface relies on professional photography, so come to this platform ready with photos of your services and team.
Houzz's professional platform is designed for architects and interior designers, in addition to both general and specialty contractors. Houzz Pro tools include:
Marketing solutions. Houzz offers tools like paid local advertising.
Pre-sale organizational tools. From leads to estimates to proposals to supply orders, Houzz can help you stay organized.
Project management capabilities. Houzz offers tools that facilitate messaging your team, suppliers, and customers.
Customer experience support. Houzz provides dashboard capabilities like daily logs and project timelines that make it easy to show your customers how their project is progressing.
Financial tools. This platform streamlines the billing and payment process with comprehensive financial tools.
Visualization tools. 3D floor planners and mood boards set this platform apart from its competitors when it comes to customer experience.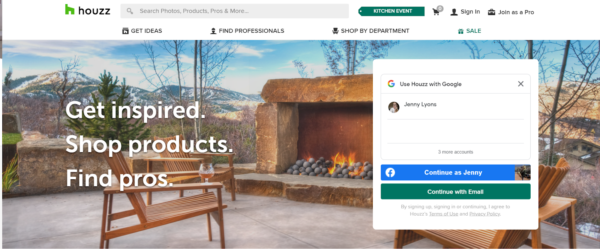 I AM Builders offers clients the ability to research and find projects via their connection with a national database. This website focuses primarily on providing outsourced estimation services for contractors, but it is another place to gain positive exposure for your business.
Much like Google Business Profile and Facebook, LinkedIn is a wonderful resource for creating a free company profile.
Here, you can gain followers who can interact with posted content. LinkedIn is the perfect platform for connecting with other businesses, building brand awareness, and establishing credibility online as a part of your overarching content marketing plan.
Yelp should be a go-to for business owners looking to manage their online listings. The modern consumer often turns to Yelp as an authority on business credibility and reliable reviews.
If you can garner positive reviews from happy customers on Yelp, you will boost your chances of booking more local projects. Your presence on Yelp will also help boost your SEO and online visibility.
Next steps
If you're looking for a way to get more project leads, bid on more local jobs, and earn more high-paying contracts, listing your contracting business on a website that searchers consistently use to find contractors is critical.

Now that you've read up on 11 of the best websites for listing your business, are you ready to get started?
If you want to gain more Home and Building Services marketing advice, read The Download, a free marketing guide for repair and maintenance professionals.

Share with your network