Imagine you've opened your inbox on a typical day. You scroll through the subject lines and give no more than a split second of attention to any one of them. But there's one that catches your eye. It's a subject line that begins with your name. And you pause to read what the subject line says and even open the email to read its contents.
Dale Carnegie knew what he was about when he said '"a person's name is to that person the sweetest and most important sound in any language." This is a principle of influence and relationship-building that businesses have applied to great success for ages.
And the reason why you stopped at the subject line with your name in it is that it was personalized for you. If it worked for you, why not personalize marketing for your customers?
Personalization is what makes customers pause and pay attention to your brand message in a sea of marketing content.
Let's dive in and learn more about how to personalize marketing to drive more results for your business.
What is personalized marketing?
How does personalization factor into marketing? Well, it's much more than just using your customer's first name in your emails.
Personalized marketing is a strategy of its own that you can integrate into your different types of marketing mediums, such as email, social media, and blogs, to generate better results.
Personalized marketing involves collecting data related to your customers and crafting marketing experiences that target specific types of customers through your content.
Why you should personalize marketing
It's not immediately clear why a business should personalize its marketing more. After all, it's harder to do and when you personalize your messages too much, you could lose the attention of a larger group of people.
Let's start with a few personalization statistics to help understand the benefits of personalization.
Sixty-seven percent of marketers plan to use data and improve personalization to grow their sales and retain customers
Personalization in email can lead to an increase of 14% in CTR or Click-Through Rates and boost conversion rates by 6 times
Emails based on audience segmentation increases sales revenue by 50% (Marketing Sherpa)
61% of people expect brands to take their preferences into account and offer personalized experiences (Think With Google)
It's clear that personalization in marketing can lead to greater engagement, conversion rates, and revenue. Let's look at other ways marketing personalization creates benefits for your business.
Create better content: When you write for a faceless, undefined audience, your writing and other types of content will show it. Knowing your audience better will help you create content that is specific, relevant, and engaging
Make your business real to people: People don't connect with business entities. They connect with brands that feel real to them. Speaking to your audience directly and making your marketing personalized will make your business appear human and relatable
Build brand loyalty: You most likely prefer to go to a restaurant where the server knows your name or to a business where a sales executive remembers your past purchase. With greater personalization, you drive brand loyalty. And you also create more revenue by keeping the customers you have happy instead of spending money on acquiring new customers
Personalized marketing can transform your business and make it stand out as a value-providing, popular brand. Let's take a look at how you can start making personalized marketing campaigns.
It's easier than you think and with a few tools and techniques, you'll see a large change in your engagement and conversion metrics.
7 ways to personalize marketing
Now that we know what is personalized marketing and why it matters, let's take a look at some of the top ways to make it happen. With the tips here, you should be able to carry out tailor your email and other marketing strategies like ad campaigns, social media ads, blog content, and more.
1. Create buyer personas
A major starting point for you is creating a concrete buyer persona or customer avatar. Your buyer persona is a thorough profile of a single customer that represents your audience at large.
You can use free buyer persona templates to create a meaningful avatar. When building your avatar, you can go as in-depth as giving your avatar a name, a profession, age group, and other details.
This activity plays an important role in helping you personalize your marketing strategies.
Whenever you create web copy or add features to your product, ask yourself how a living, breathing version of your buyer persona would respond to your work.
With a clear picture of your buyer in mind, your approach towards marketing changes. You'll think differently and as a result, your buyer will find your marketing efforts more engaging.
2. Segment your email list for better personalization
Email marketing remains the most effective way to create conversions (That's when a subscriber or website visitor takes a desired action, like making a purchase).
To increase your conversion rate, one of the first things you should do is segment your email list. There are several ways to group your audience so that you can send them more personalized emails.
If you have multiple buyer personas, then you can use these personas to create segments. You can also make segments based on things like age, gender, profession, location, and much more. And, another popular way so far has been to send emails based on email opens as this indicates that your subscriber has recently interacted with your content.
But there's something to be aware of – businesses have relied on tools like pixels to track email opens, location, and other demographic details. But they won't be able to do this for long.
Today, data privacy concerns are on the rise and email service providers are taking action to protect their users' data. Apple's email privacy changes, for instance, will soon make open rates as a metric less relevant for businesses.
You need to focus on other behavioral methods to track user behavior and create segments. For example, click segmentation is building groups in your email list based on the links they click in your email copy. Other ways to drive personalization include creating segments based on buying behavior.
3.Personalize marketing email subject lines
Your emails will convert only if customers open them and read your messages.
And to do this, you need to draw their attention with compelling subject lines. Here are ways to entice your customer into opening your emails:
Use an email subject line analyzer to rate your headlines and find ways to optimize them
Add power words to your subject lines
Ask a question
Address the user by name to catch their attention
Send an email reminding users about products left in their shopping cart
Offer a special discount for products that they've added to their wish lists

These are a few ways you can supercharge your email subject lines and create more personalization. Remember to keep experimenting with different headlines to see what works best.
4. Ask your customers what they want
By now, you've guessed that you need to have data to segment your audience and create personalized content.
Like most businesses, you likely have access to data through:
Analytics tools including Google Analytics
Search engine optimization platforms
Your email marketing reports
Social media analytics and listening tools
Ad campaign reports
Customer relationship management tools and more
These sources of data will give your insights into who your customers are and what they're looking for. With SEO tools and analytics insights, you'll have a broad understanding of the keywords people use to land on your website, questions they ask, the devices they use, and more.
However, your best source of information is your customer base. Send out surveys and feedback forms and ask your customers questions that teach you more about their needs. Ask about product features they want, what their end goals are, and the pain points they experience.
It's critical to use a good form tool to make the process of answering a survey or form easy. And you can also incentivize the process of giving feedback by offering a digital gift like an ebook or a discount for your product.
5. Use AI for ecommerce businesses
A clever way to automate and create personalization is to use an ecommerce integration with your email marketing provider.
When it comes to selling physical products to customers, personalization becomes difficult because you're trying to reach a large customer base.
An AI tool, however, can process a vast amount of data in a very short time. You'll get automatically generated segments where customers are grouped according to purchasing behavior and email interactions.
With such data at your fingertips, it becomes easier to create personalized email marketing campaigns that give results.
Another benefit of using AI is that it learns from your previous campaigns. An AI email marketing tool will then use previous campaign data to optimize future ones. And what's more, you'll get in-depth reports showing you what works and what doesn't.
6. Use a casual tone of voice
You and I know that there's nothing more off-putting than business-speak and sales talk for casual buyers. Yet many business owners continue to create web copy, ads, and social media posts that are pushy. While others use jargon and complicated sentences in an effort to sound clever.
The only outcome of such content is to put people off and even create a negative image of a brand.
To make your content more personalized, write like you're talking to a friend. As you draft a blog post or plan next month's social media content, ask yourself if you'd use this kind of language in real interactions.
This is a terrific way to gauge whether your copy sounds friendly and human. Another key copywriting tip is to read your content out loud. When you hear what it sounds like, you'll know whether your content sounds mechanical or alive to human ears.
Old Spice is a great example of a brand that talks to its audience like it's a real person. And they also have a humorous tone of voice that's visible in every aspect of the company right from the stickers on its products to its famous video ads.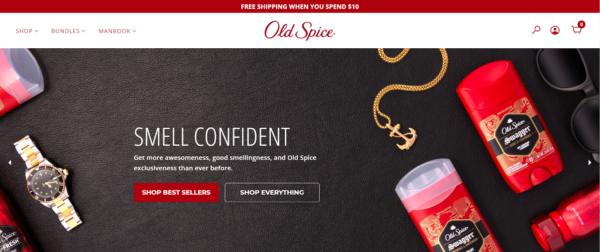 Another way to make your copy sound more human is to refer to your audience in the second person. Talk to your clients by referring to them as 'You' in your content. Get comfortable with using emojis and a natural way of speaking and you'll connect with audiences easily.
7. Build matching landing pages
Once you get your subscribers to open your email list, you need to seal the deal and drive sales by building solid landing pages.
Make sure that the links in your email copy take users to dedicated landing pages where the message, tone, and visuals match what's in your email.
Here's an email from Skillshare celebrating everyone's ability to be creative.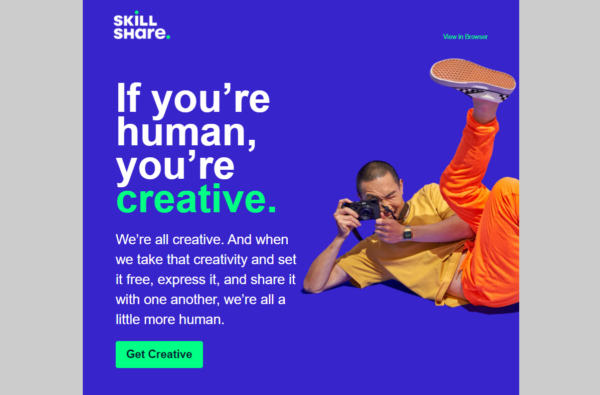 The 'Get Creative' link takes you to a landing page with a video background that showcases different forms of creativity. The landing page continues the message in the email and invites people to take action by signing up for free.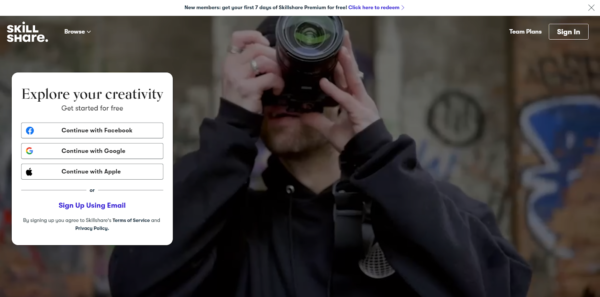 Use a good landing page plugin to build landing pages that match your email. And remember to add calls to action so that users take the next step and become customers.
Final thoughts on personalized marketing
Personalization in digital marketing makes the difference between businesses that succeed and ones that struggle.

When you prioritize personalization in your marketing, you put the customer first. Personalization impacts your customer support service, product development, and virtually every aspect of your business as long as you're willing to apply it.

Most expert marketers are now going as far as to say that personalized marketing is the future of marketing. Seeing how it improves the campaign results, we have to agree with them.

Personalization is all about doing things to serve your customer first. So, you should try putting yourself in your customer's shoes once in a while to look at things in their perspective. This will immensely help you improve your marketing strategy.

Share with your network