I've taught yoga classes on four continents, from gentle yin yoga on a pier in Cancun to sweaty vinyasa in an upstairs studio in Malaysia. It doesn't matter where you teach — you always need fresh yoga marketing ideas to get students to class.
When I was living in the Dominican Republic on a sailboat, I taught yoga at a marina three times a week. Even though everyone living aboard inherently knew the value of physical flexibility and the importance of taking care of their own health, I had to be creative with my marketing.
I blasted out announcements over the biweekly cruiser's radio, posted on the town's social media pages, and hung flyers at popular restaurants. I listed my classes on my website, and if you happened to hold your lower back while near me (that's the universal "I need yoga" pose), you'd be sure to get a special invitation.
That was a few years ago now, and the yoga market has changed. As the world struggles to deal with the coronavirus pandemic, the need for yoga classes in all forms is greater than ever. Yet, the concern some people have about their abilities and possible injury is also growing.
Still, there are more than enough students to fill your yoga classes, wherever you are. In the United States alone, the market research firm IBIS World predicts that more than 55 million people are practicing yoga. That's a pretty big jump from the 20.4 million yogis in 2012.
Yoga teachers — myself included — can talk endlessly about the benefits of regular yoga practice, so there's no reason to make a list. Just one look on the face of your students coming out of savasana is enough to know that this practice and your efforts are important and valuable.
But, how can you translate those relaxed looks of peaceful bliss into a method of drawing in new students? In short, teachers and studio owners must learn how to promote a yoga business in a way that's authentic and effective.
Here are 10 trending yoga marketing ideas to fill up your classes week after week.
Ready to find more customers and get expert fitness marketing advice, all in one place?
1. Know your students
A common mistake yoga teachers make is wanting to appeal to everyone. But, your classes are truly geared toward certain kinds of students. Beginner, gentle yoga attracts a different person than a hot vinyasa. Before implementing your yoga marketing ideas, you must have a clear idea of your target audience.
Create a persona for your ideal student. Think about the gender, age range, family status, education level, location, and hobbies they may have. If you're not sure, look at who is already coming to class. Ask them for feedback. You may be surprised at the types of classes or times that interest them.
2. Update your website
Even freelance yoga teachers need to have a dedicated website. If you own a studio, it's a no-brainer. You can presume that all your students will check out your online presence before dropping in on a class. Therefore, make sure your website has the following:
Health protocols — everyone will want to know that you are keeping students safe
A weekly schedule, including full descriptions of each class and virtual offerings
Bios and pictures of the studio owner as well as each teacher
Instructions for students, such as what they should bring, what's available, and what added amenities you provide (such as cooling clothes for savasana or showers)
Your location and contact information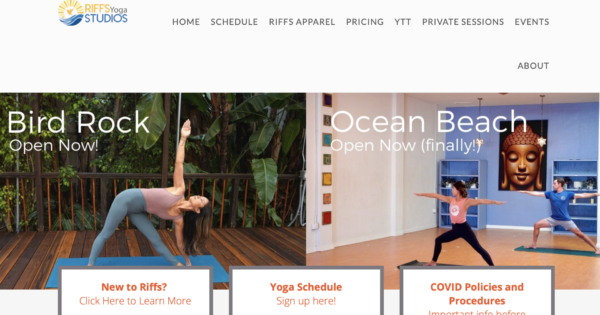 Keep your website updated and consider a redesign if you haven't in a while. It's important to keep your online presence as fresh as your class offerings.
3. Get listed
When students are ready to try yoga, their first action is often to search online. Even if you do not own a studio, it's crucial to have your yoga business listed on Google My Business, Facebook Business, Apple Maps, and Yelp. If you are a member of the Yoga Alliance or other health-related organizations, keep your listing up-to-date there, too.
While you're at it, ask your regular students to post a review of your business on these pages. Hesitant prospective students will want to know what others have to say.
4. Host special events
Some people need a special reason to try yoga, so get creative. Try hosting an outdoor class in a nearby park (check with the local municipality first to get any needed permits). Organize a workshop on alignment principles, inversions, or another skill at which you excel. Perhaps a book club discussing spiritual texts on Zoom would be popular.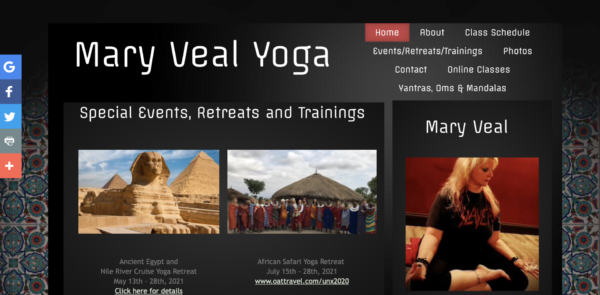 5. Post videos on social media
Sure, I can create an asana flow for myself every day, but sometimes I prefer to follow a class of a fellow teacher on social media. You can post videos to share with prospective students, too.
Don't think of it as competing against other yoga teachers who have social media fame. Instead, focus on your target audience and offer these free classes as a way for them to get comfortable with your style. A good practice is to post on Facebook three to seven times a week with one being a 30-minute Live class.
6. Grow your email list
Especially during times when people are more likely to stay home due to health precautions, staying in touch is more important than ever. You can accomplish this — while reminding students of upcoming virtual and in-person classes — through email marketing.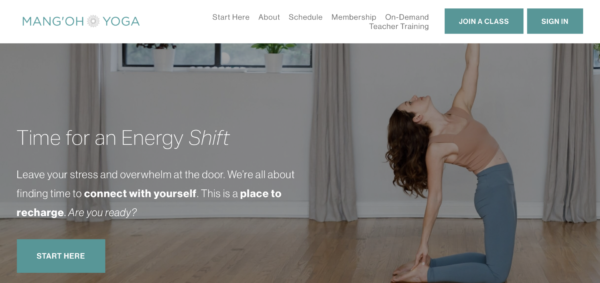 If you haven't gathered email addresses from your current students, start now. It can be as simple as a sign-in sheet at the beginning of class or as savvy as offering a free e-book in exchange for an email address through your website.
7. Partner with local businesses
I worked for years with the owner of a small paddleboarding company when I taught classes in Florida. He partnered with me in the marketing of the weekly SUP yoga classes and helped me with all the necessary equipment before and after class.
This way, I could expand my audience to people who already loved paddleboarding as well as offer a special event for my regular students from my studio classes. Consider your local community: what business could you partner with?
8. Support a worthwhile cause
Take a tip from the restaurants that work with area non-profits when they have a special night where a percentage of the bill is donated to a worthy cause. You can do the same with your yoga classes. You'll give back to the community and connect with people who share your interests and are curious about yoga.
The best part? The nonprofit organization will market on your behalf — perhaps through email segmentation.
9. Create a VIP program
Yoga teachers cherish their regular students, in part because we get to watch people progress on their yogic path. Let them know how much they mean to you by offering a VIP program. Think of it as a restaurant loyalty rewards program. Only, instead of a free dessert, they can get a free class.
10. Encourage students to bring friends
Finally, don't forget the simple power of word-of-mouth advertising as the ultimate in yoga marketing ideas. Offer a referral program in which your students can bring a friend to class (whether online or in-person) where they both receive half-off the full price. Another option is to offer aromatherapy oils during class to those who invite friends.
Get flexible with your marketing
Teaching yoga in today's market can be a challenge. But, if yoga has taught us anything, it's that we can overcome our limitations and succeed. By being strategic and implementing new yoga marketing ideas like the ones outlined in this guide, you'll gain students who appreciate your work.

To get started, begin with your current students. Ask them for testimonials and ideas for workshops. Update your website with these ideas and start testing new outreach initiatives such as collecting emails, hosting online or in-person events, partnering with a local non-profit to raise funds, and more! You may be surprised by your results.

Share with your network