As an entrepreneur responsible for running a car wash business, you likely thrive on helping people take pride in their primary mode of transportation. But while there's a lot to love about your chosen industry, it holds at least one noteworthy downside: car wash advertising can be difficult to navigate.
The car wash and detailing industry is more competitive than many people realize, with large businesses such as gas station chains often attracting the bulk of the attention. Many available solutions can help smaller outfits reach out to customers both online and in-person, but some are more effective than others — and not all offer a desirable return on investment.
As consumers increasingly look to car dealers and gas stations for vehicle care, it's up to car wash businesses to establish a loyal following among customers who value passion and expertise. This can be accomplished by developing a comprehensive marketing plan that emphasizes brand engagement.
Ideally, an effective car wash marketing plan will involve at least a few of the following car wash advertising solutions:
Knowing which advertising approach to use — or which solutions complement each other — can be tricky for busy car wash owners who are often consumed in the everyday challenges of running a business. However, you can't ignore outreach, no matter how challenging it is to implement marketing initiatives in a competitive industry.
We make it easy to find new customers and get repeat business with marketing tools and expert advice.
Search engine optimization
When drivers want to find local car washes, where do they go? Many conduct quick searches on Google, often with help from voice solutions such as Siri or Alexa.
Upon completing a search such as "car washes near me," these prospective customers will encounter search engine results pages (SERPs). Your placement on those pages will be determined based on whether you have a website — and, if so, the extent to which its content is maximized for today's top search engines. That's where search engine optimization (SEO) comes in.
At a minimum, your car wash business should maintain a website with up-to-date content that is designed to attract specific types of search engine users. It should highlight basic contact information — including addresses for all car wash locations, relevant phone numbers, and email addresses. Brand indicators such as logos are also essential.
Beyond contact information and logos, your website should provide plenty of valuable information to visitors. An FAQ section can be helpful for both answering key customer questions and optimizing for voice search.
Consider developing blog content, as well. When properly optimized, well-written and informative articles are among the most effective options for reaching prospective customers via search engines. Examples of blog post topics that motorists might find beneficial include:
Preparing vehicles for winter
How detailing improves a car's longevity and value
Tips for dealing with upholstery stains
Advice on keeping cars clean when traveling with pets or kids
As you come up with relevant topics for your blog, consider what your target customers might want to know. These topics can then be translated into keywords that customers could use when conducting searches on Google or Bing. Don't forget to incorporate local signifiers such as city or neighborhood names, as these help you reach regional customers.
Business listings
Internet users once headed straight for the websites found at the top of SERPs. These days, many find it easier to get the information they need from business listing services.
Google My Business, in particular, represents today's go-to resource for consumers and entrepreneurs alike. Business owners appreciate the extent to which this solution allows them to take control of search engine results and entries on Google Maps.
To begin working with Google My Business, search for your car wash within the service's listings. If your business has not yet been claimed, you'll get the chance to enter details of value to future customers.
In addition to Google My Business, take time to claim your spot on platforms such as Angie's List. Although these sites aren't currently as prominent as Google My Business, they can play a helpful role in establishing your business as a trusted resource.
Online customer reviews
Today's internet-savvy customers will go out of their way to research the businesses they support long before they make purchases online or stop by in person. While many check out websites and social media pages, they also want to know what fellow customers think of offered services. For this reason, you should actively encourage customer reviews.
A variety of websites and apps can make it easy for customers to leave reviews about their favorite car wash providers. Avid reviewers love using Yelp — and while it's largely associated with restaurants, the platform also attracts plenty of feedback for car wash companies.
Many prospective customers favor Google's review platform because of its convenience and integration with the search engine's other offerings. Meanwhile, businesses tend to prefer Google simply because it elicits a demonstrated increase in positive reviews. Data from ReviewTrackers reveals that only Facebook delivers a higher star rating on average.
Regardless of where prospects can find reviews of your company, the mere existence of unprompted feedback could determine whether potential customers deem your car wash business trustworthy. While many customers are quick to leave reviews after enjoying a positive experience with a restaurant or other hospitality business, some neglect to do the same for car washes. As such, it's in your best interest to encourage regular customers to leave reviews.
Some car wash customers may not realize that the need for digital feedback extends to your niche industry. Let them know that their input matters. Use on-premises displays or mentions of review platforms on your website. You can even request them to write reviews by adding a link to a form in your email newsletter.
Social media presence
If your business is not yet active on social media, you're missing out on a major source of brand awareness and consumer engagement. Customers love to follow their favorite businesses on Facebook and Instagram — and many will happily engage with social media content from car wash companies.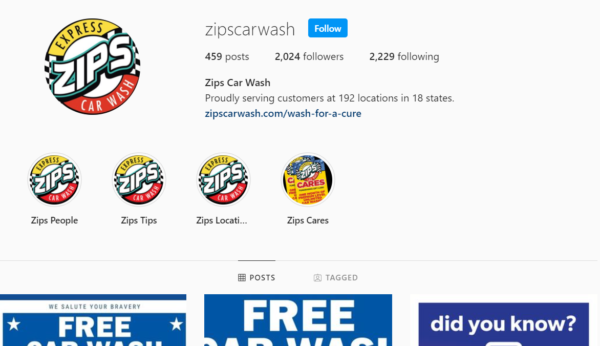 Social media pages are a natural fit for updates on special promotions, but this should only be the beginning. Photos of successfully washed cars are essential. You can also post before and after images that demonstrate just how effectively your business can handle vehicles that seem hopelessly dirty.
Another great use of social media marketing is to highlight your commitment to the community. This could involve sharing or retweeting content from other pages. Your account can also promote local events, including those you sponsor or facilitate. High school sports team fundraisers, for example, provide the dual purpose of supporting local athletes and improving brand awareness on Facebook.
In general, social media pages like yours should provide genuine value to customers, rather than focusing exclusively on car wash advertising content. This approach will help you build a strong connection with followers. The goal is to create a sense of trust while also positioning yourself as an authority in your niche industry.
As you explore your options for social media, consider designating one platform as your primary account. For most car wash businesses, this will be Facebook. The social platform offers a comprehensive paid marketing program while also providing helpful functions such as groups and event pages.
Once you've established a firm footing on your main platform, you can branch out to test the waters with other options such as Instagram, Twitter, Snapchat, or even TikTok. Keep in mind, however, that it can be easy for small business owners with limited time and marketing budgets to spread themselves too thin.
Pay-per-click advertising
There's a lot to love about SEO, social media, and other organic marketing endeavors. Unfortunately, while these approaches can pay dividends over time, they aren't always effective for building prompt traffic. Therein lies the appeal of pay-per-click (PPC) advertising, which allows your business to quickly reach a targeted audience and secure the traffic and conversions you need.
Car wash businesses with limited marketing resources may benefit from the highly controlled nature of paid advertising. Under this approach, you can set and maintain a strict car wash advertising budget. You'll also find it easy to monitor campaign results, which will allow you to determine the return on investment.
Should a particular PPC campaign fail to provide the swift influx in business you need, you can easily adjust your strategy. In most situations, however, a well-managed PPC effort will lead to a quick increase in traffic that will benefit your business as you continue with the more drawn-out process of developing organic content for SEO.
Email marketing
Email remains a powerful marketing channel, despite the current prominence of social media. After all, while different channels appeal to different types of consumers, nearly everyone regularly checks their email inboxes.
Many car wash businesses send monthly newsletters, which — in addition to highlighting top social media updates or blog content — can provide information of interest to regular customers. Think up intriguing subject lines to entice recipients to click. Don't forget evocative images that support your messages while making emails visually appealing.
In addition to newsletters, your email marketing strategy should include automated messages prompted by specific website interactions. For example, customers who join loyalty programs might encounter welcome emails. Those who begin to pre-purchase car wash services online but neglect to follow through may be more likely to convert upon receiving abandoned cart emails.
Email efforts should be regarded as a supplement to — rather than a substitute for — other digital marketing initiatives. Much of email marketing's value lies in its ability to integrate several strategies.
Done right, a single email can link to blog posts, produce more follows on social media, and lead to increased participation for referral or loyalty programs. If you don't have experience in creating email marketing campaigns, check out Constant Contact's user-friendly email marketing tool.
Similarly, other marketing platforms can be used to help build your email list. This could be your best bet for developing a comprehensive yet easy-to-manage marketing campaign that involves several complementary channels.
Referral programs
Current customers can be a great source of new business. However, many of them might not realize the extent to which they can promote your company. Others simply aren't interested in doing so unless they see some personal benefit. That's where referral programs come in. These initiatives can provide powerful incentives for those who get new customers signed up.
Depending on the nature of the program, customers who make referrals can receive various rewards: significant discounts, free services, or even unlimited access for a specific amount of time. They can earn these rewards by sharing relevant posts on social media, directing customers to a website-based contact form, or by simply providing contact information while visiting your business premises in person.
Even if no incentive is provided, many customers will be happy to offer referrals if they're asked. To help this along, provide a streamlined system to make the process of producing and acting on referrals as simple as possible.
Loyalty programs
While there's always a need for new customers in the fast-paced car wash business, long-term patrons are especially important in this niche. A strong sense of community can prove instrumental in developing brand loyalty — but sometimes, it takes an extra push to get customers on board. The reality is that regardless of the quality of your service, motorists can and will be enticed by affordable options offered by larger companies.
Loyalty programs keep customers invested in your brand by providing financial incentives. Many elements of initiatives of this type may resemble those of referral programs. Often, loyalty and referral programs are integrated — with referrals representing just one of several actions members can take to earn points or otherwise make progress towards promised incentives.
Many car wash loyalty programs keep it simple by exclusively rewarding patrons with free washes, but you can also use this opportunity to introduce standard customers to upper-level services. Consider rewarding regular visitors with top-tier car washes or elite detailing. Once they've seen for themselves the amazing results these premium options deliver, they may be more inclined to pay for them in the future.
Take the next step for marketing your car wash business
Are you ready to level up your car wash advertising and marketing strategy?

Take a look at Constant Contact's The Download. This comprehensive marketing guide offers detailed insight into the unique advertising concerns faced by business leaders in your industry.

Share with your network