Accounting firms are facing more online competition than ever before and need to find ways to cut through the noise. Having an accounting advertising strategy in place can help set you apart and grow your client base. But how can you make your accounting business stand out and attract new clients?
In this article, we'll talk about the steps you should take before investing in an accounting advertising strategy. We'll also discuss the different marketing tactics you can implement to grow your business.
What should I do before I start promoting my business?
As you prepare to market your accounting firm online, you'll want to solidify your brand identity and ensure a strong user experience for potential clients by identifying what makes you unique.
Customers today see a plethora of ads. To get your business noticed, your ads need to stand out. Start by offering something your competitors can't. If you specialize in a particular area of accounting or offer a service that other accounting firms don't, emphasize it.
How can I make my accounting business more visible online?
One of the first things you should do to make your accounting business more visible is to create a website if you don't already have one. Your website is an effective way to leave a strong first impression on potential clients.
If you're a new or small accounting business, you can create your own website using a website builder such as Wix or Squarespace. These tools make it easy to create websites from scratch, even if you're not a graphic designer or web developer.
Once your website is up and running, follow the steps below to ensure it offers a strong user experience.
Update your website whenever necessary
Your site should be modern and mobile-responsive. It should clearly detail your services and include an FAQ page where prospects can quickly find what they need to know about your firm.
Don't forget to include a sign-up form, where you can collect prospects' information. You can use it not only to collect email addresses but also to offer a white paper or a short video with accounting tips to new subscribers.
Remove any mention of services that you no longer offer. Double-check your contact information for accuracy. When prospective clients visit your website, you don't want them to be frustrated by missing or wrong information.
Start a blog
Having a blog is a great way to show credibility and build trust among potential clients. Search engines will also view your website as a trustworthy resource, which is an essential part of search engine optimization (SEO) for your accounting firm. This can help boost your SEO rankings and, combined with an accounting advertising strategy for your business, can help increase your visibility online.
Optimize for local SEO
SEO, or search engine optimization, is a valuable marketing tool for accountants. SEO is the practice of increasing exposure to your brand through unpaid efforts. Local SEO is a more targeted type of SEO that allows a website to appear in local search results.
Local SEO requires customized content, on-page optimizations, and link building with a localized intent. You can accomplish this by including the following methods in your SEO strategy:
Create a Services page on your website and list the services you offer — including descriptions of each service that naturally include keywords and phrases that you want to rank for.
Place your address in the footer of every page of your website. Make sure that it's written the same way you have it written on every listing site you're on (consistency is key when it comes to local SEO).
Where appropriate, link to other local companies throughout your site and ask them to share links to your content on their sites. These are called backlinks, and they are an important factor in boosting your search engine rankings. They are also an excellent way to boost your authority on the web.‌
Optimize each page's title tags and meta descriptions to include your location. These are the HTML attributes that provide the name of a webpage and describe the content a user can find on it. Users see them in their search results for a search query.

‌When done right, search results will push a local accounting firm to the top of the page, which can give you an edge over your competitors.
How can I promote my accounting business?
If you want clients to find your accounting business, you need to promote it. People won't be able to find you online if you don't make your business known and highlight your success.
Below are a few ways you can market your accounting business and connect with potential new clients.
‌Client testimonials
Testimonials from past clients act as social proof and endorsements for your accounting firm. If new prospects can see that previous clients have been happy with your services, they'll be more confident in your ability to help them.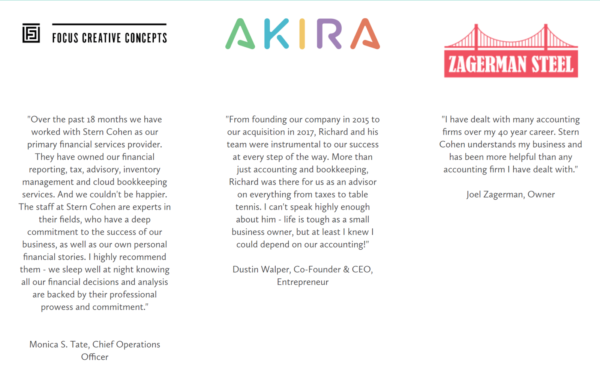 ‌If possible, add a testimonials section or page to your website so you can feature positive reviews. You can also ask your clients to leave reviews on Google or Facebook to help boost your online reputation.
Directories, listings, and reviews
Claiming your business and maintaining your presence in online directories and listings is a worthwhile investment of your time. They are an easy way to build and diversify your backlinks profile. They also help build consistency, which makes search engines more confident that you're located where you say you are.
Local and accounting-specific directories
Directories and listing sites not only add a sense of authority surrounding your website but also boost your relevancy. If your link appears on accounting directories, search engines understand that your site contains accounting-related content. They'll know how to rank it based on users' search queries.
Consider joining national directories such as CPAdirectory and CPA Finder as well as local directories such as your state's CPA society. You can even add your business to the Yellow Pages.
Yelp
Yelp.com is a place where clients can review your services, but it also acts as a directory for all kinds of businesses.
‌‌Research shows that 45% of customers check Yelp before visiting a business. Considering the number of people that could find your accounting firm on Yelp, you should be sure to claim your business and interact with customers on the platform. This will help you come across as a professional business that cares about its clients.
You can also run ads on Yelp, but some marketers believe that ads on Yelp are not as effective as on other digital advertising mediums.
Responding to reviews
When it comes to getting and responding to online reviews, it's important to respond to both positive and negative feedback. Responding to reviews in a positive and helpful manner helps maintain your online reputation and establish trust with your audience.
Owner responses are also a powerful SEO tool. Responding to reviews, even the bad ones, shows that you value your customers' feedback. This helps boost your visibility online, since search engines want to recommend the most credible businesses.
Google Business Profile
While Google Business Profile is both a listing and review site, it is also a free tool that can drive more people to your business either online or in person.
When users search text strings such as "accounting firms near me," your firm should appear high in the list of search results and on Google Maps. The ideal is to be in the top three organic listings in a local search.
For example, if you search for "accounting firms in nyc," you might see a map with nearby accounting firms, as in this image: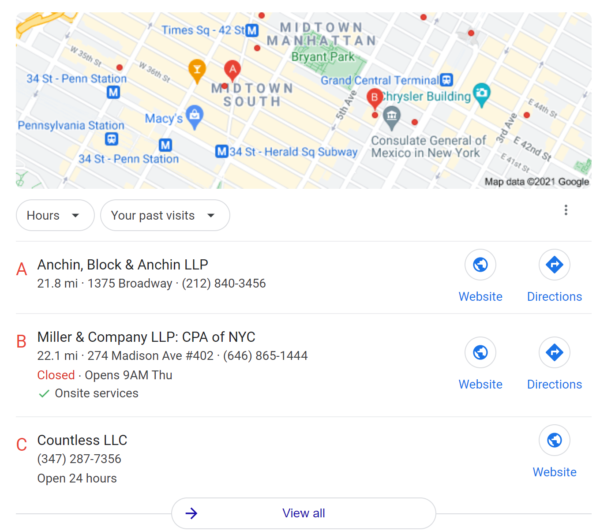 ‌
A Google Business Profile listing can help improve your local SEO efforts. Setting up a profile is easy to do, but that doesn't mean you should do it haphazardly. Be sure to complete your entire Google Business Profile listing, and make sure it's accurate and engaging to encourage more users to visit your site or drop into your office.
Pay-per-click (PPC)
Pay-per-click advertising, or PPC, is a form of online paid advertising in which you're charged only when someone clicks on the link in your ad. The most common PPC ad platforms are Google Ads and Facebook ads.
With Google Ads, you bid on keywords and phrases — similar to an auction. For example, say you want to bid on the phrase "accounting services for small businesses." You establish the amount of money you're willing to spend for your website to appear higher in search results for that phrase. When a user searches for that phrase, Google's algorithms rank websites based on how much advertisers are willing to pay for that term.
With Facebook ads, you target users based on their profile information, demographics, and location. Much like Google Ads, with Facebook, you set your budget in advance so you don't have to worry about spending more than you planned on an ad campaign. Which one you use, however, depends on what's right for your business.‌
Local PPC takes it a step further and targets customers within a specific region. It is an effective accounting advertising method because it helps increase brand awareness, it has high conversion rates, and you can quickly optimize campaigns based on their results. And because your ads are targeted to customers who are local to you, you can ensure that they're only seen by people who can truly benefit from your services.
Social media
Research shows that 53.6% of the world's population uses social media. If your firm isn't currently on social media, now is a good time to start. You don't have to be on every social media network, but you should at least be on one or two so you can make your firm more visible online.
Facebook and LinkedIn, in particular, allow you to create highly targeted ads that can reach a higher number of people than your organic efforts alone would.
When your business is on social media, you can connect with other accounting professionals, update your followers on news about your company, and share valuable information or accounting tips.
Email marketing
Email marketing is a great way to stay in touch with your current clients and drive repeat business. When your subscribers share or forward your emails to their friends, it can also help you grow your email list and win new clients.
There are many different ways to grow your email list, but one of the most effective methods is to create a lead magnet campaign. A lead magnet campaign allows you to collect an individual's email address in exchange for something valuable, such as a white paper or case study. Potential customers may be hesitant to give up their email addresses, but by offering them something useful, you can demonstrate your expertise and entice potential clients to stick around.
Looking for more accounting advertising tips?
Digital advertising may seem overwhelming, but it doesn't have to be. If you're still unsure about the best way to implement an accounting advertising strategy, check out The Download for more tips for the accounting and financial services industries.

Share with your network