Email marketing could be your best friend when generating and converting more leads for your business. Automotive email marketing is a low-cost way to make a lot of money by connecting with your audience directly in their inbox. By the end of this guide, you'll know what email marketing is, how it can help you, and how to do it.
We make it easy to find new customers and get repeat business with marketing tools and expert advice.
What is email marketing?
Email marketing is a series of emails with unique messages and calls to action. Auto repair email marketing revolves around sending the right message to the right person. When you get someone's email address, you can start nurturing your lead until they turn into a customer. And even after someone does business with you, email marketing can encourage them to remain a loyal customer and may result in repeat business.
Why use email marketing?
A recent study revealed some interesting benefits of email marketing. Every $1 that you spend on email marketing can convert to about $42 of profit. This makes it one of the highest Returns on Investment (ROI) in the world of marketing.
This means that you spend a little bit of money and time setting it up, and you make a ton of money on the other side. The best part is that a well-run car repair email marketing campaign doesn't take that much effort. All of the guides on email marketing agree that the process is straightforward and requires very little money upfront.
Types of email marketing messages in the automotive industry
Now it's time to learn about the different types of emails you can send. At this point, you should have a list of people who signed up through your site with their email address. If you don't, here are some tips on how to grow your email list.
Welcome email
When someone gives you their email address, they should receive a welcome email. This initial message is all about thanking them for signing up and welcoming them to the mailing list. It should be brief. A long welcome email can scare people away, and they might immediately unsubscribe.
In the body of the email, outline what the reader can expect in future emails. Make sure to mention that you'll never spam their inbox, and they'll only get meaningful information.
Invitation to connect
Now that the recipient has been welcomed, the next step is to encourage them to connect with you. This type of message usually links to your social media account, website, and anywhere else the user can find you online. Send it a few days after your welcome email. Again, you'll want this message to be short and to the point.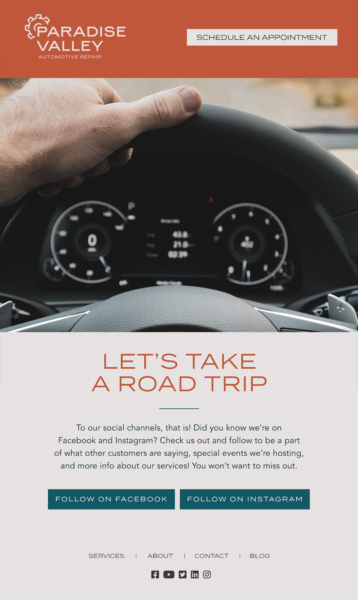 When someone follows you on multiple platforms, they'll feel more connected to your company. You won't just be an automotive company anymore, but a brand they see every day. The other good thing about this email is that it helps all of your social media accounts. The more followers you get on your pages, the more credibility you'll have. It also gives you a wider audience, which can lead to more money in your pocket.
A monthly newsletter
Many successful automotive email marketing campaigns involve a monthly newsletter. This is your opportunity to tell people what to expect in the coming month. It can involve industry news, updates from your company, and promotions you'll be running. You can even include a specific discount code that recipients can use on their next purchase.
Sending this message every month is a good way of keeping your name generating. When people get your message, they'll immediately remember your company and might reach out to buy something from you.
One message a month is the ideal frequency. It's not too spammy, and it's not so far apart that customers will forget about you.
Promotional emails
Like monthly newsletters, a promotional email will outline something going on in your company. The difference is that a promotion email is only surrounding one event.
Brands use these emails when there's a big event coming up or a sale that people can't afford to miss. The message should only revolve around the promotion. Don't forget to add any necessary links to help people find more information.
Remember to keep the emails short
A big tip for running an email marketing campaign is to focus on the length of each email. You don't know what people are doing when they receive your email. If your message includes a wall of text that takes 20 minutes to read, no one will spend the time to read it.
A few paragraphs will do a good job of getting your message across. It allows people with busy lives to quickly glance at the email and see what you're talking about.
Stick to a single point
Another thing to keep in mind is your email's purpose. From the subject line to your email's final word, there should only be a single point to your message. Welcoming emails are for welcoming. Engagement emails revolve around asking the recipient to engage with you. Newsletters are there to tell the recipient what's new.
If your email bounces from one idea to the next, the reader could get confused. It might even come across as desperate and poorly managed. You always want your email marketing campaign to reflect positively on your company.
Use automation in your email marketing campaign
Experts suggest that marketers use tools to automate email marketing. This allows you to design emails specific to a customer or action, and automatically send them when the user reaches a trigger. The more automation you have, the less time you'll spend creating emails.
For instance, you can use click segmentation on your website to automatically group your customers by categories like those who have regular maintenance requests, require repairs for insurance claims, or even by shop location. All you need is a simple form on your site, and your visitors can select the service or location they're looking for, and essentially segment themselves!
Email automation also comes in handy to use as a regular reminder for your customers, so they know to come back in for routine maintenance. Segmenting your mailing list and setting up automated messages can ensure that the right person sees the appropriate message every time.
Send a message after an action
Consider your strategy for connecting your email marketing with actionable triggers. If someone signs up for your mailing list, they should automatically get a welcome email—and potentially a discount code for their requested service.
When they receive an e-receipt for a service, your customer should receive a thank you message. By sending messages after an action, your email marketing campaign will be more effective at earning repeat customers.
Never get spammy
The worst thing you can do is send too many emails. Consider what you would personally do if someone sent you an email every day for a month straight. Maybe by the fourth day, you'd hit the "unsubscribe" button and tell all your friends about how annoying that company is. It hurts the company's reputation and drives customers away.
Sending more than a few emails a month is overkill. Unless the customer completed many actions that triggered emails, they shouldn't expect to see your emails too often.
Start planning your emails
Now you know what it takes to run a strong automotive email marketing campaign. All it takes is a strategy to gain subscribers and quality content that gives your readers a clear call to action. This low-cost method is easy to do and can make your company a lot of money. Remember to use automatic tools, stick to a single point, and avoid spamming your mailing list. If you want more information, you can always download the ultimate guide to online marketing your auto company.

Share with your network