New and emerging bands have a better chance of building a fan base and gaining notoriety when their albums and shows are covered by the media. Coverage in small, local publications and blogs helps get your name out in the area, which brings more people to your shows. Writing your own band press release will help get you on the radar for media coverage.
This article will detail how you can write a press release to build a following for your independent band. It will cover:
Why your band needs to write press releases
When to use a press release
Tips for writing a band press release
Sample press releases
Press release templates
We make it easy to get your work out to your network and beyond with all the marketing tools you need.
Why your band needs to write press releases
Getting a write-up from a news or entertainment outlet provides publicity for your band and it can generate a bigger audience for your gigs.
Crafting a compelling press release can help you get coverage from different media outlets.
Regularly writing and distributing press releases also builds your network of music media personnel in your area. Once you have established regular contacts, you can pitch them more often. If you have a good relationship, they might be able to help you come up with angles for covering your band.
When to use a press release
Bands most often use press releases for big announcements like a new album release, an event such as a listening party, or announcing a gig or a tour. When used correctly, press releases create interest in your event and entice members of the media to cover it. Press releases should only be used to highlight events and announcements that are newsworthy. What makes an item newsworthy?
Timeliness
Proximity
Impact
Timeliness
News organizations are generally interested in recent and current events. If you send them a press release pitching a story on an album that is more than a year old, they will likely delete your email without even considering it. Make sure that the angle of your press release is fresh, such as a new album or an upcoming event that you'll be playing.
Proximity
People and the media tend to care more about events in their area. If your band is playing a show in Cleveland, for example, a blogger from Chicago probably isn't going to be interested in covering it. Most smaller media outlets like stories that can be told from a local angle. Give them this angle in your band press release.
Impact
Impact is the importance of the story to the reader. It's about how many people will be affected by your story and why they should care. For a band that is already famous, impact is likely built into the story already. If you're just starting out, however, you will need to come up with angles that are important to a broad audience.
Tips for writing a band press release
Before you begin writing your press release, do some research about the publications that you're pitching to. While you can send out a generic press release to a variety of organizations, you will probably have more success if you tailor your pitch to each publication. To avoid spam filters, put your press release in the body of an email rather than in an attachment.
Look through previous music stories written by a publication to see if you can offer a similar angle. Don't simply write to a news organization and pitch a story for a band profile or an album review. Choose a topic that is timely and interesting to people in your area. For example, if your band is playing at a charity fundraiser, include information about the organization for which money is being raised.
Here are five tips to help you do your press release right:
1. Create a dynamic headline
Your headline is the piece that builds interest in your story. Write it in the active voice to grab the reader's attention, and keep it short. Your focus is to get the person receiving your email to open your press release and read it. A clunky headline will likely get your message sent to the trash.
For example, if your band is opening for a more popular local band, the headline "XYZ Band To Open for Famous Band on National Tour" is more effective than "XYZ Band To Be Given the Opportunity To Open for Famous Band."
2. Answer the Five Ws
Like in any news story, the first paragraph of your band press release should include the basic facts. Answer the Five Ws in this paragraph: who, what, when, where, and why. This is the most important paragraph of your press release because it lays out why your media contact should write about you. Get straight to the point and tell your reader about your news.
3. Get into the details
The body of your press release is where you can include details that enhance your story. Here you can detail your band's history and tell how your event came to be. If your band is hosting an album release party, for example, include a few sentences about the album's inspiration in this section. Don't go overboard promoting your band. A press release should be objective; it should not read like an advertisement.
4. Summarize the event
Wrap up your band press release by summarizing your event and establishing why the media should cover it. If your band is going on tour, this is where you would include details like cities and dates. If there is something interesting about the tour that makes it special, expand on it in this section.
5. End with a call to action
Close your press release with contact information and a call to action for the recipient to follow up with you or your band manager for more information. Following the closing paragraph, include the word "END."
Sample press releases
Universal Music Canada posted a press release for artist Harry Connick Jr. that details the release of Connick's latest album and includes a personal statement from the singer on how COVID-19 inspired the album. This press release highlights two angles of the album's story. The first is that Connick's daughter created the album cover and the first video. The second is that this album is a departure from Connick's traditional musical style and focuses on faith during the coronavirus pandemic.
Prescription Music posted a press release for the band IDLES about their new music video. To create interest in the video, the company tied it in with Independent Venue Week — an event for independent artists in the UK. The band shot various scenes in different venues and used the video to highlight the event. In the press release, band members talk about the importance of these venues in light of pandemic-related shutdowns.
Artist Newswire recently posted a band press release highlighting a new single from the band KhulaRae. This press release tells the story from a human-interest angle. It starts by highlighting how the duo collaborated with dancers and choreographers in the video and then goes into some personal details about the band members. Both band members had gone through some struggles in the past few years, and this press release uses that angle to connect the band with readers.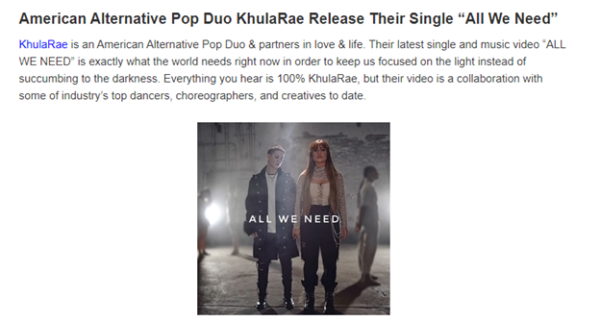 Universal Music Canada posted a press release discussing how The Weeknd's recent Super Bowl halftime show performance prompted a sales boost for his latest singles. The press release also detailed his new tour with expanded dates. This is a good example of how to use a timely event to your advantage. Your band isn't playing the halftime show, but any connection you have with an event in your area makes an interesting and newsworthy story. Keep your eye on the headlines and look for connections when you're drafting pitches.
Press release templates
As the lead singer of a garage band or a new band manager, you might not have gone to school for journalism. Crafting killer band press releases is a skill that takes a while to learn, and your first few press releases probably won't be perfect. Thankfully, there are a number of music press release templates available to help you create your own. Use the following templates for inspiration and structure, but don't plagiarize them.
Start writing your band press releases
Skillfully writing and distributing press releases is a key promotional tool for your band. It can help you get in front of the media and entice them to cover your event. Once you have written a few band press releases, you can build relationships with your media contacts. They might be interested in covering you in the future and can help pass your name along to fellow members of the media.
Now that you know the components of a good press release, start researching publications in your area and building a contact list. Use a template and tailor it slightly for each contact. This tool can help your band gain a following in your area and improve your chances of success.
Learn more about building a digital media strategy for your band with The Download: Making Sense of Online Marketing.