In my earlier posts, I talked about how Dakota Riley of Keller Williams Realty adopted the "Depend on Dakota" brand name in a play to stand out from her competition and resonate in the minds of prospective home buyers and sellers on the South Shore of Massachusetts.
With a memorable brand name, we then developed brand graphics, including a logo and professional headshot, in order to convey Dakota's professional identity.
Of course, a brand is no good if people can't see it — our next step was to develop a comprehensive real estate marketing strategy to promote the "Depend on Dakota" brand.
What is an integrated marketing strategy?
The best marketing strategies leverage a combination of media channels and tools to spread a marketing message. By combining a wide array of tools and platforms from both traditional and digital marketing, brands can ensure that they reach their audience and build brand awareness. This is referred to as an integrated marketing strategy
At the end of the day, an integrated marketing strategy can be as simple or complex as you make it. Most realtors adopt a very simple integrated marketing strategy including but not limited to:
"For Sale" signs in the front yard
Business cards
Standard brochure websites
In-person networking (BNI, Rotary, Chamber of Commerce, supermarket, etc.)
Most realtors join agencies like Keller Williams or Coldwell Banker and are provided with all of these marketing materials. As a result, most realtors blend in with the competition.
We couldn't have Dakota blending in…
The Depend on Dakota Integrated Marketing Strategy
Business cards and lawn signs weren't going to cut it. We needed to think outside the box.
We wanted to make the Depend on Dakota brand ubiquitous and consistent. Wherever prospective clients encountered the brand, we needed them to see the same logo and face of their next realtor.
Website Redesign
A major element of the integrated marketing strategy was to drive prospective clients to Dakota's website where they could learn more about her, request a comparative market analysis, and view available properties for sale.
We needed to make sure her website was easy to find, so we purchased www.DependOnDakota.com as her domain name. We then forwarded this URL to her existing Keller Williams website.
On the website, we added brand graphics to provide a consistent brand experience. We also optimized the site for search engines by incorporating branded search terms (i.e. Dakota Riley, Depend on Dakota) and non-branded search terms (i.e. Weymouth Homes, Quincy Realtor) in the site's meta titles and meta descriptions.
As a result of our redesign and optimization efforts, Dakota has increased her online leads by over 130%.
Print Media
Now that we had a beautiful new website, we focused on the print media. We revamped all of Dakota's business cards and handouts to include the new brand graphics and red/black color scheme. Of course, we made sure to include her email address and new website URL.
Radio Advertising
Knowing that we wanted to reach commuters, we first tried radio advertising. Despite chatter that "video killed the radio star" we still saw regional radio as an effective way to build brand awareness for Dakota. Over a 3-month timeframe, we wrote and recorded several amusing, light-hearted but heavily-branded radio spots on WPLM 99.1.
To get the most bang for our buck, we uploaded the finished sound files to Soundcloud and also created quick YouTube videos to appear in search results.
Ultimately, as much fun as we had recording the radio spots, we found that we could not effectively measure the return on investment. Anecdotally, we knew Dakota had landed a new home buyer and over 5 website leads, but we needed more concrete reporting, so we ended our radio campaign.
Direct Mail
Direct mail is another example of a traditional marketing channel to promote visibility of the brand. The caveat with direct mail is the same as radio: we could not truly measure results. When we sent a postcard, we didn't know if it was hung on the refrigerator or thrown in the recycling bin. Still, we saw value in getting the "Depend on Dakota" brand into prospects' mailboxes.
As one example, we sent a postcard to every resident at a locally-based community of condominiums (Dakota's residence.) We knew a vast majority of the 300+ neighbors had seen Dakota, and we wanted to make sure they knew she was a realtor who could help them sell their condo.
As a result of our "Hey Neighbor" campaign, Dakota has been able to pick up 5 condo listings and sold 2 of them within 1 week. Moreover, neighbors now approach Dakota with questions on home values and the potential of selling. One little postcard solidified her as the resident real estate expert on which neighbors can depend.
Social Media
According to the Constant Contact "Then & Now" study, only 10 percent of small businesses used social media marketing in 2008. Compare that to 87 percent of small businesses in 2013. The proof is in the pudding: it's pretty much mandatory to leverage some form of social media in today's business world.
A lot of realtors think they're effectively using social media, but they're really just posting up links to listings on their personal Facebook profile, which, in turn, annoys their friends and family. Instead, we opted to drive eyes on the Depend on Dakota brand through social media channels including a Facebook Business Page, LinkedIn, and Houzz.
About 80 percent of the content we publish is fun, interesting, and community-focused to establish Dakota as a local expert in the towns of Weymouth, Braintree, and Quincy, MA. We devote about 20 percent of our posts to business-related topics like new listings or open houses.
As a result of our social media efforts, Dakota has been referred 3 new clients by friends on Facebook in the past 3 months.
Moving Billboards
MBTA Busses
After our foray in radio advertising, we knew we still wanted to reach commuters. This time we wanted to make sure we got the branding in front of prospective clients, so we explored billboards and banner space for rent.
As I sat in traffic behind a bus one day, I thought to myself, "What if I was staring at Dakota's ad?" It was as if lightning had struck, we had to get Dakota on the back of MBTA busses.
As a result of our MBTA bus ads, Dakota has seen a huge boost in her business. Prospects contact her via phone and email, and we've seen an increase in her web leads as well.
Bed, Bath & Beyond Carts
It's important to reach prospects when they are in a certain mindset. For example, if we were selling food, I'd want to target customers at 11 AM when they're beginning to feel hunger pangs in anticipation of lunch.
In the case of Dakota, we felt marketing to Bed, Bath & Beyond customers would be ideal, as they are thinking about ways to improve their home. Selling your home or buying a new home isn't a far stretch from furnishing your home, so we began marketing on all of the Bed, Bath & Beyond shopping carts.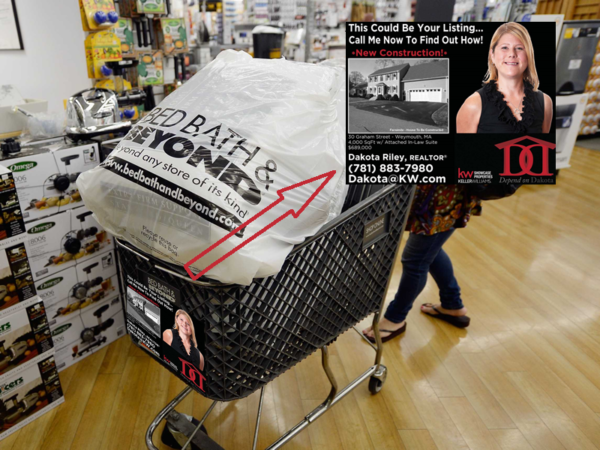 Although Dakota has received several compliments on her new shopping cart ads, our Bed, Bath & Beyond campaign just started, so we do not have any direct results.
Constant Contact Email Marketing
Last, but certainly not least, we leverage Constant Contact to engage Dakota's past, current, and prospective clients on a weekly basis. Our email campaigns contain informative content including upcoming events, local things to do, and trivia about the communities.
To avoid alienating readers and prevent unsubscribes, we purposely place fun, engaging content at the top of the campaign and showcase Dakota's property listings at the bottom of the campaign.
Sending on a consistent day and time (Thursday around 10 AM) has helped us to set an expectation with our readers. We also use the same template (simply replacing content and images) to avoid confusing our audience. As a result, we experience an average 22% open rate and 14% click rate, leading to a healthy number of property showings for Dakota. Check out this example of one of our previous campaigns.
Tying it all together, we now had a memorable brand name and graphics, and we'd successfully promoted our new brand to our target audience through an integrated real estate marketing strategy.
A few key lessons to consider:
As you can see, the marketing tactics we chose for Dakota were dictated by the industry that she works in and the audience she serves. As a business, you'll need to perform a similar exercise when deciding where to invest your marketing dollars.
Whether we were crafting a message for a radio spot or designing an email  to send to Dakota's clients online, we made sure to keep Dakota's message clear, consistent, and on-brand.
After trying each tactic, we made sure to closely monitor our results to make sure that we were not only reaching a wider audience, but that we were actually helping Dakota get in front of the right people and generate business results.
Want to boost your real estate business? Visit our Real Estate Marketing Ideas page for more email marketing tips and advice on what to send. 
About the author: Bryan Caplan of BJC Branding is a Master Certified Authorized Local Expert for Constant Contact. BJC Branding, based out of the Greater Boston area, provides educational workshops and marketing consulting services to a wide range of businesses. Learn more.