EDITORIAL NOTE: This is part 2 of a series on branding. To get the whole story, start with What Is a Brand? Part one of How to Build a Multi-Million-Dollar Brand.
When we last left off, Dakota Riley of Keller Williams Realty had just spread her branding wings in an attempt to differentiate herself from the countless real estate agents in the South Shore of Massachusetts. After taking a 30,000-foot view of Dakota's business model and competitive landscape, we decided to build the brand as "Depend on Dakota".
We effectively positioned Dakota's brand name to tell a story of how potential home buyers and sellers could put their trust in Dakota to get the best deal possible. After all, this was one of the most important investments of a client's life, and Dakota needed the client to know that she would go to bat for the client's best interests.
"Depend on Dakota!" It just rolled off the tongue. It was short, sweet, and to the point. Best of all, it was memorable.
What makes a memorable brand name?
Building a memorable brand name is imperative in marketing. Brand names bundle two elements together:
Denotation – the strict dictionary meaning of a word
Connotation – the emotional and imaginative association surrounding a word
Because humans process a brand name both literally and emotionally/imaginatively, when creating a brand name, we need to play to both of those aspects.
A great example of denotation and connotation is the number 13. Denotatively, we know 13 is one more than 12, the sum of 6 + 7 or 10 + 3, and is a prime number. Connotatively, 13 is unlucky – think Friday the 13th or how hotels sometimes skip from the 12th floor to the 14th floor. In essence, we wouldn't want to include the number 13 in our brand unless we're selling "lucky rabbit's feet" or broken mirrors.
Connotation also elicits an emotional response such as with the Dove Beauty Bar. As a customer walks down the cosmetics aisle, they gravitate towards Dove because using it will make them feel beautiful. They'll feel confident going out in public because the Dove Beauty Bar will caress them and make sure their skin is flawless. Dove Beauty Bar elicits that emotional response the consumer desires, and as a result, the consumer remembers the Dove Beauty Bar when making their soap purchase.
Similarly, with the Depend on Dakota brand name, we knew we were conveying trust, reliability, and experience with those three little words.
Recognizing The Brand in the Blink Of An Eye
Our brand name was effective, but it didn't tell people Dakota's line of work. We could picture people saying, "Depend on Dakota for what?" and that wouldn't cut it, so we added brand graphics including a logo and a professional photo.
According to an MIT Study, the human brain can process an image in just 13 milliseconds. As a point of comparison, it takes a human 300 to 400 milliseconds to blink an eye. Within just one blink, we needed to convey Dakota's professional identity. That's where we developed her logo.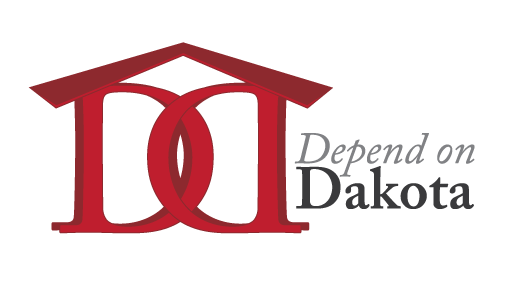 Through a visual lens, the Depend on Dakota logo ties into our brand name with its two reverse "D's" acting as the walls of the house. We added a roof at the top to really "drive home" the idea (pun intended). It's simple, clean, and easily identifiable as the shape of a house within the blink of an eye.
Through a psychological lens, we chose to incorporate shades of red because it is an energizing color that excites emotions and motivates the consumer to take action. Red is also a bold color and can give confidence to those who are lacking the willpower to take that plunge and buy or sell a home.
Tying The Brand Together
We had now successfully created the brand name and designed the logo, but there was one missing piece of the puzzle: a professional photograph. People are biologically set to respond to the human face, and being that real estate is a very personable industry, we needed to put our best face forward to make the Depend on Dakota brand as approachable as possible.
We hired a local photographer to take headshot photos of Dakota. During the shoot, we made sure Dakota had the proper posture, smiled wide and looked directly at the camera. We wanted someone to look at the photo and say, "Wow, Dakota seems like a friendly, confident real estate agent."
Tying it all together, we now had a memorable brand name, an informative logo, and a likable, professional photo. The Depend on Dakota brand was finally ready to meet the world and start making millions.

How do I promote my brand?
Of course, a brand is no good if people can't see it — our next step was to develop a comprehensive real estate marketing strategy to promote the "Depend on Dakota" brand.
What is an integrated marketing strategy?
The best marketing strategies leverage a combination of media channels and tools to spread a marketing message. By combining a wide array of tools and platforms from both traditional and digital marketing, brands can ensure that they reach their audience and build brand awareness. This is referred to as an integrated marketing strategy
At the end of the day, an integrated marketing strategy can be as simple or complex as you make it. Most realtors adopt a very simple integrated marketing strategy including but not limited to:
"For Sale" signs in the front yard
Business cards
Real estate websites with IDX integration
In-person networking (BNI, Rotary, Chamber of Commerce, supermarket, etc.)
Most realtors join agencies like Keller Williams or Coldwell Banker and are provided with all of these marketing materials. As a result, most realtors just blend in with the competition.
We couldn't have Dakota blending in…
The Depend on Dakota Integrated Marketing Strategy
Business cards and lawn signs weren't going to cut it. We needed to think outside the box.
We wanted to make the Depend on Dakota brand ubiquitous and consistent. Wherever prospective clients encountered the brand, we needed them to see the same logo and face of their next realtor.
Website Redesign
A major element of the integrated marketing strategy was to drive prospective clients to Dakota's website where they could learn more about her, request a comparative market analysis, and view available properties for sale.
We needed to make sure her website was easy to find, so we purchased www.DependOnDakota.com as her domain name.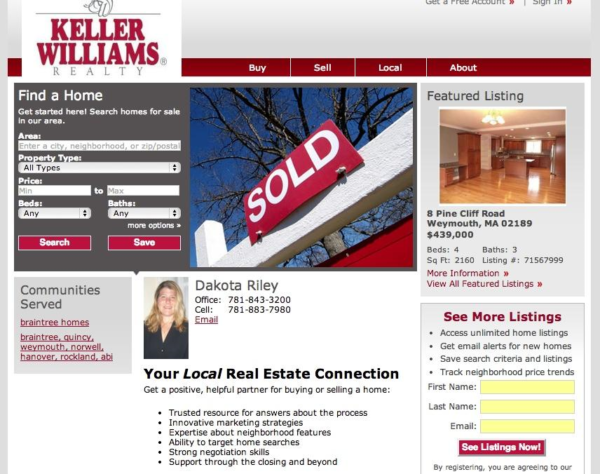 Over the years, we've forwarded this domain name to different versions of her site before landing on a professional website design with a built-in CRM for her team.
Print Media
Now that we had a beautiful new website, we focused on the print media. We revamped all of Dakota's business cards and handouts to include the new brand graphics and red/black color scheme. Of course, we made sure to include her email address and new website URL.
Radio Advertising
Knowing that we wanted to reach commuters, we first tried radio advertising. Despite chatter that "video killed the radio star" we still saw regional radio as an effective way to build brand awareness for Dakota. Over a 3-month timeframe, we wrote and recorded several amusing, light-hearted but heavily-branded radio spots on a local radio station.
To get the most bang for our buck, we uploaded the finished sound files to Soundcloud and also created quick YouTube videos to appear in search results.
Ultimately, as much fun as we had recording the radio spots, we found that we could not effectively measure the return on investment. Anecdotally, we knew Dakota had landed a new home buyer and over 5 website leads, but we needed more concrete reporting, so we ended our dreams of becoming radio superstars.
Direct Mail
Direct mail is another example of a traditional marketing channel to promote visibility of the brand. The caveat with direct mail is the same as radio: we could not truly measure results. When we sent a postcard, we didn't know if it was hung on the refrigerator or thrown in the recycling bin. Still, we saw value in getting the "Depend on Dakota" brand into prospects' mailboxes.
As one example, we sent a postcard to every resident at Weymouthport Condos where Dakota was a resident. We knew a vast majority of the 300+ neighbors had seen Dakota, and we wanted to make sure they knew she was a realtor who could help them sell their condo or buy a new investment property.
As a result of our "Hey Neighbor" campaign, Dakota has become a realtor of choice for her neighbors at Weymouthport and continuously picks up the lion's share of condo listings each year. Moreover, neighbors now approach Dakota with questions on home values and the potential of selling. One little postcard solidified her as the resident real estate expert on which neighbors can depend.
Social Media
A lot of realtors think they're effectively using social media, but they're really just posting up links to listings on their personal Facebook profile, which, in turn, annoys their friends and family. Instead, we opted to drive eyes on the Depend on Dakota brand through social media channels including Instagram, Facebook, and LinkedIn.
About 80 percent of the content we publish is fun, interesting, and community-focused to establish Dakota and her team as local experts for the South Shore of Massachusetts. We devote about 20 percent of our posts to business-related topics like new listings or open houses. We're also sure to share Dakota's most recent email campaign to her social following to get extra eyes on her links.
As a result of our social media efforts, Dakota continues to receive referrals for buyers, sellers, and even prospective new members of the Depend on Dakota Team.
Email Marketing
Last, but certainly not least, we leverage Constant Contact to engage Dakota's past, current, and prospective clients on a weekly basis. Our email marketing campaigns contain informative content including upcoming events, local things to do, and trivia about the communities.
Sending on a consistent day and time (Thursday around 6 AM) has helped us to set an expectation with our readers. We also use the same email template (simply replacing content and images) to avoid confusing our audience. As a result, we experience an average >30% open rate and consistent click rates, leading to a healthy number of property showings for Dakota.
Tying it all together, we now had a memorable brand name and graphics built on science-backed research, and we'd successfully promoted our new brand to our target audience through an integrated real estate marketing strategy.
A few key lessons to consider:
As you can see, the marketing tactics we chose for Dakota were dictated by the industry that she works in and the audience she serves. As a business, you'll need to perform a similar exercise when deciding where to invest your marketing dollars.
Whether we were crafting a message for a radio spot or designing an email to send to Dakota's clients online, we made sure to keep Dakota's message clear, consistent, and on-brand.
After trying each tactic, we made sure to closely monitor our results to make sure that we were not only reaching a wider audience but that we were actually helping Dakota get in front of the right people and generate business results.
Ready to do more business with email marketing?
Bryan Caplan is all about helping you build a bigger, better business. A national speaker for Grow with Google and Constant Contact, award-winning CEO of BJC Digital Marketing and co-host of the Bigger Better Biz channel on YouTube, Bryan works with entrepreneurs around the world, teaching and coaching on digital marketing topics to help small businesses grow and succeed. Connect and Learn with Bryan and his team by visiting https://www.bjcbranding.com/go.

Did you know? Constant Contact offers a corporate account option designed for real estate brokers/owners, so you can provide agents with all the digital marketing tools they need, in one place. Benefits of a corporate account include a discounted rate for your agents, locked branded templates to keep brand consistency across all users, tools to track results (opens, clicks, etc), and more. For more information, fill out this quick form, and we'll reach out with more information on how you can make your marketing easier and more consistent throughout your brokerage.

Share with your network