While the fashion industry is ever-evolving, it will always offer budding designers and retailers the chance to bring their creativity and style to the masses. The past decade has seen a major shift as many customers have migrated from buying in person to shopping online, including at small ecommerce shops. In 2021, online fashion was valued globally at $759.5 billion and is expected to grow to over $1 trillion by 2025.
Tap into this ever-expanding market using the clothing brand marketing ideas detailed in this article.
Get all the tools you need to quickly find new customers and grow your retail store's sales.
Why your clothing brand should be marketing online
When learning how to market your clothing brand online, you may also be curious as to why. The simple answer: Many fashion consumers shop online. In 2020, online sales accounted for nearly 30% of all fashion purchases. Thus, modern marketing, also known as digital marketing, continues to be one of the most effective methods for reaching online shoppers. With global shipping, today's fashion brands have access to customers across the globe.
If you want to grow your clothing brand, digital marketing can help.
Not convinced? Take a look at sustainable fashion brand Everlane.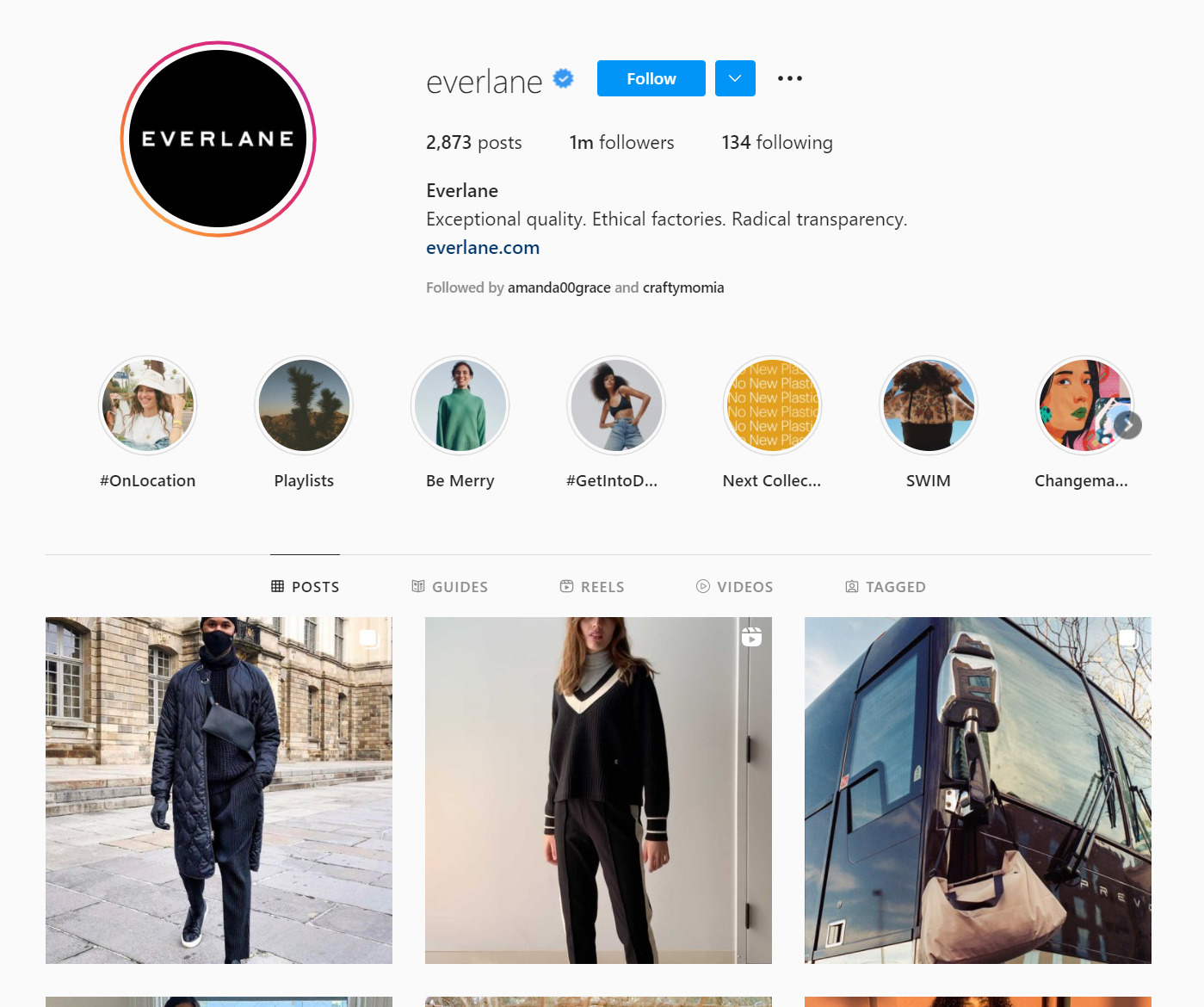 Strictly an ecommerce store, Everlane has grown to more than 1 million followers on Instagram and over $100 million in revenue.
How to build your clothing brand
When it comes to building a clothing brand there's a couple of key things to keep in mind. The first is to use your personality or, create a brand avatar with its own personality and style. Then, be consistent.
Consistently show your brand personality on your fashion blog and social media platforms. And, be sure to post regularly.
Once you've started introducing yourself online, use these fashion brand marketing ideas to grow your business and increase sales:
7 clothing brand marketing ideas to connect with customers
1. A strong Instagram presence
Clothing brand marketing ideas would not be complete without social media. Instagram pairs well with fashion, particularly in the age of the influencer. It can be argued that influencers are now more important to fashion brands than fashion editors.
Learning how to curate your social media feed and communicate your brand personality to customers can take you from a small shop to a global brand. To create a successful Instagram feed, follow these tips:
Take compelling photos
Engage users
Tag your products in shoppable posts
Your Instagram posts should always include high-resolution pictures that are visually appealing. These will help you stand out to users and can improve your click-through rates.
Uncommon James, a jewelry and home goods brand founded by reality star Kristin Cavallari, includes magazine-worthy posts of jewelry both on models and on display in its Instagram feed. This gives users a good idea of how each piece would look when worn.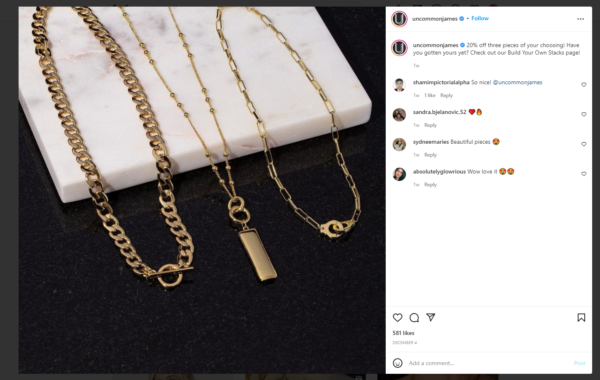 2. Optimizing your website
When you optimize your website, it pops up higher in search engine results pages, which grabs the attention of people searching for similar products. Search engine optimization (SEO) involves using keywords, phrases, and other tools to help Google and other search engines find you.
For ecommerce businesses, product descriptions are perfect for adding keywords. If you're selling shoes, keep your descriptions simple. Include words like "black suede boots" that will help customers find your inventory without looking for you by name.
3. Content marketing
Clothing brand marketing ideas include fashion blogging, creating unique campaigns for new releases, generating posts and/or videos for social media, and more. Regularly posting content improves your performance in search results and makes you discoverable online.
Create a content marketing strategy to stay on top of your posts. Use a marketing calendar to track posts across social media platforms including Instagram, Pinterest, Facebook, Twitter, and more.
Posting regularly helps encourage more users to engage with your business. When you create engaging content, you can promote it through social media and email marketing, generating interest and excitement for your brand.
4. Local search optimization
If you have an online shop and a brick-and-mortar location (or you're looking to open one), optimize your internet presence for local search. Local search is becoming more commonplace, particularly with the rise of virtual assistants and mobile search capabilities. People use their phones to find businesses near them, and you want to be included in the results.
The first way to optimize your business for local searches is to create a Google Business Profile. This tool lets you update your address, phone number, and hours. Plus, you can manage customer reviews of your business using this tool.
5. Paid Facebook ads
Although you can grow your online following organically by posting regularly on social media and using hashtags to help people find you, boosting your posts through paid ads lets you cast a wider net. Facebook has a variety of options for paid posts, and you can easily create ads with your most popular organic posts.
Facebook lets you target your ads to a specific audience based on shoppers' region, demographics, or interests. Simply run an ad for the audience that's most likely to be interested in your brand.
You can also use Facebook lead ads to grow your email list. These are just like other Facebook ads, but the copy and call to action (CTA) are designed to drive people to your email sign-up form.
6. Email marketing
Once you've built an email list, use it to promote your fashion brand. Clothing brand marketing ideas such as email marketing tend to be successful for fashion brands. You can use this digital tool to send coupons, reward loyal customers, and give subscribers sneak peeks into sales, among other content.
Your emails to new and previous customers don't have to be ornate. The email below from Fabletics, for instance, features a clear CTA with a bold font that contrasts with a simple black background. The email creates urgency by stating that the offer "ends tonight." Plus, the call to action includes a button linking back to the sale section of the company's website.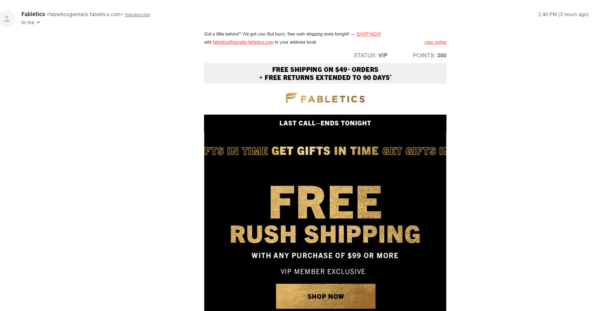 7. Retargeting ads
Sometimes, users will click on your website, look around, and leave. Some even get as far as putting items into their carts and then abandoning them. Facebook lets you design ads to target these users. You can create a static ad with messaging appealing to people who have left your website or abandoned their carts.
To set this up, place a pixel on your website — this is a string of code that Facebook uses to find customers to retarget based on their interactions with your website. You can also automate emails to send within a specific time period after someone has left your site.
Use these ads to appeal to people who stopped by and didn't purchase — retargeting helps you convert people who are already interested in your brand. Plus, it's usually more effective than marketing to people who aren't familiar with your brand.
Start connecting with shoppers
As a new fashion brand, you have the opportunity to reach billions of internet shoppers across the globe. If you're ready to launch your fashion brand, start by building awareness with a blog and a strong social media presence. As you do, be sure to post high-resolution photos and copy (text) that create a clear impression of your brand personality.

Once you've started gaining traction on social media, consider paid ads that click through to your ecommerce site. Include clear CTAs inspiring people to buy from you. With a little effort, you will be connecting with new customers and building your presence as a name in the fashion industry.

Share with your network