Just a month or so into the coronavirus pandemic, I was lucky enough to get an invitation to a live taping of a concert stream with the funk band New Orleans Suspects. Although New Orleans is famous for live music spilling out into sidewalks along Frenchman Street and throughout the French Quarter, at the time, most people could only enjoy music from their computers.
Masked and socially distanced, I was one of perhaps 20 people on site for the event, which took place in a warehouse where one of the city's krewes stored their larger-than-life Mardi Gras floats. With the makings of a colorful parade as the backdrop, the band played for an hour to a virtual crowd of hundreds.
There was a lot to see behind the scenes, and the organizers spent time teaching me how to make a concert stream successful. Like with other live events, most of the work for a concert stream takes place well in advance of the actual performance. To satisfy viewers and encourage them to organically spread the word about your events, professional equipment and a coherent marketing strategy are crucial.
With the right planning, your live stream concert will run smoothly — and you'll have just as much fun as I did. Use this guide as a checklist to help ensure you don't forget anything you'll need to make your streaming event a success.
Get the expert marketing advice and tools you need to increase visits and word of mouth.
Get the right equipment
When I was at the live stream in New Orleans, I was impressed with the amount of professional equipment used. They had basically set up an entire music studio. Behind the live stream camera, a dozen people scurried around perfecting the sound, lights, and recording.
With the tips below, you won't need to hire pros for your own live stream event — although if it's in your budget, it'll take a lot of work off your shoulders.
Camera
You may be tempted to record the entire event with your iPhone, but the experts don't recommend it. A high-quality camera makes a big difference. For small events, a webcam like the Logitech C920 HD Pro costs under $100 and connects to your computer with a USB cord. If you plan to offer more than one live concert stream, you may want to invest more.
Good lighting
Poorly lit space just screams amateur, so make sure the stage for the performance is well-lit. Even if you're organizing an outdoor performance, you may need to have additional lights beyond the sun to make it look great on the screen. Popular options include ring lights, a softbox lighting kit, or LED lighting panels.
Great sound
If your live streaming music, you know you'll need proper microphones and audio mixers to achieve a sound as close as possible to that of a live concert. Even if your live stream is simply a lecture, it's still worth investing in a microphone like a Blue Yeti or a Razer Seiren X as an upgrade from the built-in mic that many cameras have.
Set the stage
Once you have equipment, you'll need to create a setting that is interesting for viewers, technically equipped for streaming, and comfortable for artists. Things to consider include the following:
adding a unique stage backdrop like the aforementioned Mardi Gras floats
positioning the lights so that each performer can be seen easily on camera without shadows
including any props necessary for the show
understanding a room's acoustics to enable the best positioning of the sound gear
checking how far the camera and mics should be to capture the entire performance
You'll want to put extra effort into creating an ambiance that provides a quality viewing experience — especially if you want to make money from the live stream concert.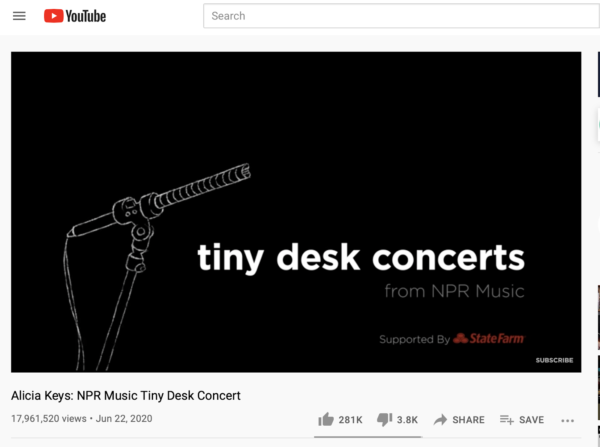 And, while you're in the design phase, think about the time zone you'll be streaming in. Where are the biggest fans of the performers located, and what time can you choose that will work for the greatest number of people? If you believe your concert stream will have viewers in many time zones, consider creating a virtual world tour and offering more than one show over the span of a few weeks.
Pick a platform
By far, the most important decision you'll have to make when organizing a live stream concert is which platform to use. Options include:
YouTube Live
Facebook Live
Instagram Live
Vimeo Livestream
Zoom
Twitter
TikTok
Twitch
Each of these platforms has pros and cons, but you should choose one where the performers already have a following. If viewers don't have to work out how to use a new platform, more will tune in.
However, some of these platforms have limitations. Zoom, for example, caps participants at 1,000 people, while Instagram Live ends the stream after one hour.
Some platforms have a greater opportunity for interactivity, which is also very important for people who are at home and appreciate being able to chat with friends during the stream.
Of the platforms you can potentially use, YouTube Live is one of the most popular options, except when a large following already exists on Facebook or Twitch. YouTube allows you to make your live stream video public or restrict it to only people who have a link. The latter is important if you plan to sell tickets, which is the next thing to consider.
Determine how you'll make money from the stream
You've got a few options when it comes to recouping the investment you've made in your concert stream. If you want to guarantee your income, you can sell tickets in a pay-per-view model through a service like TicketSpice, Stageit, or Uscreen.
However, a more popular option is to create a digital tip jar for the performers. Almost everyone has a Venmo or PayPal account link, which you can pin to the top of the comments thread or add to the screen during the performance. You can create a contract with the artists to receive a certain percentage if necessary.
A third option for monetizing the event is to seek sponsorships. Both small, local businesses and larger corporations can support virtual events in exchange for having their name appear throughout the live stream. Follow the general tips that nonprofit businesses use for approaching sponsors, and make sure they know exactly what they'll be getting for their money.
Promote your concert stream
All of your planning will be meaningless if you don't create and execute a marketing plan to let people know about your live stream concert. Think of the virtual event as a live music event: The impression that it's a rare occurrence will help get people to tune in.
Then, create a timeline for your marketing efforts. You'll want to let viewers know about your plans at least a few weeks in advance and this can be done in several ways.
Social media
If you manage a popular music venue or if the performance is a popular band with a large following on social media, it's best to focus marketing attention there. Start by creating a flyer (Canva offers free digital design tools for those without expensive software) that can be posted as a photo announcement. Next, create an event page, and invite everyone you know.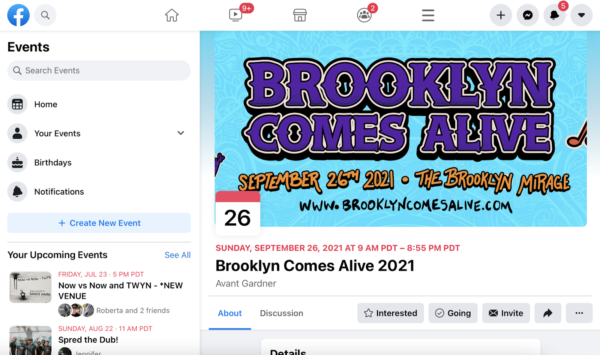 A good way to promote an event on social media is to use a hashtag that is short, relevant, and fun. Add it to all posts, which should include plenty of eye-catching images and engaging news. You can even create an event logo if you'd like to brand the live stream so that viewers who love your first event will want to tune in again for more.
Paid advertisements
While organic (that is, free) efforts such as status updates on social media are important, the most effective way to reach a large number of potential viewers for your concert stream is usually paid advertisements. If you have a budget, a week or two of Facebook and Instagram ads can dramatically increase your viewership.
If you choose another platform for the event, paid advertisements through Google Ads could also improve your return on investment.
Email marketing
Another option is to send out email invitations directly to the inboxes of people who you already know will be interested in your concert stream. You can use a premade template and create a series of emails in advance to save time and look professional. Try scheduling emails for one week, two days, and one hour before the event.
Think of the big picture
As you are creating the marketing plan for the live stream, think about your end game. For example, the organizers of the event I attended in New Orleans created an entire series of live stream concerts with the goal of keeping music professionals employed while venues were closed. They needed to continually market their events in the same way that other venues would.
Your first live stream concert likely won't be your last, so take the time before the big event to create what's known as a comprehensive marketing plan. This can serve as a valuable tool to guide your decisions throughout the rest of the year. For example, it may make sense to create a simple webpage so viewers can know where to check for a schedule of upcoming events.
To learn more about the basics in marketing, check out Constant Contact's The Download. This is a free marketing guide for arts and entertainment professionals that you can use to make sure you've got everything covered for your first or 50th live stream.
Have a practice run
Your first live stream will likely be a stress-filled event — but you can alleviate a lot of your butterflies by testing your equipment well before "go time." Most platforms offer a way to check your broadcast before it goes live. For Facebook Live, for example, there is an option called "Test Broadcast."
YouTube provides a tutorial service through their Creator Academy, which is worth reviewing if you decide on that option. This allows you to make sure all the lights, camera, and sound are working smoothly.
It's also a good idea to double-check any links you post, especially for the digital tip jar. I've watched way too many concert streams where the organizers realize halfway through the performance that the link was bad. They missed out on a lot of money and, perhaps even worse, they looked unprofessional.
Engage with viewers
While I was dancing on the sidelines of the New Orleans Suspects show, the people behind the scenes were busy engaging with the fans who were tuning in. Don't forget this simple way to gather necessary feedback to make sure everything is operating as it should.
If you're not comfortable doing that, appoint an MC to introduce the band and then continue to engage with the audience during the performance. Ask in the chatbox if the sound is loud enough. If the performance is a musical act, see if the performers are willing to take special requests or questions from the audience.
If a question-and-answer session is planned for after the performance, make sure to advertise that wherever you market your event.
Finally, at the end, be sure to thank everyone who tuned in, and remind them of the opportunity to add to the digital tip jar. After the event, take the time to respond to as many comments as possible. The more you work to develop relationships with the fan base, the more likely they'll be to continue tuning in and spreading the word to their friends about upcoming events.
Don't forget to have fun!
A concert stream is a lot of work, so I was surprised when I saw the organizers of the New Orleans show laughing and dancing. Of course, they had already completed a handful of successful live streams, so they had worked out a lot of the kinks in the production.

But, even for the first few live events, remember to relax and have a good time. Viewers will understand if something unexpected happens to your technology because they appreciate your efforts to share the performance with the world.

Share with your network